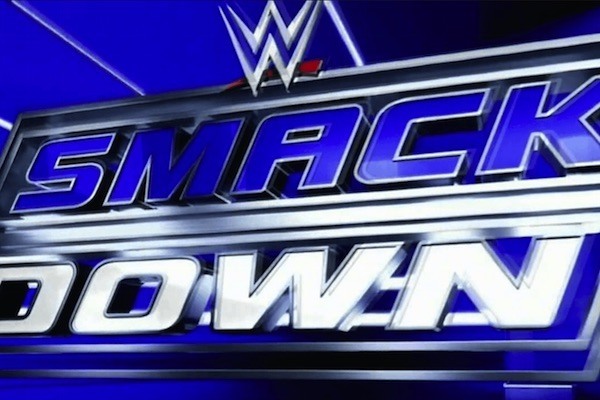 ---
SPOTLIGHTED PODCAST ALERT (YOUR ARTICLE BEGINS A FEW INCHES DOWN)...
---
The final Smackdown before Wrestlemania will feature a few matches, including Dean Ambrose vs. Erick Rowan. It will also, as tradition holds, show live cut-ins from Dallas.
WWE Smackdown review
March 31, 2016
Taped 3/28/16 in Brooklyn, N.Y. (with live cut-ins from Dallas, Texas)
Aired on USA Network
By Greg Parks, PWTorch Columnist (Twitter: @gregmparks)
– WWE Open.
– Smackdown Open.
– After fireworks inside the arena, A.J. Styles came out for the opening contest. As he did so, Mauro Ranallo and Jerry Lawler were shown at ringside. The Social Outcasts then came out, and in doing so, they cut a promo. Heath Slater talked about being the winner of the upcoming Andre the Giant Battle Royal. They made fun of A.J.'s "Phenomenal One" moniker and said they outnumber him and are also best friends. Bo Dallas said they'd show him they're "Four-Nomenal."
1 – A.J. STYLES vs. HEATH SLATER
Loud "A.J. Styles" chants at the outset of the match. High dropkick to Slater as Heath was running the ropes. He followed that with a knee-drop for two. A second "A.J. Styles" chant a mere 1:05 into the match. The numbers game caught up with Styles, as he was knocked off the apron by Slater and into the steel steps. Slater continued his offense in the ring. Styles charged at Slater, but Slater sent him through the ropes and to ringside again. Back in, Styles made a comeback. Styles physically took out the other Outcasts who attempted to interfere. Springboard elbow for the win.
WINNER: Styles, at 4:48. I was actually surprised how much offense Slater got in at times during the match. Styles fighting off the interference throughout the match won't make up for the distraction losses caused by Jericho, but it'll help soften it a little.
Replays were shown of Styles keeping the Outcasts at bay, and also, his finish.
– Ranallo sent it to AT&T Stadium in Dallas, where Renee Young and Byron Saxton picked up the Wrestlemania hype. Different than in previous years, they weren't positioned at Axxess, but as if they were hosting a PPV pre-show in the arena. Saxton said after the break, we'd get a peek at the prep going on at the stadium for Mania.
[Commercial Break]
– They had a wide shot of the inside of AT&T Stadium, then they went up to Young and Saxton again. To show where the interest from WWE's side is, the first match they touched on was Shane McMahon vs. Undertaker. They sent it to a video package of Shane McMahon's return and the hype for his match with Undertaker, complete with talking heads commenting on the bout.
– Young and Saxton hyped WWE Network offerings for the rest of the weekend, including Mick Foley on Steve Austin's podcast after Smackdown tonight, plus the NXT Show on Friday, and the Hall-of-Fame ceremony on Saturday.
– But still to come tonight, Jey Uso takes on D-Von Dudley.
– Plus, Dean Ambrose faces Erick Rowan.
[Commercial Break]
– Another plug for Mick Foley on the Stone Cold podcast after Smackdown.
– Up next for hype from Saxton and Young was Brock Lesnar vs. Dean Ambrose. A video package then aired for that match.
– The Wrestlemania Kickoff show was discussed, with the announcers specifically mentioning (and graphics showing) the 10-Diva Tag Match and The Usos vs. The Dudley Boyz.
[Commercial Break]
– Young thanked Motorhead for "Sympathy for the Devil," one of the theme songs for Wrestlemania.
– After talking Triple H vs. Roman Reigns, they showed what happened with Reigns and Triple H on Raw Monday night.
– Up next, we'll get more information on Snoop Dogg entering the celebrity wing of the WWE Hall-of-Fame.
[Commercial Break]
– Clips of Wrestlemania Axxess were shown, specifically, the WWE memorabilia exhibits.
– Young and Saxton sent it to a video package for Snoop Dogg's Hall-of-Fame induction.
– Jey Uso faces D-Von Dudley, next.
[Commercial Break]
– Young plugged that Fifth Harmony would sing America the Beautiful at Wrestlemania.
2 – JEY USO vs. D-VON DUDLEY
Jey was attacking D-Von's body "like it was filled with candy," according to Ranallo. Jey took the fight to D-Von outside the ring where Bubba let Jey know his feelings. In the ring, Jey missed a corner charge and went shoulder-first into the ring post. Bubba gave him a cheap-shot right hand while the ref was distracted by D-Von. Spinning back elbow by D-Von found the mark. D-Von missed a splash as Jey rolled out of the way. Jey began his comeback including the running butt splash in the corner. Bubba started pounding the mat and yelling "D-Von, D-Von," and hilariously, Pavlov's crowd started chanting it along with him. D-Von escaped a top-rope suplex and followed with a throw-down spine-buster, shades of Ron Simmons…in fact, Ranallo said it's D-Von's tribute to Simmons, called the "RDS" (or, "Ron Damn Simmons). Anyway, that actually got him the pin.
WINNER: D-Von Dudley, at 4:18. Ah, the ever-rare D-Von Dudley singles victory. This was fine, wisely kept short.
– The Divas Title Triple-Threat Match will be previewed next.
[Commercial Break]
– The exterior of the stadium in Dallas was shown.
– It was back to Renee Young and Byron Saxton, who discussed the Divas Revolution. They sent it to a video package to hype the match. For what it's worth, Young threw out the 100,000 number for expected attendance at Wrestlemania here in talking about this match.
– Dean Ambrose vs. Erick Rowan is still to come tonight.
[Commercial Break]
– Young and Saxton plugged the Thank You Daniel special on the WWE Network.
– New Day vs. League of Nations graphic was shown, and they aired what happened on Raw between the two teams.
– ESPN SportsCenter will have live coverage of Wrestlemania all day leading up to the even on Sunday.
– Dean Ambrose vs. Erick Rowan is still to come.
[Commercial Break]
– More from Wrestlemania Axxess was shown.
– The Andre the Giant Memorial Battle Royal was plugged by Young and Saxton. Saxton predicted Big Show victory.
– More discussion of Triple H vs. Roman Reigns, followed by a video package. It was back to Young and Saxton for more WWE World Title match talk.
– The main event, Dean Ambrose vs. Erick Rowan, is next.
[Commercial Break]
3 – DEAN AMBROSE vs. ERICK ROWAN
Rowan was joined by Bray Wyatt and Braun Strowman. But it appeared as if Wyatt and Strowman were going to watch from the stage. Prior to the match, they showed the Wyatts getting involved with Ambrose and Lesnar last week. Rowan got the advantage early on in the match. Rowan shrugged off a few forearm offerings from Ambrose. Ambrose clotheslined Rowan over the top rope. He then connected on a running lariat off the apron onto Rowan. They cut to break at 1:47 of the match.
[Commercial Break]
Back at 4:44 with the match having moved back inside the squared circle during the break. Rowan with a spinning slam to put Ambrose down. Pendulum back-breaker by Rowan followed by a splash for two. In the corner, Ambrose turned the tables with some offense, but Rowan booted him down. After hitting the ropes, Ambrose nailed Rowan with a flying body attack. Another slam by Rowan, however. Ambrose landed a superplex and both men were down. Rowan was dropkicked out of the ring, followed by a suicide dive from Ambrose. Ambrose went to the top after a knee to the head, and he connected with a flying elbow/clothesline. Uranage by Rowan after a missed slingshot clothesline. Ambrose finally connected on his patented clothesline as the gas tank looked to be running on "E" for both men. Ambrose got up long enough to hit Dirty Deeds for the win.
WINNER: Ambrose, at 13:03.
– A shot was shown of Steve Austin talking to a producer backstage in preparation for his interview with Mick Foley, which is next on the WWE Network.
Did you watch Thursday's Smackdown episode? Send your 0-10 score & Reax to pwtorch@gmail.com for our TV Reax feature.
Greg Parks has been covering WWE Smackdown for PWTorch.com since January of 2007. He is the host of "Moonlighting with Greg Parks," a PWTorch VIP-exclusive audio show posted each weekend. Follow him on Twitter @gregmparks for live Tweeting during Raw, Impact, and PPVs, as well as other bits of wisdom. Comments, questions and feedback are welcome, and can be sent to g_man9784@yahoo.com.