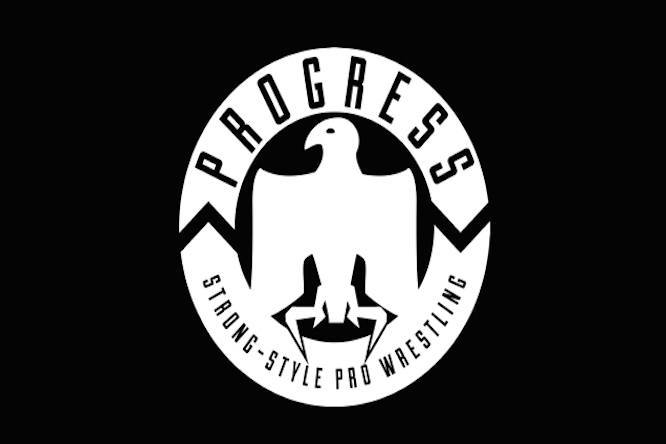 ---
SPOTLIGHTED PODCAST ALERT (YOUR ARTICLE BEGINS A FEW INCHES DOWN)...
---
PROGRESS 29 Results
April 24, 2016
London, England
Report by Dave Green, PWTorch U.K. correspondent
Progress Wrestling "Chapter 29: Practically Progress in Every Way" was held at the Electric Ballroom in Camden, London.
Before the matches began, Mark Haskins made his way to the ring to state how much he loved Progress and that he wanted to be in the upcoming Super Strong Style 16 tournament and go on to become the Progress Champion, which co-owner Jim Smallman very quickly granted.
It was also announced that the traditional Natural Progression Series would continue after tonight's final, but this time it would be to crown the first-ever Progress Women's Champion.
Match One was part of the Atlas Championship round robin tournament.
(1) Michael Dante pinned Damo O'Connor in the Atlas tournament. This was two very huge men beating each other up for eight minutes. Perfectly fine opener, with both men displaying great power, before Dante took the win with a vicious spear and gaining two points in Group B.
(2) Zack Sabre, Jr. defeated Flash Morgan Webster in a qualifying match for the WWE Global Cruiserweight Series. Of course, Zack took full advantage of the match with his technical wizardry, though Flash stayed the course with his superior aerial prowess. Sabre, Jr eventually caught Flash in an inescapable submission move that saw him qualify for the GCS in my personal match of the night.
(3) Jack Gallagher beat Pete Dunne via submission in a qualifying match for the WWE Global Cruiserweight Series. Following on from the previous great qualifier was a match just as good, with the crowd all over Dunne from the get-go. Gallagher kept outdoing Dunne by expertly escaping his submission attempts, before Dunne's explosive offense allowed to control the match. A nice back and forth match ended with Gallagher trapping Dunne in a Heel Hook/Achilles Lock submission for the well earned tap out to the delight of the crowd.
It should be pointed out that the crowd had been asked to reign in the swearing for the benefit of the WWE matches so they could be broadcast, which the crowd obliged in doing. Good thing the matches took place in the first-half where the majority of the crowd were more sober!
Match Four was the final of the third Natural Progression Series. For the first time, the finalists were members of the Progress training school.
(4) Pastor William Eaver pinned Damon Moser to win the NPS. Both men did well in their position on the card considering the matches they had to follow. Your correspondent here slightly came a cropper after a Pastor dive, but I've survived to tell the tale. Both men kicked out of each other's finish, particularly surprising for Moser, as he has been undefeated for the past year with his knee trembler. Eaver caught Moser off the ropes with a southpaw variation of the Clothesline from Heaven for the win, and he now possesses a title shot that he can cash in at any time.
[Intermission]
The second half kicked off with a mystery tag match. Pollyanna, who made an epic Game of Thrones inspired entrance, fare off against Dahlia Black with the combatants picking each other's tag team partner. Dahlia picked Jinny to be Polly's partner, renewing the pair's huge rivalry. But, Polly chose Jinny's personal assistant, Elizabeth, which Jinny was not at all happy about.
(5) Elizabeth & Dhalia Black beat Jinny & Pollyanna by pinfall. Jinny ordered her charge to not tag into the match, whilst Polly and Jinny played a game of one-upmanship over Dahlia. When Polly was thrown to the floor, Dahlia's lover T.K. Cooper, who was barred from ringside, came out to attempt to attack her, but was thwarted by Jack Sexsmith. Elizabeth tagged into the match and was ordered to lay down by her employer. Liz kicked out of the pinfall attempt, pushed Jinny into Polly and laid her out with a backstabber for the pin.
After the match, Jinny and Black attacked their rivals, which was eventually broken up. A great story being told here that will unfold further as the women's title situation rolls on.
(6) Rampage Brown and Joe Coffey fought to a 15-minute time limit draw in the Atlas Championship round robin tournament. These bruisers absolutely destroyed each other with great chain wrestling, power moves and knife edge chops, which they were still throwing when the limit expired. One of the rare occasions I have seen where a time limit draw was actually a fair result and didn't seem unreasonable. This left both wrestlers with 1 point in Group B. The current standings are:
Group A
T-Bone – 2
Big Daddy Walter – 0
Iestyn Rees – 0
Dave Mastiff – 0
Group B
Michael Dante – 2
Joe Coffey – 1
Rampage Brown -1
Damo O'Connor – 0
(7) The London Riots (Rob Lynch & James Davis) and FSU (Mark Andrews & Eddie Dennis) beat The Origin (Nathan Cruz & El Ligero & Dave Mastiff & Zack Gibson) in an eight-man tag match. A lot at stake in this match: if FSU and the Riots won, whoever got the pin would win a tag title shot for their team. If the Origin won, all four members would be entered into Super Strong Style 16. The Origin entered into the stage with just Cruz and Ligero, claiming the others weren't present and goading the opposition, the bait of which Dennis took and was laid out by Mastiff. Gibson snuck up from the opposite end of the ballroom and laid out Davis with his cricket bat. This left the Origin facing Andrews and Lynch in a four-on-two situation. The story here was great, with the two members of the face team not used to tagging with each other and having to work together. Dennis and Davis eventually rejoined the fray and the Riots finally cut off Cruz and won themselves a future tag title shot.
(8) Progress champion Marty Scurll beat Tommy End via disqualification to retain the Progress championship. This match stemmed from two weeks ago in Manchester where End answered Scurll's non-title open challenge and knocked the champion out to defeat him, gaining him a title shot tonight. Scurll made the proclamation that he would knock End out tonight. What followed was a brutal match that really engaged the audience. After Scurll kicked out from End's top rope stomp, End managed to connect with the same knock out kick that won the match a fortnight ago. Before Scurll even hit the ground, the lights went out in the building. When they returned, in the ring was none other than Mikey Whiplash, whom End is allies with in other promotions, but here Whiplash hit Scurll with a chair to screw End out of the title win.
After attacking Tommy, Whiplash yelled at him that it was his time and End took it from him. End then claimed that Whiplash had decided to deal with the devil and demanded entrance into Super Strong Style 16, which was accepted.
Another great show from Progress, very newsworthy events, and story progression. The line-up for Super Strong Style 16 will continue to be revealed over the next few weeks, with names already announced being Sami Callihan, Mikey Whiplash, Mark Haskins, and Tommy End. This show will be on Demand-Progress.com within the week.