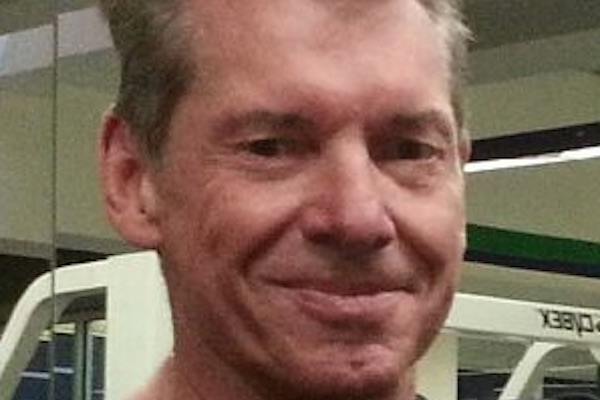 ---
SPOTLIGHTED PODCAST ALERT (YOUR ARTICLE BEGINS A FEW INCHES DOWN)...
---
WWE First Quarter 2016 Conference Call Opening Remarks
WWE CEO Vince McMahon's opening remarks in the quarterly conference call with investors included a review of what's important to WWE right now. In order:
– Pro Forma revenue growth, WrestleMania 32 breaking WWE's attendance record, brand equity in the name WrestleMania, WrestleMania Week video consumption on WWE Network, new content (including Camp WWE), the new "Total Bellas" spin-off on E! this fall, and social media reach.
Historically, McMahon has addressed his top two metrics for brand engagement – TV Ratings and Live Event attendance. However, declining ratings were not mentioned and the only live event item was WM32 attendance.
– McMahon closed his opening remarks commenting on "creative and talent" issues with injuries surrounding WrestleMania. McMahon chuckled that he thinks they "made pretty good chicken salad" out of the situation.
McMahon identified 17 roster injuries, including established stars Randy Orton, Seth Rollins, Bray Wyatt, and John Cena. He said they will all be returning soon.
McMahon also identified 13 roster call-ups to start the show, which he said "speaks to the strength of the NXT brand" as WWE "builds extraordinary talent."
Later during the Q&A portion of the call, McMahon was asked if the injuries were a result of the cyclical nature of the roster that just happens from time to time, whether wrestlers are taking too many risks in the ring, or if it's a lack of pre-planning on WWE's part leaving wrestlers unprepared to compete against each other (a/k/a the Tyson Kidd injury).
McMahon chose the cyclical nature of roster injuries. "We always have injuries," McMahon said. "It's more pronounced and visible than before." The implication was the injury bug affected big-names and news about the injuries spread more than before because of WWE's increased social media reach.
McMahon added that "nothing is more risky" in the ring and they manage concussions "extremely well." He said they feel good about what's built into the Health & Wellness programs. "This is something that just occurs on an ongoing basis," McMahon said.
McMahon then stressed the opportunity for new talent from NXT to fill a spot. "We feel good about where we are with injuries," McMahon said.
WWE First Quarter 2016 Earnings Release Commentary
– WWE CEO Vince McMahon: "Our strong performance in the first quarter reflected the successful execution of our content strategy. The sustained year-over-year growth of WWE Network, the global consumption of our video content across all platforms, and the recent record breaking attraction of WrestleMania demonstrate the increasing strength of our brands. We believe we can continue to leverage these strengths to drive long-term growth."
– Financial executive George Barrios: "Our earnings growth was driven primarily by the increased monetization of our network and television content as well as higher licensing revenue from our franchise video game. Over the next year, we will continue to focus on producing engaging content across all platforms, investing in emerging markets, and deploying technology across the enterprise to drive our long-term growth."