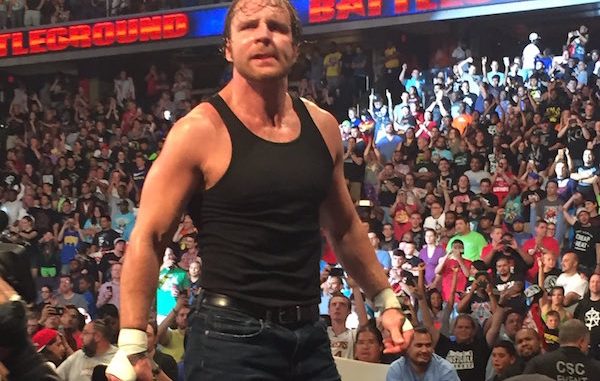 ---
SPOTLIGHTED PODCAST ALERT (YOUR ARTICLE BEGINS A FEW INCHES DOWN)...
---
WWE Live Results
August 14, 2016
Laredo, Tex.
Report by PWTorch correspondent Dylon Wells
In pouring rain, fans were slow to come in at first, but overall about 80-85 percent of the arena was filled at its peak.
Before the first match, the Dudleys cut a quick backstage heel promo saying three things they hate the most are: (1) Enzo. (2) Cass. (3) Texas.
(1) Enzo Amore & Big Cass beat The Dudleys at 9:38. A solid opener between these teams, which had a comical yet entertaining start. Enzo and Cass before the match did their usual shtick and got interrupted by The Dudleys's music. After The Dudleys took over, Enzo made a hot tag to Cass, who laid up a pair of Big Boots on D-Von then Bubba. That led to Enzo & Cass hitting the Bada Boom Shakalaka for the three count! After the match, Cass got to finish his statement earlier by proclaiming that The Dudleys are S-A-W-F-T! (**)
(2) Neville beat Bo Dallas at 7:33. Bo did his "Bolieve" tactics but with a more aggressive heel attitude. Neville was dominant at the beginning until Dallas hit a powerful Clothesline. Dallas eventually missed Neville with a running attack in the corner which led Neville landing the Red Arrow for the 3 count! (**)
(3) Zack Ryder beat Heath Slater at 0:52. Slater basically ran down the ramp and did a pre-match attack on Ryder. Slater then grabbed a mic and proclaimed how he's still the "hottest free agent today." After several strikes once the bell rang, Slater eventually went for a running corner attack, which led to Ryder holding both knees up on Slater to stop his momentum. Ryder immediately hit a Rough Ryder for the 3 count! (1/2*)

(4) Sin Cara & Cesaro & Golden Truth (R-Truth & Goldust) beat Shining Stars (Primo & Epico) & Tyler Breeze & Fandango at 8:26 in an eight-man tag match. Another comical yet very entertaining first few minutes mostly involving Golden Truth and Breezango. A fun chaotic match happened between these teams. The ending came when Cesaro got the hot tag and led the Uppercut Train on Tyler Breeze and Primo. Sin Cara then dove off to the outside with a suicide dive on Epico. R-Truth then hit Lil' Jimmy on Fandango. Goldust then landed a Spinebuster on Breeze. Finally, after a Cesaro Swing on Primo, Primo was forced to submit to the Sharpshooter! (**1/4)
(5) Randy Orton beat Bray Wyatt at 8:55. A mostly methodical yet good match to continue this show. A few more minutes may have helped this match, but this was at a decent length nonetheless. Orton failed on three RKO attempt, then hit a fourth one, but Bray immediately reversed into a Sister Abigail attempt, which led to Orton reversing into a quick roll-up for a 2 count. Then, "outta nowhere," Randy landed the RKO for the 3 count! (*3/4)
[Intermission]
(6) Becky Lynch & Naomi beat Natalya & Summer Rae at 7:28. A decent match that brought the crowd back after a 15 minute or so intermission. Naomi sported a remix of her original theme with a new raver look. The ending came when Summer got a nearfall off a roll-up on Becky and then it led to Becky's Disarm-her for nearly an immediate submission victory! (*1/2)
(7) Baron Corbin beat Jack Swagger at 10:21. The pacing was very methodical until the final two minutes or so. There were a few near-countout situations back and forth in the beginning and middle of the match. The ending came when Swagger dodged a running attack from the outside which led to Corbin ramming into the steps for a nine count on the outside. Swagger was able to get the Patriotlock, which was eventually reversed by Corbin. Swagger recuperated quickly and ran back inside, only to run into End of Days for the three count! (*1/4)
(8) Kane beat IC champion The Miz (w/Maryse) via DQ at 3:53 when Miz used a chair on Kane. Beforehand, Miz "welcomed" us to Day 132 of his "never-ending" reign as IC Champ. Miz then claimed other IC champs like Bret Hart, Mr. Perfect, and Shawn Michaels pale in comparison to what he has done to make the belt relevant. Kane eventually interrupted which led to Miz giving Kane a chance to leave and "avoid getting hurt." Kane did not budge and the match began with an angry Miz. Kane had a good portion of momentum throughout the match and Miz got a bit of an upperhand with under-handed tactics. The ending came when Kane retaliated with Corner Clotheslines and a Sidewalk Slam. Kane motioned for a Chokeslam, which led to Maryse distracting in the corner and Miz rolled to the outside. Miz grabbed a chair and hit Kane on his leg for the DQ loss! (*)
Post-match, Miz went for another chair shot until suddenly Kane grabbed him by the throat and hoisted him up for a Chokeslam to lay the champ out!
(9) WWE World Hvt. champion Dean Ambrose beat Dolph Ziggler and Alberto Del Rio at 10:01 in a three-way match to retain the WWE World Title. Another match with good action but it could have been better with more time. These three had a good amount of momentum throughout with Del Rio taking the beginning portion of offense. Some good near-falls happened as well towards the end with Del Rio kicking out of the Zig-Zag.
The ending came when Del Rio was attempting a Cross Armbreaker on Dean, Dolph came in after Del Rio got shoved off and superkicked Dean after Del Rio ducked. Del Rio then landed a backstabber on Dolph for the nearfall and then was going for his Double Foot Stomp corner finisher, but Dolph moved and eventually landed a superkick on Del Rio, which turned into Dirty Deeds from a recovering Dean. While Dolph rolled to the outside, Dean got the three count for the win! (**3/4)
Another good show in Laredo with the difference being relatively shorter matches but good action overall.
Biggest Pops
(1) Dean Ambrose
(2) Alberto Del Rio
(3) Randy Orton/Enzo/Cass (tied)
(4) Dolph Ziggler
(5) Cesaro
Most Heat
(1) The Miz
(2) Bo Dallas
(3) Baron Corbin
(4) The Dudley Boyz
(5) Breezango