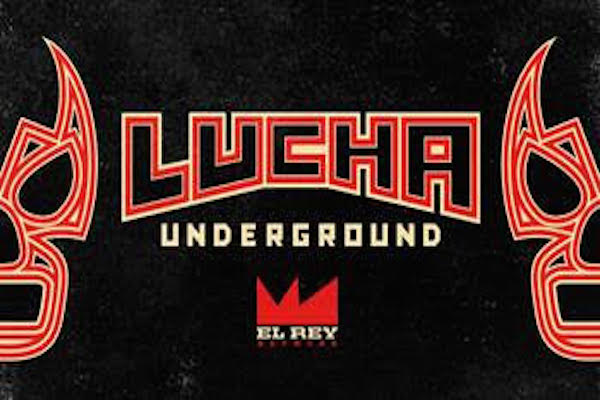 ---
SPOTLIGHTED PODCAST ALERT (YOUR ARTICLE BEGINS A FEW INCHES DOWN)...
---
Lucha Underground Report
September 28, 2016
Taped in Los Angeles, Calif.
Season 3 Episode #4 aired on El Rey Network
Report by Joel Dehnel, PWTorch contributor
Follow @DehnelTorch on Twitter for live updates.
The show opened with recaps of Azteca-Chavo, World Wide Underground, The Crew, and Prince Puma-Mil Muertes.
Backstage: Dario confronted Sexy Star. Dario gave her the ultimatum to keep defending her title or face Matanza. He said that tonight she doesn't need to worry about her title because tonight she will rage with the champs against the World Wide Underground. Dario then looked at his watch and said he had to go. Mundo walked in and introduced himself to Star saying he would be the next Gif of the Gods champion. They stared each other down until Mundo left and Star kicked a locker out of frustration.
Announcers: Vampiro welcomed the audience to the show and thanked the house band The Chimpz. Striker hyped Azteca vs. Chavo later tonight. Vampiro then threw to the ring.
In-ring: Santos introduced Sinestro De La Muerte who was already in the ring. His opponent tonight is Prince Puma.
1 – SINESTRO DE LA MUERTE vs. PRINCE PUMA
Both men traded blows to start. Puma hit a nice dropkick and gained momentum to take control. Muerte came back with a trip followed by a kick. Puma then came back with a suplex followed by a few kicks to the head.
Puma went for a splash, but Mil Muertes came out to attack Puma. Puma dodged the attack, but maintained control of Sinestro, then hit Muertes's flatliner for the win.
Post-match: Puma dove onto Muertes and they briefly brawled in the floor until it was broke up by Catrina.
WINNER: Prince Puma at 4:49.
Still to come: Fenix, AeroStar, Drago, and Sexy Star vs. World Wide Underground.
[Break]
Dario's Office: Castro walked in to meet with Dario. Dario gave Castro a hug. He said he was sorry about Cisco dying and that we should find the killer. Dario told him the show must go on. Dario said he is giving him a match tonight for Mr. Cisco.
In-ring: Santos introduced Cortez Castro to the ring. His opponent tonight is Pentagon Dark.
2 – CORTEZ CASTRO vs. PENTAGON DARK
Castro went for the early attack. Pentagon came back with a few kicks and chops, then hit the Package Piledriver for the win.
Post-match: Pentagon 'broke' Castro's arm. Pentagon said it doesn't matter who wins between Azteca and Chavo because both will suffer the same fate – broken bones. He said he respects none in the ring, because he is Pentagon and Cero Miedo!
WINNER: Pentagon Dark at 1:07.
Still to come: El Dragon Azteca vs. Chavo Guerrero with guest referee Rey Mysterio.
[Break]
In-ring: Santos introduced the Trios Tag champions who were already in the ring. Followed by Sexy Star then the World Wide Underground.
[Break]
3 – Trios Tag champions DRAGO & AEROSTAR & FENIX & Gift of the Gods champion SEXY STAR vs. WORLD WIDE UNDERGROUND (JOHNNY MUNDO & TAYA & JACK EVANS & P.J. BLACK)
Star started the match with Taya. Drago came in with Evans. Black tagged in before any action took place. Mundo and AeroStar came in then Fenix came in and took out Mundo.
Star came in to continue the momentum, but Mundo escaped and tagged Evans, who got the better of Star. Taya tagged back in for another brawl with Star followed by Mundo.
Fenix hit a splash on Mundo, then all mayhem broke loose. After several dives, Mundo caught Star with a kick, which allowed Evans to snag a pin for the win.
Post-match: Taya held her knee with an apparent injury.
WINNER: World Wide Underground at 8:52.
[Break]
Backstage: Mil Muertes stood in front of shine while Sinestro knelt in front of him. Catrina said he was sorry then snapped his neck. She then gave him the kiss of death. Catrina told him that she wants him to do the same to Puma.
In-ring: Santos introduced Azteca to the ring. Next out was Chavo followed by Rey.
[Break]
4 – EL DRAGON AZTECA, JR. vs. CHAVO GUERRERO, JR. – special referee Rey Mysterio Jr.
Chavo finally got in a headlock then hit a shoulder block to start. Azteca came back with an armdrag. Azteca hit a springboard armdrag, then attempted a pin. He then adjusted and locked in a kimura lock. Chavo broke free, then fell to the outside.
Azteca leaped to the outside, but got caught and rammed into the barricade. Azteca tried to gain back momentum but Chavo shut him down quickly. Chavo got into an argument with Rey, then Chavo kicked Rey. Rey punched Chavo, then Azteca rolled up Chavo for the win.
Post-match: Rey hit the 619 on Chavo, then celebrated with Azteca.
WINNER: El Dragon Azteca 6:59.
Backstage: Black Lotus said she is sending the Black Lotus tirade to destroy Pentagon Dark to show him what fear really looks like.
FINAL THOUGHTS: Really solid episode until they killed someone. C'mon they didn't need to do that. They could've honestly forgotten about Sinestro and nobody would've remembered him.
Other than that, they did a really nice job building to the main event making it matter. They made it feel like a big deal and that the outcome mattered.
The storytelling this year makes a lot more sense thanSseason 2. They actually follow up on storylines in a way that's easier to follow instead of little nuggets here and there that don't make much sense. This year has a much more linear structure which has been working well.