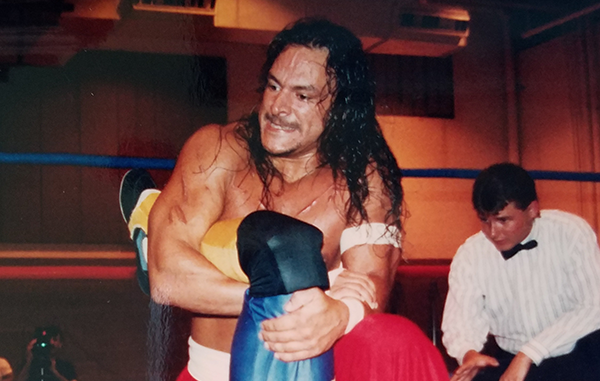 ---
SPOTLIGHTED PODCAST ALERT (YOUR ARTICLE BEGINS A FEW INCHES DOWN)...
---
The following is my ECW TV Review from 20 years ago, originally published in the Pro Wrestling Torch Newsletter cover-dated Dec. 7, 1996, issue #418. VIP members gained access to the entire issue in PDF format and All-Text format this morning which also including these topics:
-A cover story on whether ECW is too controversial to debut on pay-per-view…
-WWF Newswire details Bret Hart's disappointing return to Raw, Shawn Michaels ripping on fans, and more…
-Chris Zavisa's feature column analyzes the two paths WCW took…
-Plus WCW Newswire, ETC. Newswire, WWF Live Event Reports, Keller's reports on Raw, Nitro, ECW, and other TV shows, and more.
Go VIP for just $2 today as part of our ongoing Black Friday Sale. Take $8 off our usually $10 monthly subscription price (that's 80% off!) or apply the $8 discount to a three month or one year subscription, too! DETAILS HERE.
---
KELLER'S ECW TV REPORT
NOVEMBER 30, 1996
AIRED IN SYNDICATION
The show opened with Taz giving his side of the story. Taz said he teamed with Sabu and carried him to a tag title win Feb. 4, 1995. He said: "Everybody knows the guy's a mark for belts to feed his ego, pose for more Apter magazines." He said a few months later both he and Sabu got phone calls from a Japanese promotion. He said he turned down the date because he had already committed to ECW, but Sabu said the money was great so he was going.
Taz said he told Paul E. Dangerously either fire him or he's quitting. Taz said Paul E. stood in mid-ring and fired him. He stood by Paul E. in the ring to make sure he didn't swerve him. He said a few months later in the summer he broke his neck. He said Paul E. panicked and decided to listen to the fans who wanted Sabu back. He said it was a slap in his face they brought back Sabu. So for one year he called for Sabu and Sabu didn't answer him because he fears him. Taz said Sabu could have come to him and asked him to team with him rather than Rob Van Dam, but he didn't. Taz said Van Dam saved Sabu the ass kicking of a lifetime…
Footage aired of Taz applying the cobra sleeper to Van Dam after Van Dam stopped him from attacking Sabu. They showed Sabu watching from the ring, only to get the Total Elimination from the Eliminators to lose the match. New Jack then pinned Saturn to win the three-way dance… Joey Styles introduced and previewed the show…
(1) Axl Rotten pinned Hack Myers. Mainly chairshots and brawling at ringside…
A BWO segment aired. Actually, it was introduced with a voice that sounded much like the NWO's mystery voice, i.e. "the following segment was paid for by the Blue World Order." Then Stevie Richards sporting a Kevin Nash look said it's time to acquire new talent. Super Nova doing his Hollywood Hogan imitation ranted about how his movie is number one, dude. Blue Meanie then returned doing more of a Razor Ramon impression than a Scott Hall impression. The segment came across as if had been filmed in someone's basement. Wait a second, it was filmed in someone's basement…
Styles interviewed Dreamer. Well, Styles did almost all the talking setting up the Dreamer & Beulah vs. Shane Douglas & Francine mixed tag. Dreamer said, "Me and my girl, you and your bitch, what a beautiful way to die"…
Joel Gertner hosted "Hype Central"…
The entire Too Cold Scorpio departure angle aired where Scorpio beat Devon Storm, J.T. Smith, and Hack Myers, but lost to Louie Spicolli. The same fans who were chanting, "You sold out" were soon chanting "Too Cold." The angle didn't go over with the crowd because by the time the payoff match took place where fans were supposed to pop for Spicolli's kickouts, the fans were tired of the unrealistically short matches that preceded it. They were deathly quiet during the match, actually chanting "30 seconds left" at the start of the match. When Spicolli finally pinned Scorpio, there was an okay pop. The idea was Scorpio wanted to wrestle both in ECW and the WWF, but because Spicolli beat him, now Scorpio must wrestle only in the WWF. Scorpio said he's not leaving until someone makes him leave. Taz came to the ring. After convincing Scorpio it was in his best interest to walk away ("Bye bye, Flash. Get the f— out of my house, bitch."), he again called for Sabu. The scenario took place where Taz beat on Tod Gordon and Paul Heyman before Sabu came out briefly. The angle played well on TV, cutting off as Taz and Sabu faced off in mid-ring…
NOW READ THIS ENTIRE ISSUE, IF YOU ARE A VIP MEMBER IN ITS ORIGINAL LAYOUT IN PDF FORMAT OR A PHONE-FRIENDLY ALL-TEXT FORMAT BY CLICKING HERE.
OR READ OUR PREVIOUS 20 YEARS AGO FLASHBACK ARTICLE: 20 YRS AGO: WWF announces Shawn Michaels intent to challenge WWF Champion at Royal Rumble in his hometown's Alamo Dome