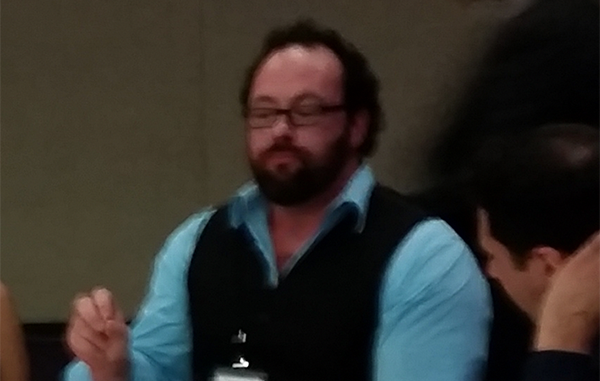 ---
SPOTLIGHTED PODCAST ALERT (YOUR ARTICLE BEGINS A FEW INCHES DOWN)...
---
MIDWEST ALL-PRO WRESTLING
NOVEMBER 20, 2016
SOUIX FALLS, S.D.
REPORT BY ANDREW SOUCEK, PWTORCH CORRESPONDENT
Midwest All Pro ran a special promotion where anyone who served in the armed forces could get in to the show for free. The event started at 4:00 p.m. with members of the National Guard coming out for the playing of the National Anthem.
Nick and Stephanie "Mrs. South Dakota" Dinsmore came out to kick things off. He talked about his training school, and an enrollment special he's going to be running in 2017. If you enroll in every semester, you get 50% off training. He put over the sponsors, and then said a friend of his is coming to the next show in Sioux Falls on
Dec. 18
. A video then played on the screen of Chris Masters cutting a promo saying he's coming to town. The crowd popped.
(1) Brian Austin Night vs. Devin Thomas. 
The two locked up with Thomas taking early control. They exchanged headlocks, then Thomas hit a bodyslam. Night was getting some pretty good heat from the crowd as he bit his opponent's hand, and followed it up with an STO. Thomas powered out of a submission attempt with a powerbomb in an impressive spot. Night later hit an Impaler DDT for a nearfall, but failed in his attempt to bite his opponent's hand again, and Thomas got him to bite down on his own. Thomas then connected with his finisher for the win. Winner: Thomas in
7:55
(2) "The African Prince" Ali and Maru vs. Freak Nasty and The Convict.
The Convict came out in an orange prisoner shirt, and Nasty's character seems to be a pimp. Maru and Ali were the heels here, but Ali was cheered throughout. Maru landed a cheapshot to start things off, and the two hit some nice double team work to stay in control. Ali hit a World's Strongest Slam on Nasty, but he soon recovered and connected with a noogie. The heels cheated behind the ref's back and put the boots to Nasty. Convict eventually took the hot tag and began to clean house. He hit a spear for what appeared to be the three count. The bell was late, though, and it was all a bit confusing. Winner: The Convict and Freak Nasty in
6:35
.
(3) Josh Price vs. J.C. Slater.
A loud "Let's go Slater" chant started things off. They locked up and Price connected with a cheap shot to take control. He showboated for a bit, and went to work on Slater in the corner. Slater started making a comeback and went for 10 punches on the top turnbuckle, but was cut off and given a neck breaker. Price cinched in a headlock, which Slater broke out of, but was cut short again on his comeback. Slater soon got a second wind, and hit a pair of Stinger Splashes. Price became frustrated and attempted to bring the ring bell inside. When the ref was distracted, he choked Slater with a towel. Price missed a top rope elbow drop and Slater took the opportunity to hit his Pumphandle Slam finisher for the win. Winner: Slater at
7:23
.
(4) Justice Jones vs. Buck Crossing.
Jones took a fan's sign that said "you just made the list!" He said that the entire city made the list. That was rude! Crossing had a cowbell which he shook quite a bit. The crowd chanted "We want cowbell!" which Jones happily obliged. The two locked up, but came to a bit of a stalemate. Crossing then played the chicken and bailed from the ring. The two worked a slower paced, traditional match, but the crowd was really into it. Jones grabbed his opponents' cowbell and shook it to some boos. Jones relied on cheap shots, but Crossing made his comeback with a nice dropkick. They went back and forth a bit until Justice hit a fallaway slam. Crossing got back into things and finished his opponent off with a Tombstone piledriver. Really good stuff here from both guys. They didn't need to do any crazy high spots, but told a story in the ring that people bought into. They relied on old school tactics and strong facial expressions to sell the match. Winner: Ruff Crossing in
12:46
(5) Maru & Brian Austin Knight & The African Prince Ali & Justice Jones & Jason Strife & Shaun Nautilus vs. "Cold Stone" Tim Boston & The Convict & The Freak & J.C. Slater & Devin Thomas & Ruff Crossing in a 6-on-6 Survivor Series Elimination Match. Crossing started things off against Knight, and Strife quickly tagged in as he thought he had the advantage. That plan backfired as Crossing remained in control. The heels cheated a bit and Jones hit a Frogsplash on Crossing for the pin.
Crossing eliminated in
2:14
Maru and The Convict went at it for a bit, with the heels making some quick tags. Maru tagged back in and hit a Shining Wizard to finish off the Convict.
The Convict eliminated at
4:21
. The heels had a 6-4 advantage.
Jones and Nasty were in the ring with the heels distracting the ref. They all assaulted Nasty, but he broke out and pinned Maru.
Night and Thomas went at it again. Night went up top for a crossbody block, but was caught and Thomas hit his finisher for the pin.
Night eliminated in
7:05
. The teams were tied at 4 a piece.
J.C. Slater tagged in for the first time and faced off against Ali. Slater connected with a big boot, then a legdrop a la Hulk Hogan for the pin.
Ali was eliminated at
8:16
.
Jones took the ring and hit a flurry of offense on Slater. He hit an impressive corner splash and pinned Slater.
Jones continued his rampage and hit a nice kick to the head on Freak and quickly pinned him.
Thomas and Boston were down 3-to-2. Boston tagged in and faced off against Jones. He slipped out of an Outsider's Edge and rolled up Jones.
Jones was eliminated in
10:21
. The sides were even at two a piece.
Strife went to work on Boston, and the heels double teamed the Steve Austin impersonator. They beat him down for a bit, and then he was pinned.
Boston eliminated in
10:58
.
Thomas was on his own against the monster heel Nautilus and Jaysin Strife. Nautilus no sold his offense and knocked him down. Nautilus hit a nice looking overhead suplex and tagged in Strife. The two double teamed Thomas, and Strife taunted the crowd. Strife went for a top rope splash, but jumped down to the mock the crowd further. He was rolled up for his effort.
Strife was eliminated at
14:39
.
Nautilus tagged in and hit one hell of a chokeslam for the win.
Winner and soul survivor: Shaun Nautilus in
15:01
Strife then took the mic and talked up Nautilus. He demanded that Nautilus should receive a title shot on
Dec. 18
. Another good bout here. Fun Survivor Series style action that kept the crowd entertained throughout.
(6) Yellow Dog and Jason Bates vs. Nicky Valentine and "Money Made" Julian Richards. Richards vowed to end Yellow Dog, and the poor dog didn't have a tag partner. Luckily Jason Bates came out to help him. Yellow Dog and Richards started things out. The heels double teamed Dog when the ref's back was turned. They took turns beating him for the next few minutes until Dog avoided a double clothesline and hit a hot tag. Or so we thought. Bates turned on Dog, beat him up and allowed himself to be pinned. It was the Sioux Falls screwjob on this Survivor Series night!
Winners: Valentine and Richards in
5:35
.
(7) Melanie Cruise vs. Shayna Baszler. Baszler is from Sioux Falls, and recently had a tryout in NXT. Cruise attacked from behind to start things off. Baszler started fighting back with knee strikes, but was laid out with a spinebuster. Baszler got back into things with a cross armbreaker, but her offense didn't last long. Cruise tossed her to the outside and chopped away at her. Baszler hit a flurry of kicks back in the ring, but was taken down again. Eventually Bazler locked in another armbreaker, which Cruise attempted to battle out of. They exchanged forearms in the ring, until Cruise hit an impressive Alabama Slam. Bazler kicked out for a nice nearfall. Baszler locked in the armbreaker one more time, and this time it worked.
Winner Baszler in 7:49.
(8) Eugene vs. Dagz. 
Dagz holds the Midwest All Pro Title, and battled the man who trained him. Eugene started things off with a snapmare, and Dagz quickly bailed to ringside. They locked up again and exchanged a series of holds on the mat for the next couple minutes. They broke away and received dueling chants from the crowd. Eugene took control and worked over the left arm of Dagz. He continued focusing on the arm by slamming it into the ring apron. Dagz eventually fought his way out and started throwing punches. They went to ringside and brawled a bit. Eugene went up top but was thrown down. Dagz took control for a bit until Eugene busted out an ankle lock. Dagz fought his way out and put Eugene in a Boston Crab. Eugene grabbed the rope and bailed to ringside. Dagz followed and they brawled some more. Back inside Eugene hit a superplex and later hit a Pedigree. Dagz kicked out. He attempted another one but Dagz powered out. Dagz hit a powerslam for a believable two count. Eugene soon responded with a superkick, then a Figure Four. Eugene became frustrated and soon missed a Stinger Splash. There was a ref bump, and Eugene rolled up Dagz for the win. The ref found a chain attached to his outfit that Dagz had placed and he reversed the decision. Winner: Dagz by DQ in
21:26
Eugene was upset with the finish and challenged Dagz to a no DQ match on Dec. 18. They're going to the Icon Lounge in Sioux Falls for their first event there, which will feature Chris Masters.
---
Please send any news tips and results to: pwtorch@gmail.com. For instance, let us know if you hear a pro wrestling reference on a popular talk show, see a pro wrestling related Tweet or Instagram from celebrity, hear an ad for matches advertised for an upcoming WWE event, or anything else pro wrestling related that'd be of interest to our readers. If you attend a live event, please send results. We don't set up correspondents ahead of time and count on readers like you to send an email with a report on live events you attend – not just WWE, but also ROH, NXT, international groups. and anything else.