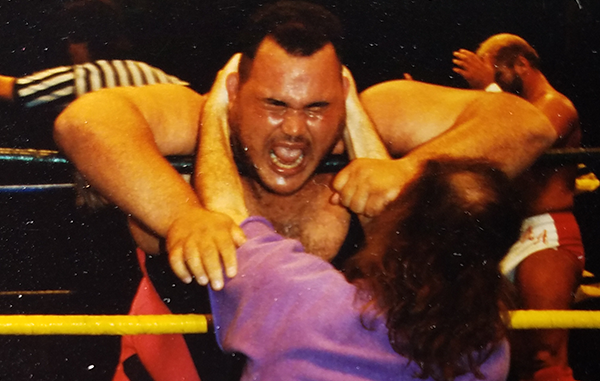 ---
SPOTLIGHTED PODCAST ALERT (YOUR ARTICLE BEGINS A FEW INCHES DOWN)...
---
-Dave Bautista and Finn Balor will make appearances at the Wizard World Comic Con in New Orleans in January. Batista appears Saturday, Jan. 7 and Balor on Sunday, Jan. 8. They will post for photos and sign autographs. Bautista will also conduct an interactive Guardians-themed Q&A panel on Saturday alongside Michael Rooker and Sean Gunn at the first Wizard World Comic Con of the year. Bálor will participate in a Q&A panel on Sunday.
-Kenny from Spirit Squad (Kenny Dykstra) was fired from his job as a director of a non-profit charity because he missed too many days of work, according to ProWrestlingSheet.com. He apparently understands the decision and felt it was worth it to potentially get a full time WWE gig again, but that contract offer hasn't come yet.
-P.N. News told the "Pancakes & Powerslams Show" that Ric Flair once requested only $50 for his payday while World Champion because attendance was so low. I remember when I was out in the Pacific Northwest when it was still the NWA, it wasn't WCW yet, and the NWA would go out to all the territories. He would have the title, and our top guy was The Grappler at the time. One time he wrestled Flair for the World Heavyweight Championship, and they would do the rounds to all the NWA affiliates. And Flair come in, he flew in, and it wasn't much of a house [money that came in]. We actually drew more money a couple of weeks earlier without everybody else coming in. I was sitting in the office with Don Owens, sitting there talking to him and picking people's brains, especially [Owens]. Flair comes in and he goes, 'Don. I know what the house is like. Don't worry about the percentage deal. Just give me 50 dollars out of the house and we'll call it good.' I was like, wow, dude, this is the World Heavyweight Champion and he just said just give me a 50 and we'll call it good. He was even disappointed in himself. Don gave him the percentage anyway, but I thought that was real big of Flair." (FULL ARTICLE)
-If you see a wrestler Tweet that seems particularly controversial, odd, funny, or otherwise newsworthy, send it to us at pwtorch@gmail.com so we can pass it along to all PWTorch readers here in our News Items updates.
NOW CHECK OUT THE PREVIOUS NEWS ITEMS UPDATE: NEWS ITEMS: Owens and Otunga exchange insults, Jim Ross headed to San Antonio Rumble weekend, Orton family update, Saposlsky FloSlam FIP news
FOR EVEN MORE NEWS & FEATURES, CHECK OUT OUR AFFILIATE SITE: PROWRESTLING.NET
---
Please send any news tips and results to: pwtorch@gmail.com. For instance, let us know if you hear a pro wrestling reference on a popular talk show, see a pro wrestling related Tweet or Instagram from celebrity, hear an ad for matches advertised for an upcoming WWE event, or anything else pro wrestling related that'd be of interest to our readers. If you attend a live event, please send results. We don't set up correspondents ahead of time and count on readers like you to send an email with a report on live events you attend – not just WWE, but also ROH, NXT, international groups. and anything else.