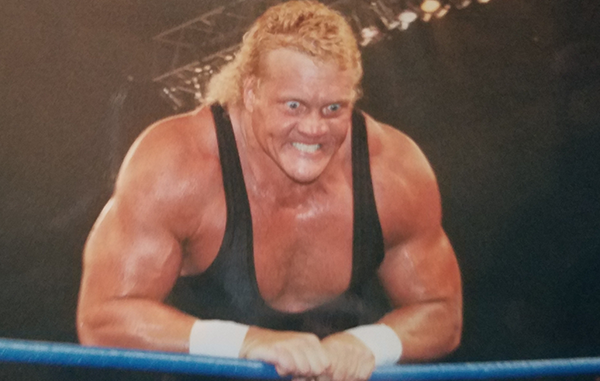 ---
SPOTLIGHTED PODCAST ALERT (YOUR ARTICLE BEGINS A FEW INCHES DOWN)...
---
The following is a WWF live event report from 20 years ago, originally published in the Pro Wrestling Torch Newsletter cover-dated Dec. 7, 1996, issue #418. VIP members gained access to the entire issue in PDF format and All-Text format this morning which also including these topics:
-A cover story on whether ECW is too controversial to debut on pay-per-view…
-WWF Newswire details Bret Hart's disappointing return to Raw, Shawn Michaels ripping on fans, and more…
-Chris Zavisa's feature column analyzes the two paths WCW took…
-Plus WCW Newswire, ETC. Newswire, WWF Live Event Reports, Keller's reports on Raw, Nitro, ECW, and other TV shows, and more.
Go VIP for just $2 today as part of our ongoing Black Friday Sale. Take $8 off our usually $10 monthly subscription price (that's 80% off!) or apply the $8 discount to a three month or one year subscription, too! DETAILS HERE.
---
WWF LIVE EVENT REPORT
NOVEMBER 28, 2016
LONDON, ENGLAND AT LONDON ARENA
Estimated Attendance: 7,000
(1) Barry Horowitz beat T.L. Hopper.
(2) Rocky Maivia pinned Justin Hawk Bradshaw after a shoulderbreaker. Maivia showed good charisma and has a future as a star if he's groomed right.
(3) Crush beat Bob Holly. Neither man got much of a response and the match was much like most TV squashes. Crush dominated until he missed a top rope fistdrop. Holly fought back momentarily, but Crush came back with a heart punch for the win.
(4) Faarooq pinned "Stalker" Barry Windham. Before the match Faarooq spoke about the "Nation of Domination." Windham responded and during his response he referred to Faarooq accidentally as "Ron Simmons."
(5) The Executioner (w/Paul Bearer) beat Aldo Montoya with the Asiatic Spike. Few fans reacted to Executioner or knew who he was.
(6) Sycho Sid beat "Stone Cold" Steve Austin via DQ to retain the WWF Title. Austin got the biggest pop of the night to this point, but when Sid came out his pop topped Austin's. The Survivor Series aired two nights earlier in the UK so Sid's title win was fresh in people's minds. Austin did some mic work before the match. Austin stalled quite a bit in the early minutes, leaving the ring and staying for nearly the ten count. Once the match got going, Sid dominated the early minutes until he went for a chokeslam at ringside. Austin escaped and rammed Sid into the railings and ring steps. Austin then took control and carried Sid to a surprisingly decent match. The end came when Sid made a big comeback and went for a chokeslam. Austin escaped and went for the Stone Cold Stunner right away. Sid, though, pulled away and knocked Austin to the floor with a big boot. Austin re-entered the ring, but rolled out again. As Sid argued with the ref, Austin nailed Sid with the title belt for the DQ. British Bulldog then ran to the ring and attacked Austin and saved Sid. Bulldog threw Austin out of the ring. Sid then confronted Bulldog and chokeslammed him. The crowd turned on Sid and booed him. As Sid went for a powerbomb on Bulldog, the crowd popped as Bret Hart made his way to the ring. Austin then nailed Bret from behind. Sid chokeslammed Bret and set him up for a second chokeslam, but many WCW officials ran in to restore order.
(7) Bret Hart beat Vader. Bret didn't leave the ring after the previous match. The match was back and forth with some brawling at ringside. Vader teased a moonsault, but when he splashed Bret instead, Bret caught him with raised knees. The match continued until Vader missed another Vaderbomb and Bret applied the sharpshooter. Vader submitted about five seconds into the hold. This was the best match of the night.
(8) British Bulldog & Owen Hart beat The Godwinns. Bulldog and Owen were heavily cheered. The Godwinns tried to turn the crowd in their favor, but were unsuccessful. Owen & Bulldog played a full heel role, but got cheered throughout the match anyway. The match went the same as their past matches with the false title change and subsequent restart and victory by the champs. Owen nailed Henry as he went for the slopdrop on Bulldog. Bulldog then rolled up Henry for the quick pin.
(9) Undertaker beat Mankind (w/Paul Bearer). Undertaker was ultra-violent in attacking Mankind early. Mankind took over by choking Undertaker with a chair and mic wire at ringside while screaming over the house mic. Mankind used an object in the ring and then slowed the pace with a lengthy nervehold. Undertaker came back, but Mankind got powder from Bearer and threw it at Undertaker, but Undertaker knocked it back in his face. Undertaker then hit the clothesline, but when he went for the tombstone, Mankind escaped and applied the Mandible Claw. Mankind hit Undertaker with a chair, but Undertaker kicked the chair back in Mankind's face. When Mankind came off the ropes with a foreign object, Undertaker caught him with a boot to the face, a chokeslam and the tombstone for the win. An entertaining match. Undertaker celebrated his win in the ring for quite a while after the match.
NOW CHECK OUT THE PREVIOUS 20 YEARS AGO FLASHBACK: Keller's 11/20/96 ECW TV report including Taz, Sabu, RVD, Paul Heyman, Joey Styles, Tommy Dreamer, Too Cold Scorpio, BWO