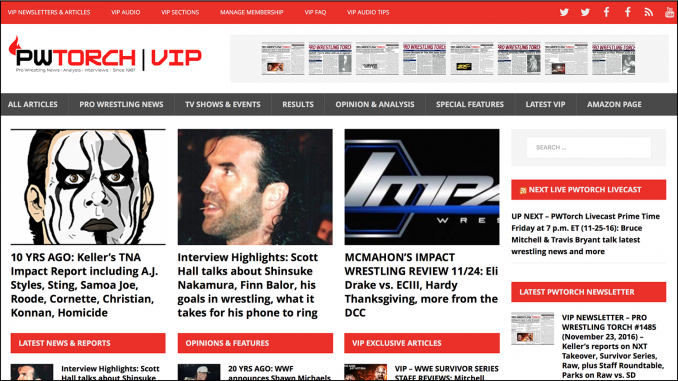 ---
SPOTLIGHTED PODCAST ALERT (YOUR ARTICLE BEGINS A FEW INCHES DOWN)...
---
Become a PWTorch VIP member today for just $2 – our big Black Friday Sale.
JUMP RIGHT TO THE SIGN-UP FORM and enter COUPON CODE "cybermonday16"
That's 80 percent off the usual $10 monthly rate. You can also apply the $8 discount to a three month or one year subscription instead.
CLICK FOR DETAILED INFO ON VIP BENEFITS + VIP MEMBER TESTIMONIALS
OR JUMP RIGHT TO THE SIGN-UP FORM and enter COUPON CODE "cybermonday16"
QUICK LIST OF KEY VIP BENEFITS…
-AD-FREE WEBSITE: Ad-free access to our mobile-friendly and desktop-friendly PWTorchVIP.com website with all PWTorch content plus exclusive articles and podcasts  – with instructions on how to turn it into a home screen button for an app-like experience.
-VIP EXCLUSIVE PODCASTS: Over a dozen VIP-exclusive new Audio Shows (including the Daily Wade Keller Hotline) every week plus ad-free editions of the PWTorch Livecast.
-PODCAST APP COMPATIBLE: Subscribe to our PWTorch VIP-exclusive Audio Shows on a podcast app on popular phone podcast apps or iTunes.
-NEW WEEKLY NEWSLETTER EVERY WEDNESDAY: Our new weekly 12 page newsletter in both PDF or All-Text formats including exclusive articles and coverage of the top events and stories from that week in the pro wrestling industry.
-EXCLUSIVE VIP ARTICLES: Exclusive columns from Bruce Mitchell and Greg Parks, exclusive Keller TV Reports, exclusive PPV Roundtable Analysis from the staff, and other exclusive articles each week.
-NEARLY 30 YEARS OF WEEKLY NEWSLETTER ARCHIVES: Instant access to over 1,400 back issues of the Pro Wrestling Torch Newsletter providing a detailed weekly by week chronicle of pro wrestling history from an independent insider journalism perspective.
-NEW 20 YRS AGO NEWSLETTER EVERY SATURDAY MORNING: A newly posted "20 Years Ago" newsletters every Saturday morning.
-MASSIVE PODCAST ARCHIVES: Thousands of previous VIP Audio Show podcasts and Retro Radio Shows.
-NEW RETRO RADIO SHOW EVERY THURSDAY: A newly posted Retro Radio Show from the early 1990s or Attitude Era every Thursday night.
-INTERACT WITH OTHER VIP MEMBERS: A VIP Forum to interact with other VIP members 24/7 about current events and sharing memories and recommendations.
CLICK FOR DETAILED INFO ON VIP BENEFITS + VIP MEMBER TESTIMONIALS
OR JUMP RIGHT TO THE SIGN-UP FORM and enter COUPON CODE "cybermonday16"