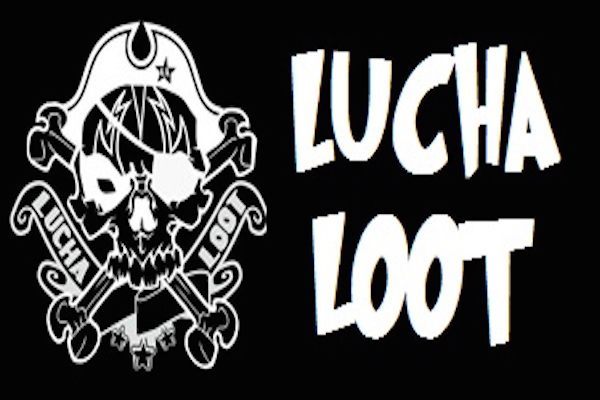 ---
SPOTLIGHTED PODCAST ALERT (YOUR ARTICLE BEGINS A FEW INCHES DOWN)...
---
The latest PWTorch.com monthly unboxing video features an unboxing of the October 2016 Lucha Loot Deluxe Booty Chest. Lucha Loot features 100% authentic lucha libre merchandise. There are two options when signing up. You can either purchase a Standard Chest or a Deluxe Booty Chest.
The Deluxe Booty Chest comes with extra items, but no matter which chest you order, you will a high quality mask, t-shirt, a copy of Rudo Can't Fail, and a signed 8×10. One of the items in your box will be an item that has never been released to the public previously.
The October Deluxe Booty Chest did a nice job of following up on the La Mascara vs. Dragon Kid theme from the previous month. This box included a La Mascara mask, which is one of the better masks that have been included in these chests to dates along with La Sombra. The big get in this crate was the Dragon Lee signed photo. Lee has made a name for himself in CMLL, but he's branched out to the U.S. this year working on PPV and TV for Ring of Honor. His match against Kamaitachi in ROH was really good and brought their feud from CMLL to an entire new audience. Another cool item in this crate was the Dragon Lee keychain, which is really nice. Another nice item, which was exclusive to the Deluxe Booty Chest, was the glow in the dark version of the Muertos Luchador Mask t-shirt. The other items in this box easily get you double what you paid in value.
If you are a fan of lucha libre, I would say Lucha Loot is a must for you. The people behind this monthly crate service at Masked Republic have a proven track record of delivering amazing crates. The shirt designs have been fantastic to date, especially if you subscribe to the Deluxe Booty Chest.
NEW CRATE OPTION: Lucha Loot is offering a new service this month called Lucha Loot Mini, which is a lucha mask of the month club.
You can purchase a subscription to Lucha Loot by visiting LuchaLoot.com. Act fast, as the deadline to order the December Lucha Loot chest is December 15. Crates ship around the 21st each month. No items are ever repeated. This new monthly offering from Lucha Loot costs $10 per month plus shipping. The best part is that no masks are repeated. People that subscribe for long-term subscriptions will get an even better rate depending on the length of the subscription chosen.
And now to the unboxing video!
Attention: Get 10% off your first Lucha Loot Chest by entering the code PWTORCH at LuchaLoot.com!
***
Email Sean at pwtorchsean@gmail.com
Please click <a href="http://www.facebook.com/SeanRadicanRWC">HERE</a> and click "like" to join the Radican's Wrestling Community Facebook fan page.
Follow Sean on Twitter at Twitter.com/SeanRadican