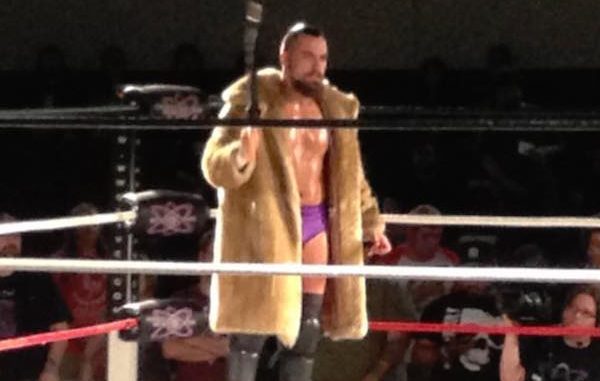 ---
SPOTLIGHTED PODCAST ALERT (YOUR ARTICLE BEGINS A FEW INCHES DOWN)...
---
WXW
January 28, 2017
Tufnell Park, London at the Boston Dome
Report by Dave Green (@dagreeno)
Germany wrestling promotion Westside Xtreme Wrestling made their first appearance in London and their first UK show for two and half years as part of the We Love Wrestling tour. This show will be broadcast on FloSlam in a few days, so if you don't want spoilers then look away.
(1) A4 (Absolute Andy & Marius Al-Ani) defeated The London Riots (James Davis & Rob Lynch) to train the WXW Tag Team Titles. Hometown favourites the Riots had the fan support during this encounter with the usually popular champions. This was a great way to open the show, with both teams keeping control for long portions and great hoss fight sequences between Andy and Lynch. Davis survived the champs' F5 / Frog Splash combo but succumbed to Andy's top rope elbow.
(2) Travis Banks beat Jody Fleisch.The New Zealand native was greeted by Aussie-Aussie-Aussie chants. Banks was a replacement for Pete Dunne, removed from the show for likely FloSlam reasons. Fleisch is a British wrestling legend that appeared in the heyday of the FWA and made appearances for CZW and ROH in their early years. This was a great match with both men having great chemistry. Fleisch nailed a beautiful top rope moonsault to the outside. He missed a 720 DDT attempt and Banks scored a roll up with a cheeky pull of the rights to get the tainted win.
(3) The Avalanche" Robert Dreissker beat "Bad Bones" John Klinger. This was a continuation of the feud between Bones and the Ceberus stable. Dreissker is a monster of a man and scored with multiple power moves. Bones, who is no small man himself, brought the fight and kept the crowd engaged and came close to victory several times, but it wasn't enough on this occasion. Dreissker scored with an impressive Blue Thunder Bomb followed by a second rope Avalanche splash for the win in a big hoss fight.
(4) "Massive" Jurn Simmons defeated Walter. This match was to crown a number on le contender to the Unified World title at 16 Carat. Walter cut a promo in German before the match explaining to the crowd the core beliefs of his RingKampf stable. Simmons made his grand entrance and, quite frankly, he was a made man in London on this night. Those that knew him before cheered and those that didn't were cheering very soon thereafter. This was another fantastic display between two huge men. Amazing power displays from both before Simmons sealed the deal with a top rope moonsault. Great stuff in front of a very impressed crowd.
(5) Da Mack beat Chris Brookes. Da Mack, who readers will know best from his first round match in the Cruiserweight Classic, was very over with the crowd. Brookes is pretty much despised everywhere he goes, which isn't helped by his spitting water over the audience. This was a fun match between former Shotgun champions that ended with Da Mack catching Brookes' attempt at a top rope move into an Ace Crusher for the win.
(6) Toni Storm and Melanie Grey beat Alpha Female and Jinny. This match over delivered in a big way. Great chemistry between all four women, with Alpha laying some stiff strikes into Grey to continue their rivalry. Storm was a star here, getting a massive reaction and taking Alpha out with a suicide dive. Grey trapped Jinny in a Cloverleaf for the submission win. Really fun match.
(7) Axel Dieter Jr beat "The Villain" Marty Scurll to retain the WXW Unified World Championship. At the 16th Anniversary Show, Scurll defeated Jurn Simmons and Adam Cole to win the title. He was immediately put into a surprise title match by heel authority figure Christian Michael Jakobi. Dieter won the title quickly and this is the return match. Scurll had major support from the crowd and this match was practically perfect in every way. Outstanding. From the early technical exchanges, to the high impact moves, to both men's character work, everything clicked into place here. Dieter eventually made Scurll submit after around 25 minutes. It was a close run thing and I highly recommend everyone seek this match out. Post-match, Jurn Simmons made yet another entrance to confront Dieter. The champ smacked Simmons with the title belt, but still fell to the challenger's piledriver to send the crowd home happy. And happy they were – Simmons was treated like a superstar in London.
As said earlier, this show will be on FloSlam very soon, as well Highspots Network and WXW-Now. This show comes highly recommended!
NOW CHECK OUT THESE OTHER LIVE EVENT REPORTS FROM EUROPE.
---
Please send any news tips and results to: pwtorch@gmail.com. For instance, let us know if you hear a pro wrestling reference on a popular talk show, see a pro wrestling related Tweet or Instagram from celebrity, hear an ad for matches advertised for an upcoming WWE event, or anything else pro wrestling related that'd be of interest to our readers. 
If you attend a live event, please send results. We don't set up correspondents ahead of time and count on readers like you to send an email with a report on live events you attend – not just WWE, but also ROH, NXT, international groups. and anything else.