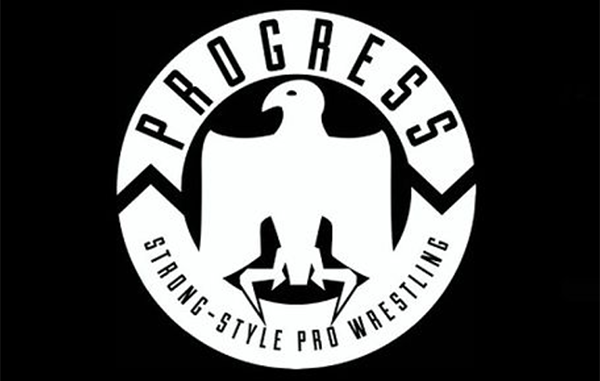 ---
SPOTLIGHTED PODCAST ALERT (YOUR ARTICLE BEGINS A FEW INCHES DOWN)...
---
PROGRESS Wrestling Chapter 43: Tropic Thunderbastard
January 29th 2017
Camden, London at the Electric Ballroom, Camden
Report by Dave Green (@dagreeno), PWTorch correspondent
This chapter kicked off unusually about an hour before the official kick off. While the crowd was chatting, Sebastian and Pastor William Eaver suddenly appeared in the ballroom. Sebastian told Eaver that he was to be a member of the ringside crew for the show. This event can be seen on the Facebook live pre-show on Progress's page.
(1) The London Riots (James Davis & Rob Lynch) beat The Kings of the North (Damien Corvin & Bonesaw). The Kings are a team from Belfast, Northern Ireland, and are a dominant team in Ireland's OTT promotion. This was their Progress debut. Things started off quite lightheartedly with Lynch mocking Bonesaw's red gloved hand by engaging in a duel, finished with a glove slap. Bonesaw and Davis then hit the same moves as each other on their opposing partners, then accusing each other stealing the other's move set! The teams were very evenly matched and the Riots secured victory with the GBH.
An announcement was then made that Paul Robinson was injured and unable to be in the Thunderbastard match. A replacement would be announced in due course. William Eaver in his crew shirt looked intrigued.
(2) Laura di Matteo defeated Chakara in the Natural Progression Series. Laura debuted a new look tonight, adopting a MMA style complete with her hair in corn rows. It suited her very well. Chakara was making her chapter debut and recently defeated Pollyanna to qualify for this match.  Despite their relative inexperience, this pair on quite the fine match, with Chakara's facial expressions after being knocked silly or being aggrieved at a two count being particularly entertaining. Laura hit her tremendous suicide dive and later surprised Chakara with a crucifix style submission jokd for the almost instant submission to advance in the tournament.
At this point, co-owner Jon Briley got MC Jim Smallman's attention to suggest a replacement for Robinson. Smallman then told William Eaver to get out of his crew top and get ready for the Thunderbastard match.
(3) "Massive" Jurn Simmons beat "Body Guy" Roy Johnson. Johnson was making his first appearance at Progress since his fine showing at the WWE UK tournament and received a hero's welcome. Simmons was making his debut at Progress and was welcomed well by those that had seen him the previous night at WXW. His entrance was, as expected, long and spilt the crowd in terms of who enjoyed it. Johnson spent the entrance either lying down or doing push ups.  After the grand entrances of both men, the match was fairly pedestrian. Both men worked hard, but something didn't quite click between them. The final few minutes were well performed though, with Johnson showcasing his power. Simmons proved too much, however, and hit a piledriver to score the win. This match (and the entrances!) can be seen on Progress's Facebook page
(4) The South Pacific Power Trip (Travis Banks & TK Cooper w/ Dahlia Black) beat RingKampf (Axel Dieter Jr. & Walter). RingKampf, WXW's top villain stable, recently debuted in Progress with a victory over the London Riots. Here, they faced the undefeated number one contenders to the tag titles in somewhat of a role reversal, as they were cheered over the despised New Zealanders. What seemed like a card filler match when first announced turned into the match of the night and possible match of the year contender.
Dieter and Banks engaged in a wonderful technical display (Dieter is seriously one of the best pure wrestlers I have ever seen). When the massive Walter tagged in, Cooper and Banks attempted to take him down with chops and forearms. Every time they tried this, Walter would retaliate even harder. I can't do justice to this match by writing about it. It had everything you want in good tag team wrestling. The Power Trip gained a tainted win when they went to the Ultimate Warrior/Rick Rude WM5 ending, with Cooper grabbing and holding the legs of Dieter on the outside of the ring for Banks to get the pin. WATCH THIS MATCH! RingKampf got a standing ovation for their effort.
(5) Mark Andrews won the Thunderbastard match. Eight men enter at two minute intervals, the winner gets a shot at the Progress Title at any show they choose. Mark Andrews entered at No. 1, Marty Scurll No. 2. Trent Seven entered the match at No. 3, Jack Sexsmith followed at No. 4. At No. 5, Pastor William Eaver made his entrance, but was stopped by Sebastian who inevitably took the Pastor's place in the match. The other participants left the ring in disgust, which left a distracted Sebastian prone to a roll up from Sexsmith for the first elimination, which received a standing ovation from the jubilant crowd. Seb attacked Sexsmith with a chair, but was stopped by the Pastor, who finally laid out Seb. We will wait to see the ramifications of these actions, but the crowd popped huge for this development in the story.  While Sexsmith convalesced, Zack Gibson made his return to Progress at No. 6. He grabbed the mic to make his usual speech, but was cut off by an Andrews body block. At No. 7, Gibson's Origin stablemate Nathan Cruz came in and the pair took control of everyone in the match. At No8, Dave Mastiff, also of the Origin, was last to enter the match. In recent months, Mastiff and absent Origin member El Ligero have been on the lighter side of things by being the Banter Edition of the Origin, which clearly does not sit well with the more serious Cruz and Gibson. After some scuffles between the three, Mastiff finally laid out his stablemates. Scurll gave Mastiff his finger snap and signalled for the Chicken Wing, but was rolled up by Trent Seven to be eliminated. A Cruz/Gibson double team saw the elimination of Mastiff, followed by Andrews hitting a brainbuster on Seven to eliminate him. Sexsmith finally recovered enough to score a major upset by eliminating Cruz, making him tap to the Crippler Cockface (no, that's not a typo!). Gibson then eliminated Sexsmith with the Helter Skelter.  The final pairing of Andrews and Gibson was fantastic, with Gibson using the time that Andrews was down to once again take the mic and speak to us, to which the crowd booed loudly. Eventually Gibson got too cocky, allowing Andrews to counter the Helter Skelter into the Stundog Millionaire, followed by the Shooting Star Press for the big win and a title shot.
(6) Jimmy Havoc beat Pete Dunne via DQ so, Dunne retained the Progress World Title. This inevitably spilled to the outside very quickly, with each man launching the other into sections of the crowd. Dunne's British Strong Style stablemate Trent Seven skulked at ringside interfering wherever possible. This was a fine main event, with the crowd solidly behind the challenger. Dunne drew blood from Havoc's finger after a mouthguard-less bite. Havoc hit the Acid Rainmaker but Seven pulled the ref out of the ring. After Havoc took down Seven, he hit another Rainmaker on Dunne, but this time Seven broke the pinfall up, for which the referee had to call for the bell and award the match by disqualification to Havoc.
Post-match, Dunne and Seven beat down on Havoc with chairs until some familiar music hit. Out came Flash Morgan Webster, returning to Progress for the first time since April since his shoulder injury. While that was an amazing return in itself, Mark Haskins' music then hit to a mega pop. Both men hit the ring to take down British Strong Style. Haskins got on the mic to run down the disrespectful Dunne, stating that he had something that belonged to him (Haskins had to forfeit the title due to his neck issues). Haskins told Havoc that he and Webster would join him in the fight against not only British Strong Style, but also the Swords of Essex after their recent actions, and made the big announcement that both he and Webster were cleared to wrestle!
This was an amazing and emotional return for both Webster and Haskins, in particular for the latter as it was unknown when, or even if, he would ever return. Another fine show from Progress, with the last three matches being of a high calibre. If you see only one match from this, then make it RingKampf vs. the Power Trip, but the post main event activities are essential viewing too. The show will be on Demand-Progress within a week.
NOW CHECK OUT THIS RECENT REPORT: 1/21 Revolution Pro Wrestling in London, England: Shibata vs. Riddle, White vs. Stone, Seven vs. Trevor Lee, Scurll vs. ZSJ
---
Please send any news tips and results to: pwtorch@gmail.com. For instance, let us know if you hear a pro wrestling reference on a popular talk show, see a pro wrestling related Tweet or Instagram from celebrity, hear an ad for matches advertised for an upcoming WWE event, or anything else pro wrestling related that'd be of interest to our readers. 
If you attend a live event, please send results. We don't set up correspondents ahead of time and count on readers like you to send an email with a report on live events you attend – not just WWE, but also ROH, NXT, international groups. and anything else.