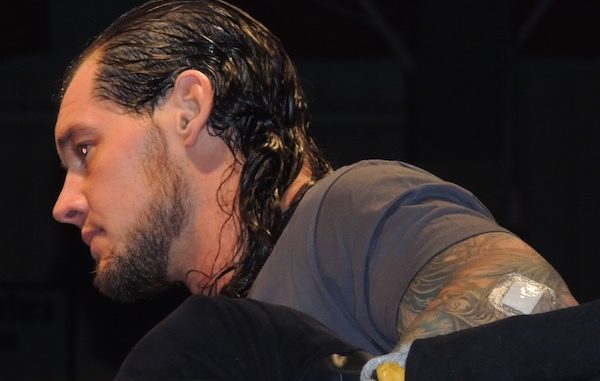 ---
SPOTLIGHTED PODCAST ALERT (YOUR ARTICLE BEGINS A FEW INCHES DOWN)...
---
WWE LIVE EVENT – SMACKDOWN
JANUARY 30, 2017
HIDALGO, TEX.
REPORT BY CHRIS CAVAZOS, PWTORCH CORRESPONDENT
Arena is pretty full.  The last house was about 20 percent empty. At that one John Cena wasn't here. Plus this is right after the Rumble.
(1) The Usos beat Rhino & Heath Slater.
(2) Kalisto beat Curt Hawkins. The Hispanic crowd loves Kal. Little to no reaction for Curt.  They go back and forth. Kal goes on a streak of kicks to the head and then hits the Cine del Sol in the middle of the ring. Curt get booed as he leaves the ring.
(3) Dolph Ziggler pinned Apollo Crews. Ziggler seems to be acting like a baby face. He is playing up to the crowd. Next comes out Apollo Crews. Not a great reaction, but some cheering. Crews is on offense intially. The crowd begins dueling chants of "Let's Go Ziggler / Ziggler Sucks." Half way through Ziggler takes off his shirt. He plays it up to the crowd when he is on offense by shaking his hips. They go into a few rests holds.  Ziggler gets boos from men for playing up his sexuality. Ziggler hits him with a European uppercut, dropping Crews. Chokehold. (Sigh). Ziggler gets caught during his gyration of his hips. Crews goes on offense with a series of kicks and hit a standing 360 flip on the floor, then goes for the pin. Ziggler kicks out. Ziggler gets up and hits Sweet Chin Music and scores the three count. He gets a decent reaction. Dolph goes around the ring shaking kids hands and giving them high fives. Is he a heel or not?
(4) Nikki Bella & Naomi beat Natalya & Carmella. Bella comes out to a good reaction.  Crowd really loves her. Men and women. Noami comes out with her black light gear. Crowd knows her and cheers her on. They embrace in a hug. Nattie comes out. People still cheer her. Carmella comes out next. With James Ellsworth. He is wearing that crazy outfit from Smackdown -a gold shirt, backwards hat, and some Jordans. He looks like a broke Enzo. Their reaction isn't as good as I thought it would be. Carmella starts off, but she runs away and quickly tags in Nattie. Crowd is into the match, cheering faces and booing heels.  Carmella plays a chicken heel throughout, constantly complaining to ref and then Ellsworth interferes, tripping Noami. Noami is in trouble in the middle. While Nikki is waiting for the hot tag, she starts clapping and gets the crowd involved. Nattie tells the crowd to shut up and gets loud boos. This is a good match with psychology and a story. The heels gang up in Naomi in the corner, but she gets out. She tried for the hot tag, but still no luck. Nattie does "You can't see me" to Bella, which allows Noami to get the hot tag and Nikki begins her Five Moves of Doom.  Nattie taps, but Ellsworth distracts the ref.  There is some chaos I miss, but Nikki hits her finisher in the center on Nattie for the three count.
(5) Dean Ambrose pinned The Miz (w/Maryse) to retain the Intercontinental Title. Miz gets the microphone and gets booed. He says the crowd is mad because he didn't win. He doesn't blame himself but us the fans for never supporting him. That we say he sucks. The crowd chants "You suck!"  He says, "I could not possibly suck. I wasn't born in Hidalgo." Then he says, "I'm also married to Maryse. I can't suck." Miz then insults every married man and woman by saying he has seen what they are married to. He blames everyone for his loss of the IC Title. "Tonight I will get back my belt," he says. Crowd yells, "You suck!"  He asks for silence while he says his catch phrase. And of course the crowd yells. Dean cuts him off and comes out to a loud cheer. Miz asks for a second to finish catch phrase.  Cheers of Ambrose come down on the ring. Miz moves to the center of the ring for the catch phrase and Dean attacks him mid "awwwwwesome." Dean brawls back and forth and Miz uses his wife to get an advantage. His wife slaps Dean when the ref's back is turned. Miz does the "Yes!" chant and the Bryant rapid-fire kicks. Ambrose tries to rally, but is tossed out of the ring.  More "Yes!" chants. Ambrose clotheslines Miz. A few more clotheslines and a running bulldog. Miz begins working Dean's knee.  Dean rallies and forgets the knee, tossing Miz outside the right.  He does a suicide dive right into Miz. They get back into the ring. Miz gets Dean in the figure-four.  Dean grabs the ropes to break the hold.  Miz goes back to the knee and goes for an inside cradle on Dean who kicks out. Dean is selling the knee. Wife goes to slap Dean, but gets caught. Wife gets ejected with lots of cheers.  Dean has Dirty Deeds in the center of the ring and gets the 1-2-3.  Kids love him, by the way.
Intermission
(6) Alexa Bliss pinned Becky Lynch to retain the Women's Championship. Decent reactions for both. Becky is in control of the match. Bliss keeps running away. Action goes to the outside of the ring. Action goes back into the ring. Alexa is a firecracker just like on TV. She has a good heel attitude. Crowd cheers for Becky. Alexa gets her in an armbar and Becky attempts a pin to escape.  Alexa is dominating as this point. Alexa has been working Becky's arm and she sells it well by holding it close to her. Alexa tries various moves on Becky, but can't get the pin and has a temper tantrum and yells at Becky who gets her in an armbar.  And she uses the double jointed arms to be able to rake the eyes of Becky for the pin.
(7) American Alpha (Jason Jordan & Chad Gable) beat Randy Orton & Bray Wyatt via DQ so Alpha retained the WWE Smackdown Tag Team Titles. American Alpha comes out to little reaction. Randy and Bray get a good reaction and the fire flies come out. Randy starts out with Jason Jordan. Crowd is cheering RKO and chanting "Let's go Randy!" Randy tags in Bray, who starts into Chad Gable. Randy keeps getting cheered. Even after he clotheslines Gable when he is waiting for the tag. Randy and Bray are in charge.  They have cut the ring in half. Randy hits a second rope DDT and sets up for the RKO. Gable does a dropkick and tags in Jordan. Then Randy tags in Bray. Bray gets Gable in Sister Abigail but Jordan interferes.  Randy gets a chair and hits both Jordan and Gable. Loss by DQ. Randy and Bray tear up American Alpha, but Luke Harper comes out solo and stares down Bray and Randy. He stretches his arms and seems to be asking for forgiveness. Bray does the same and Randy objects to Bray getting between. Harper clotheslines Bray and Randy and stands tall on the ropes. He has his original music playing as he stares down at Randy and Bray
(8) John Cena defeated Baron Corbin and A.J. Styles in a Triple Threat match for the WWE Title. A.J. came out first. Not an amazing reaction. Tonight's crowd is for Cena. Corbin came out to not much of a  reaction. Cena came out to "Cena! Cena!" chants. No battle chants tonight. During announcements A.J. gets a good reaction. Crowd is cheeering "A.J. Styles "and "Let's go Cena!" Corbin and Cena start off while A.J. stays on the outside. He eventually gets chased inside by Corbin. Cena and A.J. do a double suplex on Corbin and toss him out of the ring. A.J. and Cena are alone in the ring. They both go from post-to-post getting the crowd to cheer or boo. A.J. gets booed. Corbin comes back and does a double clothesline on both. Corbin gets booed.  Cena tried to get Corbin in the AA, but he was too heavy and they fell over.  Eventually A.J. and Corbin gang up on Cena. Crowd boos. Eventually Cena escapes and A.J. get hit by Corbin. A.J. hits a Styles Clash, but Corbin pulls out the ref. A.J. hits the Phenomenal Forearm on Corbin and goes for the pin, which Cena breaks up. Cena does his Five Knuckle on A.J. AJ counters with the Calf Killer, but Cena escapes and then applies the STFU.  A.J. grabs the ropes. Cena hits the AA on Corbin. Then on A.J. who lands on Corbin. Corbin gets pinned by Cena.
NOW CHECK OUT THIS PREVIOUS REPORT: 1/20 WWE in Binghamton, N.Y.: Reigns gets mostly cheered in defeating Owens, Strowman vs. Zayn, Seth vs. Rusev, Swann vs. Neville vs. Perkins
---
Please send any news tips and results to: pwtorch@gmail.com. For instance, let us know if you hear a pro wrestling reference on a popular talk show, see a pro wrestling related Tweet or Instagram from celebrity, hear an ad for matches advertised for an upcoming WWE event, or anything else pro wrestling related that'd be of interest to our readers. 
If you attend a live event, please send results. We don't set up correspondents ahead of time and count on readers like you to send an email with a report on live events you attend – not just WWE, but also ROH, NXT, international groups. and anything else.