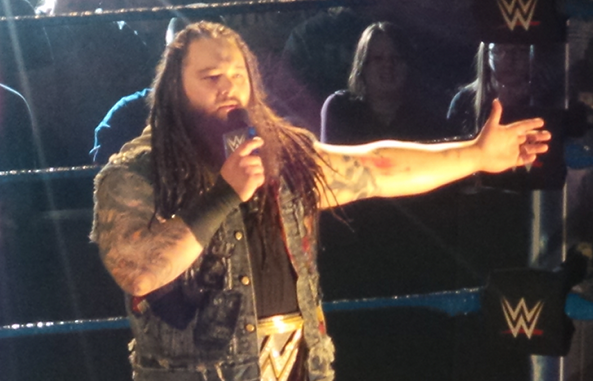 ---
SPOTLIGHTED PODCAST ALERT (YOUR ARTICLE BEGINS A FEW INCHES DOWN)...
---
WWE LIVE EVENT REPORT – RAW & SMACKDOWN
MARCH 12, 2017
NEW YORK CITY, N.Y. AT MADISON SQUARE GARDEN
REPORT BY ROMEO FROM NYC, PWTORCH CORRESPONDENT
Packed house, by far the most I've seen it filled up since I've been going to MSG house shows. They had eight sections blocked off behind the entrance as usual. Lots of families in the building.
The show started with a standard house show video from Daniel Bryan. Shane McMahon's music hit. He came out and mentioned it was his first time back in the Garden in eight years. He acknowledged his three kids in the front row. I couldn't make out if his wife or Linda were seated as well. A.J. Styles interrupted, he got a nice pop. A.J. whined and complained about how he has been screwed recently. He made a whole lot of sense so Shane offered him an opportunity for tonight. Randy Orton's music hit to a bigger pop and we had our first match of the evening.
(1) Randy Orton defeated A.J. Styles. Really good match, not as good as their encounter on Smackdown though. The crowd turned on A.J. and was behind Orton the whole way. A.J. wrestled in his cut off shirt which was weird. Funny spot when Randy threw A.J. into the barrier ringside, I caught Shane's oldest kid talking trash at his direction. When A.J. went for the Phenomenal Forearm, Randy grabbed him by the head and dragged him off the top rope for an RKO. After the match, Randy took selfies with his wife's family at ringside (they are from Queens, N.Y.).
(2) Rhyno & Heath Slater & Kalisto defeated Curt Hawkins & Tyler Breeze and& Fandango. Standard match, crowd was really hot for Rhyno. Rhyno delivered a gore to Tyler Breeze to end it. Breeze sold it like he got shot by a cannon.
(3) Dolph Ziggler defeated Apollo Crews. Ziggler was more over than Crews, the crowd treated him like the babyface. Apollo is so gifted in the ring, the stuff he pulls off is truly impressive. Ziggs won it with a superkick. He also wrestled in his cut off t-shirt. After the match, he gave his shirt to someone that was wearing another shirt of his at ringside.
(4) Dean Ambrose defeated Luke Harper, The Miz & Baron Corbin to retain the WWE Intercontinental Championship. Match of the night. Everybody got their spots in. Funny spot with everyone going for a roll-up for about 30 seconds straight. Dean won with a dirty deeds to Miz.
(5) Brock Lesnar defeated Kevin Owens. This had a big fight feel as the ring announcer announced them when they were already in the ring. Heyman took the mic and announced Brock himself. As the bell rung and Brock was taking his shirt off, Kevin ambushed him. Lesnar slumped in the corner after a barrage of fists and Kevin hit his cannonball. That was all the offense for KO though as Brock took him to Suplex City. Three suplexes, including one German off the top rope. F-5 and it was over in 2:30.
They showed backstage video of Becky Lynch warming up and went to Intermission. During intermission, they showed a video highlighting Asuka. I'm assuming they thought people may not know who she is, but boy that would turn out false later on.
(6) Asuka & Becky Lynch & Nikki Bella & Tamina defeated Alexa Bliss & Mickie James & Carmella & Natalya. James Ellsworth was with Carmella and interfered in the match a couple of times. Asuka got a huge pop for her entrance, louder than Nikki's, Becky's and Alexa's. Loud "We want Asuka" chants as she started the match on the apron. She got the hot tag and cleared house. Carmella tapped to the Asuka Lock. The four babyfaces posed on all 4 turnbuckles and also on the stage.
(7) American Alpha defeated The Usos to retain the Smackdown Live Tag Team Championship. Fantastic match, wish it went longer. If this is where they're heading for Wrestlemania, we are in for a treat. The crowd was more behind The Usos than Alpha. A doomsday device won it for American Alpha.
(8) Bray Wyatt defeated John Cena to retain the WWE Championship. Cena came out to the pop of the night. Not as many boos as I expected. Great match. Bray got himself counted out purposely but Shane came out to restart the match with no dq and no countout. They brought out the tables and chairs after that. Cena set up a table in the corner. Wyatt set up a chair in the corner. Bray ended up throwing Cena into both the chair and table that were set up. Bray eventually won with a low blow which was surprising considering everything that Cena kicked out of before that. After the match, Bray got on the mic and asked everyone where they were going as people started to file out. He said he hates John Cena and he is going to end his career. He set up a table in the ring but John Cena gave him the Attitude Adjustment through it. John celebrated to his music to end the show.
FINAL THOUGHTS: Good show. A.J. vs. Orton was a treat because it wasn't advertised beforehand. Owens vs. Lesnar was what I thought it would be, disappointing. For one night only, seeing Asuka on the main roster was the highlight of my night. They are returning July 7 for a house show. I could not tell if it was Raw or Smackdown. Pre-sale password is NYCWWE.
Biggest pop : John Cena
Biggest heat : The Miz
Match of the night : Ambrose vs. Harper vs. Miz vs. Corbin
NOW CHECK OUT ANOTHER REPORT ON THIS SAME EVENT: 3/12 WWE in New York City, N.Y. at MSG: Bray defends against Cena, Orton battles Cena again, Lesnar vs. Owens, Shane returns to MSG
---
Please send any news tips and results to: pwtorch@gmail.com. For instance, let us know if you hear a pro wrestling reference on a popular talk show, see a pro wrestling related Tweet or Instagram from celebrity, hear an ad for matches advertised for an upcoming WWE event, or anything else pro wrestling related that'd be of interest to our readers. 
If you attend a live event, please send results. We don't set up correspondents ahead of time and count on readers like you to send an email with a report on live events you attend – not just WWE, but also ROH, NXT, international groups. and anything else.