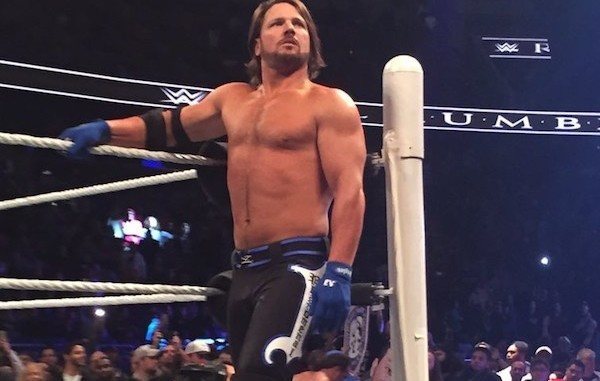 ---
SPOTLIGHTED PODCAST ALERT (YOUR ARTICLE BEGINS A FEW INCHES DOWN)...
---
SMACKDOWN HITS
Women's Division: This is a marginal Hit. I'm not a fan of having this multi-women match with everyone on the roster wrestling for the Women's Championship at WrestleMania. I don't see what Carmella has done to deserve this opportunity. I hate the participation awards given out at WM. There is a lot of talent on the roster and I like the fact that WWE spent so much time hyping the Women's Title match with multiple matches. But none of the wrestling was particularly good. It wasn't bad, but just decent. Naomi performed well in her surprise return. I'm glad she'll be able to wrestle at WM in her home town. But, I hope there is some other surprise return at WM. Otherwise, she should have been saved for that match. She isn't going to add any buys or Network subscriptions. So if you don't have any other surprise for that match, Naomi should have been saved.
Miz TV: Wow. This was a very long segment. In fact, it had a commercial break in the middle of it. It was too long, but it was good. We got two parts of the conclusion to Miz and Maryse's "Total Bellas" spoof. It wasn't as good as last week's videos – which were so great – but they were still amusing, until they turned serious at the end. That was needed. The levity of those videos needed to be brushed away to get this feud back on track in terms of being a serious situation resulting in a big match on Sunday. Miz effectively did that at the end of the video. And then John Cena and Nikki Bella came out and Cena smacked Miz and Maryse down hard. This was some of Cena's best mic work. I wish this was setting up Cena vs. Miz. I know we've seen that at WM before for the WWE Championship, but I would still be looking forward to that match with this build. I have do doubt that they could have a very good match against each other without the women involved. They can be at ringside and get involved fighting at some point without actually being in this match. At times Cena's promo seemed to go too far. He was super harsh on Maryse, but everything he said rang true. There was a chance going so far that he might put some sympathy on her. But, the fans in attendance were positive towards him. We didn't need Nikki to talk at the very end. That was superfluous. And as I said, it did go on far too long. But, it was such a memorable strong promo that it certainly was a big Hit.
Luke Harper Promo: This was much better than some of the other mic work that Luke Harper has had in recent weeks. This perfectly addressed an issue that I've had with the Wyatt Family saga. Harper talked about how he warned Bray Wyatt not to trust Randy Orton. He left the Family because of Orton, so once Orton was gone, it made some sense that he might go back. But he addressed that here in saying that he was disrespected by Wyatt when he wouldn't listen to him and now he realized that he doesn't need Wyatt any more. It was short and to the point, well written, and well delivered.
SMACKDOWN MISSES
Contract Signing: I'm still disappointed that A.J. Styles's match at WrestleMania this year is going to be against Shane McMahon. I kept rolling my eyes during their contract signing. I wanted Shane to shut up when he was talking about how everyone who has ever faced him has to dig deep and how he brings out the best in them or whatever other crap he was spewing. This just doesn't do anything for me. Even Daniel Bryan got booed for suggesting that they not fight after signing the contract. And why would Shane shake Styles's hand? I wouldn't shake someone's hand who threw me head first into a car window a few weeks back.
WWE Championship Hype: The main event of Harper vs. Wyatt as fine. But, it was very weak for being the only appearance by the WWE Champion on the go home Smackdown before WM. At least on Raw they gave some lip service to making the Universal Championship seem important. Here, Smackdown did nothing to make the WWE Title seem important. The Champion didn't talk and then the challenger was in another cheesy, over produced video talking from the screen about Sister Abigail. This has been a failure of a storyline.
Intercontinental Championship Hype: I guess at least the WWE Champion and his challenger were on Smackdown. The same can't be said for the Intercontinental Champion Dean Ambrose or his opponent at WM Baron Corbin. It is ridiculous that they would not appear on this final Smackdown before WM. One of the advantages of the brand split is that you don't have to cram the hype for all 13 matches into one show. You don't have to hype the Raw matches. You don't need the Raw wrestlers to appear on Smackdown too. So at least give all the wrestlers who are in matches at the biggest show of the year a chance to hype that match on this show. I know that Ambrose and Corbin were on Talking Smack, but the majority of the audience doesn't watch that show. That doesn't count the same as being on actual Smackdown.
NOW CHECK OUT THE PREVIOUS ARTICLE: WWE SMACKDOWN HITS & MISSES 3/21: Total Bellas spoofs, Shane-Styles WM33 hype, Bray-Orton developments, Alpha-Usos
OR CHECK OUT JASON POWELL'S LATEST HITLIST ARTICLES AT PROWRESTLING.NET HERE.
---
Jon Mezzera is PWTorch.com's WWE Hits & Misses Specialist, providing his point of view for Raw and Smackdown each week. Email him at jmezz_torch@yahoo.com.