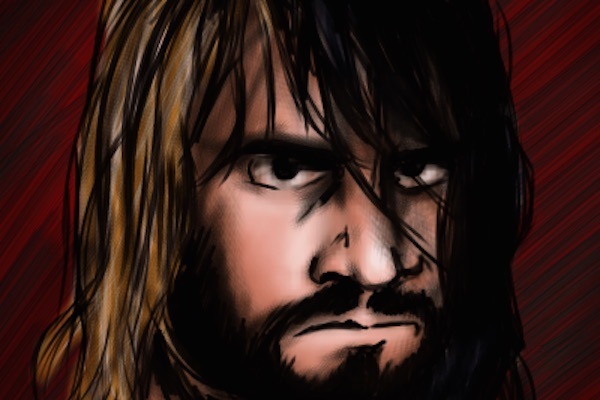 ---
SPOTLIGHTED PODCAST ALERT (YOUR ARTICLE BEGINS A FEW INCHES DOWN)...
---
Well wrestling fans, this is it… WrestleMania is finally here! This week Raw and Smackdown did their best to peak our interest and really drive home every storyline heading into the year's biggest event. Let's take a closer look at who shined and who missed the mark.
RAW ALL STAR: SETH ROLLINS
Rather than continuing the commentary from most wrestling fans regarding the botched Seth Rollins babyface turn and his booking since Extreme Rules, I want to focus on the fact that we finally got the promo we have all been waiting for. The knock on Rollins has been that the premise of his babyface turn was so convoluted and something fans just could not sink their teeth into. Just under a week before WrestleMania, however, we got to see a much more focused, calculated, and refreshed Seth Rollins.
Seth's promo on Triple H was extremely important to selling this match, especially after Hunter laid into him upon his entry into the segment. The way Seth spoke about finding himself and what he stands for came off extremely personal and believable, which finally garnered the sympathy and empathy WWE was looking for. For the first time in quite a while, a Seth Rollins promo jumped off the screen and hooked in most viewers who were seeing Rollins in this light for the first time.
We as fans now have something to get behind – a man who made a mistake, realized how much he negatively effected his friends and his fans, and wants to redeem himself by taking out the man that brought him over to the dark side. His facial expressions, cadence, and choice of words were spot on and the way he worked with Triple H on Monday proved to build more excitement in their WrestleMania match more so than arguably any other match Raw is featuring this Sunday… maybe with the exception of Owens & Jericho.
RAW UNDERPERFORMERS: THE WOMEN'S DIVISION
Trust me, I don't like putting these women in this spot week in and week out, but unfortunately they give me no choice. For another week in a row the Raw women turned in a clunky, confusing, and overall flat segment in their very underwhelming build to WrestleMania. To be clear – I am putting 99.9 percent of the blame on the creative team and hardly any on the performers themselves. Bayley, Nia Jax, Sasha Banks, and Charlotte are all given a direction to go off of, and none of them jive with who these people really are. Bayley is still just a "fan girl," and bringing her out to talk about how she used to invite her friends over and buy the PPV just normalized her even further.
Bayley is the champion, yet portrayed in a way where she still can't even believe it. Sasha is a natural heel, and her awkward interaction with Bayley on Monday didn'tt really solidify her in one solid direction. Charlotte is making all of the true statements each and every week, legitimately did get cheated out of the Women's Championship, but is supposed to be the heel. Then you have Nia Jax. When she appears on screen the announcers go out of her way to proclaim that she is the most dominent and destructive force among women on Raw, yet she has a pop song as her entrance theme and the photo they use for her in the WrestleMania match graphic is one with Nia posing as if she is off to prom with a gigantic smile on her face.
The match that followed the dumpster fire of a promo just gave more away on free TV leaving no intrigue to see what this four-way could look like. There has been no attention to detail, egregious errors in casting, terrible scripting, and far too many conflicts among these four women to make any sense. I honestly have no idea who will win on Sunday, I am just hoping this whole mess is sorted out afterwards.
SMACKDOWN ALL STAR: NAOMI
Much like the Raw Women's Division, there isn't any better of a situation over on Smackdown as the blue brand's female stars have been thrust into a similarly jumbled scenario. That aside, Naomi made a tremendous and surprising impact to finalize their build towards WrestleMania. It was unclear whether or not Naomi would be returning in time and there had not been much news on her status leading up to this Tuesday's episode of Smackdown.
As all of the women participating in Sunday's match stumbled around the ring, Naomi's music hit and the crowd popped louder than I ever anticipated. Naomi hit a tremendous running hurricanrana on Natalya while running down the ramp, then proceeded to clean house and prove that she is most certainly 100% healthy and ready to take her title back at WrestleMania. Her promo was very heartfelt and real which prompted the fans to start a very strong "Na-o-mi" chant and even finish the "Feel. The. Glow" catchphrase to end the segment.
While I thought that other Smackdown stars did a fantastic job in the final episode before WrestleMania, Naomi made the biggest impact by far and was able to create a very special moment for her and her fan base before she performs in her hometown of Orlando.
SMACKDOWN UNDER PERFORMER: SHANE MCMAHON
It has been well-documented that many ardent fans are upset with the fact that one of the greatest wrestlers alive today is squaring off against the promoter's son on the grandest stage of them all. That said, Shane had one last shot to sell the fan base on the idea that he can not only hang with A.J. Styles, but he can beat him.
On Tuesday, Shane doubled down on the notion that he could beat Styles, stating he has brought out the very best in everyone he has faced and that Styles better understand exactly who he is getting in the ring with. He even went on to say that Smackdown is the land of opportunity and not a place to push the corporate agenda, yet here we are, about to see Vince McMahon's son take a spot on the WrestleMania card against a wrestler of Styles's caliber.
So much of what Shane talked about was such corporate speak that clearly did not resonate with the fans, who chanted Styles's name every chance they got. In the narrative structure, and especially after the vicious beatdown Styles put on Shane in the parking lot, Shane is the babyface and you would expect him to be cheered. Instead, it is clear that the fans see right through what is going on and are firmly behind Styles even after Shane's final pitch to get the fans behind him. It was a poor performance and a tough spot for Shane to be in. Hopefully he doesn't do something to injure himself or Styles this Sunday.
SMACKDOWN NOTABLE UNDERPERFORMERS: THE BOOKING TEAM
This may just be the wrestling purist in me coming out, but can someone please explain to me why there was absolutely no segment featuring the Intercontinental Champion and his opponent on the episode leading into WrestleMania? WWE wrestlers and executives always talk about bringing the Intercontinental Championship back to prominence like it once was in the '80s, '90s and early-2000s, yet it is not even mentioned on a go-home episode. It is a terrible mistake and an insult to Dean Ambrose, Baron Corbin, and anyone else who worked so hard to get that title over.
Further, can someone explain to me how The Usos capped off their successful heel turn with a massive win over American Alpha for the Smackdown Tag Team Championships, only to be thrown into the Andre the Giant memorial Battle Royal. So let me get this straight… Triple H will most likely get a 10-12 minute entrance at the expense of a legitimate title match against two teams WWE could trust in to have a fantastic match. Is that right? WrestleMania will be at least six hours, and we cannot carve out even a quick match for these four guys. It is a shame.
Thanks to everyone who has read and supported my All Stars & Underperformers articles, I cannot wait to see what shakes out this Sunday and beyond. I hope everyone enjoys all of the incredible wrestling we will see over this historic weekend!
---
NOW CHECK OUT THE PREVIOUS ARTICLE: ALL-STARS & UNDERPERFORMERS: Miz & Maryse, The Usos, Bayley, Chris Jericho