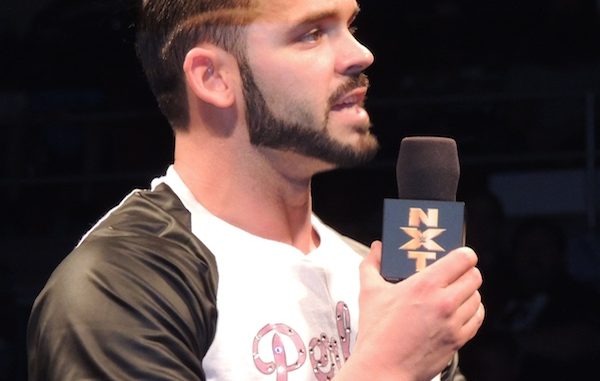 ---
SPOTLIGHTED PODCAST ALERT (YOUR ARTICLE BEGINS A FEW INCHES DOWN)...
---
NXT LIVE EVENT RESULTS
APRIL 15, 2017
CHARLOTTE, NC.
REPORT BY ERIC, PWTORCH VIP MEMBER
(1) Kassius Ohno defeated Kona Reeves. After the match, Kona complained and ordered another challenger.  Out came the returning Dan Matha.  He was hit with loud Goldberg chants on his way to the ring, and then hit a Chokeslam that turned into a backbreaker that looked extremely painful, even if Dan executed the move properly.
(2) Kimberly Frankele & Ruby Riot defeated Mandy Rose & Daria. The crowd had fun with this match, especially during Mandy's bit about not getting hit in the face.  Ruby messed up the execution of some moves throughout the match, but by far had the best response from the crowd.
(3) Aleister Black defeated Andrade "Cien" Almas. The crowd was surprisingly flat during Almas' entrance.  Black got a great reaction, especially during his entrance.  It should also be noted that a little girl in front of me cowered behind her father during Black's entrance.  I guess he's not universally marketable.  Both hit each other with very stiff looking shots before Black won with his spinning head kick.
(4) Hideo Itami defeated Patrick Clark. This was a very sports entertainment-type match.  Clark was getting his heat by making stereotypical remarks and gestures against Japan toward Itami.  This was at worst at the beginning by starting the match in different karate and other martial art poses.  Itami would out-kick Clark in the beginning, making Clark beg the ref to make it a wrestling-only match.  Itami would then out-wrestle Clark, making him plea for a sumo contest.  After a tease with the GTS, the two would then have a typical WWE-style enhancement match that would eventually lead to Itami hitting the GTS for the win.
Intermission
(5) Authors of Pain defeated DIY to retain the NXT Tag Team Championships. This was a relatively short match compared to their Takeover matches.  There were some good high spots created by DIY when they could get in their offense at the beginning and end of the match.  They even had a very believable near-fall upset in the closing moments.  The middle, however, was bogged down by AOP's slow-paced, methodical beat down, and after DIY's near-fall, they separated DIY from each other and was able to hit Champa with the Final Chapter for the win.
(6) Asuka defeated Ember Moon to retain the NXT Women's Championship. This was a very short match, no more than five to seven minutes.  Ember charged at Asuka immediately at the opening bell.  She would later get Asuka outside the ring and would hit her with a running kick from the apron.  The kick looked to hit for real, and our entire section looked genially concerned for Asuka.  At the end of the match, Ember was setting up for a cross-body, but Asuka shoves the referee out the ring in a similar fashion to Takeover: Orlando.  Ember jumps off before the push, however, and hits the cross-body.  Asuka takes Ember's momentum and turns the cross-body into her own pin in time for the ref to get back into the ring to make the count.  During the count, Asuka grabs Ember's tights to get the three count and the win.  I guess they are officially turning Asuka heel, at least for this rivalry.
(7) Shinsuke Nakamura & Tye Dillinger defeated Bobby Roode & Scott Dawson (w/Dash Wilder). Other than Roode, most to all of the crowd didn't expect any of these people to be here, so this was a great surprise.  Dash must be hurt, because he came out with Dawson, but wasn't in wrestling gear, and it was only a 2vs.2 match.  It took a really long time for these men to actually wrestle.  Dawson was stalling against Tye and started hugging Roode.  This led to Tye hugging Shinsuke, and then the ref after a chant from the crowd.  Shinsuke would end up hitting Dawson with the Kinshasa for the win.
After the Main Event: Roode was frustrated and pushed Dawson around for losing the match.  Dawson would then get back in Roode's face and Roode then retreated to the ramp.  Tye and Shinsuke would then get back on the stage and pushed Roode back into the ring for Dawson to hit Roode with a DDT.  Tye, Shinsuke, and The Revival would all get together in the ring and hug each other and cut farewell promos thanking the fans.  After the four gave their speeches, Roode came back again and charged at Dawson.  The three active wrestlers then hit Stone Cold Stunners on Roode, and Shinsuke hit the Kinshasa before all four called up wrestlers celebrated again to close the show.
Biggest Reaction: Everyone from the main event, Asuka, Aleister Black
Surprises: Dan Matha, Hideo Itami, The Revival, Tye Dillinger, Shinsuke Nakamura
NOW CHECK OUT THIS PREVIOUS REPORT: 4/15 WWE IN Springfield, Mo.: Orton vs. Wyatt vs. Styles, Harper vs. Rowan, Usos vs. Alpha, Ambrose vs. Corbin, Six-Woman match
---
Please send any news tips and results to: pwtorch@gmail.com. For instance, let us know if you hear a pro wrestling reference on a popular talk show, see a pro wrestling related Tweet or Instagram from celebrity, hear an ad for matches advertised for an upcoming WWE event, or anything else pro wrestling related that'd be of interest to our readers. 
If you attend a live event, please send results. We don't set up correspondents ahead of time and count on readers like you to send an email with a report on live events you attend – not just WWE, but also ROH, NXT, international groups. and anything else. No need to ask ahead of time!