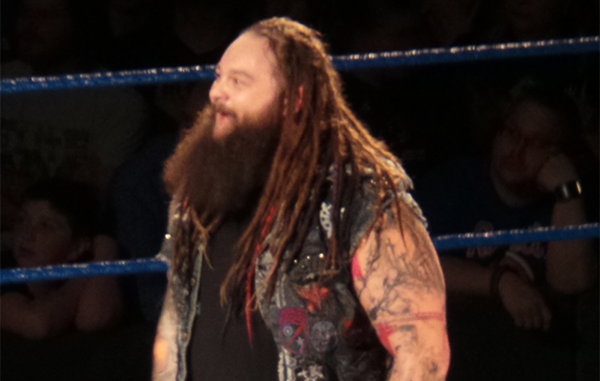 ---
SPOTLIGHTED PODCAST ALERT (YOUR ARTICLE BEGINS A FEW INCHES DOWN)...
---
WWE LIVE EVENT REPORT
APRIL 23, 2017
HAMMOND, IND. at the HAMMOND CIVIC CENTER
REPORT BY HARVEY B., PWTORCH CORRESPONDENT
WWE returned with the RAW brand to Hammond, IN last October to a sold out crowd after two years away. The crowd this time was not sold out, falling short 100 or so seats (of a max 5000). Seeing the success they had last time, WWE attempted to sell most of the front row seats at $550 each as part of a VIP package. Ten minutes before the bell the front row in my section was empty so everyone upgraded to the row in front of them.
(1) NAOMI pinned NATALYA after a Rearview to retain the Smackdown Women's Championship in a Six Pack Challenge also featuring MICKIE JAMES, BECKY LYNCH, ALEXA BLISS, and CARMELLA w/ JAMES ELLSWORTH in 8:00. Amazing reaction for Naomi. Most of this match was worked between two women at a time. A fan sitting next to me was shocked when Alex broke up an attempted pin by Becky mid-match since the four other women were impossible to see and easy to forget.
Leading up to the finish, Naomi made Carmella tap while James distracted the ref. Naomi released the hold and kicked James off the apron to another huge reaction. Naomi then pinned Natalya for the win.
(2) MOJO RAWLEY pinned DOLPH ZIGGLER after a running punch in 12:00. The match started with Mojo attempting to catch Dolph who rolled out of the ring, jumped the barricade, and took a seat and a sip of beer from a fan. Once back in the ring the match was a series of holds and slams. Early on the crowd went full force into a "Let's go Mojo, Mojo sucks" chant. As the match went on the crowd grew restless and demanded to know why Ziggler hadn't put Mojo away. Every time Mojo kicked out the crowd would pop huge and respond with "Three. That was three." A kid next to me told the ref to go back to kindergarten. Dolph played into the crowd some but kept the heel persona by demanding that the ref throw out the entire front row, especially the man rooting for Mojo. After the match, Mojo chased the ring announcer around the ring and smacked him on the butt.
(3) AMERICAN ALPHA beat HEATH SLATER & RHYNO and FANDANGO & TYLER BREEZE  to retain the Smackdown Tag Titles in a triple threat tag match ending when CHAD GABLE pinned FANDANGO with GRAND AMPLITUDE in 12:00. It was not announced to the crowd but Jason Jordan's father was in the front row and Alpha greeted him when coming out. Once all teams were in the ring the crowd launched into chants of gore, ECW, and "He's got kids!" The match started with some hip wiggles between Fandango and Heath. Most of the match consisted of a long beat down of Gabel with a few hope spots including a huge monkey flip on Breeze. At one point Gabel tagged in Fandango and the two other teams egged on a fight between the fashion police. After teasing a fight the two hugged. At around this point, Rhyno turned around and told a child throwing insults to "Shut up you little brat." He was then knocked off of the apron. The child told Rhyno, "That's what you get," to which he responded, "You're being a bully!"
Jordan, tagged in by Gable, and Rhyno with his Gore cleared out the ring for the Grand Amplitude finish.
(4) DEAN AMBROSE pinned BARON CORBIN with Dirty Deeds to retain the Intercontinental Championship in 8:00. You've seen Dean Ambrose work, you've seen Baron Corbin work, you've seen them work each other. You know how this match went: hold, slap, chop, slam, clothesline, topé. Baron Corbin, however, kept me enthralled. My mother is a huge Ambrose fan and was hopping around when Ambrose came out. Corbin saw this and visibly rolled his eyes. As he started his beat down on Ambrose, Corbin got up and walked over to my mother and demanded she take a picture of Ambrose while he was laid out on his back. When Ambrose came back later in the match and ran Corbin's face along the barricade, my mother took pictures. When Corbin escaped he looked legitimately upset and screamed, "Put your stupid camera down!" The kids around us started to chant you suck to which he responded: "Actually, I'm doing pretty good." Nothing special here but Corbin is a treat.
Intermission
(5) APOLLO CREWS (w/KALISTO) pinned KONNOR w/VIKTOR with a sitout powerbomb in 12:00. Kalisto has new music. The same "lucha lucha" but under an electronic beat. Konnor and Kalisto started this off and like the other tag match, this match consisted mainly of a long babyface beatdown. Konnor and Viktor tagged in and out, keeping Kalisto in their corner for most of the match. Huge pops for the eventual Apollo hot tag and come back. This was a weak way to come back from intermission. ~12min
(6) LUKE HARPER pins ERICK ROWAN in 12:00. Erick Rowan came out first with two balloons that all the kids shouted for. After teasing all four sides with the balloons, Rowan rolled out of the ring and handed them to a kid near me before popping them while the kid held the strings. The crowd cheered loudly. The crowd was behind Luke but were still relatively uninterested in this slow match. Lots of holds. After the match, Luke left the ring leaving Rowan to look distraught as the crowd chanted "You suck."
(7) RANDY ORTON defeated BRAY WYATT and A.J. STYLES when Orton pinned Wyatt to retain the WWE Championship in 16:00. Styles came out first and the crowd loved him. Huge chant from the crowd as Styles made his way to the ring. As Bray made his entrance, the crowd tried to do the firefly bit but the sun had not yet gone down (5 p.m. start time). Styles walked over to a group of seven kids near me, all wearing his gloves, and after a little teasing too sweated all of them. Randy came out next and he seems like a robot programmed to wrestle. Throughout the match, but especially during his entrance, Randy didn't seem to be reacting to anything around him. This has been Randy for years but during a night of big talkers, his lack of connection stood out.
Connection or not, the crowd counted along with Randy's punches to Bray in the corner and begged for the RKO. A great match when Styles was in it, an okay match when he wasn't. The most notable sequence involved Randy attempting an RKO on Bray who countered, pushing Randy into Styles who then rolled Randy into the Calf Crusher. Bray then broke up the submission and had Styles set up for Sister Abigail before Styles countered him into another Calf Crusher. Randy broke them up. The finish was Bray countering a springboard forearm from Styles but turning into an RKO. ~16min
BIGGEST REACTIONS: Naomi, Styles, popped balloons.
---
NOW CHECK OUT THIS ALTERNATIVE REPORT ON THE SAME EVENT HERE: 4/23 WWE in Hammond, Ind.: Ambrose vs. Corbin, Styles vs. Orton vs. Wyatt, Harper vs. Rowan, Mojo vs. Ziggler
---
Please send any news tips and results to: pwtorch@gmail.com. For instance, let us know if you hear a pro wrestling reference on a popular talk show, see a pro wrestling related Tweet or Instagram from celebrity, hear an ad for matches advertised for an upcoming WWE event, or anything else pro wrestling related that'd be of interest to our readers. 
If you attend a live event, please send results. We don't set up correspondents ahead of time and count on readers like you to send an email with a report on live events you attend – not just WWE, but also ROH, NXT, international groups. and anything else. No need to ask ahead of time!