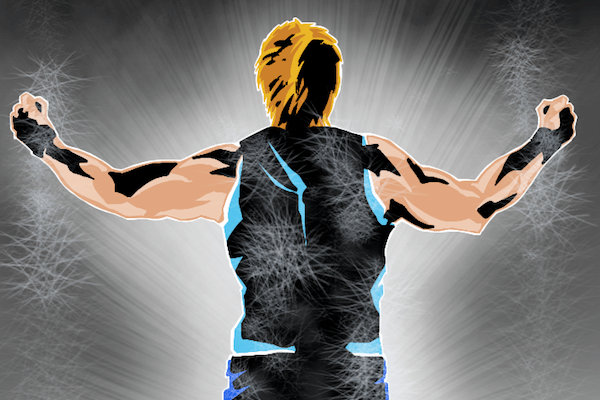 ---
SPOTLIGHTED PODCAST ALERT (YOUR ARTICLE BEGINS A FEW INCHES DOWN)...
---
RAW PREVIEW
APRIL 24, 2017
KANSAS CITY, MO. FROM SPRINT CENTER
By Joey Galizia (@RamJam89), PWTorch contributor
"IT'S NOT THE SIZE OF THE DOG IN THE FIGHT…YES IT IS."
Goliath walks among us. Braun Strowman has been the most exciting red brand character for a while now, and his story continues to grow in legend and quality. After delivering one of the most memorable backstage beatdowns in WWE history Braun continued his path of desolation last week at whoever was unfortunate enough to be in his way at the time. One of those poor souls was Kalisto, who has always had a size disadvantage, but has never let that stall his fighting lucha spirit. Tonight, he aims at taking revenge against the monster among men in a dumpster match, which if you are unaware is essentially a casket match but with a dumpster. (Riveting.) This would be the perfect time for the new owner of the yard to make his triumphant return and exact some revenge. Let's just hope he does it in time before Kalisto rests in pieces.
*Hey look! It's a big man versus little man match! The kind of match that's been occurring in wrestling for over 100 years. So someone tell me why Finn Balor and Brock Lesnar wouldn't work again? Don't worry…I'll wait.
"THE HORROR… THE HORROR."
Bray Wyatt may no longer be WWE Champion, but that hasn't stopped his eye for scouting out his next project: The Demon Balor. While that seed may have been planted, Bray is still entirely focused on his House of Horrors matchup against Randy Orton at Payback. A matchup, which will no longer be for any championship gold, but a final nail in the coffin of what has been a very bi-polar feud. Some moments of it were very good; some were not. Keeping it a non-title affair does make the finish less predictable, but that doesn't mean the Eater of Worlds will bounce back from his third WrestleMania loss in the last four years. For the hope of his next program, I hope he's ready to leave it all out there.
"LITTLE… MISS… BLISS."
The Superstar Shake-up was for lack of a better word, odd. Some trades worked, others left us scratching our heads. Alexa Bliss is in the former category. She has in my opinion, been the best performer in the entirety of the WWE Women's Division aside from Asuka, and while she is still not a joy to watch in the ring, she more than makes up for it with her smashmouth (not the band) attitude. Now Alexa is challenging for the coveted Raw Women's Championship, held with great esteem by the company's biggest smile-inducer, Bayley. With Payback being in the Hugger's hometown of San Jose, the phrase "anything can happen" really comes into play, especially with Sasha Banks slowly on the brink of betraying her best friend. That's still a week away, so tonight, I expect Alexa to do what she does best and remind the women on the red brand why she is already a two-time women's champ.
"1 IS THE LONLIEST NUMBER"
Poor poor Austin Aries. He learned the hard way at WrestleMania that if he expects to beat Lord Neville, he will have to bring much more than just his A-Double game. He'll have to be willing to do whatever it takes. After earning a shot at the title yet again, A.A. seemed poised and prepared to do that very thing, but now he has one more problem to worry about: T.J. Perkins. Perkins had fallen pretty hard since his magical triumph at the Crusierweight Classic, and it seemed no matter what he did the fans nor the division really took him seriously. Neville (being the genius that he is) took notice and promised T.J. the world if he would open his eyes and join his kingdom. Since then, Perkins has won two of his last three, and even left Aries in a mess of pain. With their rematch coming in six days, will A.A. look in the CW Division to help him balance out his new odds?
"A CRACK IS A CRACK… UNTIL IT IS BROKEN."
-The Hardys have been busy boys. Part of their agreed contract was for the WWE to allow them to finish up a number of independent events they had lined up. One of them was this past weekends HOUSE OF HARDCORE, which saw the Broken versions of Matt & Jeff (Nero) defeat Tommy Dreamer & Bubba Ray Dudley. Flash forward to tonight in Kansas City where they will have one more pit-stop with their Payback opponents Cesaro & Sheamus. Jeff was able to pin the Swiss-Superman last week, but does that mean the Celtic Warrior and the father of the DELTE chant go at it tonight? Probably.
-It's so nice to have Emma back. She's back right? As of right now the only thing that she appears to be doing is pressing the buttons of her NXT besty Dana Brooke. If this ends with Emma punching the cringe-worthy Brooke into oblivion, I'm okay with that. Also what of Sasha and Nia Jax? I know it's WILD to think that Raw could have two women's feuds going at once.
-Dean Ambrose has brought the IC Title to Raw and still has beef with The Miz. This is not news. With the Payback card pretty much decided these two may have time to build on this, but that means some work needs to be put in tonight.
-Samoa Joe is now fighting on behalf of Stephanie McMahon. He was disgusted to see what Seth Rollins did to the princess of WWE at Mania. Works for me, just careful when locking in that Coquina Clutch please.
-Y2J is still on Raw, but his former comrade' Kevin Owens is now on Smackdown. He'll have to wait six days before he gets his hands on him again. Until then, he can keep putting Elias Samson on the List!
The joy is that even if this Raw doesn't deliver, we still get to see Braun Strowman hurt someone. I'll be watching, will you?
---
NOW CHECK OUT LAST WEEK'S ARTICLE: RAW PRIMER: What will be the follow-up to the glorious beatdown of Reigns? What's next for Jinder?