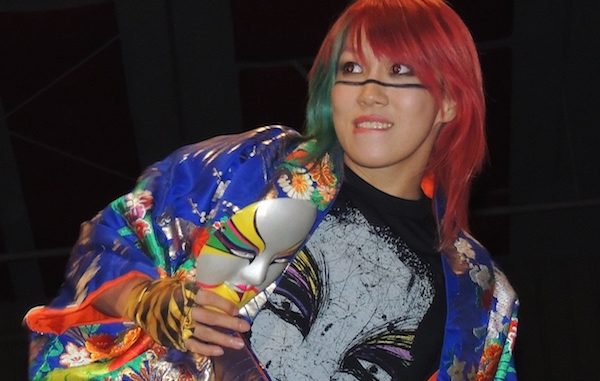 ---
SPOTLIGHTED PODCAST ALERT (YOUR ARTICLE BEGINS A FEW INCHES DOWN)...
---
NXT LIVE EVENT REPORT
APRIL 27, 2017
INDEPENDENCE, MO. AT SILVERSTEIN EYE CENTER
REPORT BY JOSEPH MYERS, PWTORCH VIP MEMBER
WWE's NXT brand presented a quality seven-match card that last just over 2:30 with a lengthy intermission between the fourth and fifth matches.
While I myself am not a WWE Network subscriber (though I do keep up with the product online), the majority of the crowd seemed to be very knowledgeable of the wrestlers, feuds, etc.
Kayla Braxton was the host/ring announcer for the evening.
(1) Ruby Riot & Aliyah beat Billie Kay & Peyton Royce in 8:00. The heels got the heaton Aliyah before she got a hot tag to Ruby. Riot ran wild on Kay and Royce before pinning Royce following an arm wringer into a Pele-type kick to the head in the middle of the ring.
(2) Dylan Miley pinned Cezar Bononi in 5:00. Miley jumped Bononi before the bell and with the exception of a few hope spots, controlled most of the match. Miley pinned Bononi after a gut wrench into a forward-type slam. Miley has the size WWE always loves, but I think he's got a ways to go before he's main-roster ready.
(3) Killian Dane (w/Sanity's Eric Young, Alexander Wolfe, and Nikki Cross) beat No Way Jose. Jose who got the first really big reaction of the night. No Way Jose had his moments – despite the interference of Young, Wolfe and Cross – and hit a top-rope clothesline before going for his finish, but Cross hit the ring. No Way Jose gave her the Ole treatment and she went through the ropes onto a waiting Wolfe, but he then turned around into a low crossbody from Dane (the move that Bray Wyatt uses) to give the Sanity member the win in just under seven minutes.
After the match, Young got on the mic and cut a quality heel promo, challenging any team in the back to a match. Of course, that brought out DIY (Johnny Gargano and Tomasso Ciampa) and they said that even though they were scheduled to face Sanity later, why not have the match right now? Everybody agreed and we had our fourth match of the evening, but not before the ref ejected Cross and Dane from ringside in a classic spot that always gets a pop from the crowd.
(4) DIY beat Sanity (Eric Young & Alexander Wolfe) in 15:00. DIY ran wild early before Young and Wolfe getting the heat on Ciampa. He finally managed to tag in Gargano, who took out both Young and Wolfe. Later in the match, Sanity had several close nearfalls – including one off a Macho Man elbow drop by Young – but in the end, DIY hit a running knee/superkick combo on a kneeling Young to take home the victory.
Following the match, Dane hit the ring to give the heels a three-on-two advantage, but No Way Jose evened the odds, hitting a Stunner and a pop-up punch (his finisher, I think?) to clear the ring. Cross jumped on Jose's back, but that brought out Riot, who took her down and headbutted her out of the ring to leave the faces standing tall in the ring. No Way Jose's music hit, Riot did a worm, DIY danced together around the ring before Ciampa seemingly tried to give Gargano a kiss and even the ref got into the act, doing the robot before Braxton sent the show to intermission.
INTERMISSION
(5) Tye Dillinger defeated Patrick Clark in 12:00. Early on, Dillinger – who was not advertised – got one over on Clark by getting him to stomp on his own shirt and getting him caught up in the ropes, leading to ten punches from Dillinger. Clark rebounded and got some near falls, but got caught with a superkick following a springboard off the top rope. That led to the finish, as Dillinger hoisted Clark in a fireman's carry into a neckbreaker on Dillinger's knee for the pin. After the match, Dillinger – who was one of the most over wrestlers on the card – made sure to bow to all four sides of the ring in what seemed to be a final bow before he heads to the main roster full-time.
(6) Asuka defeated Sonya Deville (the artist formerly known as Daria Berenato) to retain the NXT Women's Title in 10:00. Early on, the two had some MMA-type exchanges, with Asuka working Deville's arm and Deville countering with moves of her own. Deville got the heat with a spear and had Asuka on the ropes, including locking in an armbar, but the champion was able to escape. After an exchange of armbar attempts, Asuka landed a spin kick and then a buzzsaw execution kick to a kneeling Deville to retain her title. Like Dillinger, Asuka was one of the most over wrestlers on the card and fans were very into her offense, especially when she would use her hip attacks (which the old-school fan in me still wants to call the butt-butt by Iceman King Parsons).
(7) Hideo Itami & Aleister Black beat NXT Champion Bobby Roode & Andrade "Cien" Almas in 18:00 The duo of Itami and Black played the role of uneasy partners well, cautiously tagging in and out early on. Both teams had their moments, with Roode – the most over wrestler on the card, even though he's a heel – striking his "Glorious" pose multiple times only to be matched by Itami after he got the better of the champion in an exchange. Eventually, Roode and Almas took over on Black before he was able to tag in Itami. Itami hit a top-rope clothesline before being cut off by a spinebuster by Roode just before the finish. Itami had Almas up for the Go To Sleep when Roode got his title belt and swung at Itami. He missed and ran right into a spin kick by Black, taking him out of the ring. Itami then landed the GTS on Almas for the three count to send the fans home happy. After the match, Black and Itami showed their mutual respect, with Itami sitting in the middle of the ring as Black usually does post-match and then Black and Itami raising each other's hands and mounting the corner ropes to the cheers of the fans.
FINAL THOUGHTS: This was the first live wrestling event I've attended in close to 20 years or more and I have to say I really enjoyed it. WWE has some top-notch wrestlers on the NXT roster and, while some of them still need some polish and work before they'll be ready for Raw or Smackdown, the idea of having them working lengthy house show matches on a consistent basis in front of fans is a great one. I look forward to seeing a good number of these folks on the main roster in the not-too-distant future.
---
NOW CHECK OUT THIS PREVIOUS NXT LIVE EVENT REPORT: 4/15 NXT in Charlotte, N.C.: Called up wrestlers Nakamura, Dillinger, Revival give farewell speeches to NXT fans after main event
---
Please send any news tips and results to: pwtorch@gmail.com. For instance, let us know if you hear a pro wrestling reference on a popular talk show, see a pro wrestling related Tweet or Instagram from celebrity, hear an ad for matches advertised for an upcoming WWE event, or anything else pro wrestling related that'd be of interest to our readers. 
If you attend a live event, please send results. We don't set up correspondents ahead of time and count on readers like you to send an email with a report on live events you attend – not just WWE, but also ROH, NXT, international groups. and anything else. No need to ask ahead of time!