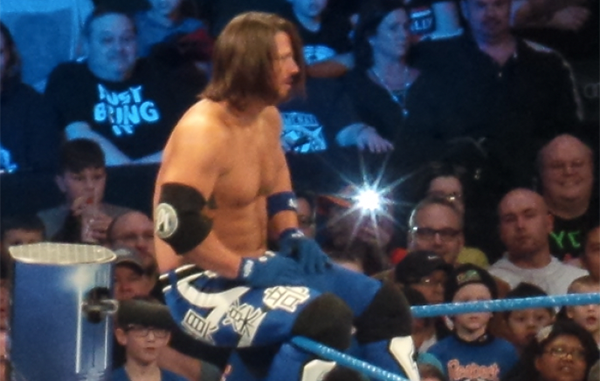 ---
SPOTLIGHTED PODCAST ALERT (YOUR ARTICLE BEGINS A FEW INCHES DOWN)...
---
WWE LIVE EVENT – SMACKDOWN
MAY 12, 2017
NEWCASTLE, ENGLAND
REPORT BY JAMES WHALE, PWTORCH CORRESPONDENT
(1) Shinsuke Nakamura beat Dolph Ziggler. Cameras everywhere were out for Nakamura's entrance which in the flesh is quite special. With it being the opening match Nakamura was able to showcase his stuff and the crowd were excited for it.
(2) Tye Dillinger & Breezango beat Aiden English & The Ascension. Tye Dillinger doesn't have much except for the 10 gimmick and so this is pretty much his level. The match itself had some comedy spots, but overall not much to it.
(3) Luke Harper beat Erick Rowan. These two should never wrestle each other again.
(4) Naomi & Becky Lynch & Charlotte beat Carmella (w/James Ellsworth) & Tamina & Natalya. Charlotte being  a smiling babyface is okay, but her heel work is so much more effective. Becky needs to work on a more relatable comeback as it just seems to come across as the thing she has to do.
(5) Kevin Owen beat Sami Zayn to retain the U.S. Title. On entrance, Owens took a fan's List Of Jericho and casually threw it to the ground like it was rubbish. As the bell rang, Owens went out the ring and would be reluctant to come back in. He then got the microphone from the announcer and mocked a parent. The match itself was very good as you'd expect from these two. After the match, Owens continued to insult all the parents and demanded silence, but Zayn returned to give him the helluva kick.
Intermission
(6) Tyler Bate & Trent Seven & Saxton Huxley beat Pete Dunne & Joseph Connors & James Drake.
(7) Baron Corbin beat Mojo Rawley.
(8) Usos beat American Alpha and Epico & Primo to retain the Smackdown Tag Team Titles. The heel teams joined forces to beat up American Alpha most the way through the match. Then the heels began to fall out and American Alpha gained the upper hand from not their own doing. After American Alpha did a tag team move in Epico, an Uso rolled up Gable for the win. American Alpha were the biggest losers of all time here as they did nothing to excite the crowd and were pinned by fluke. The way the match was setting up with the good guys being beaten up, you would have thought a massive comeback and a win were coming. American Alpha could have used a Revival feud to help them get over
(9) Randy Orton beat Jinder Mahal and A.J. Styles to retain the WWE Championship. Mahal looked good throughout the match and seemed in control of both Orton and Styles. Orton was very much a favorite of the kids, getting most of their cheers. Orton winning at the end sent the everyone home happy for an alright show in terms of matches.
FINAL THOUGHTS: One thing I do take issue is that Mahal before the match did a promo talking about how he gets booed for being "different" then said he would talk in his native language and whilst speaking was cut off by Styles's music and that was it. WHERE WAS THE BABYFACE COUNTERING HIS PROMO WITH ACTUAL REASONS AS TO WHY HE'S DISLIKED? As there wasn't a rebuttal, it came across as though what Mahal was saying was correct which is an awful message for an arena full of kids to be a part of. This is another example of the distasteful morality that is in the WWE, and what they are telling children in a very direct way is good guys are chumps and being different is bad.
---
NOW CHECK OUT THIS REPORT: 5/11 WWE in Sheffield, England: Orton vs. Mahal vs. Styles, Owens vs. Sami, Shinsuke vs. Ziggler, Six-Woman Tag
---
Please send any news tips and results to: pwtorch@gmail.com. For instance, let us know if you hear a pro wrestling reference on a popular talk show, see a pro wrestling related Tweet or Instagram from celebrity, hear an ad for matches advertised for an upcoming WWE event, or anything else pro wrestling related that'd be of interest to our readers. 
If you attend a live event, please send results. We don't set up correspondents ahead of time and count on readers like you to send an email with a report on live events you attend – not just WWE, but also ROH, NXT, international groups. and anything else. No need to ask ahead of time.