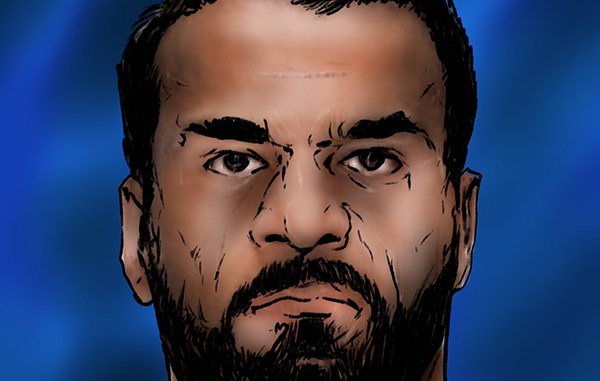 ---
SPOTLIGHTED PODCAST ALERT (YOUR ARTICLE BEGINS A FEW INCHES DOWN)...
---
WWE LIVE EVENT REPORT – SMACKDOWN BRAND
MAY 29, 2017
MACON, GA. AT THE MACON COLISEUM
REPORT BY JON CODER, PWTORCH CORRESPONDENT
Local ads ran heavily pushing come see hometown boy A.J. Styles. Then quickly promoted A.J. vs K.O. and Shinsuke Nakamura vs. Jinder Mahal both for the titles. (This lineup would change.)
The Coliseum holds about 9,200 and the lower level was pretty full. I'd estimate 5,500-6,000. All families with kids. This includes my six-year-old's first WWE event. He was an interesting reference since he doesn't know much about WWE expect he loves Finn Balor's entrance. We watched a A.J. vs Cena from Summerslam cause he knew Cena from school. But he took to A.J. almost immediately. (I was so proud.)
Before the show they had a fan vote to decide what match from WrestleMania we'd see. A.J. vs. Shane, Roman vs. Taker, tag team ladder match. The fans voted to see the A.J. match from WM33.
(1) Breezango beat The Colons in 10:00. Good pop for Breezango. Lot of comedy. Colons stooged and really played the comedy straight. The got heat on Tyler while Fandango worked the crowd on the apron. Primo went to the top, and Tyler slowly rooled away. Primo went to the other corner, and Tyler rolled away. Then Primo and Epico went to opposite corners with Tyler in the middle. Tyler sat up, turned 90 degrees, and rolled to corner. (I can't help it, I popped for this spot). My son, and most of the kids, were really into Breezango. Fandango got the hot tag to a big pop. Fandango did a great job showing fire. Breezango wins. Solid start.
(2) Mojo Rawley beat Aiden English in 7:00. English made his way to the ring singing. He ran down Macon, and even made a Gregg Allman reference (too soon). Good basic cheap heat, really got people worked up. He was booed until Mojo was introduced #crowdkiller. Decent action. Mojo stats fast then gets taken down and he sells. English did a great job working the crowd which would kept them behind Mojo. Mojo comes back and gets the win with a corner splash. After the loss English cried and called out another opponent. Sin Cara answered. (Why? Why did we need this?)
(3) Sin Cara beat Aiden English in 30 seconds. Slam, Swanton, three count. Sin Cara wins. (30 sec we won't get back.)
Extreme Rules ad rans featuring Bayley and Alexa Bliss.
(4) Luke Harper beat Eric Rowan. One-third of this match was chain wrestling, the next one-third was trading dropkicks, the last one-third was big man slams and stiff forearms… and dear God I've spent too much time talking about this dreadful "match." This schizophrenia happened for 13 minutes because WWE hates us. Harper may have won, but we lost in this one. By the way, my son was super bored.
(5) Sami Zayn & Shinsuke Nakamura beat Dolph Ziggler & Kevin Owens in 20:00. Owens was great as a heel. He came out and looked around the arena and just looked so disappointed to be in Macon (to be fair… this could have been a shoot). Zayn got a good pop. The crowd to sing his theme and failed. Owens made fun of them and offered to help lead them. Then everyone was expecting A.J., but Nakamura's entrance played. There was a great moment of confusion then a great pop. The fans did a much better job singing Nakamura's theme. Match started with Sami and KO doing their usual great exchanges. Ziggler tagged in and the place went nuts for Nakamura. In a funny spot, Ziggler took a stiff kick and went down. He then complained of a hair pull. Charles Robinson's reaction to this was great comedy. Sami got isolated. They teased the tag to Nakamura several time but kept cutting off Sami. My son was super hot at KO every time he would cheat. He actually got really concerned for Sami and didn't want to watch. The place was really hot for Sami to make it to the corner and then something weird happened. They were cheering Sami on and when finally got the tag there was a quick pop then the place got real quiet. Nakamura hit a series stiff shots on KO culminating with the top rope corner knee. Once he cleared the ring the fans started cheering again. I'm not sure if the crowd didn't know how to respond to Nakamura or if everyone just stopped because his offense was intense. But it was a little weird. In the end, Nakamura hits Ziggler with the Kinshasa for the win. Zayn and Nakamura win. Great action. (My son loved this match and thought Nakamura was awesome and Sami seemed nice, but he could be mean in the ring).
Intermission: They pushed merch featuring A.J. and Nakamura
Popcorn match (and I feel wrong calling the women a popcorn match).
(6) Becky & Charlotte beat Tamina & Natalya & Carmella (w/James Ellsworth) in 8:00. Becky really had the crowd, lots of Becky chants. Charlotte got a big pop, but she looks so awkward trying to play smiling babyface. Every time she and Becky would work together she looked like she was about to double cross Becky then Charlotte would remember, "Oh yeah, I'm a face *smile*." Carmella got great heat just too bad her work looks terrible. In fact, there was a lot of light shown by her and Nat. Poor Becky was left selling for shots that weren't close. Overall, this one was kind of a mess. Charlotte makes Natalya tap to the figure-eight.
(7) Baron Corbin beat Tye Dilliger in 12:00. In a great heel moment Corbin went to the outside and tired to take a shirt Tye threw out saying the fan hadn't paid for the shirt. Crowd started hot for Tye's 10 gimmick but it faded as Tye took a beating most of the match. Corbin worked the crowd as he beat on Tye. At first he got good heat but it kinda faded as there were no hope spots for Tye. Tye got one good comeback and the then was hit with the "End of Days." Corbin the only heel winner of the night. At 12 minutes, it was four minutes too long.
Network commercial
(8) A.J. Styles beat Jinder Mahal via DQ in 21:00 so Mahal retained the WWE Title. Jinder came out and cut a good promo. He said the fans didn't believe in him. They thought he was a joke, and were never behind him. And now they hate him because he went out and achieved his dreams and they're doing nothing but watching him. (This is the best Jinder mic work yet. It felt legit, but still heelish). Then he went on, fans chanted "U-S-A", Jinder responded by saying "his people" (Canadians?) were taking American jobs, they were taking our businesses, and they were taking our championship. Then he spoke Punjabi. This was an ok promo, probably his best and he needs the practice so we're going to call it a win. Jinder has a something…a slimy, cerebral heel thing that's coming together. A.J. came out to a monster pop. Lots of signs, lots of A.J. chants. The first 7-8 min was just good back and forth wrestling and exchanging holds. A.J. is so crisp and Jinder did everything he needed to do to keep up. Even when A.J. would get the best of Jinder, Jinder would give the unsettling grin and his movements in the ring really played into a growing confidence. The Singh brothers interfered and Jinder took over. A.J. got in a couple comebacks but was cut off by either the Singhs of a Jinder counter. At the 17 min mark A.J. countered the cobra clutch into a calf crusher. The Singhs got involved. A.J. chased them out. Jinder caught A.J. with a vicious sling shot and power slam for a believable near fall. A.J. took a nasty bump on his left shoulder, the ref was in quick to check but A.J. seemed fine. A.J. countered another cobra clutch with a Pele kick and the phenomenal forearm (dear God, he got crazy height on the spring board…it looked way better live than on TV). Singh brothers break up the three count for a DQ finish. Really good main event action. After the match A.J. beat up both Singh brothers and hit a Styles clash to send the fans home happy. Merch table had a lot of Cena, followed by A.J. and Nakamura. Roman was the only Raw guy with merch available.
Biggest Pops
A.J. by a mile!
Nakamura
Beezango
Sami Zayn
Becky Lynch
Most Heat
Keven Owens
Jinder Mahal
Carmella
---
NOW CHECK OUT THIS PREVIOUS REPORT: 5/27 WWE in Knoxville: Mahal & Corbin vs. Nakamura & Zayn, Mojo vs. English, Owens vs. Styles, Tye vs. Dolph
---
Please send any news tips and results to: pwtorch@gmail.com. For instance, let us know if you hear a pro wrestling reference on a popular talk show, see a pro wrestling related Tweet or Instagram from celebrity, hear an ad for matches advertised for an upcoming WWE event, or anything else pro wrestling related that'd be of interest to our readers. 
If you attend a live event, please send results. We don't set up correspondents ahead of time and count on readers like you to send an email with a report on live events you attend – not just WWE, but also ROH, NXT, international groups. and anything else. No need to ask ahead of time.