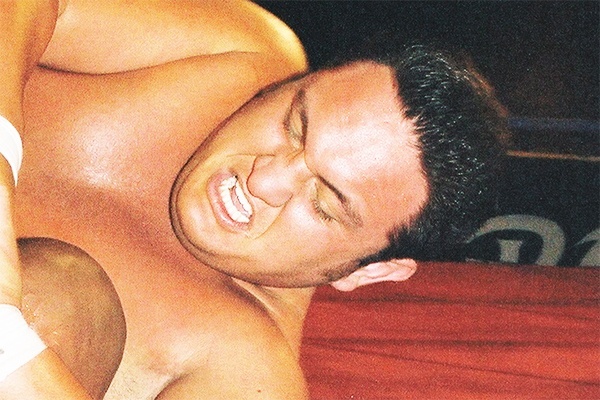 ---
SPOTLIGHTED PODCAST ALERT (YOUR ARTICLE BEGINS A FEW INCHES DOWN)...
---
So Extreme Rules was not "extreme" at all. With the exception of the main event outcome, it felt like any recent Raw you could be capable of stumbling upon. A valid indication that (1) these live Network events seem like less of big deal, (2) the format of these PPVs need to have a severe change in look and set-up, and (3) having two shows like this a month is way too much. Up until the main event, this crowd was about as unmotivated as a Monday morning work commute and it was pretty obvious they weren't buying most of what the WWE was laying down from a "superstar" or storytelling standpoint.
RISING STAR OF WWE EXTREME RULES: Samoa Joe
Before the main event, my buddy texted me asking if the winner of the Fatal-Five-Way tonight would be victorious against Lesnar at the Jerry Lee Lewis PPV, and I texted back (verbatum) "If it's Joe or Finn, yes. Anybody else no" (I apologize for not including a period at the end of my text message – poor writing on my part). My top two picks to win were Finn or Bray so it was a pleasant surprise to see Joe get the choke-out victory. Am I still sold on Joe winning at Happy Days five week's from now (who's commercial tonight made it look like GBOF will take place in front of a Sonic or Johnny Rocket's)? After much thought and then a healthy amount of hitting the backspace button on this current sentence I will go with a pretty solid yes – whether that's with chicanery or not will not matter, but what does is Joe getting his due.
HONORABLE MENTIONS
Cesaro & Sheamus: Certainly not the best executed of matches (or finishes), but this duo really did set a new bar for themselves tonight, particularly Cesaro who's been apart of more tag teams than Josh McCown's been apart of NFL teams. Beating the Hardyz still carries it's fair weight of credibility in 2017 so them riding this out in a prolonged feud with the Broken Brothers will provide some worth-while match watching from fans of several demographics.
The Hardy Boyz: If it ain't #BROKEN, fix it and that's hopefully what this loss tonight will mean for Jeff & Matt. I believe it was Todd Martin who said on "The Fix" this week that if the Hardyz drop the straps tonight that will be a positive indication that WWE acquired rights to arguably the hottest gimmick in wrestling. Truly delightful if it comes to pass.
FADING STAR OF WWE EXTREME RULES: Bayley
Even with all the missteps and the forehead slapping blunders that WWE has done with Bayley up until this point, tonight's loss was absolutely hard to fathom and even more hard to swallow. I was already super jaded from creative's booking decisions, but this really takes the not-at-all-extreme cake. How can you screw something this simple up so much? She's getting boos for heaven's sake – Bayley! The most universally loved persona since maybe 1998 Austin and you make her lose in just an awfully executed, awfully pointless gimmick match? Bayley must have been watching the wrong Sandman for match etudy tonight and Vince must have never really watched NXT Brooklyn to go forth with an idiotic move. For me, if anything is an indication of his need to step down as the head of creative, the handling of Bayley in WWE has undoubtedly been the poster child (even more than the decision to end Taker's streak)
DISHONORABLE MENTIONS
Dean Ambrose: Silly Dean, chairs aren't legal. You do remember how your typical singles match works, don't you? I mean, your title does hang in the balance of it after all, I'm sure you studied up (hopefully not Bayley's Sandman tape). People like wrestlers who are smarter than their opponents and know how to keep their emotions in check, surely you'll have that all in perspective when wrestling the opener tonight, right? Oh, what's that? You're a hot-headed idiot who takes an unimaginable amount of time to bitch and argue at an official, to grab a steel chair, and to lose in a horribly over-used distraction finish? Okay, nevermind then.
Austin Aries: I really don't want to include Austin Aries on here, but WWE has this impeccable way of putting their stars in such unwinnable positions. If you weren't going to put the title on Aries, why again put him in this situation of losing to Neville? I don't care if we saw five visual tap-outs from our Cruiserweight champ tonight, he's won time in and time out against A-Double and that's way too many times.
---
CHECK OUT THE PREVIOUS ARTICLE: RISING STARS & FADING STARS – WWE BACKLASH: Jinder Mahal, Sami Zayn, Breezango, Randy Orton, Becky Lynch