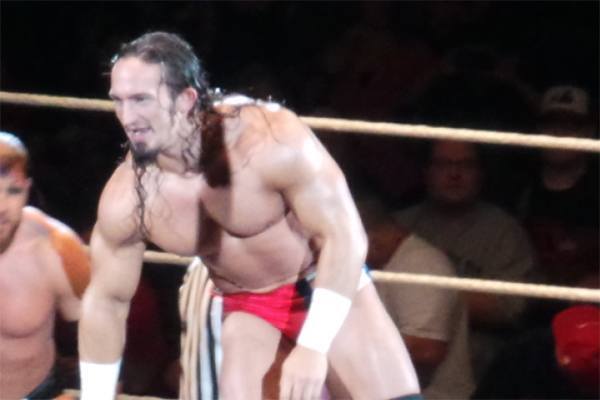 ---
SPOTLIGHTED PODCAST ALERT (YOUR ARTICLE BEGINS A FEW INCHES DOWN)...
---
WWE LIVE EVENT REPORT – RAW
AUGUST 11, 2017
BANGOR, MAINE
REPORT BY BRANDON LECLAIR, PWTORCH CORRESPONDENT
This weekend marks the second summer in a row WWE has opted to split its Maine audience between Bangor and Augusta. The two cities are just about 80 minutes apart. As I mentioned after a pair of shows last year, they've never had much of a problem filling (or nearly filling) one venue with one show, but attendance suffers greatly when they book two. Tonight was no different. I initially sent a picture that showed a pretty barren lower bowl, but the far left end filled out very nicely (those are the $15 seats) and the lower bowl behind me ended up about half full. Many open seats on the floor, which is not the norm. All told, I'd estimate about 2,000 in attendance in a venue that seats 5,500 – a very slight improvement over last year's crowd in the same building (with far stronger name recognition on this show.)
WWE's opening video, and the Raw intro played as Elias made his way to the ring under the cover of darkness. A lone spotlight shone on Elias as he was introduced by Mike Rome. Elias sang a clever song bashing Bangor before Gallows & Anderson hit the ring.
1. Finn Balor & The Hardy Boyz defeated Elias & Luke Gallows & Karl Anderson in 10:00. A substantial pop for The Hardyz. If I'm not mistaken, this is the first time I've seen either of them in Maine since late 2009. The crowd seemed well-versed in the Broken Universe, as a large number of people on the floor took to a "DELETE!" chant immediately, Matt indulged them. Finn Balor hit the ring next to a very strong pop. A solid, and serious opening match. Matt and Finn each spent a brief amount of time in the ring before Gallows, Anderson, and Elias systematically worked over Jeff Hardy for a large portion of the bout. The crowd stuck with them the entire time, and rewarded Finn with a big pop when he got the hot tag. The referee eventually lost control, leading to all six men bursting in and out of the ring. Matt and Jeff eventually hit a pair of Twist of Fates on Gallows and Anderson while Finn connected with the Coup De Grace on Elias for the win. The Hardyz and Finn have a lot of chemistry together and this was a great way to start the show.
2. Goldust defeated R-Truth in about 1:00. What a weird one. R-Truth hit the ring first, getting the crowd riled up with his "What's Up" schtick. Goldust then sauntered to the ring, and R-Truth attacked him before he could get in the ring. The two brawled for a brief period of time before the referee got them separated and rang the ball to start the match. A couple of headlocks and shoulder tackles later, Goldust rolled Truth up and used the ropes for leverage, winning the match. The crowd was noticeably surprised. Nothing appeared to go wrong, so I can only guess it was designed this way. Goldust left, and Truth cut a brief promo telling Goldust that, eventually, he'd "get got."
Big Cass was shown on the screen talking about his match tonight with Enzo. Pretty basic, but I like that they do this at house shows.
(3) Neville defeated Akira Tozawa to retain the Cruiserweight Championship in 9:00. When Mike Rome announced the next match was for the Cruiserweight title, the crowd fell mostly silent. Tozawa hit the ring first, and, despite the crowd's perceived indifference, got a respectable reaction. Many in the crowd did his bark chant, so it appears as though they were, at the very least, familiar. A smattering of boos and some cheers for Neville, but nothing of note. The action was fast and enjoyable. I'm not advocate for the Cruiserweight division, but these two did a nice job winning me, and everyone else over. Tozawa teased a suicide dive through the ropes to Neville early on, and finally hit it late in the match to a big ovation. Neville jacked and jawed at fans at ringside every chance he got. Tozawa appeared to have Neville where he wanted him when the champion countered his way into the Rings of Saturn for the tap out win. Neville stared at Tozawa in utter contempt and left as angry as he entered.
4. Enzo fought Big Cass to a No Contest. Enzo hit the ring to a good, but not great reaction. When these two appeared in Bangor last summer, they got one of, if not the biggest reactions of the night. My, how times have changed. The crowd still joyously repeated Enzo's lines back to him, but with noticeably less gusto. He cut a brief promo telling Cass that he planned to "slap the taste right out of his mouth and leave his taste buds lying all over Bangor." Enzo said that Case won't be able to taste anything, but that he (Enzo) will be tasting some Maine "lobstah." That got a great pop. Cass hit the ring to a subdued reaction. Enzo jumped him immediately and Cast quickly fought him off. Enzo jumped on his back a couple of times, each time being thrown to the mat or into the corner. Eventually, Enzo charged him and Cass hit him with a big boot. Case sauntered to the back and Enzo was helped up by an official. The crowd seemed disappointed by this one.
5. Seth Rollins & Dean Ambrose defeated Bo Dallas & Curtis Axel in 14:00. Great reactions for both Seth and Dean. Rollins really seems to be finding himself and hitting his stride as a babyface. Lots of comedy spots in the early going, with Axel (who was wrestling in dress pants, by the way) mimicking Val Venus' pelvic circle/thrust taunt. Not exactly sure why, but Bo Dallas was getting a kick of it. Seth eventually took control and did the taunt himself, which got a big laugh. The majority of the match was built around Axel & Dallas isolating Seth while Dean went absolutely crazy in his corner. Ambrose looked like he'd just downed two pots of coffee before coming to ring – he was wired. It made for an energetic crowd, though, and a great eruption when Seth finally got the hot tag deep into the match. Ambrose cleaned house before tagging a recovered Seth back in. Dean hit Dirty Deeds and Seth hit…whatever his new finish is called to get the win. Fun match, but I can't help but feel like Dallas & Axel were way too competitive given their spot on the card. Seth and Dean worked strictly as a unit, with no teases of opposition between the two of them. They did leave independently, though.
Mike Rome led us into intermission.
6. Sasha Banks & Mickie James & Dana Brooke defeated Alexa Bliss & Nia Jax & Emma in 14:00. Saha came out first to a great pop. The crowd gave respectful applause to Mickie, Dana, Via, and Emma. Alexa entered last to a star reaction. They even gave her the "lights out" treatment before her music hit. Sasha seemed to be having a lot of fun pre-match – doing Mickie and Dana's poses alongside them and interacting with kids at ringside. The match itself was surprisingly good. Mickie and Alexa kicked things off, and ran a spot where Alexa would continuously knock down Mickie, only to have James immediately kip up. Mickie knocked down Alexa, and Alexa tried to imitate the kip up, only to fall down. They ran this a few times, with Alexa finally landing the kip up but immediately being tackled afterward by Mickie. The crowd ate it up. Much of the match saw the heels working over face-in-peril Dana Brooke while Sasha and Mickie acted as cheerleaders on the apron. Sasha eventually got the hot tag and cleaned house, leading to a corner-clearing brawl that sent Mickie, Dana, Nia, and Alexa tumbling to the outside. Sasha quickly locked in the Bank Statement on Emma for the tap out win.
7. Sheamus & Cesaro defeated Titus O'Neil & Apollo Crews to retain the Raw Tag Team Championship in 7 :00. O'Neil and Crews received respectful applause. Very strong, and positive reaction for Sheamus & Cesaro. The tag champions dominated this one in the early going before Apollo Crews eventually got the upper hand on Cesaro with his freakish athleticism. The crowd didn't seem particularly invested in the outcome of this one, but popped politely for signature moves. Titus & Sheamus eventually spilled to the outside. Sheamus fought off O'Neil, climbed back onto the apron and caught Crews with a guillotine from the outside. Apollo stumbled into the waiting arms of Cesaro, who hit him with the Neutralizer for the pin.
8. Roman Reigns defeated Braun Strowman by disqualification in 11:00. Given that  the crowd had, for the most part, played along with WWE's narrative throughout the course of the evening, I was curious to see (and hear) how this would play out. Braun came out to a solid reaction and did nothing to suggest he's the heel. Some fans opposite me started chanting "STROWMAN" loudly as he paced around the ring and he looked at them and nodded in approval. Reigns' music hit and the crowd erupted in boos. Reigns walked down the ramp with his usual confident swagger at first, but seemed hesitant when he stared down Braun. There's plenty of valid criticism bestowed upon Reigns, but his presence is undeniable up close. The match was very solid – much in the same vain as their numerous TV encounters. They told the story of Roman trying valiantly to lift Braun for a Samoan Drop, but each time, Braun would thwart his attempt. The crowd split pretty evenly once we got into the meat of the match. Strowman dismantled the stairs at ringside and tried to hit Roman with them, but the referee got in his way. The two fought their way back into the ring, and Roman hit a pair of Superman punches. He posed in the corner to set up for the Spear, but Braun manhandled him as he charged. He tossed Roman into the air, and Reigns came down on him with a Superman Punch. They've done the spot before, but it looks very cool. Reigns got a VERY near fall. Strowman retreated to the outside and laid dormant against the propped up ring steps in the entryway. Reigns exited the ring on the other side and charged all the way around ringside, gearing up for the Drive-By on a semi-prone Braun. Braun came alive at the last moment and shoved the stairs in Roman's face, causing the disqualification. Strowman hit Reigns again, brought him in the ring, and delivered a pair of power slams for good measure. He walked all the way up the ramp, turned around, and came back to ringside, retrieving a table. He propped it up in the corner and went for a third slam. Reigns slide down his back, hit two Superman punches, and speared Strowman through the table to close out the night.
FINAL THOUGHTS: All in all, a run-of-the-mill card, but it's hard to complain when you're sitting front row. The crowd enjoyed themselves despite some disappointments and no shows (Samoa Joe, Bray Wyatt, and The Miz were all scheduled. Only The Miz had been pulled from advertising this week.) No return date was announced, though I suspect they intend to make Bangor an annual summer stop. I'll be heading to Augusta tomorrow night as well, which should feature a slightly different card because John Cena and Rusev will be in town.
Biggest Pops:
1. The Hardy Boyz
2. Dean Ambrose
3. Seth Rollins
4. Finn Balor
5. Sasha Banks/Alexa Bliss (too close to call)
Most Heat:
1. Roman Reigns (during entrance)
2. Elias
3. Curtis Axel & Bo Dallas
No one else really had "heat", per say, but the crowd booed heavily at the result of Enzo/Cass and the DQ finish in the main event.
Looking forward to reporting after tomorrow's show!
---
If you attend a live event, please send us a report like the one above to pwtorch@pwtorch.com.
---
NOW CHECK OUT THIS RECENT WWE HOUSE SHOW REPORT: 8/5 WWE Smackdown in Montreal, Quebec (2nd detailed report): WWE customizes show for local market, Styles & Shinsuke vs. Owens & Corbin, New Day vs. Ascension