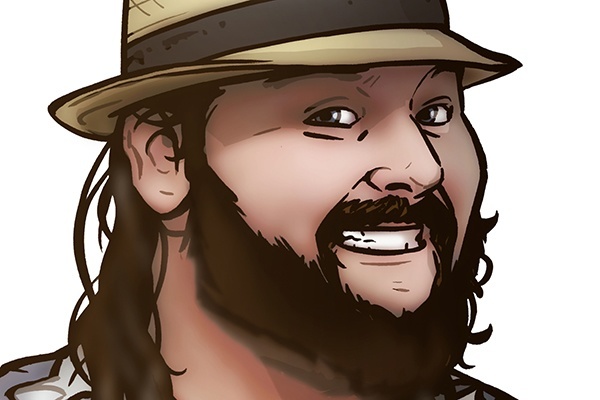 ---
SPOTLIGHTED PODCAST ALERT (YOUR ARTICLE BEGINS A FEW INCHES DOWN)...
---
The following was published originally on PWTorch.com five years ago this week…
---
WWE NXT TV Results
June 19, 2013
Taped at Full Sail University
Report by Justin James, PWTorch contributor
[Q1] The pre-credits video looks back at Bo Dallas's quest to become the NXT champion. The focus was on the tainted win, and very careful shots of the crowd and no crowd noise to disguise the disgust that probably 80 percent of the audience feels to Bo Dallas.
Adrian Neville is out for his advertised match with Bray Wyatt, with Brad Maddox and Tom Philips in the booth. The timing of this match reeks of "Teddy Long special six-man tag match" in the making. No Kassius Ohno or Corey Graves to back up Neville despite their agreement last week.
1 – ADRIAN NEVILLE vs. BRAY WYATT (w/The Wyatt Family)
Neville's speed is immediately neutralized by a big clothesline and Wyatt starts to pick apart Neville. Neville with a surprise roundhouse kick from the apron to put Wyatt down, but when he goes to the top to follow-up, Harper blatantly pushes him off in full view of the ref for a disqualification.
WINNER: Adrian Neville via DQ in 2:00.
Post-match, Neville takes a three-man beating until Graves and Ohno make the save. Maddox hilariously accuses them of an "illegal double-team" as they send Harper into the steps. Dusty Rhodes hits the ramp and books the Teddy Long special six-man tag match as the main event.
Angelo Dawkins, looking like an amateur wrestler, is already in the ring for his debut against Sami Zayn, who gets a full entrance.
2 – SAMI ZAYN vs. ANGELO DAWKINS
Dawkins pushes Zayn around. Zayn with deep arm drags to turn things around, as the announcers play up Dawkins's amateur background. Dawkins works an extended chinlock. Zayn makes a comeback and ends with his top rope DDT finisher.
WINNER: Sami Zayn in 4:00. That felt painfully long. Dawkins is built and packaged just like Jack Swagger, but his offense is too basic at this stage to provide any excitement. The only surprise was that there was no interference from Antonio Cesaro.
Replay of the Leo Kruger package for the third time in three weeks.
[Q2]
3 – SASHA BANKS vs. SUMMER RAE – NXT Women's Title Tournament match
Rae immediately backs out of the first locks, then sends Banks into the mat on the second and works her over. A "Let's Go Sasha" chant breaks out as Brad Maddox says that George Clooney may be interested in Rae given his preference for long-legged Divas. Rae holds the hair while berating Banks. Rae gets frustrated and runs Banks into the corner. They trade roll-ups, then Banks looks for a surprise spinebuster, but Rae rolls through for a cover. They brawl on the mat. Banks slaps Rae's chest. Rae then nails a new finisher, holding Banks in a reverse DDT position but spinning around and planting her with a leg drop.
WINNER: Summer Rae in 3:30. Rae has stepped up her game in terms of in-ring psychology and storytelling, and adding moves that take advantage of her height.
Backstage, Xavier Woods cuts a promo reminding us of the times he's been on NXT beating El Local. He's going to raise the roof. He says it's "morphing time" to play up his "stuck in the '90s" character. Good delivery of a bad promo.
Jake Carter is already in the ring for his first singles match in a time. He's facing Xavier Woods, who has music and a video that reminds me of the C + C Music Factory.
4 – XAVIER WOODS vs. JAKE CARTER
Woods imitates some monkey-style kung-fu to show off. Woods works the wrist. Head scissors takedown from Woods wakes the crowd up. Carter with body blows in the corner, followed by a blockbuster. Nice sowing from a bigger person. Woods counters with a second-rope axe handle. They trade bombs and Woods gets the better of it. Woods rolls across the ring, then springs up into a Superman punch, then hits "Lost in the Woods" (Gail Kim's "Eat De-feet") for the win.
WINNER: Xavier Woods in 3:00. Both Carter and Woods have a nice upside, but this match didn't quite have a smooth flow.
Backstage, Renee Young rather breathlessly introduces Sami Zayn. He says that his match was a message to Antonio Cesaro. He accepts that he lost last week to Cesaro, but he doesn't accept the post-match beat down. He says it's time for a rubber match.
[Q3] Backstage, Sylvester LaFort is rambling in a bad imitation of French. He says that Dawson and Dylan should be the #1 contenders for the Tag Team Titles. Dusty Rhodes comes in and books them against Kassius Ohno and Corey Graves next week in a tag match to be the #1 contenders to the Tag Titles.
Bo Dallas has a "I'm taking a video while driving in my car" video. He thanks everyone for their support, and he apologizes that he's too busy being on the road for WWE to show up to NXT. But don't worry, he went to Disney World, and he has photos to prove it. He tells his "Bo-leivers" that he promises to be there next week, and don't worry, he never breaks promises. Then he sings "Don't Stop Bo-Leiving."
[ J.J.'s Reax: Either Dallas is the best disingenuous babyface in recent history, or there are a few very tone-deaf people involved in this. ]
Video package for RVD's return.
5 – KASSIUS OHNO & COREY GRAVES & ADRIAN NEVILLE vs. BRAY WYATT & THE WYATT FAMILY – six-man tag match
Graves and Harper kick it off, and Graves immediate goes into the corner on the lock-up. Graves controls Harper with headlocks and takes him to the corner to tag in Ohno, who gets the better of Rowan and tags in Neville. It's Neville and Wyatt and Neville unloads like it is beyond personal. Wyatt eats the offense and hits a brutal spinebuster. Wyatt with a catapult, but Neville catches himself and transitions into a double foot stomp. Neville with Yes! kicks, but Wyatt slaps him down and brings in Harper. Harper into the corner and Graves is in. Graves with a leg scissors aided by the ropes. Harper drags Graves into the corner headed to break.
[ Commercial Break ]
New "Don't Try This at Home" video including Swagger's kick that took Ziggler out for a month. Zack Ryder even appeared for a moment.
Wyatt is relaxing on the mat as he watches Graves try to get up. Waytt blocks a sunset flip and counters with a butt splash, but Graves rolls out of the way. Wyatt sells the tailbone like he got shot in the rear. Double tag and it is Ohno and Rowan. Rowan whips Ohno right out of the ring and tags Harper who takes it to Ohno on the outside.
[Q4] Wyatt is a brutal series of knees to Ohno, who looks like he is out cold as Harper drops elbows. Ohno is begging for a tag, but Rowan clears Graves from the apron. Pumphandle backbreaker gets two for Rowan. Heads collide by accident, and Wyatt comes in before Ohno can tag. Ohno slips between Wyatt's legs and tags in Neville.
Neville takes Wyatt down three times in a row. Standing Shooting Star Press after clearing Rowan gets two, then he clears Harper. Rowan enters the ring, forcing Neville to hold up, but Ohno comes to his rescue and takes out Rowan. He holds Harper and Rowan so Neville can dive to the outside and take Harper and Rowan out, at the expense of Neville. Roundhouse from the apron sends Wyatt back to the mat, but Harper yanks Wyatt out of the ring as Neville tries to hit the "Red Arrow" corkscrew shooting star press. Wyatt capitalizes with a cover for the win, and Graves is too late to save the match.
WINNERS: The Wyatt Family in 12:15. There wasn't a dull moment in that match. Great pacing, excellent action all around, and The Wyatt Family continues its dominance.
Final Reax: A very entertaining main event made up for the paint-by-the-numbers booking. All six participants in the main event should be proud of that match. Summer Rae is developing nicely into the kind of heel Diva who can draw legitimate heat. The Sami Zayn match surprised me with its lack of awesomeness, but that is more due to Angelo Dawkins being so green.
---
NOW CHECK OUT THE PREVIOUS NXT FLASHBACK: 5 YRS AGO – NXT TV Report (6-12-13): Bo Dallas vs. Big E for NXT Title, Bayley character undergoes big change, Sami Zayn debuts vs. Cesaro, Wyatts, Dawson, Corbin