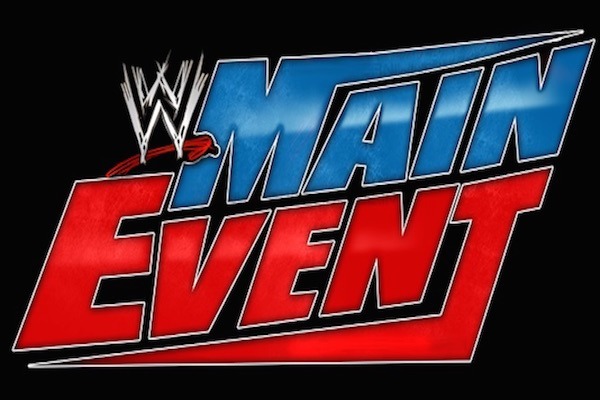 ---
SPOTLIGHTED PODCAST ALERT (YOUR ARTICLE BEGINS A FEW INCHES DOWN)...
---
WWE MAIN EVENT TV REPORT
AUGUST 7, 2019
HULU STREAMING TV
REPORT BY MIKE F. MEYERS, PWTORCH CONTRIBUTOR
Announcers: Renee Young, Byron Saxton
REASONS TO WATCH…
– Dana Brooke vs. Sarah Logan tie-breaker.
– Scott Dawson absorbs a brutal knee strike – tune in to see how he survives.
(1) DANA BROOKE vs. SARAH LOGAN
During the entrances, the announce team brought the repetition of this feud to the forefront by saying this was the deciding match for Brooke and Logan, as each has won twice against the other.
The women exchanged waistlocks and Logan grappled Logan down into a side headlock on the mat, but Logan got to her feet and spiked Brooke to the canvas with a handful of hair. Logan landed some kicks to the prone Logan, but Logan got to her feet and landed a stiff slap across Logan's face. Brooke then issued a beat down in a corner before body slamming Logan to the mat.
Logan slipped out of a fireman's carry and fired Brooke violently into the middle rope. The ref implored Logan to "stay away" as he checked on Brooke, but Logan quickly covered Brooke for a two-count. Logan choked Brooke against the middle rope until a four-count, then applied an arm bar. It didn't take long for Brooke to rise up through the maneuver, but Logan rewarded her effort with a knee strike to the ribs. Another cover, anther two-count.
Logan cinched Brooke into a cloverleaf about three feet from the ropes. Brooke got her hand onto the bottom rope, breaking the hold, but Logan knocked Brooke out to ringside with a baseball slide. She then howled at the moon like a rabid baseball player. Logan rolled Brooke back into the ring and followed her in. While executing another howl, Brooke rolled up the unsuspecting Logan into a pin, but Logan kicked out at two.
The wrestlers exchanged blows, but Logan eventually leveled Brooke with a right cross. Brooke staggered up to her feet and hit a charging Logan with a reverse elbow. Brook sat upon the top turnbuckle and executed a twisting maneuver to land on her feet, then turned Logan up and over with a suplex. Both women writhed on the mat after the landing.
Brooke ignited her flurry of offense, knocking Logan down repeatedly before covering for a near fall. When attempting a springboard reverse elbow against Logan in the corner, Logan caught Brooke mid-attack with her arms around Brooke's waist. She carried Brooke to the center of the ring, then wrenched backward to slam Brooke to the canvas with a German suplex and covered for a two-count.
Back on their feet, Brooke nailed Logan with an enzuigiri. Logan slithered into the landing zone on the mat while Brooke scaled the corner. From the top turnbuckle, Brooke landed a somersault senton onto Brooke, then covered for a three-count.
WINNER: Dana Brooke by pinfall.
(Meyers's Analysis: Another "just fine" match between these two. The highlight was Logan catching Brooke in mid-air before carrying her to the center for the German. Both women seem limited in what they will ever do in singles competition in WWE. After seeing Logan for multiple weeks on Main Event, I don't see her as a believable badass heel, especially not with this bullshit howling gimmick. Her face is too kind to be equated with the ferocity of a wolf (Canis lupus).)
-Main Event recap session:
Replay of Lynch & Charlotte vs. Natalya & Stratus from Raw
Match rundown for upcoming PPV, SummerSlam
Replay of Rollins – Lesnar in-ring confrontation from Raw
Recap of multiple attempts on Reigns's life
Replay of Reigns's shakedown of Buddy Murphy from Smackdown
Replay of Goldberg surprise contract signing from Raw
Replay of Kofi Kingston video / interview package re: Orton
Replay of the KO Show from Smackdown, featuring Shane McMahon and subsequent melee
(2) ZACK RYDER & CURT HAWKINS vs. THE REVIVAL
Hawkins and Wilder kicked off the match with Wilder locking in a side headlock. Hawkins escaped by firing Wilder off the ropes then leveled both Wilder and an entering Dawkins with clotheslines. Wilder maintained control of Ryder with an arm bar, then tagged in Ryder who pinned Wilder for a two-count.
Dawson tagged in and peppered Ryder with kicks and chops. Ryder tagged in and the Revival attempted a double back body drop, but Ryder had them scouted and planted both of their faces into the mat. Hawkins entered the fray, and this time Hawkins and Ryder attempted their own double back body drop, but Revival, clearly aware of this tactic, booted Hawkins and Ryder in the chest as they telegraphed the move. Revival ran the ropes, but Hawkins and Ryder landed simultaneous flap jacks on the Revival. Revival rolled out to ringside and requested a time out – a luxury not available to professional wrestlers. Ryder illustrated this point by leveling the Revival with a two-for-one drop kick through the ropes. We cut to commercial.
After the break, Wilder was in the midst of punching Ryder in the face. Dawson tagged in and punished Ryder with suplexes and head butts. Wilder tagged back in and Revival teamed up to clothesline Ryder upward against a ring rope, after mockingly chanting "Woo woo woo!" in tandem. Wilder covered Ryder for a two-count.
Wilder slowly paced around Ryder before locking in an arm bar on the mat. Ryder battled out and nearly made a tag, but Revival double teamed again, allowing the now-legal Dawson to land a vertical suplex, and another pin attempt. Dawson body slammed Ryder, then Wilder tagged back in and attempted a backward body splash off the second rope, but Ryder got his feet up and caught Wilder in the face with the heels of his boots. Ryder slowly crawled toward his partner, but Dawson tagged in and scrambled round the ring to intercept. When Dawson attempted another suplex, Ryder reversed by landing on his feet, then transitioned into a neckbreaker.
Ryder finally made the hot Hawkins tag, who quickly ran roughshod through the Revival – including Wilder, who had tagged back in. After yelling to the crowd, who responded in kind, Hawkins planted Wilder with a sitout slam, then covered for a two-count. Dawson tagged in, then Revival took out Hawkins with the Shatter Machine. Ryder nailed Wilder with the Rough Ryder, giving Dawson the moment he needed to roll up Ryder for the pin and victory.
WINNERS: The Revival by pinfall.
(Meyers's Analysis: Strong action from two strong tag teams. In the endgame of the match, Hawkins delivers a stunning running knee strike to Dawson's chin in the corner. It takes close inspection to see how Dawson protected himself to survive the strike while still making the move look amazingly brutal at full speed. A prime depiction of the art of this business.)
SHOW SCORE (0-10):7.4
FINAL THOUGHTS:Brooke vs. Logan, round five, probably doesn't matter because it could go to best of 21 for all we know. The tag match was solid with an especially fun finishing sequence. Check out that knee strike.
---
RECOMMENDED: 7/31 WWE Main Event TV Report: Lacey Evans is back and nasty, EC3 seems to have his spirit and enthusiasm back