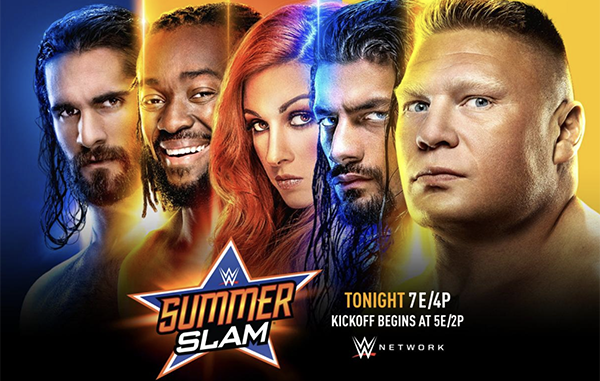 ---
SPOTLIGHTED PODCAST ALERT (YOUR ARTICLE BEGINS A FEW INCHES DOWN)...
---
So it's possible, even likely, that I'm going to get all of these wrong.
Follow @Colohue for updates.
---
1. Drew Gulak vs. Oney Lorcan (Cruiserweight Championship Pre-Show)
There are positives and negatives to the fact that Drew Gulak is being challenged by a contender who is not a 205 Live wrestler. On the one hand, it's a new, fresh and vibrant addition to Summerslam. Gulak will have had limited time in kayfabe to research and prepare. On the other, it's not the best way to highlight the talent available in 205 Live when there are apparently no challengers left who could compete.
Gulak's championship run has gone well so far. Despite Nese's relatively brief run, WWE are on a mission with the Cruiserweights to give long runs to their champions before moving them on and up. I would suspect that is the plan with gulak; a man who could feasibly hold the belt and work with all of the faces on the card to further enhance their draw value.
Today is not the day for that to come to an end. There are too many people to develop and no spot available for Gulak to move into. He's not just the champion we want; he's the champion we need.
Winner: Drew Gulak
---
2. A.J. Styles (w/Karl Anderson, Luke Gallows) vs. Ricochet – United States Championship match
The fourth match in the series should be as exciting and different as all of those that have preceded it. Both men have huge range and athleticism but unfortunately there is almost no chance that this match result will be at all based on that.
AJ Styles' backup will ultimately decide this match and with Ricochet standing alone, there really isn't much he can do about it. The Club will interfere and this will almost certainly end in AJ Styles retaining his championship. Expect more six man tag matches in future with this one.
Winner: A.J. Styles
What If?: The Club are evened out by The Usos before the match even starts?
---
3. Bray Wyatt vs. Finn Balor
I don't think this one needs much explanation. Bray Wyatt is just returning after a major build, meanwhile Balor seems to be either on the way down or simply on the way out. There can only be one winner here.
Winner: Bray Wyatt
What If?: The Demon King does show up after all?
---
4. Charlotte Flair vs. Trish Stratus
The winner here really depends on what comes afterwards. Is this a one time appearance by Trish or will it be the begining of another run with the company? Will she be used for a feel good win in Toronto because some bad news is coming? Is this to build, yet again, towards Stratus and Lita vs Alexa Bliss and Nikki Cross and thus on to Bliss vs Trish?
These are very hard questions to answer. The main question, for me though, is will the WWE allow their most dominant, most protected woman to lose a marquee match like this? Will Charlotte, the record holder for women's championship runs, take the loss when Trish Stratus apparently doesn't have much to gain?
For me, Charlotte needs to take this one home.
Winner: Charlotte Flair
---
5. Kevin Owens vs. Shane McMahon – Owens leaves WWE if he loses
Kevin Owens is one of the most vital cogs in the WWE machines right now. Sure, if it said leave SmackDown Live then there's a possibility that he would lose, leading to a move to Raw and a reunion yet again with his eternal partner Sami Zayn. That's not the deal though. Owens isn't leaving WWE.
Elias is certain to interfere. It's possible that Drew McIntyre will also. I don't see how Owens can win, but maybe this is in service to a much longer term storyline in which Owens does quit WWE, but never actually goes anywhere.
Owens should win. That's never stopped Shane McMahon in the past though, has it?
Winner: Kevin Owens
What If?: McMahon wins and Owens keeps appearing in the background of shots selling merch, selling popcorn, and hitting stunners?
---
6. Becky Lynch vs. Natalya – Raw Women's Championship match
Another potentially big Toronto pop for Natalya here but an extremely small chance of victory.
This match has basically collapsed under the weight of fan expectation. The fans wanted Rousey, but they can't have it. The fans wanted Banks, but they can't have it. There are very few other opponents with recognisable name value. Meanwhile, Natalya and Lynch have a lot of history and a strong back catalogue of good matches to fall back on. This, however, is the match with the greatest possibility of outside interference.
Speculation is rife that we may see a Banks, a Rousey or even a Baszler. This might be down to dissatisfaction. It might be hype overpowering but outside interference looks like it will be the only way Becky Lynch is losing that belt.
Winner: Becky Lynch
What If?: The speculation isn't speculation after all?
---
7. Goldberg vs. Dolph Ziggler
Do I need to explain this one? I'd be stunned if it even lasted two minutes.
Winner: Goldberg
---
8. Bayley vs. Ember Moon – Smackdown Women's Championship
This will be the biggest match of Ember Moon's career thus far; a huge opportunity for a major main roster title. Really, she couldn't have a better opponent for it.
Bayley has suffered a little recently due to simply being steady and reliable rather than flashy and overtly spontaneous. Since coming over to SmackDown she has not only taken the title but she has been walking a very fine, very interesting line between being her old hugger self and being more aggressive, more physical and more determined. With a title now involved she has something to be protective of. Bayley is slowly becoming a very interesting story all of her own.
Meanwhile, Ember Moon is incredibly exciting on a match by match basis. Bayley specialises in throwing people around; Moon specialises in being thrown around. This one could be a sleeper hit. When choosing a winner, I would have to consider the long term story that's being told here for Bayley. There is a lot left to tell and while Ember Moon is here to play a part, I don't see it ending here.
Winner: Bayley
What If?: Bayley can't beat her opponent fairly?
---
9. Kofi Kingston vs. Randy Orton – WWE Championship
Probably the best built match on the card, these two men have a lot of history to fall back on and that is exactly what they've done. They've turned a moment ten years ago, in which Orton shouted that Kingston was stupid, into a world championship feud.
This also has huge potential as a match. Orton's slow, methodical style against Kingston's determination to up the pace, to get it into the air and to hit that Trouble In Paradise. There's an extra downside to that though because Randy Orton could pull an RKO out of just about anything. This is definitely the biggest threat to his WWE championship that Kingston has faced thus far.
This one is hard to call. It could easily go both ways. It wouldn't even be a case of a negative fan reception; Orton's worked incredible hard and been responsible for a lot of great moments in his most recent run. There are also a surplus of faces against heels at the top of the SmackDown card at the moment. We could see Owens vs Orton. We could see Kingston vs McMahon. What about Roman? What about Kingston vs Murphy? There are a lot of possibilities.
For now, I suspect that Kofi's journey will continue. Barely.
Winner: Kofi Kingston
---
10. Brock Lesnar vs. Seth Rollins – WWE Universal Championship
By far the biggest match on the card, I strongly suspect that this will also feature the most disappointing finish. Brock Lesnar really needs to lose here but I strongly suspect that he isn't going to.
A win here would see Brock Lesnar taking the Universal title and walking off into the sunset for the third year in a row. The belt would vanish with the man again, making pursuit of it almost pointless. I genuinely don't know why people even try to get it any more. Just walk away; it's not worth it.
I have to go with heart rather head on this one. It might be wishful thinking but sometimes it's all we have.
Winner: Brock Lesnar
What If?: The whole locker room are so determined to keep the Universal Championship on Raw that they actually help out?
---
I'll see you for a live tweeting session of Summerslam 2019.
---
RECOMMENDED NEXT: WWE SMACKDOWN HITS & MISSES 8/6: Charlotte-Trish segment, Ziggler beats Ali, Natalya vs. Moon, The KO Show with Shane, Gable-Elias exchange, Reigns mystery, Aleister vs. Sami, Kofi video