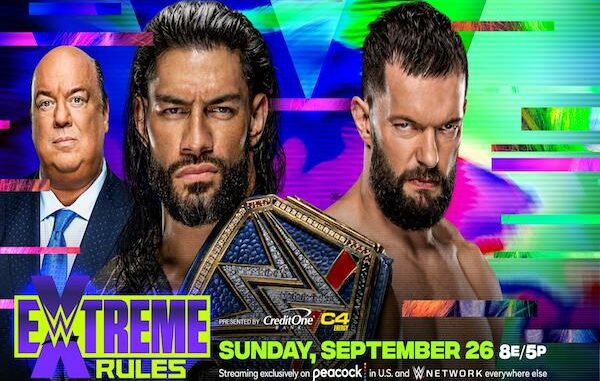 ---
SPOTLIGHTED PODCAST ALERT (YOUR ARTICLE BEGINS A FEW INCHES DOWN)...
---
KELLER'S WWE EXTREME RULES PPV REPORT
SEPTEMBER 26, 2021
COLUMBUS, OHIO AT NATIONWIDE ARENA
AIRED LIVE ON PEACOCK & WWE NETWORK & PPV
Raw Announcers: Jimmy Smith, Corey Graves, Byron Saxton
(1) THE NEW DAY (Big E & Kofi Kingston & Xavier Woods) vs. A.M. STYLES & OMOS & BOBBY LASHLEY
Saxton wondered how Lashley would coexist with Styles and Omos, since they're not exactly friends. The announcers really leaned into the WWE Draft possibilities with Xavier & Kofi and also Styles & Omos being split up. Styles wrestled Xavier and Kofi first, then asked for ig E. He got him. They played it up as a big deal. Big E got the better of Styles, then called in Lashley.
Lashley took control of Big E with a barrage of power moves. "Who calls out Bobby Lashley?" asked Smith. New Day triple-stomped away at Lashley in the corner. Lashley rolled to the floor, where Kofi leaped over the top rope at him. Lashley caught him, but Xavier leaped off the ring apron and pushed Lashley over with Kofi on top. Big E and Omos had some heated words at ringside. Styles joined in.
Back in the ring, the heels worked over Kingston for a while. When Omos tagged in, he overpowered Kingston easily. Styles tagged in and locked on a grinding chinlock. When Styles got preoccupied with Big E and Xavier on the ring apron, Kofi fired back and dropped Styles. Both were slow to get up, but Styles tagged in Lashley. Kofi avoided a diving Lashley, who flew to the floor.
Big E eventually got a hot-tag just as Styles tagged in, and he went on a flurry of offense against all three heels. Big E took Styles down, then hip gyratedover him before landing his running Big Splash. He led a "New… Day Rocks!" chant.Styles managed to recover during Big E leading cheers (which always makes the babyface look idiotic). Big E blocked a Styles corner splash and turned it into a one-armed slam for a near fall.
Big E charged, but Styles leaped over him and rolled him up for a two count. He followed with a Pelé kick. Kofi tagged himself in, then Big E lifted Styles and Kofi landed a double stomp off the top rope. Lashley broke up the cover. Lashley then slammed Kofi for a near fall. He set up a spear, but Kofi leapfrogged him; Lashley flew through the ropes, then landed at ringside. He favored his knee. Big E then launched a running Kofi over the top rope toward Styles and Lashley, but Omos punched him out of mid-air.
Lashley then took over on Big E in the ring. Styles blind-tagged himself in as Lashley set up the spear. Lashley shot Styles a dirty look. Styles said, "Let me finish this." Lashley blind-tagged himself in as Styles springboarded at Big E. Big E ducked Styles, then Lashley mistakenly speared Styles. Big E then hit the Big Ending for the win.
WINNERS: New Day in 18:00. (***1/4)
(Keller's Analysis: High-energy match with a lot of fun sequences. Maybe a couple sequences that weren't as smooth as they'd have liked, but still it kept you guessing as they into various sequences that appeared possible endings to the match. You'd think Lashley's turned down a contract extension and is being jobbed out the way they're using him these last few weeks. This feels like a more legit Big E push, too, with a pin on Lashley with his finisher here. The Styles-Lashley disagreement doesn't take a lot away from what Big E accomplished there.)
Smackdown Announcers: Michael Cole, Pat McAfee
(2) THE USOS vs. THE STREET PROFITS (Angelo Dawkins & Montez Ford) – Smackdown Tag Team Title match
Cole talked about Dawkins being a 6-5 and agile for his size. The Profits took it to the Usos a minute and knocked them to the floor. Ford had his ribs taped and seemed to be moving a little gingerly. The Usos got sustained offense on Ford, focusing his ribs. Ford avoided a corner splash by Jey, then tagged in Dawkins.
Dawkins controlled Jimmy for a while. He tagged Ford back in and then held him on his shoulders for a top rope bloc, buster by Ford. Ford slid over onto Jimmy for a two count. Some chaos broke out a few minutes later, with the Usos taking control of Dawkins at ringside. Ford then landed a running flip dive onto both Usos. He then landed a top rope splash on Jey. He was slow to make the cover because of his injured ribs. Jimmy made the save. The Usos then took over and double superkicked Dawkins off the ring apron. Ford rolled up Jey for a surprise two count, but then Jey superkicked Ford and tagged in Jimmy. They double superkicked Ford, then landed opposite corner splashes for the clean win.
WINNERS: The Usos in 14:00 to retain the Smackdown Tag Team Titles. (**3/4)
(Keller's Analysis: The match with these two teams feels familiar, although the injured ribs added drama and was utilized throughout as part of the match's storyline.)
-An enraged Lashley backstage called Big E a coward and a chicken shit the way he cashed in the MITB briefcase and the way he won the match tonight He dared him to fight him one-on-one. He yelled, "I want my title back!"
(3) CHARLOTTE FLAIR vs. ALEXA BLISS – Raw Women's Title belt
Charlotte had a split robe – half dark and half normal. Bliss landed an early dive at ringside, but then Charlotte took over for a while. Graves said Charlotte's goal was to take mind games out of this and just fight. Charlotte whipped Bliss into the ringside barricade several minutes into the match. She taunted the crowd, then threw Bliss in the ring and scored three two counts in a row. Bliss landed a flip senton splash onto Charlotte's legs for a two count. Charlotte came right back with a Natural Selection attempt. Bliss landed an uppercut.
Charlotte regrouped and went for a top rope moonsault, but Bliss lifted her boots, then landed sunset bomb for a near fall. Graves said that might be Bliss's best shot. Bliss climbed to the top rope, but was fatigued. Charlotte got up, so Bliss stomped her back down, then leaped off the top rope with a Twisted Bliss, but Charlotte moved. Charlotte went for a figure-four, but Bliss small packaged her for a quick near fall. She followed with a DDT, but Charlotte put her legs on the bottom rope to stop the move. Smith called it "a veteran move."
Charlotte crawled over and grabbed Lilly and threw it at Bliss. Bliss tried to catch Lilly, but Charlotte then gave her a boot to the face and then threw her into the ringpost before landing a Natural Selection for the win.
WINNER: Charlotte in 12:00. (*3/4)
-After the match, Charlotte tore apart Lilly the doll. She then rammed Bliss into the ring apron and then over the announce desk. Charlotte mock cried afterward. Bliss mourned Lilly by sobbing in the ring and gathering her remains.
-Backstage, Paul Heyman was on his phone when Kayla Braxton approached him. He asked if she was worried he was talking to "another journalist, or a journalist." Heyman blew her off.
(4) DAMIAN PRIEST vs. JEFF HARDY vs. SHEAMUS – U.S. Title match
Sheamus kicked Hardy out of the ring at the bell. Priest and Sheamus then battled. Hardy leaped at them at ringside a couple minutes in. Priest beat on Sheamus at ringside, then went after Hardy in the ring. This was the usual Triple Threat match with brief offense by one wrestler and then the third wrestler interfering. Rince, repeat.
Hardy rallied and climbed to the top rope for a Swanton on Priest, but Sheamus leaped up from ringside and knocked Hardy off the top rope to the mat. Sheamus then leaped off the top rope with a flying knee to Priest's chest. Sheamus mocked Hardy's mannerisms before making the leap, which was quite the scene. Sheamus went for a Brogue Kick when Priest stood, but Priest ducked. Sheamus caught a charging Priest with a double-boot, then yelled, "I've got this. I've still got it!" Sheamus smiled and stood on the top rope. Priest tossed Sheamus off the top rope with a chokeslam. Hardy then landed a Swanton onto Priest as he had Sheamus covered. A loud "Hardy!" chant rang out.
Priest and Hardy battled. Priest got the better of him. Hardy avoided a Priest springboard dive and then Sheamus kneed Priest out of mid-air. Hardy knocked Sheamus out of the ring then covered Priest. The crowd popped big. Hardy rolled Sheamus for a near fall, but Sheamus came back with a Brogue Kick. Priest rolled up Sheamus for a leverage pin.
WINNER: Priest in 13:00 to retain the U.S. Title. (***1/4)
(Keller's Analysis: I was half-expecting an audible to be called here giving Hardy the win, the crowd was so into him. This might be just as much a bad sign for Priest as a good sign for Hardy, though. This was an entertaining match start to finish.)

-Big E gave a fired up promo backstage where he said Lashley must have lost his mind if he thinks he's avoiding him. He said he doesn't hide behind anyone, and he accepted his challenge. He said his ass better be ready at 8 sharp tomorrow night on Raw.
(Keller's Analysis: More of *that* version of Big E.)
(5) BECKY LYNCH vs. BIANCA BELAIR – Smackdown Women's Title match
Cole said this is Becky's first match after being out of action for over a year and a half, and her first match was 26 seconds nd she "barely broke a sweat." Becky wore a real bad attitude expression on her face during ring entrances. Belair was all smiles. Fans chanted "EST! EST!" Lynch looked around and smiled, then offered another handshake. McAfee said it was "a sign o respect." Belair attacked Lynch rather than accept it. Belair went for a quick K.O.D., but Becky bailed out to ringside. A "Let's Go Becky! / EST!" dueling chant broke out. McAfee said it was "split down the middle." Cole said whether or not it's split down the middle, it's an electric atmosphere.
Belair outmaneuvered and taunted Becky. Becky bailed out to ringside and heard Cole, "The Champion is asking what she got herself into." She told him that's not what she's thinking and she does have a plan. McAfee told Cole not to do that and speak for what Becky is thinking. Belair took it to Becky at ringside, but Becky yanked on her long braid as she leaped off the ring apron. Becky scored a two count. Cole said, "Becky just looks annoyed." McAfee said once again he's putting word in her mouth. Cole said that's not true; rather, it's an observation. McAfee said he's certain of a lot of things he shouldn't be. Other "Let's Go Becky! / EST!" dueling chant broke out.
Becky landed a sliding kneedrop and an elbow. She she leaped and tried to twist and sit on on Belair, Belair moved. Belair then powered Becky up, but Becky slipped free and yanked Belair down by her hair hard. A few minutes later, after steady back and forth action, Belair pressed Becky above her head. Becky slipped free and applied a Dis-arm Her. Belair's feet reached the bottom rope to force a break.
Later Belair countered a Disarm Her with a leverage pin attempt. When Belair countered another attempt at a Disarm Her by lifting Becky into the air, Sasha Banks ran out and attacked Belair. The ref called for the bell. She yanked Belair by her braid into the corner and then charged at her with flying knees. She yelled at the crowd. Becky sat in the corner with her belt looking disheveled and perhaps relieved. Sasha said, "I'll see the two of you this Friday."
WINNER: Belair via DQ in 17:00 so Lynch retained her title. (***1/2)
(Keller's Analysis: Belair looked like she belonged in there with stars the magnitude of Becky and later Sasha. Becky looked back in her element in her first long match in over a year and a half. Curious to see how this all shakes out after the draft, but the Sasha run-in was good for an "escape hatch" finish for a match with no great choice between one of them winning clean here. The finish, though, took the wind out of the emotions built up for over 15 minutes. This was the match people were invested in seeing an outcome for, similar to The Rock and John Cena where you were interested in the match to a great degree because you couldn't imagine someone losing, and they opted for a "escape hatch" finish. They think Sasha's "surprise return" makes up for it, and to some degree it does, but not nearly enough to justify the finish.)
-Cole hyped the Big E defense against Lashley on Raw.
(6) ROMAN REIGNS vs. "THE DEMON" Finn Balor – Universal Title match
Demon used a kendo stick early. Reigns came back with a chair shot a few minutes in. McAfee said Reigns "is like Bob Ross with a steel chair." Balor ended up stomping the chair onto Reigns's mid-section. Reigns rolled to the floor where Balor went right after him and threw him into the steel steps.
They brawled up to the panel set and then back to the ring. Reigns slammed Balor through a table mid-ring and scored a near fall. Fans chanted, "This is awesome!" Reigns landed a Superman Punch after a back and forth with Balor for a near fall. Heyman told Reigns to make Balor acknowledge him. Reigns yelled, "Every single day!"
When Reigns went for a spear, Balor sidestepped him and landed a sling blade. Reigns immediately countered with a spear for a very very near fall. Balor escaped with a blow blow to break the cover. Cole said, "Turnabout is fair play." He cited Reigns doing that to Balor previously.
Balor took it to Reigns at ringside, then threw him into the ring and landed the Coupe de Grace for a near fall, with the Usos breaking up the cover. They double-teamed Balor and threw him into the ringside barricade. Cole said there is no DQ. "The damn Usos cost the Demon again," he shouted. The Usos set up a table and tried to slam Balor through it. Balor escaped, gave Reigns a Sling Blade, and then powerbombed Jey through the announce desk. As Balor celebrated, Reigns speared him through the desk. "Oh! My! Word!" yelled McAfee. Fans chanted, "Holy shit!"
The Demon theme song played and he regained his powers. The lights turned red and popped up totally fresh. He bashed away at Reigns with a chair as Cole freaked out and Balor's music played. He sent Reigns through a table at ringside with a dropkick. He threw Reigns back into the ring, then crawled to the top rope. Then the ropes gave out just as he about to leap with a double stomp. He clutched his knee. McAfee asked, "How in the hell does that happen?" Balor couldn't stand. Reigns speared Balor and got the three count.
WINNER: Reigns in 20:00 to retain the Universal Title. (***1/2)
(Keller's Analysis: The finish was bonkers and maybe would have played better if there hadn't been other copout finishes on this show. This show had the feel of booking matches without finishes they wanted to deliver, so they "got creative." They did "protect" the Demon character with the rope snap spot, but the supernatural stuff or whatever that was with the music, lights, and fog was that polarizing Fiend stuff that undercuts the emotions viewers invest in regular action building up to the finish.)