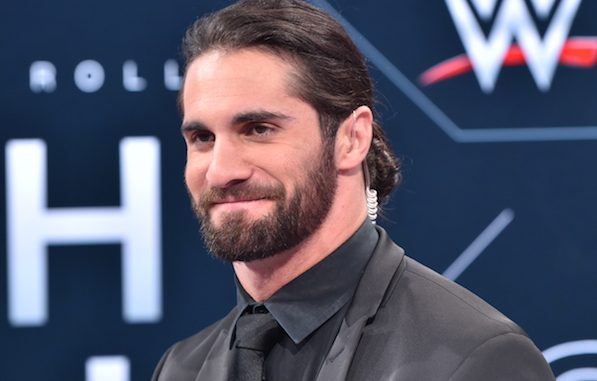 ---
SPOTLIGHTED PODCAST ALERT (YOUR ARTICLE BEGINS A FEW INCHES DOWN)...
---
This week's episode of WWE Monday Night Raw has wrapped. Let's take a stroll down memory lane and relive some of the madness.
-There is just something about that glass breaking that gets you excited for Raw. Am I right? Yeah, Steve Austin didn't show up, but the reaction and anticipation after that glass hits primes the audience with energy. Big stars do that and Brock Lesnar and Roman Reigns are the only current acts that come close to generating a similar response.
-As for the Austin impersonator segment itself, bravo by Kevin Owens. At this point, Austin's star power and KO's commitment to the story are the only things driving interest. Owens has been so effective that the heat around Austin confronting him will be significant come WrestleMania. WWE has walked the fine line of KO Show vs. match effectively and the Austin appearance will surely land somewhere in the middle or those ends, which is exactly what WWE and Austin want.
-Seth Rollins should not be interrupting matches that have already started. Like, why did the Dirty Dawgs and both Mysterios just stand around and let him talk out there? The show's focus was all on Rollins, but this was egregious – especially when leadership would reward him later in the night. Just silly all the way around and regardless of how you slice it.
-The mask thing with Mysterio and Miz isn't fresh or particularly creative, but it's an easy avenue to travel down to get some cheap heat. To that end, the angle worked this week and Logan Paul wearing the mask next week will add a log to that fire.
-I'm intrigued by a potential Omos match at WrestleMania. Not because of the work rate or match quality, but just because it seems to be a story that WWE is investing in.
-Has A.J. Styles become a mic guy? I don't consider Styles a premiere talker, but his return promo on Edge this week was excellent. Styles was confident, likable, but aggressive at the same time. He genuinely came across as the good guy, which should net him the big positive reaction at WrestleMania.
-Shame on you Adam Pearce! I guess the squeaky wheel gets the grease under your command? Why Rollins deserved another shot at a WrestleMania match is beyond me. Especially considering him securing said shot would have stunted another major match from Raw in Styles vs. Edge.
-The women's tag team title situation is buttoned up, but meaningless at the same time. The teams are jumping through the hoops of story so that having the match is logical, but it doesn't have any heat or intrigue behind it.
-Becky Lynch is so darn good. Maybe WWE piped those boos in, maybe they didn't. And sure, that is important, because WWE certainly wants Lynch booed for real. That said, Lynch did something else in the promo that was significantly more impactful than trying to get booed. She elevated the status of her championship and the championship that Bianca Belair is fighting for. She framed it as a prized possession and something that matters deeply to her. That definition added emotional stakes to an already well-built program. Ronda Rousey vs. Charlotte Flair is the likely night one main event of WrestleMania, but Belair vs. Lynch should be in serious consideration to bump it. It's a hotter feud by a mile.
-I can admit that I chuckled at the Pat McAfee stuff this week. The story between him and Austin Theory lacks even a hint of depth, but it works well for what it's trying to be.
-RK-Bro with a top audience reaction of the night and an in-ring performance worthy of it. Have to think WWE will roll out the red carpet for a special WrestleMania entrance even though they will be featured in a throw together triple threat match for their belts. This week, Orton and Riddle continued to display a more serious, but personality rooted presentation.
-Obviously, I could have done without the illogical premise and disqualification finish, but Seth Rollins vs. A.J. Styles was a very good match in and of itself. If you're going to do the DQ, the angle with Edge fit and gave Rollins yet another out as to his WrestleMania status.
-Not all the pieces of the Rollins vs. WrestleMania storyline are logical to follow. The main one being, it's easy to assume that Rollins will of course be on the WrestleMania card, making the narrative hard to buy. That said, Rollins is pulling this off. He's believable in his aspiration to be on WrestleMania and his desperate mannerisms very much highlight that. WWE will pay this off at WrestleMania – likely with the Cody Rhodes debut – and when they do, WWE fans will have been primed for something significant over a long period of time and therefore react accordingly. WWE is telling fans what's happening here, just without outright telling them. Rollins destroying part of the Raw set this week and declaring that he won't allow Raw to happen next week if he doesn't get his Mania moment will be a good final chapter for the story going into WrestleMania weekend.
---
CATCH-UP: HEYDORN'S DYNAMITE RECEIPT 3/9: Scorpio Sky maintains winning streak, right guy for the moment as TNT Champion