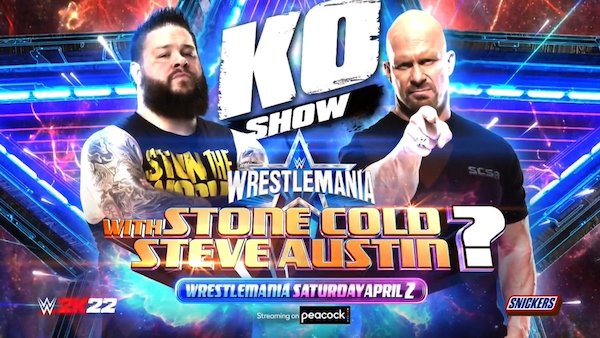 ---
SPOTLIGHTED PODCAST ALERT (YOUR ARTICLE BEGINS A FEW INCHES DOWN)...
---
I mean, how stupendous is this year's WrestleMania? Right? Two nights? Dallas, Texas? Stone Cold?! Alright, nobody is THAT excited about this year's card, but WrestleMania is still just a fun time of year on the wrestling calendar. So, it's fun that we shall have.
The card, the build, and everything in between for this year's event has been polarizing. High highs, but low lows too. From Roman Reigns vs. Brock Lesnar all the way down to the women's throw together tag title match. I suppose that's what a two-night show guarantees. Let's tackle night one first.
Call this a preview, a calm look into the distant future, or a gaze into a wondrous crystal ball; just don't hold me to anything, ok?
Charlotte Flair vs. Ronda Rousey – WWE Smackdown Women's Championship
Bottom line? This match should feel significantly bigger than it does. When you bring in Ronda Rousey for a run and the plan is for her to face one of the biggest stars in the women's AND at the biggest show of the year, the feud shouldn't be teetering on the edge of a cliff. Like, we shouldn't be in a position to debate whether or not this should be the main event, it just should naturally slot there. Rousey miscast as a babyface and her slow momentum out of the gate hurt the pace of this build. This is what it is at this point, but likely will deliver in the ring. Rousey takes the gold.
"Stone Cold" Steve Austin on the KO Show with Kevin Owens
A great example of the fun I mentioned earlier. Trust me, this won't be a match, but expect Austin to be physical with Owens as only he knows how. Punch, punch, brawl, Stunner, Stunner ….. Stunner again, beer, out.
Seth Rollins vs. Opponent to be name by Vince McMahon
Rollins played his role well throughout the run to WrestleMania, but it was smack dab in the middle of illogical story. We knew he would be on WrestleMania. Even as they tried to portray him as desperate, in the end, Vince McMahon gifted him a spot. Announcement. This WrestleMania story is now dead. Forever. Ok, so this is going to be Cody Rhodes and Rollins will be a stellar opponent for him on the first night out on the new WWE run. Cody will take the win too.
Drew McIntyre vs. Happy Corbin
Look, this should be the biggest squash in WrestleMania history. It won't be. Either way, McIntyre wins and wins definitively – putting a final end to this madness of a feud.
The Usos vs. Shinsuke Nakamura & Rick Boogs – WWE Smackdown Tag Team Championship
Audiences seem interested in this match, but for the wrong reasons perhaps? The Usos are a supremely credible team and while Nakamura and Boogs get strong pops, they feel like just an entrance people like to see. Standing next to Roman Reigns, the Usos need those titles and they'll keep them here.
The Mysterios vs. Logan Paul & The Miz
Well, with The Mysterios essentially getting their comeuppance over Paul and Miz on the Raw go-home show this week, it looks as if the only option is for Paul and Miz to take the win. So, let's go with that. I smell a story between the Rey and Dominik coming out of this too.
The New Day vs. Sheamus & Ridge Holland
This program has a nice personal flare and intensity to it, albeit for a tremendously unfortunate reason. Holland injuring Big E was an awful sight, but coming out of that, the rivalry between these teams is more serious in nature. New Day gets the final and definitive win like the good guys should.
Becky Lynch vs. Bianca Belair – WWE Raw Women's Championship
The best built match of the weekend outside of Roman Reigns and the match that should headline the night. Lynch started out on rough footing as a heel when first defeating Belair for the title at Summerslam, but the road to this match repaired her. Same thing with Belair. The slow build back as her act boiling at the right time too. Add that into effective promo work selling story and character, and the result is an exciting bout with big stakes. Belair takes this and completes the comeback. Beating Lynch is the last piece of the puzzle and she'll finish it up here.
---
CATCH-UP: PPV PRIMER – WRESTLEMANIA 38 NIGHT ONE: Preview and predictions for Becky Lynch vs. Bianca Belair, Flair vs. Rousey, more