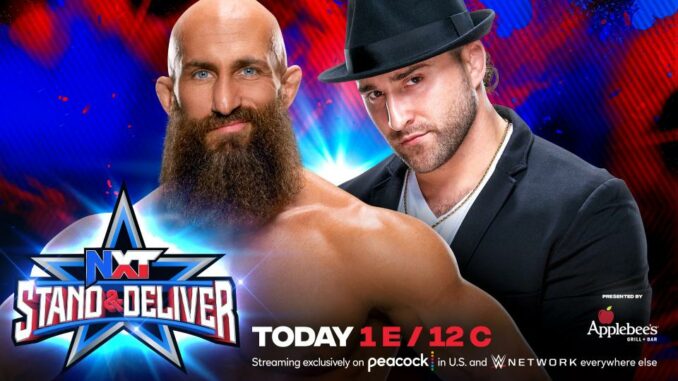 ---
SPOTLIGHTED PODCAST ALERT (YOUR ARTICLE BEGINS A FEW INCHES DOWN)...
---
Preshow: DAKOTA KAI & RAQUEL GONZALEZ vs. TOXIC ATTRACTIONS – NXT Womens Tag Championship
Dakota Kai and Raquel Gonzalez may have only just reunited, but that didn't stop Raquel from stealing Wendy Choo's spot as Kai's tag partner. While we're on the topic, what's the point of having the Dusty Classic if the winners aren't going to get a tag title shot?
One odd thing about this match, Gonzalez and Kai were positioned in the traditional heel corner and the heel champions were positioned in the face corner. Generally, the faces are in the corner facing the camera to better allow the audience to see the expressions on the babyfaces faces, and when they switch it up you can expect some sort of reason for it.
Wendy Choo made her presence felt by interfering and dumping orange soda on Gigi Dolan, the distraction leading to Toxic Attraction being dethroned as champion.
This match had "kick off" written all over it. Even though it was for the titles, it didn't feel important. It felt very paint by numbers and didn't last as long as I would expect this match to last if it was on the main card.
With Toxic Attraction losing their titles, I believe that this will be foreshadowing for the NXT Women's title match with Mandy losing her title. I write the Hits & Misses in real time, so we'll see what happens once we get to that match!
Verdict: Lukewarm HIT
CARMELO HAYES vs. CAMERON GRIMES vs. GREYSON WALLER vs. SOLO SIKOA vs. SANTOS ESCOBAR – North American Championship Ladder Match
This match seems like it was Cameron Grimes to win. They've been pushing the narrative that he's looking to win NXT gold for his father who never got the chance to see him wrestle in NXT. The focus on that narrative has been laid on thick, making me believe he would be the one to walk away as the NXT NA Champion.
While cases could be made for Hayes to retain, or for Waller, Escobar or Sikoa to win the title, Grime's story was the story that the match was built around. If he loses this match, one wonders what is left for Grimes? It's not like he'd have a real claim at the NXT Title after failing to secure the NA Title.
This match was more or less exactly what I thought it would be. Five hungry NXT wrestlers utilizing the ladders in a bombastic manner. While some of the spots looked amazing, they are stark reminders on what these performers put their bodies through. It was an entertaining ladder match, with the proper victor – Cameron Grimes.
Grimes' win was not much of a surprise, but it was certainly a feel good moment to see one of my favorite wrestlers in NXT holding the North American title high over his head after his victory.
Verdict: HIT
TONY D'ANGELO w/ AJ Galante vs. TOMMASO CIAMPA
Curiously, Tony D'Angelo was accompanied to the ring by AJ Galante, a man who made a name for himself as one of the "bad boys of hockey", becoming the promoter for the Danbury Thrashers hockey team at only 17 years old. Personally, I don't know much about the man. While Galante seems to come off as an Italian bad boy, making the pairing with D'Angelo make a little sense, it only seemed to confuse most people watching D'Angelo's entrance. Not many people seemed to know who Galante is, myself included.
However, the bigger story surrounding this match is the fact that this is the NXT Swan Song for Tommaso Ciampa, a man who has been one of the mainstays in NXT for more than 7 years. A call up to the main roster is all but imminent, as Ciampa has been showing up on main roster television more and more over the past couple months.
Easily the match I was looking forward to the most coming into Stand & Deliver. Ciampa became one of my favorite wrestlers during his time in the Cruiserweight Classic, but he solidified his status as one of my favorite active wrestlers during an NXT house show in Lowell MA back in 2016, the same house show that Samoa Joe won the NXT title from Finn Balor. In one of the best in-person matches I've ever seen, Tommaso Ciampa took on a relatively unknown Chris Girard, who would debut a few months later as Oney Lorcan. Ciampa and Girard both trained together at New England Wrestling Academy and wrestled for Chaotic Wrestling based in MA, so they were able to put on an absolute clinic for the NXT Live crowd.
Seeing Ciampa in what could be his final NXT match ever here at Stand & Deliver is extremely bittersweet. It's great to see his NXT career come full circle and we hope that the call up to the main roster means great things for Ciampa and his family financially. But selfishly, I hate to see "my guy" leave my favorite WWE wrestling show, NXT.
Tony D'Angelo, looking to make a name for himself, decided to target the most beloved wrestler in NXT as he was on his way out the door. D'Angelo challenged Ciampa to this match a few weeks back, looking to try and decimate The Blackheart, and become the "Don" of NXT – ala The Godfather movies.
After one hell of a back and forth, D'Angelo was able to overcome Ciampa and claim that "Don" title. Beating Ciampa is no easy feat, and one can only assume this should lead to big things for the Mafioso.
After the match, the crowd erupted in "Thank You Ciampa!" chants, as Ciampa paid his final respects to the NXT crowd. As he was walking to the back, Triple H's music hit and Triple H came to the stage and hugged Ciampa as Ciampa moves on to the next stage of his career.
Verdict: HIT (We'll miss you, Ciampa!)
THE CREED BROTHERS vs. MSK vs. IMPERIUM – NXT Tag Team Championship
The Creed Brothers won the Dusty Classic for a shot at the NXT Tag Titles, but their singles match was stripped away from them to give MSK yet another shot at the gold. We've seen MSK vs. Imperium in so many matches at this point, that it was hard for me to get excited at the prospect of seeing them face of yet again. However, the inclusion of the Creeds was intriguing. The Creeds have so much potential and I very much wanted to see it unlocked, leading to the Tag gold.
Even though I'm sick of seeing MSK and Imperium face off, that doesn't discredit the work that they do in the ring while against one another. All four men are incredibly talented as well. My apathy simply comes from how many times they've fought.
I felt like this match was the Creeds to win. They feel fresh in comparison to the other two teams. But, alas MSK regained the NXT Tag Titles and Diamond Mine comes out on the losing side of things once again. How is anyone supposed to take Diamond Mine seriously? Roderick Strong is their leader, and even he can't get the job done when the time calls for it.
Verdict: Match – Lukewarm HIT, Winners – MISS
MANDY ROSE vs. CORA JADE vs. IO SHIRAI vs. KAY LEE RAY – NXT Women's Championship
I still don't understand how we got to this match. Rose and Jade were slated to face off one on one, and then Shirai and KLR won the Dusty Classic. Rather than challenge for the NXT Womens Tag Titles, they just said they were going to insert themselves into this match instead. And… nobody stopped them? No, NXT 2.0 no longer has an authority figure. But, what a weird precedent this sets. Can any wrestler just say that they're going to insert themselves into a title match now, and wind up getting their way?
Shirai and KLR acted as a team to start the match, yet Rose and Jade did not work together to try and take out the Dusty Cup winners. Though once KLR and Shirai did wind up facing off, it was nothing short of some fantastic wrestling.
One thing that always bugs me about multi-person matches is that there are always two wrestlers who are actively fighting, while the other two are"recovering" outside the ring. It's hard to pace out a match like this, and it winds up making it harder to suspend my disbelief, and just get invested in the action. Unfortunately, this match was a victim of this booking. While they did a decent job trying to make it seem like those "recovery" periods seem a little shorter than most, it still was very noticeable where only two wrestlers were actively fighting.
Nitpicks aside, they did tell an entertaining story. Mandy Rose, the dominant champion. KLR and Shirai, the veterans teaming up to bring down the champ. And, of course, the scrappy underdog Cora Jade. Trying to fight the odds and win the NXT Women's Championship so early in her career.
Rose, defying the odds, was able to secure the win. Shirai looked like she was about to pin Jade after a moonsault, when Rose kicked Shirai in the head and rolled her up for the win. I think it was a fantastic finish. Rose still is the champion, she got heat from picking up an easy win, and they can continue to tell this story between these four women for another few months without it beginning to become stale.
Verdict: HIT
GUNTHER vs. LA KNIGHT
LA Knight teamed up with MSK this past Tuesday to take on all three members of Imperium. Gunther and LA Knight ended up leaving the match to fight backstage, leading to this match at Stand & Deliver.
For a match with a relatively cold feud, this still was an entertaining match. LA Knight and Gunther are two of the most polished in-ring wrestlers that NXT has to offer, so you knew it was going to wind up being a competitive contest bell to bell.
I have a feeling that Gunther is going to wind up challenging for the NXT Championship the next time the need for a major heel to challenge for the title arises, especially after this dominant win. LA Knight's future is up in the air, as he has appeared on the main roster a few times now. Whether his future lies in NXT or on the main roster, if he continues to grow this character his charisma and in-ring ability will keep him employed for years to come.
Verdict: HIT
DOLPH ZIGGLER vs BRON BREAKKER – NXT Championship
A night after inducting his father and uncle, Rick and Scott Steiner respectively, to the Hall of Fame, the young Bron Breakker walked into Stand & Deliver to square off against current NXT Champion, Dolph Ziggler and try to secure his second NXT championship victory.
Dolph Ziggler walked into Stand & Deliver as the veteran champion, perhaps underestimating Breakker, looking to prove to the world that he is one of the best in the business.
Personally. I was rooting for Ziggler to retain in this matchup. Now that NXT is back to being a developmental brand there isn't a plethora of veteran talent to help the newer talent learn the ins and outs of the business (along with the PC trainers, of course). Having veterans like Bobby Roode and Dolph Ziggler at the top of the card through Summer Slam weekend would certainly be a great way of getting eyes on the business, but a great way to help train the newer talent. Seeing Ziggler have a months-long run with the title, helping to put over younger talent could be an extremely fun few months of TV.
However, I didn't think there was much of a chance to see Ziggler retain. Breakker has been pushed extremely strong and, as I previously mentioned, he had already kicked off his weekend by inducting the Steiners to the Hall of Fame. It seemed like with his trajectory and start to WrestleMania weekend was going to inevitably lead to Breakker securing his 2nd NXT Championship.
There was also question surrounding how well Breakker would preform in front of a large crowd. Yes, he did perform in front of a large audience once on RAW, but not under the same pressure as he was under tonight in the main event. I think he knocked it out of the park. At 24 years old, Breakker has convinced me that he has "it". I define "it" by these three things. 1. A world class look. 2.) Charisma and mic ability. 3) In-ring skills.
Breakker checks off all three boxes. He may not have the best look, he may not be the best on the mic, nor is he the best in the ring. But he's more than proficient at all three, and has only improved in his short time on TV.
Imagine my surprise when Ziggler actually pulled it off and retained his title. Breakker had the visual win before Roode broke up the pin and oddly didn't get Ziggler disqualified. And Ziggler also needed to used an exposed turnbuckle to knock Breakker out. Breakker still looks strong, but Ziggler wound up retaining. Does Breakker continue chasing the title? Or perhaps is he main roster bound sooner rather than later?
Verdict: HIT