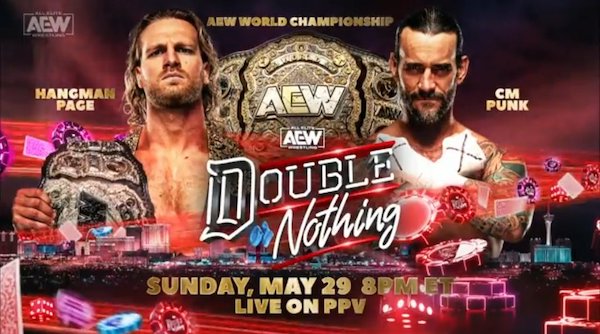 ---
SPOTLIGHTED PODCAST ALERT (YOUR ARTICLE BEGINS A FEW INCHES DOWN)...
---
LECLAIR'S AEW DOUBLE OR NOTHING 2022 REPORT
MAY 29, 2022
LAS VEGAS, NV AT T-MOBILE ARENA
AIRED LIVE ON B/R LIVE (U.S.), FITE.TV (Int.)
Announcers: Jim Ross, Tony Schiavone, Excalibur
-The show opened cold on a medium shot of the entrance stage. Pyro shot from both sides of the big tron as Jim Ross welcomed fans to the "jam-packed" T-Mobile Arena in Las Vegas. Excalibur talked up show sponsor, Draft Kings. He tossed to a quick promo for the sports-betting site.
-MJF's music rang out and the Vegas crowd booed loudly. His music played for several moments before Friedman finally emerged from the curtain. He wore a baby blue robe with the words "better than you and you know it" stitched on the wings. The crowd pelted him with an "asshole" chant.
The camera cut backstage, showing Wardlow seated against a plain white wall. Excalibur said Wardlow is being held in the arena's holding cell. A security guard let Wardlow out, and he marched down the hallway, flanked by a number of security personnel. The crowd continued to jeer MJF as Wardlow made his way toward the stage. He entered with no music to a very warm reception from the crowd. Security removed Wardlow's cuffs as he rounded the corner toward the ring. The crowd chanted his name. Tony wondered what kind of gameplan MJF would have for the match, given that he's spent so much time running.
MJF immediately left the ring. Wardlow posed for the crowd. Friedman told the referee to move Wardlow back as he stepped in the ring.
(1) MJF vs. WARDLOW
The referee called for the bell and MJF immediately rolled to the outside. He threw up his arms to a chorus of boos. A "he showed up" chant ensued. MJF gave Wardlow a punch in the back. Wardlow shook it up and hooked Friedman up for a Powerbomb. MJF broke free and rolled to the outside, jawing with fans. Wardlow grabbed MJF by the chin and dragged him back onto the apron. Friedman went for a sunset flip, but Wardlow stood firm. He scooped MJF up for a Powerbomb, but Friedman bit his head. He poked Wardlow in the eye, then grabbed a headlock.
Wardlow and MJF engaged in some quick counters and drop downs. Wardlow looked for a Powerbomb a third time, but MJF slipped out. He dropped to the mat and grabbed at his leg. No one, including the announcers, seemed to buy the injury. MJF retrieved the ring from his tights. The referee saw it and took it away. Friedman began pleading with Wardlow. "I'll double your pay!" he yelled. "I'll triple your pay!" Wardlow shrugged. "I'll quadruple your pay!" Wardlow looked toward the crowd. He shrugged again and offered a hand to MJF. Friedman took it. Wardlow held on and pulled him in, delivering a massive Powerbomb.
MJF was laid out in the center. The crowd chanted "one more time!" Wardlow obliged, he hit a second Powerbomb. Wardlow shook out his shoulders and paced around the ring comfortably. He pointed to the crowd, then grabbed MJF and delivered a third Powerbomb, this time for the opposite side of the arena. He hit a fourth Powerbomb, then a fifth. Wardlow put a boot on MJF's chest, but stepped away at the count of two. The crowd cheered. He gave MJF a sixth Powerbomb.
Wardlow appeared to have lost count. He scooped MJF and hit a seventh Powerbomb. He smiled and looked around. He settled on a count of ten. Wardlow hit number eight and nine in rapid succession. He took down his singlet straps before the tenth, then put a single boot on MJF's chest for a three count.
WINNER: Wardlow in 7:34
Tony Schiavone joined Wardlow on the stage for a post-match interview. He said that Tony Khan has informed him that Wardlow is now "All Elite." The signature graphic appeared on the trons. The crowd awarded him with a big "you deserve it" chant. Wardlow bowed for them. Excalibur said Wardlow is now free of MJF, and free to write his own future.
(LeClair's Analysis: They teased a competitive match for a moment, but this was a squash. It's hard to say whether or not this will be the final time we see MJF in an AEW ring, but if it is, he went out making Wardlow look like a million bucks. The crowd desperately wanted to see MJF get destroyed, and that's exactly what AEW delivered. This wasn't what you'd consider a "good" match by any means, but it was a fitting and logical end to one of the better built stories in company history. You have to wonder if this was the style they'd originally planned for, or if MJF's situation dictated a last minute change to make Wardlow even stronger. If early reports coming into tonight are any indication, there's going to be plenty of discourse of MJF's status and decision-making in the weeks and months to come.)
-A video packaged aired for the Young Bucks vs. Hardys.
-The Young Bucks received a Vegas Elvis inspired "Super Kick Party" pre-entrance video. They headed to the ring with Brandon Cutler. Excalibur welcomed Caprice Coleman as a special guest commentator for the match.
The Hardys entered to a good reaction, slapping hands with fans on their way down the ramp. J.R. said both of these teams have changed the landscape of tag team wrestling, but said Matt and Jeff likely influced the Bucks. Coleman said most tag teams of today drew something from the Hardys.
(2) THE YOUNG BUCKS (w/ Brandon Cutler) vs. THE HARDYS
Both teams stood opposite each other as the bell rang. Matt Jackson opened things up with Matt Hardy. They traded "delete" and "elite" hand gestures before locking up. They traded quick leg sweeps and covers. The crowd opened up a dueling chant. Hardy backed Jackson into the corner, then dragged him Jeff Hardy for a tag. Matt Jackson blocked a double team attempt and tagged in Nick Jackson.
Jeff and Nick locked up. Hardy hit a quick shoulder tackle, but Nick kipped up and hit a tackle of his own. He mimicked Jeff's thrust taunt. Nick rolled to the outside. The Hardys stole the Bucks' flex pose. Nick hit the ring, but the Hardys immediately clotheslined him to the outside. They gave Nick quick elbows. The Bucks regrouped on the outside with some spray from Brandon Cutler. Jeff tagged in Matt. Nick slapped Matt in the face, then tagged out. Matt Hardy gave Jackson a quick suplex then tagged in Jeff. The Hardys gave Nick Jackson a front face Suplex onto his brother. The Hardys set up for Poetry in Motion on Matt, but Nick caught Jeff with a kick in the corner.
The Bucks caught Matt with Superkicks as the match crossed 5:00. Nick tossed Jeff Hardy into the ring. He started his own "that was awesome" chant. The crowd mostly ignored him. Matt Jackson slammed Jeff into the turnbuckle, then tagged in his brother. Nick hit a rolling Senton from the apron. He tagged his brother. Jeff Hardy fought back with a double clothesline. Matt Hardy reached for a tag, but Brandon Cutler pulled him off the apron.
Nick and Jeff traded punches. Nick tried to steal Jeff's Whisper in the Wind, but Hardy moved. Jeff hit the move himself. J.R. said he finds it ridiculous when wrestlers change the names of moves to make them their own. Jeff tagged Matt Hardy. Matt slammed Nick into the turnbuckle repeatedly. Matt Jackson tried to intervene, but suffered the same fate. Brandon Cutler leapt onto the apron, and ate the turnbuckle, too. Hardy hit the Side Effect on Nick and covered him for a two count.
Matt Hardy went for a Twist of Fate, but Nick pushed him away. Matt Jackson grabbed the top rope, sending Hardy tumbling to the floor. Jeff Hardy returned, giving Nick double middle fingers. Nick backflipped off the apron onto Matt Hardy, cutting off his return to the ring. Jeff climbed the ropes, but ate a Superkick from Nick Jackson. Matt Jackson dragged the Hardys into position on the outside. Nick dove off the top rope onto both Matt and Jeff.
The referee reached a count of five before both Matt Hardy and Nick Jackson returned to the ring. Nick gave Hardy some punches. Hardy begged for more. Nick hit him with a running knee to the face. He tagged in Matt Jackson. They hit a tandem moonsault/leg-drop. Matt Jackson covered for two. Matt Hardy recovered enough to back Matt Jackson into the corner. Nick Jackson ran in for a kick, but Hardy ducked. Nick hit his brother. He went for another kick on Matt, but hit Brandon Cutler instead. Hardy gave Matt Jackson a Side Effect on the apron.
Jeff Hardy tagged in shortly after. The Hardys connected with Poetry in Motion on Matt Jackson. Matt Hardy went for a Twist of Fate, but Jackson tossed him into a waiting Jeff Hardy on the turnbuckle. The Bucks regained control temporarily with a double foot stomp. Jeff knocked Matt Jackson off the apron with a jawbreaker. He set up for the Swanton Bomb, but Matt Jackson moved. Nick Jackson gave Jeff a Twist of Fate. Matt Jackson connected with a Swanton Bomb and covered for a near fall at 14:20. A "this is awesome" chant ensued.
The Bucks pulled Hardy to his knees for a BTE Trigger. Hardy moved and the Bucks cracked knees. They recovered quickly enough to hit Jeff with double Superkicks. Matt Hardy tried to intervene, but he ate Superkicks as well. Matt Hardy willed his brother to stand up. The Hardys returned to their knees. The Bucks threw rapid fire Superkicks. The Hardys finally collapsed. Matt willed Jeff to stand again.
The Hardys dared the Bucks to kick them again. They delivered tandem Superkicks to both Hardys. The Bucks hooked a leg of each brother, but both Hardys kicked out. Matt Jackson rolled to the outside and grabbed the steel steps. He bounced Jeff's face off of them. The Bucks set up for Meltzer Driver on the steps, but Matt Hardy broke it up. He gave Nick a sit-out Powerbomb in the ring. Jeff Hardy set Nick Jackson up on the propped steel steps, then climbed to the top rope. He delivered a Swanton Bomb onto the ring steps. In the ring, Matt Hardy gave Nick Jackson a Twist of Fate and covered him for a near fall.
Nick Jackson rolled up Hardy for a two count. Matt gave Nick two consecutive Twist of Fates. He tagged in Jeff. Jeff climbed to the top rope and hit the Swanton Bomb. He covered for a three count.
WINNERS: The Hardys in 19:14
Jeff Hardy immediately slid out of the ring and jumped into the crowd, slapping hands with fans. He eventually made his way back to the ring to have his hand raised with his brother.
(LeClair's Analysis: This one was slow going in the beginning, but it certainly picked up as it progressed. The first ten minutes or so felt like what I would expect to see these two do on a weekly WWE TV show, if they were employed there. Ultimately, it was an enjoyable match, but it's hard to defend giving them nearly twenty minutes on a show loaded with twelve matches that's almost sure to run extremely long. I thought the closing minutes went a little too far into the territory of video game wrestling, which is a complaint I often have with the Young Bucks. This would've been a prime candidate to be moved to last week's Dynamite or Rampage, or, if nothing else, shortened rather dramatically.)
-Footage aired of The Acclaimed and The Gunn Club's week in Vegas.
(LeClair's Analysis: This is among the worst stuff AEW has going right now. It's the worst of WWE-style comedy that doesn't belong anywhere near this company.)
-Anna Jay headed to the ring for the TNT title match. Jade Cargill followed. J.R. talked up her impressive title run, including the speed with which she typically wins her matches.
(3) JADE CARGILL (c) vs. ANNA JAY – TBS Championship match
After some quick lock ups and counters, Anna Jay hooked Jade Cargill for an early Queen Slayer. Cargill shrugged her off with ease and gave her a Fallaway Slam. Cargill kipped up and dropped Jay with a tackle. She climbed to the top rope and drove the full force of her body into Jay with an axe handle to the face. Cargill began to climb the turnbuckle again, but thought better of it as Jay retreated to the opposing corner.
Cargill gave Anna Jay a back elbow in the corner. She climbed to the top rope, but Jay leapt the turnbuckle to meet her. Anna delivered a Superplex off the middle rope. Jay gave Cargill an elbow and boot out of the corner. She hit the ropes and delivered a clothesline, dropping Jade to a knee. Jay gave Cargill a heel kick from the apron. She climbed to the top rope and dove, looking for what appeared to a Sunset Bomb, but wound up looking more like a Blockbuster. Cargill rolled to the outside. Jay smashed her into the steel steps.
The Baddies hit ringside to attack Anna Jay while Cargill had the referee's attention. Jay gave them a double DDT and returned to the ring. Cargill slammed Jay. Smart Mark Sterling ran down the ramp, crutch in hand. He distracted the referee and slid Cargill the crutch. Jay stole it, using it to deliver a Russian Leg Sweep on the champion. Jay covered for a near fall. John Silver ran to the ringside and gave Sterling a Brainbuster on the floor.
In the ring, Cargill gave Jay Eye of the Storm for a near fall. She scooped Jay up, but Anna slipped into the Queen Slayer. Excalibur noted that no one has survived the hold. Cargill broke it by throwing herself into the corner, crushing Jay. Anna climbed to the top rope. Cargill cut her off at the 6:45 mark. Cargill and Jay traded elbows on the top turnbuckle. Stokely Hathaway appeared at the top of the entrance, distracting both women. Cargill hooked Jay up and connected with Jaded off the top rope for a three count.
WINNER: Jade Cargill in 7:27 to retain the TBS Championship
Jade Cargill celebrated with the Baddies and Stokely Hathaway. Kris Statlander rushed to the ring. She stood opposite Cargill and the Baddies. Unfamiliar music hit. "Fallen Goddess" appeared on the big screens. Athena made her debut. She stood beside Anna Jay and Kris Statlander, opposite Cargill and the Baddies. Hathaway talked Cargill down and the heels left the ring together.
(LeClair's Analysis: Phew. Lots going on here. The match was quite clunky. Cargill is getting better with every appearance, but she's still green and she and Jay both struggled to keep things together. The interference felt like a little much, and I was surprised by how much offense they wanted to give Jay here. Cargill has been pushed as a dominant champion, and Jay looked too much like her equal. Though she never got the visual win, she came close on multiple occasions, and was even protected with multiple distraction near-finishes, leading to an eventual distraction finish. This was just a little too over-booked for my liking. They debuted both Hathaway and Athena here, which sort of took attention away from both in the aggregate. This is pretty typical of AEW, and one of the things I wish they were more mindful of.)
-The House of Black headed to the ring for their trios tag team match. Tony said that their entrance is meant to strike fear in their opponents, and usually it succeeds. The announcers doubted that they could intimidate Death Triangle. J.R. suggested that AEW needs a house psychologist.
(4) HOUSE OF BLACK (Malakai Black & Brody King & Buddy Matthews) vs. DEATH TRIANGLE (Penta Oscuro & Ray Fenix & Pac, w/ Alex Abrahantes) – Trios tag team match
Malakai Black began the match with Ray Fenix. They traded quick holds and counters. Fenix flipped out of a German Suplex attempt from Black. Fenix caught Black with a quick 'Rana. He slid through the middle ropes and went for a spin kick, but Black stepped back. Both men sat down, cross-legged in the ring. They rolled to their feet in stereo. Black tagged in Buddy Matthews, who hit a double stomp to the arm. Fenix kicked Matthews in the face, then tagged in Penta Oscuro.
Matthews mocked Penta's hand gesture. Penta kicked him in rapid succession. He gave Matthews a Superkick, then a hurricanrana.  He and Matthews reached a stalemate in the center. Pac tagged himself in. Brody King tagged in as well. King dropped Pac with ease. He punched him toward the corner and gave him a deafening chop. Pac tried to climb the turnbuckle, but King chopped him to the floor. Fenix came off the top rope with a springboard, but Brody chopped him down. King hit the ropes, but Death Triangle united in the ring to cut him off. Black and Matthews joined King and a brawl ensued.
Once the ring was cleared, King and Black double-teamed Pac. Fenix returned and hit King with double foot stomps. Black gave Fenix an elbow. Penta hit Black with a Slingblade. Buddy Matthews caught Penta with a Meteora. Matthews gave Pac a pump kick. Pac shook it off and hit Buddy with a brutal looking Poison-rana. He followed up with a big clothesline. Things settled for a moment as the match crossed 5:45. Brody King gave Pac a Bossman Slam. He picked him up, chopped him, then tagged Malakai. Black drove his knee into Pac's chest. Malakai grabbed a rear, seated chin-lock. The crowd willed Pac to his feet. Brody King got a blind tag. He dropped Pac, then tagged Buddy. Matthews hit a springing Senton from the apron and covered for two.
J.R. kept noting that everyone in the match believes they can be a main eventer, and they're waiting for their big break. King went for a cannonball in the corner, but Pac rolled out of the way. Pac reached Ray Fenix for a tag. Matthews and Black tried to cut him off, but Fenix took down both men. Penta hit the ring and the Lucha Brothers hit stereo Superkicks. They dove over the top rope onto Brody and Malakai. Death Triangle hit the ring with a prone Brody King. They hit triple moonsaults and covered, but Brody King powered them all off at two.
Fenix connected with a step-up drop kick on King. Fenix tossed Buddy Matthews to the outside, then dove onto him. Matthews caught him and gave him a suplex. Pac dove onto Matthews. Malakai Black hit a moonsault onto Pac from the middle rope. Penta Oscuro dove onto Black. Brody King was left alone in the ring. He looked around the crowd, then dove over the top onto everyone. His neck connected awkwardly with the ring apron, but he came up okay.
House of Black got Ray Fenix alone in the ring. Black and Matthews kicked Fenix, then fed him to King for Dante's Inferno. King covered while Black and Matthews played cover. Pac and Penta managed to throw their bodies onto the pile to break up the count. House of Black set up for triple brainbusters. Death Triangle fought free and hit a number of triple Superkicks. Pac gave Black a Brainbuster and covered. Matthews broke it up. Matthews and Fenix wrestled onto the apron. Penta emerged and gave Matthews a Canadian Destroyer to Buddy off his brother's back, onto the apron.
On the outside, Penta set up Brody King for a DDT. Fenix dove to the outside and they hit a DDT and double foot stomp in tandem. This left Malakaid Black alone in the ring with Death Triangle. They each gave Black a Superkick as the match hit 13:00. Black hit Penta with Black Mass. He hit Fenix with it, too. He went for the kick on Pac, but Pac ducked it and took him down. He set up for the Black Arrow, but Buddy Matthews returned. Pac managed to fight him off and hit Black with a 450. Pac gave Buddy a German Suplex, then tossed him outside and onto Brody King. Pac gave Black a snap German Suplex.
Black struggled to his feet. Alex Abrahantes got on the apron and distracted the referee. Pac gave Black a low blow, then climbed to the top rope. The lights went out. When they returned, Julia Hart was standing below Pac. She spit purple mist into his face. Pac fell off the apron. Black kicked him in the face and pinned him for a three count.
WINNERS: House of Black in 15:30
(LeClair's Analysis: Really good match marred to some extent by another lights-out finish. I know the House of Black is supposed to be creepy, but there's never been an indication that they're supernatural, and I think AEW would be better off to avoid that kind of trope. It doesn't fit in with the rest of the show. As such, I really dislike the over-dependence on this kind of finish. It's a small gripe, and ultimately, the match was excellent, back and forth action between six supremely talented wrestlers. J.R. harping on each man's desire to be a main event act was interesting, and I certainly felt like Malakai Black, in particular, was destined for a spot larger than he's had to date. It'll be interesting to see where this leads. I also wonder what the plan is for Abrahantes going forward, as his interference elicited boos from the crowd, and they didn't seem pleased when Pac hit the low blow. Julia Hart joining House of Black felt like a foregone conclusion, and it was time they finally pulled the trigger.)
-A video package aired covering the men's side of the Owen Hard tournament, featuring interviews with both Samoa Joe and Adam Cole. The latter headed to the ring. Schiavone noted that he and Joe have never faced each other. Samoa Joe headed to the ring next. walking past the tournament trophy positioned atop the stage.
(5) ADAM COLE vs. SAMOA JOE – Owen Hart Foundation Men's Tournament Final
Adam Cole and Samoa Joe circled the ring and soaked in a big "Owen" chant from the crowd. Adam Cole played the ropes, trying to create separation. Joe cornered him and delivered quick strikes. He slowed down the pace with a pair of big corner headbutts. The crowd serenaded Cole with a "Joe is gonna kill you" chant. Joe caught Cole with an enziguri in the corner. He shook out his arm, then gave Cole a big uppercut.
Cole tried to battle back with punches to the gut. Joe shrugged them off and hit a big back elbow. Cole rolled to the outside, but Joe pursued. He gave Cole a big chop that sent Adam reeling. Joe seated Cole in a steel chair, then got a running charge. Cole caught him with a Superkick, then tossed Joe shoulder first into the ring post. J.R. noted that it's the same shoulder that Joe has had taped for several weeks. Cole tossed Joe back in the ring. He clubbed as his shoulder and neck, then draped the weight of his leg over Joe's neck on the middle rope.
Joe and Cole traded quick chops as the match crossed 5:20. Cole dropped Joe to his knees and trapped his arm in the middle rope, putting torque on the injured shoulder. Ross said it's an honor to call the tournament final. He called Owen "one of my favorite guys." Cole set up for Panama Sunrise, but Joe blocked it and dropped Cole. Cole rolled to the outside. Joe tried to retrieve him, but Cole caught him with a kick to the shoulder. Back in the ring, Cole charged and got caught with a big STO out of the corner. Joe grabbed at his shoulder. He jabbed Cole, then gave him a Manhattan Drop. He followed up with a senton and cover for a two count.
Joe shook out his arm again. Schiavone said Joe was bothered by his shoulder on the cover. Cole hit the ropes, but ate a snap Powerslam from Joe for a two count. Samoa Joe grabbed at the muscle in his shoulder again, shaking it out and yelling in pain. Joe scooped Cole up for a Powerbomb, but Cole slid down the back and caught Joe with a kick to the back of the head. He hit the ropes again, but Joe caught him with a massive clothesline. Cole landed awkwardly on the back of his head and neck.
Samoa Joe scooped Adam Cole onto the top turnbuckle and set up for for the Musclebuster. Cole fought him off and hit a big dropkick, covering for two. Cole jabbed at Joe at the 10:00 mark. He followed up with a backstabber. Cole continued to work on the shoulder. He went for a Superkick, but Joe caught the leg and dragged Cole into a Powerbomb. He transitioned into an STF. Cole turned turned the ropes, but Joe trapped his arm around his own neck. Cole flailed wildly, eventually getting his foot to the bottom rope.
Bobby Fish hit the apron while Cole distracted the referee. Joe fought him off, but ate a kick to the back of the head from Cole. Cole went for the knee, but Joe blocked it and grabbed the Coquina Clutch. Fish returned to the apron, so Joe broke the hold to take him out. Cole caught him with the Boom Kick to the back of the head for a cover and three count.
WINNER: Adam Cole in 13:15
(LeClair's Analysis: Really good match, and a good change of pace for the card. These two slowed it down, but it was fundamentally sound and thoroughly entertaining throughout. They told a great story with Joe's injured shoulder creating an even playing field for the much smaller Adam Cole. This isn't likely to land in the top spot of many people's match-of-the-night, but I thought it was an excellent back-and-forth fight between two stars that brought plenty of a credibility to the conclusion of the Owen Hard tournament.)
-The announcers turned their attention to the women's side of the Owen Hart Foundation tournament. They tossed to a video package with interviews from both Britt Baker and Ruby Soho.
Rich Ward of Fozzy played along to Britt Baker's theme, trailing her to the ring. Britt circled ringside, gabbing to the fans. Justin Roberts then welcomed Rancid to play Ruby Soho to the ring.
(6) BRITT BAKER vs. RUBY SOHO – Owen Hart Foundation Women's Tournament Final
Excalibur said it's not often that Dr. Britt Baker gets upstaged. Baker and Ruby Soho locked up as the crowd opened up a dueling chant. Baker backed Soho into the corner and gave her a slap to the face. The two women traded quick take downs, then reset. They worked into a test of strength. Baker brought Soho down and into an arm lock. Soho kipped up and out. Soho gripped Baker's wrist, blocking her from hitting the ropes. Baker pawed at her repeatedly, but failed to break the grasp. Baker used Soho's hair to finally free herself. She took Ruby down and covered her for a one count.
Baker worked Soho into the corner. J.R. went off on an aside about the concept of "the joker" in AEW battle royals. Excalibur tried to get him back on track. Baker rolled to the outside. Soho dove of the apron and hit a missile dropkick. Soho sold her back and ribs after landing flat on the floor. She recovered enough to give Baker a suplex on the outside as the match hit 4:30. She tossed Britt back in the ring and climbed the ropes. Baker kicked her, sending her flat acrossed the turnbuckle. Soho bounced to the mat, gasping for air.
Britt heeled for the camera, then for the crowd. She pulled Soho into the ring post, then stretched her around it. Baker returned to the ring and locked up Soho, stretching her mid-section. Ruby rolled her over long enough to break the hold and return to her feet. Soho threw a couple of weak elbows, then ate a tougher one from Baker. Britt positioned herself on the middle rope, but Ruby closed the distance and cut her off. They wound up on the turnbuckle together. Ruby hit a Superplex, but Excalibur wondered who got the worst of the move. Soho rolled around, grabbing her ribs and back.
Soho struggled as Baker stood up. The two women traded elbows. Soho gained the upper hand with rapid elbows. Baker stumbled back, then recoiled with an elbow of her own. Both women fell to the mat. The match hit 10:00. Ruby went for the No Future kick, but Britt caught her leg. She went for a curb stomp, but Soho rolled her up for two. Britt flipped through and hit a thrust kick. She hit the ropes for a stomp, but Soho caught her with a back suplex. Ruby climbed to the top rope and hit a Senton for a near fall.
Ruby gasped for air, selling the injured ribs. She worked Baker to the corner, and onto the turnbuckle. She set up for another Superplex, but Britt countered her with a release front Suplex off the top. Britt leapt down and hit the Stomp for a very near fall. She pulled out her glove and spelled out "D.M.D." Baker set up for the Lock Jaw, but Soho blocked it. Ruby rolled to her feet, but got taken down again. Baker grabbed the hold. She tried to get the gloved hand in Soho's mouth, but Ruby blocked it again. She rolled to her feet and hit No Future. Soho applied the Sharpshooter, awkwardly. Baker dragged herself to the ropes. Baker bit her own hand to fight through the pain. Soho dragged her into the center and locked in the hold a little better. Baker crawled desperately, eventually reaching the bottom rope.
Baker side-stepped an elbow in the corner. Soho climbed to the top, but Baker pulled her into an Electric Chair position. Soho rolled through it into a pin. Baker rolled it into a pin of her own, catching Soho for a three count.
WINNER: Britt Baker in 14:49
Baker helped Soho to her feet in an apparent sign of respect, then posed on the turnbuckle. Soho left in a hurry. Baker joined Tony Schiavone atop the stage. Adam Cole emerged from the back and he and Baker shared a kiss. Tony Schiavone welcomed Dr. Martha Hart. Hart came through the tunnel with Tony Khan on her arm. They hugged and Martha stepped to the podium. The crowd broke into a large "Owen" chant. She thanked the crowd. They thanked her back with a chant. Cole and Baker clapped along.
Hart said it's great to be in Las Vegas. She spoke of the sheer craftsmanship and talent of Owen Hart, and called him "one of the most incredible wrestlers of all time." She said we can once again celebrate him in the squared circle. She thanked Tony Khan, Chris Jericho, the producers of Dark Side of the Ring, the entire AEW crew, Pro Wrestling Tees, her legal team and her children. She added the Owen Hart Foundation committee, and the fans. She congratulated Cole and Baker with some very flowery language. She said the Owen Cup is theirs to enjoy until they meet again next year. She challenged everyone to wear a hat like hers next year.
Martha unveiled the two cup championship belts and handed them to Adam Cole and Britt Baker, respectively. Excalibur said the title belts would be for the winners to keep. Martha showed off the Owen Cup.
(LeClair's Analysis: Solid match, but it suffered a little bit from following a very similar format to the men's final just before it. They sold Ruby's injury throughout, and drew significant attention to it leading all the way to the finish, much like Joe's shoulder. Baker getting the clean win was an interesting touch, and her helping Soho to her feet afterward would seem to indicate that either they're beginning to transition Baker into a babyface, or, they simply didn't want to make what was to come seem jarring. I thought each woman receiving a special entrance upped the gravitas of the match, particularly for Ruby Soho. Rancid is such a legendary act in the punk scene, and it had to be an incredibly cool moment for her.

When Cole and Baker joined Martha Hart on the stage, it became apparent that having two heels win the tournament presented an interesting challenge for AEW. It would've be distasteful for either to act arrogantly toward Hart, and so both played it like total babyfaces, being ultra respectful of Martha and smiling and clapping along with the fan's pro-Owen chants. Both Cole and Baker are so well liked outside of pro wrestling that it was hardly strange to see them like this, but it is the first time they've let their guard down on TV. AEW was already fighting an uphill battle trying to get either of them booed, so you have to wonder if this is an easy and very casual way to just turn both of them.
For her part, Martha Hart was warm and seemed genuinely excited to be there, though her speech bordered on WWE levels of flowery, company speak. I'm not going to be too hard on her here, given that this kind of heavily scripted speech happens so rarely in AEW, but it was notable and jarring given the usual casual tone of promos and speakers.)
-Excalibur tossed to some highlights from the show so far.
-Men of the Year headed to the ring with Dan Lambert at their side. Paige VanZant followed. They showed her husband, Austin, at ringside. Frankie Kazarian, Sammy Guevara, and Tay Conti entered, each wearing stolen title belts from American Top Team. Conti wore a Maleficent costume. Guevara wore a matching, feathered cape. They made out on the stage and soaked in the boos. Excalibur said they were leaning into the reaction.
(7) MEN OF THE YEAR (Scorpio Sky & Ethan Page) & PAIGE VANZANT (w/ Dan Lambert) vs. FRANKIE KAZARIAN & SAMMY GUEVARA & TAY CONTI – Trios tag team match
Scorpio Sky began the match with Frankie Kazarian. The crowd settled in, unsure of who to cheer for. Sammy Guevara blind-tagged in. Sky tagged in Ethan Page. Page gave Guevara some quick punches, then dropped him with a shoulder. "I've been waiting for this!" he yelled. He set Guevara up for the Ego's Edge, but Sammy countered into a 'rana. He followed up with a corkscrew dropkick that only made Page stumble.
Page recovered quickly and gave Guevara a Powerslam. He covered for a two count, then tagged in Scorpio Sky. Sammy tagged in Kazarian. The former partners traded quick strikes and kicks. Kazarian rolled over Sky's back, then hit a springboard leg drop. He tossed Sky to the corner and tagged in Sammy. Kazarian and Guevara had a disagreement of Sammy's showboating. Sky took control, peppering Guevara's stomach with quick jabs in the corner. Tay Conti raked Sky's back behind the referee. Guevara dropped the TNT Champion with a clothesline. Excalibur reminded the audience of the stipulation barring Guevara from challenging for the TNT title if he loses.
Guevara gave VanZant the middle finger. Paige tried to get in the ring, drawing the attention of the referee. Guevara and Conti double-teamed Sky. Guevara tagged in Kazarian. Kazarian gave Sky a Russian leg sweep. J.R. called attention to the fact that Conti and VanZant haven't been tagged in. Guevara and Conti went full heel on the apron, taunting the fans. Sky hit Kazarian with a Flatliner as the match neared 6:00. Tay Conti rushed into the ring and hit Paige VanZant with a cheap shot. She and Sammy twirled at ringside with their tongues out.
Kazarian headed to the corner for a tag, but Sammy and Tay weren't paying attention. Guevara tagged himself in while Kazarian had Sky in a hold. Frankie got in Sammy's face. Sky knocked Guevara into Kazarian, causing Frankie to tumble to the floor. Sky tagged in Paige VanZant, bringing Tay Conti into the match. Conti shoved VanZant. Paige hit a double leg takedown, then drove her elbow into Conti's face. Paige hit a number of quick forearms, then followed up with a back suplex.
VanZant connected with a back handspring into the corner, then scooped up Conti for a TKO. Sammy Guevara made the save, pulling Conti to safety. Paige punched Sammy in the gut, then gave him a spinning DDT. Paige gave Conti a drop toe hold into Sammy's crotch. She followed up with a sit-out driver for a near fall. VanZant pulled Conti to her feet, but Tay caught her with a Judo takedown. She hit a pair of pump kicks in the corner, then a third to the face. Conti covered, but Paige kicked out a two as the match approached 10:00.
Sammy jumped onto the apron. Paige shoved him off, but Conti caught her with a slam. Conti and Guevara began making out again. Sky, Page, and VanZant cut them off. Kazarian returned, gave Guevara the finger, and left the ring. Kazarian tagged himself in and gave Sky a Cutter for a near fall. Conti began arguing with Kazarian. Guevara tried to kick him, but Kazarian ducked. Sammy kicked Tay square in the jaw. Page gave Kazarian a kick to the face. Sky finished him off with a TKO for a three count.
WINNERS: Scorpio Sky & Ethan Page & Paige VanZant in 12:04
(LeClair's Analysis: This one had its moments, but it went several minutes too long given how long the night has been already, and how much more is still to come. It suffered from a confused, tired, and largely disinterested crowd. Even the boos for Guevara and Conti felt a bit distant. Some of VanZant's offense looked solid, and she carries herself much like an early version of Ronda Rousey in the ring. There's certainly potential there, especially against quality opponents. This seemed to complete a full double turn. There's no doubt that Guevara and Conti need to be full-fledged heels, and they were that and more tonight, but I wonder about Lambert's ability to pivot, given how brash he's been in the past. It would be tough to sell that change of heart against anyone other than Guevara and Conti. Sky and Page, can, of course, work either way. VanZant, too, seems to have the crowd invested in cheering her. Lots to work out coming out of this one.)
-The announcers talked about the match. Ross said he really enjoyed it. Excalibur pivoted to the next bout.
-Kyle O'Reilly headed to the ring. Schiavone said O'Reilly is coming off a grueling tournament match just days ago. Darby Allin entered. Ross said he's emotional after what happened to Sting. Excalibur said Sting was unable to make it to Vegas due to his injury.
(8) KYLE O'REILLY vs. DARBY ALLIN
Darby Allin shot at Kyle O'Reilly, looking to pick the ankle. He failed twice, then ate a kick from O'Reilly that dropped him in his tracks. Allin and O'Reilly traded quick kicks and strikes, then Kyle managed to sweep Darby's leg. O'Reilly twisted Allin's arm and began working it over. He scooped him into a Bearhug, then a quick snap Northern Lights Suplex. O'Reilly covered for two. "Is this your hero?" he asked the crowd. Allin rose to his knees, bleeding from the mouth.
Allin created some separation with a dropkick to the knee, then a sunset bomb for a two count. Allin gave O'Reilly a chop block, then leapt into a hanging front face lock. Darby floated over Kyle's head and delivered a Scorpion Death Drop. Allin went for a Coffin Splash, but O'Reilly caught him and worked him to the mat. He twisted the arm again, but Allin delivered quick kicks to block him. Kyle ricocheted between the ropes, then ate a stunner from Darby. O'Reilly tumbled to the outside. Allin hit the ropes, then dove. His feet clipped the rope, sending him cartwheeling awkwardly into O'Reilly in a nasty looking tumble.
Both men slowly returned to the ring. Darby tossed Kyle to the opposite end of the ringside. Allin dove through the middle rope, but O'Reilly caught him in a Kimura. O'Reilly broke the hold as the referee counted them both from in the ring. The two worked back to the ring and traded kicks. Darby rolled up Kyle for a two count. O'Reilly floated into a Brainbuster for a two count. He transitioned into an arm bar position. Darby blocked it, so Kyle transitioned to an ankle lock. He laid into it, but Allin turned it over into a strange looking Scorpion Death Lock. O'Reilly reached the ropes to break the hold as the match hit 7:25.
O'Reilly wound up on the apron. Darby caught him with a Dragon Screw. He climbed to the top rope and hit a Coffin Splash onto O'Reilly off the apron. Both men tumbled awkwardly on the apron and to the floor. Darby tossed Kyle in the ring and climbed to the top rope. He went for the Coffin Drop, but O'Reilly caught him in a cross arm breaker. Allin reached the ropes. Both men traded quick blows. O'Reilly delivered quick head kicks. Allin returned the favor with open palm strikes. O'Reilly grabbed the chain around Allin's throat, choking him. Both men collapsed to the mat in a heap.
Kyle used the chain to lift Darby off his feet. The chain snapped and Darby collapsed. Kyle kicked him in the face and covered for one. O'Reilly kicked him again and got a two count. He climbed to the top rope and hit a diving knee to the back of Allin's neck. O'Reilly covered for a three count.
WINNER: Kyle O'Reilly in 10:34
(LeClair's Analysis: Good, physical match with some predictably unnecessary risk-taking from Darby Allin. The crowd had a hard time coming alive for this one too, clearly burnt out, or saving their energy for the night's remaining matches. Allin and O'Reilly brought it, and the crowd certainly appreciated the big spots, but this, like a lot of the mid-card tonight, suffered from the lack of strong reaction. I was surprised to see O'Reilly get a clean win here, though, I generally think keeping Cole's faction strong is a good idea. Important to note that O'Reilly won clean, lending some credence to the idea that he, like Cole, could be turning before too long.)
-The announcers talked up the AEW Women's title match, scheduled next.
-Serena Deeb headed to the ring. Thunder Rosa followed, receiving a strong ovation from the crowd. J.R. said he and Tony have the opportunity to work with Rosa outside the ring. He said Rosa has made herself a brand. Schiavone agreed.
(9) THUNDER ROSA (c) vs. SERENA DEEB – AEW Women's Championship match
The two women circled the ring, then locked up. J.R. checked in on Excalibur, who was having mic troubles. His voice returned before long. The crowd opened a dueling chant off a lock up. Both women applied quick waist locks, but neither could gain control. Serena Deeb worked Thunder Rosa to the mat, but Rosa quickly bridged to her feet. They both executed a headlock takeover, then locked up again.
Rosa worked Deeb to the mat in a double wrist lock. Deeb quickly bridged and the two jockeyed for position. The champion scored a pair of two counts. Rosa transitioned into a pendulum submission. She rolled her over into a cover for two. Excalibur talked up Deeb's flexibility. Rosa delivered a shoulder tackle. Rosa caught a deep arm drag, then a leg sweep. She covered for another two count. The two women locked arms for simultaneous backslide attempts. Rose broke free and elbowed Deeb. Serena stumbled to the corner. Rosa worked her to the apron, then dropkicked her to the floor.
Deeb and Rosa traded baseball slides outside the ring as the match crossed 5:00. Deeb got the champion to the apron and gave her a neckbreaker across the middle rope. She gave Thunder Rosa a swinging neckbreaker for a two count. Deeb hoisted Rosa onto the top turnbuckle and clubbed her in the back repeatedly. Deeb stretched Rosa over her own back while hanging onto the ropes, initiating the referee's count. She broke the hold at four, then immediately pulled Rosa into an abdominal stretch. The crowd willed Rosa to life. She connected with a hip toss. Deeb recovered quickly and the two traded elbows.
Thunder Rosa hit a pair of short-arm clotheslines, then a scoop slam. She whipped Serena into the corner. Deeb collided with the turnbuckle and snapped backward, checking her nose for blood. Rosa drove her knees into an unsuspecting challenger. She hit a Northern Lights suplex, but lost her grip on the bridge. She covered for a two count. Rosa and Deeb traded arm twists before Deeb caught the champion in an Octopus hold. Deeb released, but held onto the ankle. Rosa kicked her to the corner. Deeb hooked her and hit an overhead cutter from the middle rope. She covered for a two count.
Deeb pulled Rosa to her feet, but Thunder Rosa pulled her into a Russian Leg Sweep. She grabbed a hold, but Deeb rolled her into a pin for two. Deeb transitioned into a Stretch Muffler. Rosa rolled through it at 11:30. She slammed Deeb's knee into the mat repeatedly. Deeb fought to her feet and the women took each other out with stereo clotheslines. The referee began counting both women down. Rosa rose at 5, Deeb shortly after. Rosa hit a double stomp to the back off the middle rope. She scooped Deeb up and hit a Death Valley Driver for a near fall. Champion and challenger battled on the mat. Deeb locked in a Figure Four, but Rosa sat up to relieve the pressure. They began slapping each other, then they rolled to the outside.
Rosa tossed Deen back in the ring and climbed onto the apron. Deeb caught her with a Dragon Screw, then hit a Detox in the ring. She covered, but Rosa got her foot on the bottom rope. Deeb set up for the Detox again, but Rosa held on. Deeb gave her a Powerbomb instead. She grabbed the legs and applied the Texas Cloverleaf. Rosa quickly reached the ropes. Each women got a quick roll up two count. Rosa backed Deeb into the corner. Rosa ran at her with a knee, but Deeb side-stepped her. Deeb climbed to the top rope and Rosa climbed to meet her. They traded punches in Superplex position. Rosa managed to hit a Superplex. She held on, floated over, and hit a Thunder Driver for a three count.
WINNER: Thunder Rosa in 16:50 to retain the AEW Women's Championship
(LeClair's Analysis: Really good, competitive and technical match that lived up to the billing of a major women's title match on a Pay-Per-View card. I've been highly critical of AEW's Women's division, and while this looked good on paper, I didn't think the build did either woman much justice. The crowd, which had seemed exhausted to this point, came alive for Thunder Rosa and these two kept them mostly engaged throughout. The bout was crisp and hard-hitting, earning Rosa a much needed definitive win in a major defense. One of the all-around better women's matches in company history from where I sit. Unfortunately, the pivoted quickly away from Rosa's moment to keep the show moving – a clear sign of an overbooked card running long, and a detriment to a signature match for the women's division.)
-The announcers tossed to a video for the Anarchy in the Arena match.
The camera zoomed in on Justin Roberts in the ring. "Ladies and gentlemen, shit's about to hit the fan…" he announced. The Jericho Appreciation Society headed to the ring first, dressed in matching all-white attire. Jon Moxley led the babyfaces through the crowd to "Wild Thing. Even Danielson dressed in street clothes.
(10) JERICHO APPRECIATION SOCIETY (Chris Jericho & Jake Hager & Daniel Garcia & Matt Menard & Angelo Parker) vs. BLACKPOOL COMBAT CLUB (Bryan Danielson & Jon Moxley) & EDDIE KINGSTON & SANTANA & ORTIZ – Anarchy in the Arena match
The brawl began with haste. Moxley's music was still playing while the J.A.S. left the ring and filtered into the crowd, trying to cut off the various entrances to the ringside area. Moxley's music continued to play while Moxley tossed wrestlers into fans and over chairs. Eddie Kingston worked Chris Jericho into the lower bowl. Jericho fell over the barricade awkwardly. Moxley gave Matt Menard a suplex on the concrete floor. "Wild Thing" faded out, but then immediately started over again. The crowd erupted.
Jon Moxley pulled out a fork and raked it across Matt Menard's face. Chris Jericho threw his arms up and tried to leave, but Moxley gave chase. He tossed him over a barricade near the back of the lower bowl. Jericho found a pair of sunglasses and stabbed Moxley in the eye with them. Jake Hager and Ortiz battled at ringside. Eddie Kingston walked a bloody Matt Menard down the lower bowl. Menard was bleeding heavily. Jericho found a scooter and tried to escape, but Moxley stopped him. He and Moxley brawled into the barricaded area with the crane camera. Moxley was bleeding.
In the ring, Santana and Ortiz gave Hager a double suplex. "Wild Thing" continued to play. Kingston and Menard made their way to the top of the lower bowl. Menard was spewing blood from his face. Jericho found the sound board and smashed it, cutting off "Wild Thing." Moxley gave Jericho a double sledgehammer off a barricade. Kingston and Menard had worked their way into an open concourse with fans. Bryan Danielson walked Angelo Parker up some steps.
Back at ringside, Santana & Ortiz gave Hager a Street Sweeper over the top rope and through two tables at ringside. Kingston and Menard were shown in the concourse, covered in blood and mustard. Danielson and Parker stumbled into the fixed camera. Jericho seated Moxley near the hard cam and covered him with the black tarp. Daniel Garcia gave Ortiz a piledriver off the apron, onto the steel steps. Danielson punched Parker into covered seats near the hard cam. Menard beat Kingston with merch stands. Moxley dove on Jericho's back from the lower bowl.
Jericho tried to return to ringside as the match passed 8:00. Moxley dragged him back into the crowd. Back in the concourse, Parker and Menard buried Kingston in merch stand scaffolding. Moxley found a cooler and threw it at Jericho's head. Daniel Garcia found his way up to the concourse. He dragged Kingston to an open arena and beat on him. At ringside, Jericho applied Walls of Jericho on Jon Moxley atop the timekeeper's table. The table broke under the weight, causing Jericho to land awkwardly.
Garcia tossed Kingston into the wall of the concourse. At ringside, Moxley applied a Figure Four on Jericho. Matt Menard made his way back to ringside. Bryan Danielson battled Jake Hager against a ringside barricade. He delivered a flurry of hard kicks to the gut. Moxley unscrewed a turnbuckle. Hager gave Danielson a Superplex on the ramp. Eddie Kingston rose from the dead in the concourse, white Yankees shirt stained red and yellow. He kicked Garcia and began his journey back to the arena.
Jon Moxley unscrewed the top rope and used it to crotch Chris Jericho as the match approached 13:00. Meanwhile, Daniel Garcia found Eddie Kingston in a freight elevator and a brawl ensued. Santana and Ortiz worked Parker and Menard toward some tables in the corner of the lower bowl. Moxley set up a table at ringside. The freight elevator closed on Kingston and Garcia. Santana and Ortiz tossed Parker and Menard onto the tables, then retrieved a ladder. At ringside, Moxley hit a running knee to a seated Jericho. He retrieved barbed wire boards from underneath the ring. Jake Hager applied an ankle lock to Bryan Danielson in the ring.
Santana & Ortiz climbed opposite sides of the ladder and hit tandem splashes on Menard and Parker. Jericho set off a fire extinguisher in Moxley's face. Danielson and Hager struggled to stand in the ring, Danielson was bleeding. Moxley placed the barbed wire board on the table. He rolled in the ring with Jericho. Jericho, Moxley, Danielson, and Hager traded punches. The Combat Club quickly got the upper hand. Danielson grabbed a sleeper on Jericho. Moxley took down Hager. They began tandem elbows to the neck and shoulder of Jericho and Hager. Danielson rolled Jericho into the Labelle Lock. Moxley rolled to the outside with Hager.
Eddie Kingston emerged from the stage, carrying a can of gasoline. He poured it on Jericho, then pulled out a lighter. Danielson knocked it away. He and Kingston began to brawl. Moxley tried to break it up. Jericho cracked a chair over Moxley's back,. then Danielson's. Hager returned and shoved Moxley off the apron, onto the barbed wire board. The table toppled over, leaving Moxley stuck. Jericho hit Kingston with the Judas Effect.
Hager fed Danielson to Jericho. Jericho hit him in the head with the sharp end of the loose turnbuckle. Jericho covered for a near fall. Danielson psyched himself up, throwing wild kicks and punches at Hager and Jericho. The crowd came alive with big "Yes" chants. Danielson wound up for a big elbow. he caught Hager with a running knee. Jericho grabbed a chair, but Danielson kneed it back into his face. Danielson covered for a near fall at 21:05.
Schiavone said Tony Khan informed him they have their largest audience ever watching Double or Nothing. Danielson kicked Jericho in the chest repeatedly, he hit the wind-up roundhouse to the fan's delight. "I'm gonna kick his f'ing head in!" Danielson yelled. Hager returned with Jericho's bat. He hit Danielson repeatedly. Jericho grabbed the Walls of Jericho. Hager choked Danielson with the loose rope. Danielson passed out.
WINNERS: Jericho Appreciation Society in 22:41
(LeClair's Analysis: That was certainly something. Not to be outdone by previous, COVID-era Stadium Stampede matches, everyone involved made sure to make this a violent, bloody affair that satiated that particular segment of the AEW fan base. While it's not my favorite cup of tea, I can enjoy it on occasion. This was chaotic from the start, and I won't say it wasn't fun. The crowd ate it up, with massive spot after massive spot. I know they loved the "Wild Thing" loop, but I found it to be grating after a short while. Like the lights out gimmick, it doesn't make a ton of sense logically. It was hard to keep track of everything happening, and at some point, the announcers gave up trying. I wasn't a big fan of the J.A.S. going over here, given the star power on the other side of the ring. In particular, I disliked Danielson taking the loss. He and Moxley are sort of a step above the rest of the wrestlers in the match, and I would've preferred they both be protected. Kingston could've eaten the loss and gotten a similar reaction out of the crowd, given their affinity for him. Something tells me it won't be the only time we see some variation of this match, though.)
-In a pre-recorded video, Andrade El Idolo introduced Rush El Toro Blanco as his new business partner. He called him one of the greatest wrestlers in the world.
-Backstage, Men of the Year and Dan Lambert talked about the victory earlier in the night. Page said it feels great to be finished with Sammy Guevara and Tay Conti. Scorpio Sky said the book is finally closed on Sammy Guevara and Frankie Kazarian. He asked who is next to challenge for the TNT title. Dante Martin stepped on screen. Sky said Martin isn't ready, but he'll give him a shot in SoCal.
-Excalibur talked up the triple threat match for the AEW Tag Team titles.
-Powerhouse Hobbs & Ricky Starks headed to the ring. Taz joined the announce team.
(11) JURASSIC EXPRESS (Jungle Boy & Luchasaurus, c, w/ Christian Cage) vs. POWERHOUSE HOBBS & RICKY STARKS vs. KEITH LEE & SWERVE STRICKLAND – AEW Tag Team Championship match
All three teams argued about who would begin. A brawl followed, with everyone spilling from the ring and pairing off. Jurassic Express hit moonsaults to the outside onto both opposing teams. They tossed Ricky Starks in the ring and Luchasaurus covered for a two count. Swerve Strickland tagged Luchasaurus out. Swerve and Starks worked to the corner, but Starks tagged in Powerhouse Hobbs. Hobbs overpowered Swerve, dropping him with a big clothesline.
Hobbs tossed Swerve ot the corner, allowing Keith Lee to tag himself in. Lee scooped Hobbs up and tossed him into a kick from Swerve. Hobbs barely dropped to a knee. Lee tagged Swerve back in and the two hit quick running corner offense, finally getting Hobbs of his feet. Swerve caught him with another kick, followed by a jackknife cover. Jungle Boy broke up the count quickly. Jungle Boy tagged Hobbs out and tossed Swerve to the outside. He dove onto him twice, and attempted a third, but Keith Lee picked him out of the thin air. Lee Powerbombed him onto the apron twice, then gave a fan at ringside a fist bump.
Lee tossed Jungle Boy in the ring. Powerhouse Hobbs tagged Swerve Strickland out. Hobbs gave Jungle Boy a stalling Suplex. Jungle Boy tried to fight back with some quick chops to the chest, but Hobbs laughed then off and tagged in Ricky Starks. Starks cornered Jungle Boy and stomped him. He hit a tilt-a-whirl backbreaker. Starks tossed Jungle Boy to the corner, but ate a boot to the face on the rebound. Starks recovered and leapt to the top rope, strutting across it. Jungle Boy kicked him off. Starks tagged Hobbs. Jungle Boy caught him with an enziguri, but Luchasaurus wasn't there for the tag. Swerve blind tagged in.
Strickland caught Hobbs with a running forearm as the match hit 6:45. He hit a leaping uppercut off the middle rope, then kicked Luchasaurus off the ropes. He back dropped Ricky Starks over the top onto Jurassic Express. Lee grabbed Swerve's hand and helped him leap onto the turnbuckle, then off Lee's chest for a flipping dive onto both teams waiting below. They turned to the crowd to soak in the deserved pop. Back in the ring, Swerve dropkicked Hobbs into the corner and covered him for a two count. Keith Lee entered and hoisted Hobbs onto his shoulders in Powerbomb position. Swerve leapt to the top rope, but Hobbs managed to fight free of Lee and toss Swerve to the mat.
Lucharsaurus tagged himself in off of Strickland. He backed Hobbs into the corner and hit him with quick jags. He clotheslined Swerve into the corner, then intercepted Ricky Starks and drove him into his own partner. Luchasaurus caught Team Taz with a double clothesline out of the corner. He grabbed Hobbs by the throat, but Hobbs fought him off. Luchasaurus kicked Hobbs, sending him reeling into a waiting Keith Lee. Lee tagged himself in. The three big man had a stare down in the center. They traded quick chops. Luchasaurus caught Lee and Hobbs with kicks. He tried to chokeslam them both, but they countered into a double Chokeslam of their own.
Lee and Hobbs circled each other at 10:47. They came to blows. Lee gave Hobbs an overheat belly-to-belly straight over the top and out of the ring. Lee looked back with a smile. He hit the ropes, then dove clear over the top onto the waiting wrestlers below. Lee tossed Luchasaurus into the ring. Luchasaurus grabbed Lee by the throat. Lee headbutted himself free. Luchasaurus lifted him into fireman's carry position, but collapsed under Lee's weight. Both men rose and traded punches. The crowd was firmly behind Lee. They hit simultaneous clotheslines. Powerhouse Hobbs flew off the top rope with a double neckbreaker on both Luchasaurus and Lee.
Luchasaurus tagged Jungle Boy. Hobbs tagged Starks. Jungle Boy went for a spinning DDT off the middle rope, but Starks countered into a roll up with his feet on the ropes. Christian Cage shook the rope to break it up. Starks gave Jungle Boy a spear and covered for a near fall. He followed up with Roshambo and folded Jungle Boy up. Luchasaurus saved the pin. Hobbs tagged himself in and gave Luchasaurus a spinebuster. Swerve returned and hit Hobbs with the Swerve Stomp. Luchasaurus returned to kick Swerve, but Strickland ducked and Lucha took out Jungle Boy. Lee and Strickland hit the double stomp Powerbomb, but Hobbs broke up the count just in time.
Starks hit Lee across the head with the FTW title behind the referee's back. Strickland used Hobbs' momentum to send him crashing into the ring post. Jungle Boy gave Swerve a Superkick. Starks tried to hit Jungle Boy with the FTW title, but Christian Cage pulled him to the outside. Strickland rolled up Jungle Boy for a near fall. Strickland went for the Swerve Stomp, but Jungle Boy leapt onto his shoulders, looking for a Poison-rana. Luchasaurus returned to help. He flipped Strickland into a sunset bomb for Jungle Boy to secure the three count.
WINNERS: Jurassic Express in 17:12 to retain the AEW Tag Team Championship
(LeClair's Analysis: Wild, entertaining title bout that suffered from following the insanity that was Anarchy in the Arena. This was an AEW tag title match, through and through. In the early going, there's some semblance of order from the official with clear tags. As things progress, though, it mostly devolves into multiple spots involving several wrestlers at once, and often, at least three in the ring at the same time. It makes for good chaos, but it's sure to anger anyone seeking some traditional tag wrestling. The crowd managed to keep the energy high, but seemed to be a little let down by Jurassic Express retaining. I'm all for long title runs, but this is the second time they've run one of these three way title matches where it really feels like the crowd is itching for a change. Tonight, it was certainly Keith Lee and Swerve Strickland who drew the love from the crowd. Their pairing has been a lot of fun, and I'd like to see them get a run with the tag team titles in the near future. AEW's tag division is an embarassment of riches, and sometimes, it feels like Jurassic Express is a bit of an afterthought despite carrying the titles for nearly six months.)
-The annoucers tossed to a brief video package hyping the main event.
C.M. Punk headed to the ring to a very big reaction. He motioned to his waist before settling to a knee for his signature entrance. Schiavone pleaded with the audience to tell their friends to join the show in progress, as he'd done countless times throughout the night.
Hangman Page entered, all business. Punk hugged a young girl at ringside as Page rounded the corner. He posed for the crowd to a warm reception. Justin Roberts provided championship match introductions.
(12) "HANGMAN" ADAM PAGE (c) vs. C.M. PUNK – AEW World Championship match
A loud "C.M. Punk" chant broke out as soon as the bell rang. Neither C.M. Punk, nor Adam Page seemed in a hurry to leave their corner. They sold the stare down, and then eventually met forehead to forehead in the center. Punk shoved Hangman away. Page stepped right back to him and shoved him back. Punk grabbed a quick lock up and backed Hangman toward the ropes. Punk broke at the referee's request.
Page pounced, forcing Punk to the corner. He raked his forearm across Punk's face. The referee pulled them apart. Punk shot out of the corner and pushed Page. He gave him a quick, hard slap. Page returned the favor. Punk backed the champion into the corner and raked at Hangman's face with his wrist tape. The referee called for a break. A dueling chant rang out loud. They locked up again. Pung grabbed a side headlock, but Page broke it and elbowed Punk in the face, hard. Punk shook it off and they began chopping each other violently. Punk delivered a stiff back elbow, dropping the champion to the mat. He covered quickly for a one count.
Punk grabbed a seated headlock, but Page bridged up and broke the hold quickly. He backed Punk into the corner and dropped him, then delivered stiff boots in the corner. The crowd booed Page a bit. Hangman delivered another set of stiff corner chops. Punk walked out and hit several of his own. He got Page's back for good measure, then whipped him into the turnbuckle. Punk punched Hangman in the stomach and hit a leg sweep, followed by a cover for one. Punk reveled in the cheers. Both men's chests glowed red already. Punk gave the champion a pair of bodyslams and received some boos himself. Punk checked his heartrate and chuckled to himself. He gave Page another slam.
The challenger climbed the ropes at 6:00. He went for a flying clothesline, but Page hung on, rolled through the contact and scooped Punk into a fallaway slam. Page kipped up and looked around, wide-eyed. He hit a springboard clothesline off the middle rope, sending Punk to the floor. Punk stood and Page immediately shot over the top rope with a cross-body. Page took his time as the ref counted both men. He tossed Punk into the ringside barrier haphazardly, then rolled in the ring momentarily to break the count. He raked Punk's face across the grate of the steel steps. Punk checked his face for blood. Page tossed Punk in the ring, then threw his arms wide to a chorus of boos. He seemed to enjoy it. Excalibur said whichever man appeals to the crowd receives boos.
Page caught Punk with a rolling able off an Irish whip. Punk collapsed in the fetal position. Page rallied the crowd again, and this time they booed heavily. J.R. said Page is wasting valuable time. Schiavone said he's trying to show Punk up. Page whipped Punk sternum first into the turnbuckles. Punk collapsed, kicking the mat in pain. The match approached 10:00 and Hangman shot out of the corner with a clothesline. He set up for the Buckshot Lariat. Punk shot to his feet and hit a quick running elbow to cut Page off and send him to the floor. Punk went outside and charged at Hangman. Page scooped him up and delivered a brutal Pop-Up Powerbomb on the ring apron.
Punk returned to the ring slowly. Page set up shop on the top rope. He hit a diving clothesline and covered for two. Page tossed Punk outside again. Page headed to the apron, then the top turnbuckle. Punk returned to meet him. Punk leapt to the top rope and set up for a Superplex. He slipped, but quickly recovered and landed it. The referee reached a double count of six before both men reached vertical base. They traded forearms and elbows. Punk hit a pair of kicks. He caught the champion with a leg lariat. Hangman retreated to the corner. Punk hit his signature knee-strike and bulldog combo. Punk hit a springboard clothesline from the apron. He stepped in for a Sharpshooter, but Page fought him off. Punk scooped Page up for the GTS, but Page slid down the side. Punk hit a swinging neckbreaker for a two count.
C.M. Punk climbed the turnbuckle. Page rose to knock him to the outside. Hangman hit a moonsault off the top turnbuckle, but came up gingerly on his knee. He tossed Punk in the ring and set up for the Buckshot Lariat again. Hangman completed the flip, but his knee gave out. Punk tripped him up and into a Sharpshooter. Page reached the ropes for a break at 16:22. Punk held the hold until the ref's count of four.
Hangman clutched at his now-injured knee as Punk rolled to the apron. Punk went for the Buckshot Lariat, but his knee buckled, too. Page scooped him up, looking for the Go to Sleep. Punk blocked it and caught Page with a roundhouse kick. Punk went for the Buckshot Lariat a second time, but he fell down. Punk recovered and hit the clothesline. The crowd booed. Punk covered for two. C.M. Punk clutched at his own knee. The referee checked on him and waved off the doctor. Punk signaled for the G.T.S. He lifted Page, but Hangman blocked again. He tried it himself a second time, but Punk slid flee again. Page hit Punk with a Powerbomb, then rolled him up and into the Deadeye. Page covered for a ridiculously close near fall.
The champion struggled to stand. He stole Punk's "Go to sleep" taunt. The crowd booed. Page lifted Punk up, but held onto the ropes. Page tossed him away. Punk kicked Page in the face. Page stumbled back, but stepped to Punk and scooped him up and into the G.T.S. The champion hooked the leg for another near fall. Excalibur noted that Page delivered the move with his injured knee, potentially making it worse. Both men rolled around the mat in pain at 21:15.
Punk clutched at his jaw. Page crawled to him and delivered a punch. Punk returned it. They traded shots, struggling to stand. Punk kicked Page in the leg, buckling him. Punk gained control with forearms. He hit the ropes, but Hangman threw a big boot. collapsing Punk against the ropes. Page hit the opposite rope, but Punk followed him with a boot of his own. Page burst from the rope and clotheslined Punk over the top rope to the floor. He grabbed Punk and tossed him over the timekeeper's table. Hangman grabbed the AEW title and held it up. "This is mine! You will never have it!" The referee took the title away from Page. J.R. said no one wants a count out, and the referee is rightly letting them go. Punk returned to the ring. Page set up for the Lariat. He flipped with into Punk's waiting arms. Punk spun Hangman around, causing the champion to kick the referee in the head.
Page slid out of the G.T.S. and hit the Buckshot Lariat, but there was no referee to make the count. Hangman looked around, rocked. Punk was laid out. Page checked on the referee, then looked back at the AEW title belt in the opposite corner of the ring. Page limped to his championship. He picked it up and willed Punk to stand. Punk rose to his knees. Page thought about it. Punk put a hand up, trying to defend himself. Page was conflicted, but ultimately tossed the belt to the side. He went to the apron and and set up for the Buckshot Lariat again. Punk caught him. He went for a spinning neckbreaker, but Page broke free. Punk scooped him up and hit the G.T.S. just as the referee crawled to position. Punk hooked the leg for three.
WINNER: C.M. Punk in 26:41 to win the AEW World Championship
Punk got emotional as he held the title belt and celebrated in the ring. He circled the ring, pointing to fans and soaking in the adoration as the announcers talked up the historic event and bid the audience goodnight.
(LeClair's Analysis: Excellent match. This was a great change of pace from the frenetic, chaotic nature of the majority of the rest of the show. Punk and Page slowed things down and told an intricate story with the angle they built, even if that story seemed to materialize in the eleventh hour. Shiavone said it was a crisis in confidence that led to Page losing the title, and I think that's an excellent piece of commentary to go along with the story in the ring, as well as a nice indicator of what's to come. Punk had a slow start when he arrived, but he's been pushing out great match after great match with a variety of opponents, working a number of different styles. As for Hangman Page, his title reign was marred by a lack of focus in the early going. Not until now, matched up against C.M. Punk, did his program ever feel like the true main event of any given show. I think losing the title and getting to explore a different side of his character could ultimately lead to him becoming a bigger star in the long run, and I'm excited to see where both wrestlers' individual paths lead them beyond the inevitable rematch.)
FINAL THOUGHTS: I'm conflicted, because the simple truth is that this was a great show filled with several important matches that lived up to their build, delivered on hype, and in some cases, surpassed it. With that being said, they clocked in at 4 hours and 40 minutes while maintaining a break-neck, constant car-crash pace from cold open to close. I appreciate AEW's commitment to giving fan's their money's worth, but at some point, there are diminishing returns, and I think they hit that point tonight. The highs could've been so much higher had they been given to room to breath, instead of being drowned out by a seemingly never-ending parade of matches. Thunder Rosa's win, in particular, which should've been a big moment for her, and for the AEW Women's division, seemed to be undermined by the immediate transition to Anarchy in the Arena. AEW had a lot to be proud of there, and it seemed like their booking strategy hampered their own success.
Ultimately, I think you have a much stronger show by moving some of the card to last week's Dynamite and Rampage. Given that all three events were in Vegas, largely the same swath of fans would've still got to enjoy all twelve of the matches the company ran tonight, while also giving them time to catch their breath and prepare for the next big bout. At the very least, the Hardys vs. Young Bucks, Inter-gender trios match, and O'Reilly vs. Allin should've been bumped onto weekly TV. The combined ring time of those three matches alone would have brought the show to just under four hours, already a dramatic improvement.
Time-complaints aside, this felt like a big night for AEW and I think they delivered in some really key areas. There's no doubt that they've built gravitas around their big shows, particularly Double or Nothing, and the roster showed up in a big way tonight.