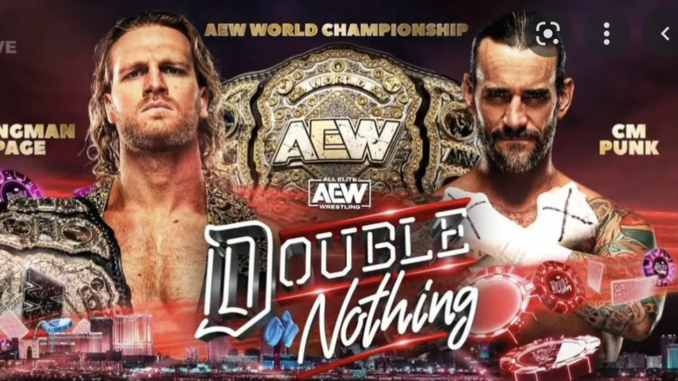 ---
SPOTLIGHTED PODCAST ALERT (YOUR ARTICLE BEGINS A FEW INCHES DOWN)...
---
KELLER'S AEW DOUBLE OR NOTHING PPV REPORT
MAY 29, 2022
LAS VEGAS, NEV. AT T-MOBILE ARENA
AIRED LIVE ON PAY-PER-VIEW
Commentators: Jim Ross, Excalibur, Tony Schiavone
Ring Announcer: Justin Roberts
---
Tonight after the PPV, join PWTorch columnist Greg Parks live reviewing the event with live callers and emails.
•STREAM LIVE HERE ABOUT 5 MINUTES AFTER THE SHOW CONCLUDES
•CALL: (515) 605-9345
•EMAIL COMMENTS/QUESTIONS: wnialivecast@gmail.com
•IF YOU DON'T LISTEN LIVE, SEARCH "PWTORCH" ON YOUR PODCAST APP TO SUBSCRIBE AND THEN DOWNLOAD OR STREAM THE FULL SHOW TWO HOURS OR SO AFTER THE TV SHOW ENDS.
---
BUY IN PRE-SHOW
(A) HOOKHAUSSEN (Hook & Danhaussen) vs. TONY NESE & "SMART" MARK STERLING
Nese and Sterling came out first. Sterling was earring a silver and yellow glittery bodysuit. Danhaussen came out next. When Hook came out, he walked past Danhaussen and didn't acknowledge him. When he entered the ring, he leaned on the top turnbuckle and ignored Danhaussen. Danhaussen stood next to Hook and smiled (which was pretty damn funny) and Hook tried not to break character and show any reaction. Taz said Hook is a team player, but it takes him a while to warn up to partners.
After some early back and forth action, Hook suplexed Nese and then took over against Sterling. Danhaussen begged for a tag. Hook asked the crowd. They cheered. Hook made the tag. Danhaussen then stood on Sterling's chest for the three count.
WINNERS: Hookhaussen in 4:00.
(Keller's Analysis: There wasn't much to this, but it was harmless fun. Hook is still not showing a well-rounded range of wrestling skills in his very narrowly focused matches. His presence and nonchalant charisma remains unmistakable and marketable.)
-Justin Roberts introduced the commentary team. They talked about how excited they were.
MAIN PPV SHOW
-They went to the announcers on camera. They talked about having four languages of commentary. They showed the German announce team. Excalibur threw to a plug for a sports gambling sponsor.
(1) MJF vs. WARDLOW
MJF came out first. The announcers didn't hint about any issues with MJF regarding his contract or no-showing a Meet & Greet. MJF gave the fans the up yours arm gesture after taking off his robe. He looked more cut as he ever has. Then they showed Wardlow making his way out of a holding cell backstage, handcuffed and escorted by security to the stage. Ross said Bill Watts once told him athletic big men draw. MJF bailed out to ringside as soon as the bell rang. When Wardlow got his hands on him, he set up a quick powerbomb. MJF slipped free and dropped to ringside. Fans chanted, "He showed up!" to taunt MJF. MJF yelled at a woman in the front row. Ross said MJF is somewhat reminiscent of Roddy Piper in his heyday.
Wardlow grabbed MJF at ringside and set up another powerbomb in the ring. MJF bit Wardlow and then poked his eye. He smiled and applied a side headlock. Wardlow broke free. Fans chanted, "MJF – F— you!" MJF countered Wardlow with a huracanrana. MJF indicated he hurt his leg. Fans chanted "Bullshit!" MJF pulled his ring out of his trunks. The ref caught him in the act and took the ring. Wardlow came up behind a now-worried MJF, who begged off into the corner.
MJF wanted a handshake. Instead, Wardlow powerbombed him. Fans chanted "One more time!" MJF lay on his back as Wardlow played to the crowd. Wardlow gave MJF a second powerbomb. Ross said Wardlow is handling MJF "like a cruiserweight, whatever the hell that is." Wardlow delivered a third powerbomb. Ross asked how dominating Wardlow will be as his career progresses. Wardlow gave MJF two more quick powerbombs for five total, then stood on his chest. The ref counted two. Wardlow removed his boot and shook his head no. The announcers took joy in his decision.
Wardlow then delivered yet another powerbomb. Ross said neither of these wrestlers will ever forget this moment for a long, long time. Wardlow powerbombed MJF again. Ross said he's loving the payback. And another. And another quickly. He pulled his straps down and flexed, then delivered one more big one. He stood his chest for the three count. Excalibur said Wardlow is finally free. MJF was rolled from the ring onto a stretcher at ringside. They put him in a neckbrace.
WINNER: Wardlow in 7:00. (*3/4)
(Keller's Analysis: The match that got the most TV build was a 7 minute one-sided squash. It was in some ways satisfying since they built up to it for so long, but it was anticlimactic that MJF was treated like he was beneath Wardlow and just easy fodder, which isn't how MJF had been previously portrayed in the ring. This feels like a statement that AEW is shifting away from MJF as a top tier wrestler based on behind the scenes happenings in recent days and months. The announcers didn't even allude to the controversy with MJF behind the scenes in AEW this weekend.)

---
READ OR LISTEN TO DETAILED VIP-EXCLUSIVE IN-DEPTH INSIDER REPORTS ON THE MJF SITUATION
Wade Keller's VIP Exclusive 1,600+ word article on the timeline of the MJF and Tony Khan relationship disintegrating.
VIP EXCLUSIVE PREVIEW – KELLER REPORT: Latest details on MJF's apparent fallout with AEW and the timeline and progression of his discontent
(Existing VIP members, CLICK HERE FOR FULL ARTICLE.)
Or listen to PWTorch editor Wade Keller's VIP-exclusive detailed podcast covering the MJF situation HERE.
GO VIP FOR JUST $1.99 – $8 OFF VIP SALE
A 30 day VIP membership is available right now for just $1.99 (an $8 discount). Use coupon code "summer2022" when you sign up HERE.
---
-Schiavone interviewed Wardlow and announced he has been officially signed and is now All Elite. A graphic appeared on the big screen and the fans cheered.
(2) THE YOUNG BUCKS (Matt & Nick Jackson w/Brandon Cutler) vs. THE HARDY BROTHERS (Matt & Jeff Hardy)
Caprice Coleman joined the announcers. He said this is like The Rock 'n' Roll Express vs. Midnight Rockers (not really; they were of the same generation). The messed around early with some back and forth action,, but nothing too intense. The Bucks got an advantage on Jeff for a while. A few minutes later, all four were down and out at ringside after a Side Effect by Matt Hardy on Matt Jackson.
Back in the ring, Matt tagged in Jeff. Jeff landed a running leap off of Matt's back with a flying leg to Matt Jackson's chest. Matt Jackson catapulted Matt Hardy into Jeff. The Bucks then took over briefly. Jeff went for a Swanton a minute later, but Matt Jcakson avoided it and hit a Twist of Fate. Nick then landed a Swanton. Matt Jackson made the quick cover to score a near fall. Fans began chanting, "This is awesome!" The Bucks hit some superkicks next.
Matt and Jeff Hardy sat up kneeling. Matt Hardy trash-talked the Bucks. The Bucks then fired with more superkicks. Then they high-fived each other. The Hardys sat up again and gave them middle fingers. Matt and Jeff both let the Bucks stereo superkick them one after another leading to a near fall. Coleman said the Hardys were showing their hearts and the Bucks were starting to show their frustrations.
Matt Jackson beat up Jeff Hardy at ringside and put him on top of the ringside steps, which were tipped on their side. Nick Jackson climbed to the top rope. Jeff fought free. Matt Hardy gave Nick a sitout Razor's Edge. Jeff put Matt Jackson on the steps, then climbed to the top rope. He leaped off with a Swanton onto Nick on the steps at ringside. Matt Hardy gave Matt Jackson a Twist of Fate for a believable near fall mid-ring a second later. Jeff landed a Swanton on Nick for the clean win a minute later.
WINNERS: The Hardys in 19:00. (***)
(Keller's Analysis: Pretty good some of the time. Jeff Hardy seemed off somehow at various times, which is always concerning for various possible reasons. Some will like the match overall more than me, I strongly suspect. I'm not a fan of wrestlers just asking for superkicks and eating that many, then coming back to win. I suppose it's more fair to enter this match looking forward to the novelty of these two iconic teams in the ring opposite each other rather than expecting a classic. There's a lot of wear and tear on everyone in that right right now. That said, they paced the match well, built it smart in those early minutes, and hit some big crowd-pleasing spots late with dramatic near falls. So it worked well enough.)

-They went to The Gunn Club and the Acclaimed partying poolside. Austin Gunn proposed they film everything on the Vegas strip. Then they went to Billy Gunn walking into their hotel room where they were all passed out in cartoonish positions. He told them to sleep well.
(3) JADE CARGILL (w/"Smart" Mark Sterling) vs. ANNA JAY – TBS Title match
Cargill dominated early. Jay fought back and hit an awkward top rope flipping blockbuster. They fought to ringside seconds later. Keira Hogan and Red Velvet ran out and grabbed Jay, but Jay delivered a double DDT on the floor. Back in the ring, Jade took over briefly, but Jay rolled through with a near fall. Sterling hadn't appeared yet, but at this time he limped out with a crutch. he slipped it to Cargill. Jay, though, used the crutch as a weapon and scored a near fall. Sterling's interference nearly backfired. Johnny Silver ran out and yanked off Sterling's neck brace and then brainbuster suplexed him. Cargill, meanwhile, hit her Eye of the Storm for a believable near fall. He followed with an attempt at her finisher, but Jay slipped free and applied her signature Queen's Slayer sleeper. Cargill stood with Jay on her back.
Jay climbed to the top rope. Cargill met her up there. Stokely (formerly Malcolm Bivens) Hathaway walked out, which distracted Jay. Schiavone said he hasn't seen him since 2017. Ross said he's never seen him. Cargill then finished Jay with her finisher.
WINNER: Cargill in 7:00 to retain the TBS Title.
(Keller's Analysis: A lot of bells and whistles there to distract from what was otherwise a limited and clunky match.)
-Kris Statlander ran out to prevent a post-match attack by Cargill, Velvet, Hogan, and Sterling. Next "Fallen Goddess" Athena (formerly Ember Moon) came out to the ring. The crowd cheered. She stood by Jay and Statlander. The two trios had a mid-ring staredown.
-They went to the announcers at ringside who marveled at the happenings so far on the PPV.
-A commercial aired for the Forbidden Door joint PPV with AEW and New Japan Pro Wrestling on June 26. Excalibur said it will feature matches you thought you'd never see in a million years.
(4) HOUSE OF BLACK (Buddy Mathews & Brody King & Malakai Black) vs. PAC & PENTA & REY FENIX (w/Alex Abrahantes)
They took turns one on one in various athletic exchanges. Then they all stood opposite of each other and chaos broke out. Pac hit Matthews with a poison rana for a near fall. Fans chanted "AEW! AEW!" Penta and Fenix landed running flip dives at ringside a couple minutes later. A "This is awesome!" chant broke out. Pac and Fenix double-covered Matthews and King and for some reason the ref counted. It was only a two count. They built to a big spot with Brody who did a running flip dive over the top rope. He came up short and hit the back of his neck on the edge of the ring apron and also made contact with Pac. That looked dangerous. Chaos broke out in the ring with a Dante's Inferno on Fenix, but the cover was broken up by wrestlers stumbling into the corner. All six were in the ring again and did rapid-fire moves. Fenix and Penta hit some superkicks. Pac joined them for a triple superkick. Black charged at Pac, but Pac gave him a brainbuster for a near fall, broken up by Matthews.
Penta gave Matthews a Canadian Destroyer on the ring apron. Next, Penta held Black in position for a DDT as Fenix dove of the top rope with  foot stomp to add extra force on the DDT. Fenix and Penta set up a double-team move on Black, but Black escaped and landed his spin hook kick on Fenix. Pac landed a step-up enzuigiri followed by his Black Arrow attempt. Matthews cut him off, though. Pac fought off Matthews and then landed a 450.
Black came up behind Pac and delivered a nasty German suplex. Alex distracted the ref on the ring apron briefly. Pac then took Black down and climbed to the top rope. The lights went dark. When they came back on, Julia Hart was standing in the corner. She sprayed black mist into Pac's eyes. Black then kicked Pac and got a three count.
WINNERS: House of Black in 13:00.
(Keller's Analysis: All of those moves, nonstop start to finish, and the ending was a lights out schtich leading to black mist from a foreshadowed turn by Julia Hart? Okay then. The crowd reacted to the big spots, but there's a numbness that comes from that many big moves, one after another, without any long-term selling or storytelling.)
(5) SAMOA JOE vs. ADAM COLE – Owen Hart Foundation Tournament Final
Cole came out first. He walked past a table with a trophy and two covered belts, one for the male tournament winner and the other for the female tournament winner. The announcers noted Joe and Cole have never wrestled each other. The bell rang 24 minutes into the second hour of the PPV. Ross said he had a chance to spend time with Martha Hart earlier and he said he cried. Schiavone said he knows where he's coming from.
Cole invited Joe to engage in a test of strength, but Joe punched away at Cole instead. He pelted him into the corner, then played to the crowd. They battled at ringside at 4:00. Cole shoved Joe into the ring apron shoulder-first. The announcers talked about Joe having a preexisting injury to the left shoulder. The announcers talked more about their admiration for Owen the person and the wrestler. Joe countered a Cole attempt at a Panama Sunrise. Cole rolled to ringside to recover at 7:00. Back in the ring Joe went on a flurry of offense ending with a senton for a near fall. Joe powerslammed Cole and scored a near fall. Joe shook out his left shoulder and winced. Cole charged at Joe, but Joe leveled him with a clothesline for a two count.
Cole came back with a sudden high knee for a two count on Joe at 10:00. Cole hit a back stabber and then a crossface mid-ring. Joe blocked a superkick and countered into an STF of his own mid-ring. Cole wriggled away and then over to the to the ropes to force Joe to break. Bobby Fish leaped onto the ring apron. Joe turned to battle him. Fish yanked Joe's bad arm over the top rope. Cole went for the Boom, but Joe ducked and applied a Kokina Clutch. Fish stood on the apron again. Joe dropped Cole and hit Fish. Joe turned and chopped Cole in the chest. Cole superkicked Joe's shoulder and then superkicked him a few more times. He then hit the Boom and rolled Joe over for a three count.
WINNER: Cole in 13:00 to win the Owen Hart Tournament. (***)
(Keller's Analysis: A nicely paced match that built well. The distractions at ringside have been so overplayed over the last couple years in pro wrestling, especially in WWE, that you just sort of groan now when that's built in as the "out" for the babyface to lose, but the babyface has to needlessly drop everything to fight the person on the ring apron first.)
-Another commercial aired for "Forbidden Door."
-A video package set the stage for the next match.
(6) BRITT BAKER vs. RUBY SOHO – Owen Hart Foundation Tournament final

Baker came out to Fozzy guitarist Rich Ward playing her entrance theme. Ruby came out to the band Rancid playing "Ruby Soho." The announcers said it's not often Baker gets upstaged, but that Rancid performance qualifies. After some back and forth action, Ruby hit a couple of clotheslines. Baker rolled to ringside to regroup. Ruby landed a leaping dropkick off the ring apron at Baker at ringside.
Baker took over in the ring after knocking Soho off the ring apron. The crowd settled down and seemed into the match, but not rabidly into the action. With both women down, they went to the obligatory wide shot of the crowd in the arena. Baker rallied with some kicks. Ruby countered with a Saito suplex and a top rope senton for a near fall. Baker knocked Roho off the top rope and it appeared Ruby's head hit a turnbuckle on the way down. Baker landed a stomp and scored a near fall. Baker took out her glove and signaled for a Lock Jaw. She dropped down and applied it, but Ruby had time to recover and blocked it. Baker went for it again. Ruby blocked it and leveraged Baker's shoulders down. Ruby hit her No Future move out of nowhere and then applied a sharpshooter. It was a bit sloppy looking and lacked leverage. Baker crawled to the bottom rope to force a break. Ruby landed a victory roll a minute for a near fall, but Baker rolled through and leveraged Soho down for a three count. Baker lifted Soho and showed some respect toward her before celebrating her win.
WINNER: Baker in 13:00 to win the Owen Hart Tournament. (**1/2)
(Keller's Analysis: Average largely forgettable match. I'm not sure Baker would have been on my top ten list of women in AEW who would gain the most from winning the Owen Cup.)
-Baker and Cole met Schiavone on the stage. Both, by the way, were wearing hot pink. They kissed. Schiavone looked away like a 11 year old kid around his parents showing affection toward each other. Schiavone introduced Martha Hart. Tony Khan led her out onto the stage at the podium. She stood at the podium and led a chant of "Owen! Owen!"
"Wow, thank you so much for that warm welcome," she said. Fans applauded. She thanked the fans and then talked about her late husband Owen Hart. She also thanked a bunch of people. She said their partnership is a match made in heaven. She said Brit and Adam are a queen and king. "Heavy lies the crown," she said. She said they have earned a place on the royal throne. She then presented Cole and Baker with the hot pink trimmed Owen Hart Foundation belts. Schiavone said it is moments like this that make you proud to be a fan of pro wrestling. When Baker and Martha hugged, fans chanted "DMD" briefly.
(Keller's Analysis: Not that I was for Martha's speech turning into an angle, but Cole and Baker were all smiles and so gracious, it just felt like they were turning babyface. It's great to see Martha in a situation in pro wrestling where she seems genuinely proud and happy after years of taking heat from some fans resentful that she wouldn't approve of WWE inducting Owen Hart into the WWE Hall of Fame.)
(7) SCORPIO SKY & "ALL EGO" ETHAN PAGE & PAIGE VANZANT vs. FRANKIE KAZARIAN & "SPANISH GOD" SAMMY GUEVARA & TAY CONTI
Kazarian came out with a UFC belt he stole from Lambert's training center. "That's not right," said Ross. Schiavone said, "No it's not." Guevara and Conti tongue kissed on the ramp on their way to the ring.
Eventually, VanZant tagged in against Conti. VanZant clotheslined Conti and then landed a German suplex. She followed with a handspring back elbow in the corner, prompting a Great Muta reference by Ross. Sammy entered to slow VanZant's momentum. VanZant gave Sammy a DDT. It got some cheers, but the crowd was mostly ambivalent with this match-up of heel acts. Sammy took a crotch shot in the corner and rolled out of the ring. VanZant stayed in control against Conti until Conti used a judo throw to take VanZant over.
When VanZant yelled down at Sammy, Conti took over and landed a facebuster on her kene. Sammy and Conti began kissing mid-ring. VanZant, Ethan, and Sky entered the ring and stared at them. Kaz took his time, entered the ring, but then bailed out on his teammates. Sky caught Sammy with a flying cutter. Kaz snuck in and gave Sky a DDT. He tagged himself in, he scored a near fall against Sky. Conti yelled at Kaz. Sammy tried to superkick Kaz, but Kaz ducked and Sammy superkicked Conti instead. Fans chanted "You f—ed up!" Sky then caught Kaz with a TKO for the win.
WINNER: Sky & Ethan & VanZant in 10:00. (*3/4)
(Keller's Analysis: Eh. This was slow and lacked crowd heat. It just wasn't a match that needed time on this PPV. Despite the considerable time put into this on TV at times, the heel vs. heel predicament resulting from fans turning against Sammy and Conti made it a tough sell.)
-They went to the announcers. Excalibur said the PPV so far is meeting or exceeding expectations.
(8) DARBY ALLIN vs. KYLE O'REILLY
Early in the match, O'Reilly landed a stiff knee to Darby's jaw. Darby came up bleeding from the mouth. Darby made a comeback with a flurr of offense including a Code Red for a two count. Darby went for a dive through the ropes, but came up short, his feet hit the bottom rope, and he landed awkwardly on his head. The announcers gasped. Darby took a moment, but got up and threw O'Reilly back into the ring. He crawled back into the ring. O'Reilly rolled to ringside. Darby dove through the ropes again, going for a spear. O'Reilly caught him and locked on a front chancery.
Back in the ring, Darby took over with a top rope huracanrana into a leverage pin attempt. Darby caught O'Reilly with an inside cradle, but O'Reilly countered right into a suplex for a near fall. O'Reilly then grounded Darby on the mat and pivoted into a Scorpion Deathlock. O'Reily reached the bottom rope to force a break. Darby hit a senton on the ring apron and then went for a Coffin Drop. O'Reilly caught him and set up a cross armbreaker, but Darby leveraged O'Reilly's shoulders down for a near fall.
Both stood and exchanged strikes. O'Reilly landed running kicks and scored some near fall. After three PKs, O'Reilly landed a top rope kneedrop for the win. O'Reilly grabbed his jaw afterward in pain. The ref raised his arm. Both men looked beat up.
WINNER: O'Reilly in 11:00. (**1/2)
(Keller's Analysis: A compelling if not reckless match. This was among the matches that just felt like needless padding on an event that'd be better at three hours instead of four, if for no other reason than out of fairness to the final few matches with the bigger names fighting for bigger prizes or more established grudges. I didn't expect a clean O'Reilly pin, and it's frankly head scratching considering what Darby has meant and could still mean to AEW while O'Reilly seemed pretty well defined as a talented reliable utility tag team wrestler.)
-A video package set up the next match.
(9) THUNDER ROSA vs. SERENA DEEB – AEW Women's Title match
They engaged in an early test of strength. Rosa got the better of Deeb and leveraged her shoulders down for two counts. Rosa put Deeb into a pendulum. Deeb escaped. Fans chanted, "This is wrestling!" They fell over on a backslide battle, then regrouped. Rosa slapped Deeb and then charged Deeb in the corner. Deeb moved, but Rosa knocked Deeb off the ring apron instead. Deeb took over and whipped Rosa into the ringpost.
A few minutes later, Rosa whipped Deeb face-first into the corner turnbuckles. They battled on the mat for a few minutes. Rosa eventually slammed Deeb's knee onto the mat a few times. Both women were down and slow to get up, showing signs of exhaustion. Rosa got up and landed a Death Valley Driver for a two count. Deebclipped Rosa's knee from behind and then she applied a figure-four. Rosa slapped Deeb while in the hold. Deeb slapped back. They exchanged several more chops before rolling under the bottom rope and landing with a thud at ringside. Deeb landed a Detox for a near fall, with Rosa putting her leg on the bottom rope to force a break.
Deeb applied her Serenity Lock. Rosa reached the bottom rope to force a break. Deeb avoided a charging Rosa in the corner. Ross said the match is getting sloppy as both competitors take more chances. He said they're so evenly matched. They battled on second rope in the corner. Rosa landed a top rope superplex and a Fire Thunder Driver for the win.
WINNER: Rosa in 17:00 to retain the AEW Women's Title. (***)
(Keller's Analysis: This match was never bad, but it also dragged a bit. It was just a notch too slow in terms of pacing and it kept the crowd out of it. The crowd seemed to treat this as a bit of a buffer match to recharge before the three big remaining matches. The crowd was politely into the match and not disengaged, but they weren't high energy in reacting to it either.)
(10) CHRIS JERICHO & MATT MENDARD & ANGELO PARKER & JAKE HAGER & DANIEL GARCIA vs. JON MOXLEY & BRYAN DANIELSON & EDDIE KINGSTON & SANTANA & ORTIZ – Anarchy in the Arena
Justin Roberts said the shit was about to hit the fan. Fans popped for that. The Jericho Appreciation Society came out first wearing white pants, white vests, and white hats. The announcers said they looked like some kind of boy band. Next Moxley led his team out through the bleachers. They began brawling in the bleachers as "Wild Thing" continued to play. Excalibur said the match was deliver anarchy as promised. When "Wild Thing" finished, it restarted again and fans popped. Moxley jabbed a fork on Mendard's forehead. Mendard's face was a crimson mask of blood. Moxley was bleeding from his forehead as he brawled with Jericho into the crowd. Jericho swung an equipment bag into Moxley's face to take over.
Santana and Ortiz eventually entered the ring and battled Hager. Schiavone excitedly told fans who knew anyone who wasn't watching this that it wasn't too late to order it. Jericho pulled the plug on "Wild Thing" playing when he went over to the sound board table and yanked on a cable. Santana and Ortiz executed a top rope flying blockbuster on Hager through a table at ringside. Schiavone made a reference to "Memphis Tupelo stuff right here" when wrestlers began using ketchup and mustard in the concourse.
Hager spike-piledrove Santana on the ringside steps. Danielson was brawling with Angelo in the bleachers where some seats were tarped off. Kingston and Mendard brawled in a merchandise table area. Mox hit Jericho with a flying knee off the hockey boards. "Look at the freakin' bodies!" exclaimed Schiavone. The director was having trouble keeping up with what was happening in so many places of the arena at once. Mox threw a full cooler at Jericho. Schiavone said this was better than Stadium Stampede. Fans were surrounding wrestling brawling in the concourse area. Jericho applied a Walls of Jericho on Moxley, but the table collapsed. They cut away quickly to Kingston and Garcia brawling in the concourse.
Back to Jericho and Moxley, they brawled at ringside. Moxley dove from the ring onto Jericho at ringside, then applied a figure-four. Danielson brawled with Hager at ringside. Danielson was bleeding from the forehead. Moxley untwisted a turnbuckle. Mox used the unfastened top rope to crotch Jericho. Fans chanted "This is awesome!" Santana set up a ladder. Santana and Ortiz leaped off opposite sides of the ladder with splashes onto Mendard and Angelo.
Jericho sprayed Moxley in the face with a fire extinguisher. The ref cleared the white foam from Moxley's face. Jericho and Hager battled Danielson and Moxley from their knees in mid-ring. Danielson and Mox got the better of the heel duo. They threw a barrage of downward strike elbows. Mox applied the Bulldog Choke and Danielson applied the Lebell Lock. Kingston walked out with a gasoline canister. Excalibur said this is in response to Jericho throwing a fireball at Kingston. He poured it on Jericho but also Danielson. Danielson got up and slapped Kingston. They brawled. Excalibur said they despise one another. Moxley tried to separate his partners. Jericho hit them with a chair. Hager sent Mox onto a table covered in barbed wire on the floor. Schiavone said Tony Khan just told him this is the most watched AEW Double or Nothing ever, then plugged that it wasn't too late for people to order the event for the top matches yet to come.
Jericho hit Kingston with a Judas Effect. Jericho and Hager double-teamed Danielson mid-ring. Jericho lifted a chair, but Danielson charged with a flying knee that knocked the chair into Jericho's face leading to a believable near fall. Hager used a bat against Danielson's knee a minute later. Jericho then applied a Walls of Jericho as Hager strangled Danielson with the ring rope. The ref called off the match when it appeared Danielson passed out.
WINNERS: Jericho Appreciation Society in 23:00. (????)
(Keller's Analysis: My god. I don't even know how to describe what that was. It's neither a compliment nor a criticism, although this match deserves a mix of both. This was meant to be epic and wild, and it was both. It was also too long and too difficult to track for much of the match and overly violent. It ultimately was a blast to watch, but also felt like too much. I have no idea what kind of star ratings to apply to that, though.)
-They went to the announcers who threw to a video on Andrade in a meeting room. In walked Rush, who held out his fist. Andrade wrapped his hand around his fist and raised his arm. Andrade said, "Welcome to AEW." They went back to the announcers who said who Rush was and reacted.
(Keller's Analysis: Another wrestler added to the AEW roster, which crowds the field even more. AEW acted like their audience would see this as a huge signing, but AEW is big enough that the familiarity with someone like Rush just isn't significant to them at this point. He's talented, but AEW isn't lacking talented in-ring performers. They're lacking focus and it feels like the booking is at risk of collapsing under the weight of the growing roster. It feels like Tony Khan is addicted to the sugar rush of "surprise big signings" and believes that's part of the essential value of his PPVs.)
-They went to a backstage interview with Lambert, Ethan, and Sky who were gloating about their win earlier. Ethan said it feels great to be finished those pieces of trash and move on to bigger and better things. Sky said the book is finally closed and Sammy and Kaz will never face him for the TNT Title again. He asked who was ready to step up net. Dante Martin walked into the picture and challenged him. Sky said Dante has looked great lately and has a hell of a future, but he's not ready for this fire. He accepted his challenge for a match in SoCal.
---
GO VIP FOR JUST $1.99 – $8 OFF VIP SALE
A 30 day VIP membership is available right now for just $1.99 (an $8 discount). Use coupon code "summer2022" when you sign up HERE.
READ OR LISTEN TO DETAILED VIP-EXCLUSIVE IN-DEPTH INSIDER REPORTS ON THE MJF SITUATION
Wade Keller's VIP Exclusive 1,600+ word article on the timeline of the MJF and Tony Khan relationship disintegrating.
VIP EXCLUSIVE PREVIEW – KELLER REPORT: Latest details on MJF's apparent fallout with AEW and the timeline and progression of his discontent
(Existing VIP members, CLICK HERE FOR FULL ARTICLE.)
Or listen to PWTorch editor Wade Keller's VIP-exclusive detailed podcast covering the MJF situation HERE if you're an active VIP members.
---
(11) JUNGLE BOY & LUCHASAURUS (w/Christian Cage) vs. RICKY STARKS & POWEHOUSE HOBBS vs. KEITH LEE & SWERVE STRICKLAND – AEW Tag Team Title match
Taz joined in on commentary. A  few minutes in, Lee caught JB and then powerbombed him onto his own partner Luchasaurus at ringside. A few minutes later, they built to Lucahsaurus, Hobbs, and Lee battling in the ring. Lee and Hobbs worked together to chokeslam Luchasaurus.Then they turned and faced off. Lee overhead tossed Hobbs over the top rope to the floor. Lee then landed a running flip dive into a crowd at ringside. He played to the crowd afterward. Starks and JB tagged in against each other next. The pace changed significantly to speed over power. Christian knocked Starks's legs off the ropes during a pin attempt. Hobb threw Christian into the ringside steps. JB dove onto Hobbs at ringside. When JB re-entered the ring, Starks hit him with a sudden spear for a near fall.
Starks then delivered his finisher to JB, but Luchasaurus broke up the cover. Hobbs then landed a spinebuster on Luchasaurus. Swerve took over against JB. Luchasaurus went for a boot to Swerve's face, but he kicked JB instead. Swerve and Lee then gave JB a top rope powerbomb combo for a near fall. Hobbs broke up the cover. Starks hit Lee with the FTW Title belt. JB superkicked Swerve. Starks then brought the belt into the ring. Christian yanked Starks out of the ring by hius leg. Swerve rolled up a distracted JB for a believable near fall. Swerve went for a Swerve Stomp, but JB moved. JB then went for a poison rana, but Swerve resisted. Luchasaurus entered and delivered a Jurassic Express finisher with JB to get the three count on Swerve. Taz said he was surprised by the outcome, but was proud of the performance by his guys.
WINNERS: Luchasaurus & Jungle Boy in 17:00 to retain the AEW Tag Team Titles. (***1/2)
(Keller's Analysis: Entertaining action from start to finish, with some distinct moments with different match-ups including the bigger wrestlers and then the smaller wrestlers changing the page. The near falls were well done.)
-Excalibur plugged JB & Luchasaurus & Christian vs. Undisputed Elite for Dynamite this Wednesday in Los Angeles, Calif.
(12) "HANGMAN" ADAM PAGE vs. C.M. PUNK – AEW World Title match
The bell rang 11 minutes into the fourth hour. Schiavone mentioned he can't wrap his head around Hangman saying he's going to defend against what Punk stands for. A dueling chant broke out early. Great early intensity and facial expressions. Ross said it's so great to be still calling great pro wrestling matches like this. He mentioned to Schiavone how lucky they are after all of these decades to still be doing this. At 4:00 Punk had taken control and smiled wide. A Punk chant shifted to a chant for Cowboy Shit. Punk listened and reacted by pausing mid-ring. Some boos rang out. Punk smiled and went back to work. Punk leaped off the ropes, but Hangman caught him and took over. An intense dueling chant broke out as they fought at ringside. Ross said the 50/50 audience is new to him in this era.
Hangman beat up Punk at ringside. Hangman absorbed some boos too back in the ring. They exchanged strikes. Hangman dropped Punk as he charged with a rolling elbow. Punk crumpled. The ref checked on Punk as Hangman played to the crowd. Schiavone said Hangman ought to just roll him over and pin him. Ross said it says something about Hangman's mindset, but he thought he was wasting time for no reason. Schiavone said Hangman maybe wants to show him up.
Hangman set up a Buckshot Lariat, but Punk exploded at him with a flying elbow to knock Hangman to the floor. The announcers feel much more comfortable calling this match with some breathing space, pacing, and a story to tell drawn as much from body language between moves as the moves themselves. Hangman landed a top rope flying lariat for a two count back in the ring.
A minute later Punk charged with a running knee in the corner and then a running bulldog. Ross said Punk is getting in his offensive groove. Punk springboard clotheslined Hangman, then got fired up. Punk hit a neckbreaker. He climbed to the top rope next. Hangman popped up and knocked Punk down to the floor. Hangman then landed a top rope moonsault press on the floor. He favored his knee after he landed. Excalibur said he might have jammed his knee. Hangman set up a Buckshot Lariat again. Punk countered with a double leg takedown into a sharpshooter. Hangman reached the bottom rope to force a break.
Punk slipped up on an attempted Buckshot Lariat. It took the wind out of the sails of Punk's moment. The announcers said he hasn't mastered it. He scored a two count. He then sat up and signaled for a Go To Sleep. Hangman countered and went for his own GTS. Punk avoided it. Hangman then gave Punk a powerbomb out of the corner. Hangman landed a Dead Eye for a very near fall. Hangman's cover was nonchalant.
Hangman stood and signaled for a Go To Sleep. He limped over toward Punk and set it up. Punk grabbed onto the top rope, then landed a high round kick to Hangman's head. Hangman, though, hit a sudden GTS that looked great. Punk fell in a heap and Hangman made the cover. Fans thought it was over. Punk kicked out. A loud "C.M. Punk" chant broke out (better than "This is awesome!" or "Fight forever!"). Both were down and slow to get up. A "Cowboy Shit" chant broke out. Hangman crawled over and punched Punk. They exchanged strikes mid-ring at 21:00.
Hangman tried to run the ropes, but could barely move. Punk and Hangman tumbled over the top rope to the floor. Hangman threw Punk into the time keeper's area. Hangman picked up his belt and yelled, "This is mind! You will never have it!" The ref yanked it away from Hangman. Ross said nobody wants a countout, so the ref should let them get back in the ring. Hangman threw Punk into the ring. Hangman then set up a Buckshot Lariat. This time Punk countered into a GTS attempt. The ref got knocked down. (A ref bump in AEW!) Hangman countered Punk.
With Punk down, Hangman went over to check on the ref. With the ref out, Hangman spotted the title belt. He got wide-eyed and picked up the belt. Hangman paused and Punk cowered mid-ring. Schiavone said Hangman looks conflicted. Hangman threw the belt down. Fans applauded. He then set up another Buckshot Lariat. Punk countered and landed a GTS for the three count.
Punk leaned against the bottom rope and got emotional as his music played. Excalibur said Hangman's decision cost him the biggest prize in the sport. Punk clutched the belt emotionally as the show ended.
WINNER: Punk in 25:00 to become AEW Champion. (****1/4)
(Keller's Analysis: They saved the best for last. No heel turn for Punk or even a hint of it. Hangman made a decision not to cheat, but he also made a decision to consider cheating rather than going on the attack. That was a rare AEW ref bump, and one with a purpose that gave Hangman a chance to milk making that ethical decision that changed his fate. I'm interested to see what happens with Hangman's character next. Punk has a crazy number of compelling opponents to face for a potentially long title reign. He's shown he's up for it, and he brings a wisdom and maturity to the stories he tells the pace with which he tells them that is welcome amidst the excesses of AEW otherwise.)
---
Tonight after the PPV, join PWTorch columnist Greg Parks live reviewing the event with live callers and emails.
•STREAM LIVE HERE ABOUT 5 MINUTES AFTER THE SHOW CONCLUDES
•CALL: (515) 605-9345
•EMAIL COMMENTS/QUESTIONS: wnialivecast@gmail.com
•IF YOU DON'T LISTEN LIVE, SEARCH "PWTORCH" ON YOUR PODCAST APP TO SUBSCRIBE AND THEN DOWNLOAD OR STREAM THE FULL SHOW TWO HOURS OR SO AFTER THE TV SHOW ENDS.