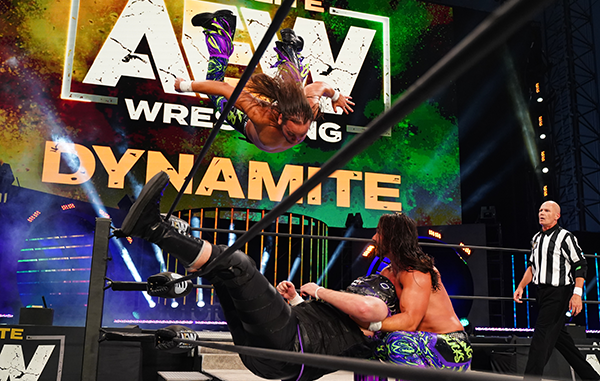 ---
SPOTLIGHTED PODCAST ALERT (YOUR ARTICLE BEGINS A FEW INCHES DOWN)...
---
This week's episode of AEW Dynamite has wrapped. Let's take a stroll down memory lane and relive some of the madness.
-An awesome opener between Jon Moxley and Adam Page. This thing was a damn fight and lined up perfectly with the story between both guys. The finish and Moxley "having a concussion" was done tastefully enough to not overly analyze in a negative way. It too made sense for the story. Well done.
-Jon Moxley hasn't lost clean to many talents in AEW and Adam Page now is on the list of people who've beat him. This was a big moment for Page. He is in constant need of momentum and a signature win like this one should help position him for bigger and better things down the road — like vs. MJF for the AEW World Championship. Smart to put him over. Moxley doesn't lose anything in defeat either. Thumbs up regardless of how you want to slice it.
-What a promo from Adam Cole. If you wondered why people thought he could be a centerpiece act for a major wrestling company at some point, that promo is why. It was passionate, well-delivered, smart, detailed, and consumed with hyping his return to action. AEW needs to not mess around with Cole now. He's a babyface. Keep him that way and let him chase the world title down. Clearly, audiences will get behind that.
-Hook suplexing Big Bill was a highlight of the show. It's a mid-card match and I get that, but Hook's delivery and Big Bill's perfect and impactful sell of the move made for a moment in an otherwise "eh" match. Here's the thing, though. I wouldn't keep Hook and Jungle Boy together that much longer. Part of Hook's appeal in particular is in the fact that he's a lone wolf. Jungle Boy just wrapped up working in a tag team. A pivot back to that division so fast reeks of the singles run being a failure and it isn't at this point.
-Yeah, I'm over Best Friends. Orange Cassidy included. Anyone else?
-I know the MJF promo ruffled some feathers, but I'm fine with it at this point. MJF is still in the take two steps back mode in order to reclaim the heat he had last spring. To do that, he has to be less nuanced and more straight up obnoxious. This promo crossed that T.
-Now, as for Konosuke Takeshita vs. Bryan Danielson, I say no. No, no, no. What are we doing here? The story is Danielson is essentially running the gauntlet to get a title shot against MJF. The opponents in his way should be heels so that the audience comes out of the story universally invested in Danielson as a winner. Him going up against Takeshita diluted that story in a way that doesn't serve the feud with MJF positively. The match itself was great, but to what end? Danielson vs. Bandido next week has the same issue. There will be people that want Bandido to pull the upset and therefore cheering him (and ultimately, MJF) in the process.
-The women's tag match disappointed and not because a lack of Mercedes Mone. I'll believe that one when I see it. The issue was the work. Britt Baker and Jaime Hayter look slow in the ring and Saraya continues to be a step behind everything. Storm stood out, but couldn't cover for everyone.
-As for Mone not appearing, well, she wasn't promoted to. Baker shouldn't used "Boss" verbiage and that line should have been caught in pre-production so as not to tease the audience, but AEW went out of the way to announce an entirely different match and confirm the mystery opponent had been decided on. This is the case of imagination running wild on a potential debut when the company did what it needed to overall in order to prevent that from happening.
-Yikes. Not a great outing for Ricky Starks and Action Andretti. I thought "wow these guys are jerks" are multiple occasions during their promo. Not what you want from two babyfaces. Starks has to be careful with how he frames himself. Making fun of a speech impediment isn't likable. A huge miss for him.
-Great main event. I'm glad it was obscenely and exactly what the audience wanted to see. The six guys didn't hedge at all. They went all in on their style of match and played into that throughout the tournament  as well. To that end, the final match was the proper accumulation of all the matches in the series together. This worked and worked well.
---
CATCH-UP: HEYDORN'S WWE RAW RECEIPT 1/9: Cody Rhodes videos prime audience for huge return