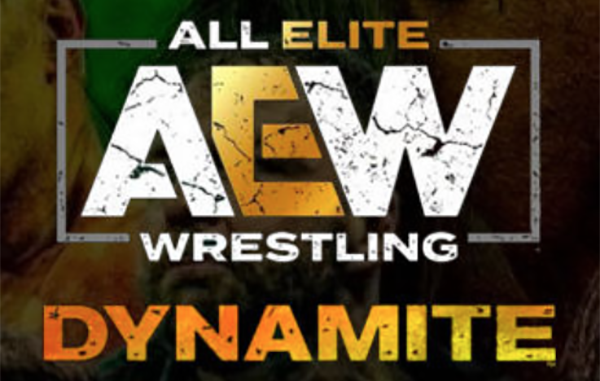 ---
SPOTLIGHTED PODCAST ALERT (YOUR ARTICLE BEGINS A FEW INCHES DOWN)...
---
AEW DYNAMITE REPORT
JANUARY 18, 2023
FRESNO, CALIF.
AIRED LIVE ON TBS
Commentators: Excalibur, Taz, Tony Schiavone
Ring Announcer: Justin Roberts
---
[HOUR ONE]
-They opened with a screen graphic acknowledging the death of Jay Briscoe from ROH.
-Pyro blasted on the stage as Excalibur introduced the show.
(1) ORANGE CASSIDY vs. JAY LETHAL – All-Atlantic Title match
Excalibur said Tony Khan said earlier today if Jeff Jarrett, Satnum Singh, or Sonjay Dutt interfere, Dutt will be fired. When the bell rang, Jarrett, Dutt, and Singh walked down the arena steps toward the ring. Cassidy leaned in the corner and sighed at this distraction. The heel trio kicked some fans out of their seats. Excalibur said he's not sure how that works.
Lethal went for an early figure-four, but Cassidy small packaged him for an early two count. Danhausen showed up and asked to see their tickets. Dutt produced three tickets. Danhausen called for someone off camera; it was Chuck Taylor and Trent Beretta (who just happened to be nearby with popcorn and beer). Lethal countered a tornado DDT attempt by Cassidy and dropped him over the top rope. Lethal threw Cassidy into a ringpost at ringside. Lethal strutted in the ring as Jarrett and Dutt joined in from their front row seats. Lethal settled into a sleeper on the mat mid-ring. Excalibur acknowledged the death of Jay Briscoe. Schiavone said it's been a tough day for everyone there.
Lethal climbed to the top rope, but Cassidy rolled out of the target zone. Lethal moved to the other corners as Cassidy kept rolling. Cassidy recovered and rammed Lethal face-first into the turnbuckle pad ten times. The crowd chanted along. He hit a top rope crossbody and then a Slum Dog Millionaire and a DDT for a near fall. Dutt talked Jarrett out of jumping the barricade because it'd mean he'd get fired. Cassidy leaped off the top rope, but Lethal caught him and gave him the Lethal Combination. When he went for a Lethal Injection, Cassidy side-stepped him and then went for an Orange Punch. Lethal countered and hit the Lethal Injection. Cassidy rolled out of the ring. Lethal pounded the mat in frustration.
They cut to ringside where Chuck poured popcorn over Dutt's head. The ref warned Dutt. Jarrett snuck a guitar to Lethal, but Danhausen snatched it away and then strummed it. Lethal chased him around the ring. Cassidy caught Lethal with an Orange Punch back in the ring for the win.
WINNER: Cassidy in 8:00 to retain the All-Atlantic Title.
-Afterward, Singh grabbed Taylor and Beretta by their throats. Dutt pleaded with him to let go and he did. Jarrett then wound up his guitar to hit Cassidy, but Dutt stopped him. Cassidy then stood and gave slo-mo kicks to Dutt. Dutt threw off his jacket, but Lethal and Jarrett pulled him away and then the heels all left the ring.
(Keller's Analysis: The match felt secondary to the shenanigans. It's either amusing harmless fun or stupid juvenile frivolity, depending on your taste in pro wrestling.)
-A vignette aired on the main event between Darby and Kushida for the TNT Title narrated by Excalibur.
(2) THE YOUNG BUCKS (Matt & Nick Jackson) vs. TOP FLIGHT (Dante & Darius Martin)
As Top Flight made their ring entrance, Taz said he was "on a flight with Top Flight" and how much it pleased him to say that. He said it's the little things that make him happy. Taz said Excalibur saw the Bucks early in their career and he must see similarities with Top Flight. They cut to a split-screen break (or "double-box" break, the industry term for a shared screen during a commercial break). [c/ss]
The Bucks isolated Dante during the break and for a while after the break. Darius got a hot-tag at 7:00 and scored a near fall on Matt after a bodypress. The Bucks set up a double-team move, but Dante intervened. Dante flipped onto Nick at ringside. Then they hit a double-springboard double-team powerbomb for a near fall. Fans loudly chanted, "AEW! AEW!" A minute later Nick hit a Destroyer for a convincing near fall. Fans then chanted "This is awesome!"
When Dante springboarded toward the Bucks at ringside, the Bucks caught him with stereo superkicks. Then they went for double knees on Darius mid-ring, but Darius ducked. The Bucks knocked knees. Darius then rolled up Matt for a shocking win. The crowd had a mixed reaction as the Bucks tried to come to terms with what happened. Darius helped Dante walk to the back as he favored one of his legs and looked to be in pain. He didn't seem to land awkwardly on the dive to ringside or grab at his leg, so this appears to be worked selling after a hard fought battle.
WINNERS: Top Flight in 12:00.
(Keller's Analysis: Dazzling action. I'm curious what the follow-up is here to the Bucks losing. They should make it count for something more than meta image-building that the Bucks are helping to elevate new stars.) [c]
-Austin & Colten Gunn walked out. Fans chanted "Assholes!" at them. Austin said they made The Acclaimed popular and made them champions. "We even gave them my dad," he said. Colten said it'll be the last time they embarrass them. The Acclaimed's music played. Austin yelled over the music and said they don't want to "hear a rhyme." Caster asked the fans if they want to hear the Ass Boys talk or hear him freestyle. He called for the Gunns' mics to be turned off and his music to restart.
Caster rapped about how Austin and Colten only got a job because their dad worked there. He said they're the worst kids since Hunter Biden. He got bleeped for something about balls. Bowens did his line. Then they jumped into the ring and fought with the Gunns. Billy entered and pulled Austin off of Bowens and Caster off of Colten. Excalibur said he was trying to play peacemaker. Billy took the mic and said he's sick of his whining privileged kids. He told The Acclaimed that they're tag champs, so begin acting like it. He said next week, they're going to hash it all out. He said he had two words for them: Family therapy.
-Renee Paquette interviewed "Hangman" Adam Page backstage. He said he gave his word that he'd beat Mox, but he got knocked out, so that took his word away from him. He said he got his word back when he beat Moxley after Moxley disrespecting him with jokes about being knocked out. Hangman said he doesn't want to get overly specific, but he's interested in mending some fences that have needed mending for a long time. The interview seemed to end and the camera stayed on them. Hangman asked how Mox was doing. She said he's always been hurt and he'll dust himself off. He was going to ask her to deliver a message, but then changed his mind and walked away.
(Keller's Analysis: With the vague talk about mending a fence but not being specific, are they trying to raise expectations that Hangman is going to try to make things right with Punk? Are they aware some might run with that even if that's not at all what he meant?)

(3) JAKE HAGER (w/Matt Menard, Angelo Parker) vs. RICKY STARKS
Hager came out with Chris Jericho, Angelo Parker, and Matt Menard. Jericho joined the announcers on commentary. Starks grabbed Hager's hat and walked the top rope. When he paused, Hager yanked him down. Starks slipped out of his grip. They fought at ringside. Starks avoided a toss into the ringpost, but Hager landed a boot to his face. They cut to a split-screen break. [c/ss]
Hager beat up Starks during the break. Starks made a comeback after lifting his knees to counter a swing-splash in the corner and then posed. He had to fend off Parker and Mendard at ringside. Starks speared Hager seconds later and scored a clean three count. Starks fled into the crowd to celebrate, knowing he was outnumbered.
WINNER: Starks in 6:00.
-A video recap aired of Adam Cole's return last week. [c]
-Schiavone interviewed Jericho, Sammy Guevara, and Danny Garcia. Sammy put his arm around Garcia's shoulders. Garcia didn't like it. Jericho said he's requested a tag match with Starks & Action Andretti against Guevara & himself. Garcia said he has a match against Andretti this Friday on Rampage and he wants to get his hands on Starks too, so let him be his partner. Sammy said he's so proud of him. He hugged him and said if he beats Andretti on Friday, he can take his place in the tag match next week. Jericho said whether it's the Sex Gods or Garcia-co, Starks & Andretti will be losers next week.
(4) BRYAN DANIELSON vs. BANDIDO – If Dasnielson loses, he loses his chance to face MJF at the PPV

Danielson came out first. The announcers touted Bandido's varied offensive skillset. Danielson settled into a chinlock early.
[HOUR TWO]
They mostly mat wrestled for five minutes. When Danielson rolled to the floor, Bandido dove onto him at ringside. Then Bandido landed a flip splash onto Danielson before cutting to a split-screen break. [c/ss]
Back from the break, fans were chanting "This is awesome!" The pace picked up with Bandido staying on offense. Bandido held Danielson in position for a delay-drop vertical suplex before dropping him leading to a two count. Danielson applied a LeBell lock at 11:00. He torqued his wrist, but Bandido swung his leg around onto the bottom rope to force a break. They countered each other for a couple of minutes with some near falls. With both down and slow to get up, fans applauded.
Danielson hit a leaping knee at ringside. Bandido made a comeback in the ring and leaped off the top rope with an overhead slam. Fans chanted "Holy shit!" Bandido back suplexed Danielson into a bridge for a near fall. Fans chanted "This is awesome!" at 16:00. Danielson hit a Psycho Knee a minute later for the win.
WINNER: Danielson in 17:00.
(Keller's Analysis: Really good match. Definite chapters to that as it built toward the near falls and eventual finish. The crowd ate it up.)
-MJF appeared on the big screen afterward. He said he's hearing him and fans claiming he isn't deserving of his position in the company. He said people seem to have forgotten just who he is and how he became their world champion. He said after all the moments he's given them, they're fickle. He said since they crossed paths, Danielson's only faced Masked Max. He said that Max likes to keep things light and fun. He said the further he goes on the journey, the tougher it will be as his mask begins to slip off. He said Bryan doesn't want that and nobody should. He said Danielson might be a dragon, but not even a dragon is any match for the monster behind the mask.
-They went to the announcers on camera who threw to a video package on the dynamic with Hikaru Shida, Toni Storm, and Saraya. Storm talked about facing Willow Nightingale. [c]
-Renee interviewed Bryan Cage with Prince Nana about the news that he'll be facing Danielson next week. Cage was all smiles. MJF walked up to him and said he needs a Machine. He pulled out an envelope of money and said he doesn't care if he wins or loses, but he wants him to break his arm. MJF slapped Cage. Cage grabbed his throat. Nana said, "Brian, the money." MJF said that feeling he has now is hate and he learned at a young age there is no greater motivation. He said it's a pleasure doing business with him.
(5) WILLOW NIGHTINGALE vs. TONI STORM (w/Saraya)
Excalibur talked about the division between the home grown wrestlers in AEW and the wrestlers like Storm and Saraya. At 3:00, Shida made her way to the ring. They cut to a split-screen break as Saraya had some words for Shida. [c/ss]
Willow landed a second rope dropkick. Storm avoided a corner charge and then landed a hip attack and a DDT for a near fall. Willow checked Storm out of mid-air and then lowered her straps. She landed a cannonball in the corner and scored a two count. Saraya stood on the ring apron. Storm then rolled up a distracted Willow for the three count.
WINNER: Storm in 7:00.
-Afterward, Saraya attacked Willow. Storm joined in stomping away at her. Shida watched with concern as Ruby ran out for the save. Ruby looked down at Saraya and Storm. Fans chanted "Ruby!" Ruby's music played as Saraya asked, "Are you serious?" Excalibur said he can't believe what he saw from Saraya and Storm.
-Excalibur hyped Rampage: Garcia vs. Andretti, an Eddie Kingston promo, Brian Cage vs. Willie Mack, Ethan Page vs. "Jungle Boy" Jack Perry, and Jade Cargill & Leila Grey in action. A vignette aired on Perry vs. Ethan with a soundbite from Ethan and Stokely Hathaway. [c]
-Clips aired of Danielson vs. Takeshita from last week.
-Renee interviewed Takeshita backstage. She called his match against Danielson incredible. He said he looks up to him so much. He said he doesn't respect MJF. He ranted in Japanese at him. Renee asked for a translation. He said, "It means MJF is an asshole." Renee chuckled and said, "Perfect."
(6) DARBY ALLIN vs. KUSHIDA – TNT Title match
Justin Roberts did formal ring introductions. Kushida then made his entrance with his sunglasses. Darby made his entrance and then was joined by Sting. Schiavone yelled Sting's name. The bell rang 45 minutes into the hour. Kushida had Darby grounded at 2:00 and worked over his arm. A dueling chant broke out for both wrestlers. Darby hit a Code Red. When Kushida rolled to the floor, students at the L.A. Dojo checked on him. Darby flip dove onto them. Kushida then drove Darby's shoulder into the ringside mat as they cut to a split-screen break. [c/ss]
Kushida dominated during the break and for a while afterward. Darby fought back on the ring apron and landed an over-the-top stunner. Darby took a nasty bump on his landing, too, which the announcers pointed out. Darby leaped off the top rope toward Kushida at ringside, but Kushida side-stepped him and then locked on an armbar. Taz said he needs Darby to get back into the ring. Kushida beat the count. Darby struggled to his feet and beat the count. Kushida went for arm submissions, but Darby eventually bridged backwards and leveraged Kushida's shoulders down for a three count. Excalibur called it a highly technical move by Darby.
WINNER: Darby in 14:00 to retain the TNT Title.