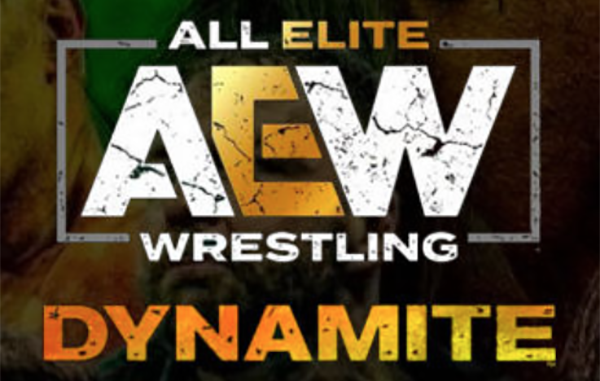 ---
SPOTLIGHTED PODCAST ALERT (YOUR ARTICLE BEGINS A FEW INCHES DOWN)...
---
AEW DYNAMITE REPORT
JANUARY 25, 2023
LEXINGTON, KY. AT RUPP ARENA
AIRED LIVE ON TBS
Commentators: Excalibur, Taz, Tony Schiavone
Ring Announcer: Justin Roberts
---
[HOUR ONE]
(1) CHRIS JERICHO & SAMMY GUEVARA (w/Daniel Garcia) vs. ACTION ANDRETTI & RICKY STARKS
The show opened with Jericho's "Judas" playing and Jericho, Guevara, and Garcia making their entrance. Excalibur said Jericho hadn't lost twice in a row until he lost to Andretti and Starks. The announcers talked about Jericho and Guevara being a team since the first episode of Dynamite in contrast with Starks and Andretti who were teaming for the first time. Andretti and Guevara went into a rapid-fire sequence of moves and counter-moves early leading to some applause. Guevara extended his arm for a handshake, but then superkicked Andretti. He played to the crowd. Fans chanted "Sammy sucks!" After Sammy rallied again, he gloated. They cut to a close-up of Starks looking at him like he was a fool. Andretti dove through the ropes aiming for Guevara, but he hit Garcia instead when Guevara moved out of the way. Guevara then corkscrew flip dove at Andretti as Garcia applauded in the background. Fans began chanting "We want Ricky!" at 4:00.
Starks and Jericho tagged in. Starks took early control and catapulted Jericho into the corner. Starks walked the top rope. He got cocky and struck a pose. Guevara gave him a cutter off the top turnbuckle. The announcers said Starks was cocky. (That made Starks looks ridiculous. The top rope walk is dumb enough anytime anyone does it, but when there's no sense of urgency and it's a babyface posturing for the camera or the crowd and ends up smashed into the mat, it makes him look bad.) Guevara tagged in officially and beat down Starks.
Andretti got a hot-tag and took it to Jericho in the ring and then dove at Starks at ringside. He played to the crowd. Schiavone said Andretti was impressive for someone with just three years in the ring. Starks tagged in and speared Jericho, but Guevara charged in and dropped an elbow. However, Starks moved so Guevera's elbow hit Jericho. Jericho rolled up Starks who had his back turned leading to a two count. Starks landed a sitout powerbomb for a near fall. He tagged Andretti back in and slingshot him into the ring for a senton onto Jericho. He followed with a split-legged moonsault out of the corner, but Jericho lifted his knees.
Starks threw Jericho into the ringpost at ringside as Andretti landed a reverse huracanrana followed by a neckbreaker for a near fall on Guevara. Starks gave Jericho his finisher at ringside. Guevara leaped off the top rope with a cutter attempt, but Andretti caught him. Garcia hit Andretti with a baseball bat. Garcia then hit the GTS for the win.
WINNERS: Jericho & Andretti in 14:00.
(Keller's Analysis: Andretti looked really good here. Guevara and Jericho were effectively unlikable. Garcia is embracing being a heel, too. He didn't seem to have any remorse.)
-The announcers hyped the line-up. Excalibur noted that Britt Baker was injured and was out of her scheduled three-way match. Then a video package aired on the Briscoes including a lot of family videos including his daughter saying her daddy is crazy but she loves him. Excalibur said it'll be a very special main event.
-Buddy Matthews made his ring entrance with Julia Hart. [c/ss]
(Keller's Analysis: Is that the first time AEW has done a ring entrance and then a commercial before the second ring entrance?)
(2) DARBY ALLIN (w/Sting) vs. BUDDY MATTHEWS (w/Julia Hart) – TNT Title match
As Darby made his entrance, the announcers talked about Darby wrestling over the weekend in Japan with Sting and Great Muta in Muta's final match. They said Darby did not come out of that match unscathed. Schiavone said Darby is taking on an onslaught of matches lately. The bell 24 minutes into the hour. Matthews and Darby each had half of their face painted. Matthews landed a running high knee at the start and then tossed Darby around ringside. Darby made a comeback before returning to the ring and then dove at Matthews through the ropes. Matthews caught him and slammed him on the ring apron. Then he swung him into the ringside barricade. Darby reversed Matthews into the barricade seconds later. At 4:00 the lights went black. When they came back on, Brodie King and Malakai Black were standing at ringside. Ortiz ran out with a kendo stick and bashed Brodie. Black attacked him. Sting joined in the fight with a baseball bat. They cut to a partial split-screen break with Darby and Matthews both down in the ring. [c/ss]
Back from the break, fans chanted "This is awesome!" after another exchange that left both wrestlers down on the mat. Matthews landed a buckle bomb and a stomp for a near fall. Darby made a comeback and climbed to the top rope. Matthews stood and knocked Darby off balance. Darby managed to execute a top rope Scorpion Death Drop for a near fall. Darby followed up with a Coffin Drop as Matthews was bent over the middle rope and got the three count.
WINNER: Darby in 13:00 to retain the TNT Title.
(Keller's Analysis: Good match.)
-Schiavone entered the ring to interview Darby who could barely stand afterward. The ref helped him to his feet. Schiavone talked about his match in Japan this past weekend and touted his wins over Mike Bennett, Juice Robinson, Kushida, and now Matthews after beating Samoa Joe for the title. Samoa Joe interrupted on the big screen. He said he's coming for Darby and Darby looked on. Excalibur said he'd like to see a rubber match between them.
-A video package aired on Adam Cole's return to AEW. He spoke about his six months recovery process. He said no one has any idea how much he missed being in the ring and in front of the fans. He said it feels great to be back. He said the hard work is paying off even if he's not ready yet to wrestle. He said he will be a brand new Adam Cole. He said he's not sure when he will return, "but I promise you that day is coming soon."
(3) HOOK & "JUNGLE BOY" JACK PERRY vs. ETHAN PAGE & MATT HARDY (w/Stokely Hathaway, Isiah Kassidy)

Ethan complained during the ring entrance that they played the Hardys' entrance theme instead of his. Stokely Hathaway took issue with Isiah Kassidy not siding with Ethan. Hook made his entrance next. Then Perry. The bell rang 43 minutes into the hour. Ethan began against Perry. Then both teams squared off mid-ring. Ethan shoved Hook, then ran out of the ring. Hook went after him and chased him at ringside. Ethan blocked a suplex and set up an Ego's Edge at ringside. Perry broke it up. They cut to a split-screen break with the heels in control. [c/ss]
When Hardy had Perry down after a Side Effect, Ethan insisted Hardy tag him in before Hardy could hit the Twist of Fate. Perry, though, countered a cocky Ethan with a Snare Trap. Hardy reached for a tag. Hook yanked Hardy off the ring apron. Ethan then tapped out.
WINNERS: Hook & Perry in 9:00.
-They went to the Family Therapy session with Billy Gunn, Max Caster, Anthony Bowens, and Austin & Colten Gunn with a therapist. The Gunn boys talked about how Billy wasn't a dad for them because he was always on the road. Bowens said they are pieces of shit because they had a chance to fix it and chose not to. Caster said he has no sympathy for them. Austin said they were there for them, but they named them Ass Boys. Gunn cut off their arguing and said he gets both of their perspectives. Colten said their faults are a result of Billy's faults as a father. Billy asked what would make them happy. The Gunns said the belts would make them happy.
(Keller's Analysis: That was pretty straight forward. For better or for worse, I was expecting something a lot more corny than that. That was an incredibly efficient therapy session, too.) [c]
-Renee Pacquette interviewed "Hangman" Page. She asked him to elaborate on what he's expecting next. Hangman said the more he tries to look forward, he ends up looking back to Ohio where things started with him and Jon Moxley. He said next week they're in Dayton, Ohio. He said he'd like to try to knock him out. Wheeler Yuta interrupted and said it will be impossible for him to knock out Moxley. He said he's not there this week, but he accepts his challenge on his behalf. He then challenged Hangman to a match this Friday on Rampage. Hangman asked why Yuta thinks what happened to Moxley won't happen to him too.
[HOUR TWO]
(4) BRYAN DANIELSON vs. BRIAN CAGE (w/Prince Nana) – Part of the MJF Challenge Series
The bell rang at the top of the hour. Excalibur said if Cage beats Bryan tonight, he'll become the no. 1 contender. He was listed at 4-0 this year. They showed a clip of Cage beating Willie Mack on Rampage on Friday. The battled back and forth for several minutes early. At 4:00 Cage sold a shoulder injury. Cage slammed Danielson on the edge of the ring. They cut to a split-screen break at 5:00. [c/ss]
Cage dominated during the break at ringside and then back in the ring. He suplexed him into the ring and then landed a Germans suplex onto Danielson's shoulder. Danielson made a comeback and landed a rolling elbow. When he went for a Psycho Knee, Cage caught him and powerbombed him and set up another but Danielson sunset flipped him for a three count.
WINNER: Danielson in 13:00.
-Afterward, Cage tried to break Daneilson's arm. He put his shoulder in a chair and threw him into the ringside steps. Cage then threw Danielson back into the ring where MJF attacked him. As he was going to leap off the top rope onto Danielson's arm in a chair, Konosuke Takeshita ran in for the save. MJF scurried away. [c]
-After a replay of what happened before the break, Renee checked on Danielson as a trainer was checking on him. The trainer said it doesn't look good. Renee asked if he can wrestle. As the trainer was about to say something, Danielson went into a rage and said he's wrestled 60 minutes with a separated shoulder so he's not letting this stop him. He said he's going to take what means the most to him – that AEW Title – and show the world that behind MJF's mask is a fraud. He said he should be and will be the AEW World Champion. He looked at the trainer and said he won't let him stop him.
(5) TONI STORM vs. RUBY SOHO
As Storm made her entrance, a soundbite aired saying Ruby is a misfit and her "homegrown friends" are idiots. As Ruby made her entrance, a soundbite aired with her saying she worked her ass off to get to AEW and fight and bleed with AEW wrestlers. She said everybody's journey starts somewhere and Toni shouldn't look down at her friends for starting their national fame in AEW. She said Storm's path ends tonight. The bell rang 24 minutes into the hour. After some early back and forth action, Storm took control at ringside. They cut to a split-screen break. [c/ss]
During the break, Storm continued to dominate. Back from the break, Ruby came back and hit her No Future for a near fall. Storm took a knee to the face and backed away. The ref checked on her and backed Ruby away. Excalibur said she fractured her nose at Full Gear. Schiavone said they might have to stop it. Storm suddenly yanked Ruby into the bottom rope and revealed she had just lured her in. Excalibur said she was just preying on their friendship. Storm DDT'd Ruby for a two count. When she set up Storm Zero, Britt Baker's music played. Storm dropped Ruby briefly to stare at Baker. She then turned back and Ruby landed Destination Unknown for the win.
WINNER: Soho in 8:00.
-They went to MJF backstage who apologized for talking in a dimly lit room, but "unfortunately some people can't control their emotions around here." He said he's not the first Jew who had to hide from someone with blue eyes. He said he still thinks "Take-a-shit" is funny, but he can't force fans to have taste. He said Danielson is really talented, but he's not smart because he wants to dance with the Devil. He told him to stay out of his business or there will be consequences. He asked how his arm is doing, and said it's hanging by a thread. He said the fans see him as a hero, but he knows he's obsessed with the AEW belt. He said the belt gives him a reason to get out of bed in the morning. He said all his blood, sweat, tears, and sins were worth it. He said the belt makes him feel whole. He asked Danielson why he wants to take it from him. "Don't you have enough, man?" he said. He said he has a family and a Hall of Fame career. He said he knows he has a hole in his soul and he's trying to fill it. He said bad things happen to people who mess with MJF in AEW. He said he knocked out some British guy who looked like Ellen Degeneris on meth. He said if he keeps threatening to take away the one thing that gives him happiness, he will find out that tonight's physical pain isn't as bad as the mental pain he can dish out next. He said he made a phone call to someone who likes dishing out pain. He said it's been a fun ride, but it's over. "Run the clip," he said.
A clip aired of Timothy Thatcher as Excalibur gasped and explained who he is. He said he's the modern day incarnation of Billy Robinson and competes in Pro Wrestling Noah in Japan. The showed him winning with a Fujiwara Armbar. Excalibur said it's official for next week.
(Keller's Analysis: That's how you introduce a guest mercenary. Danielson vs. Thatcher should be fun!)
-Excalibur hyped Rampage featuring Hangman vs. Yuta. Also next week's line-up including Powerhouse Hobbs and Jamie Hayter vs. Emi Sakura. A soundbite aired with Hayer. Excalibur also hyped Hangman vs. Moxley, Danielson vs. Thatcher, Darby vs. Samoa Joe for the TNT Title in a No Holds Barred match, and The Acclaimed in action.
(Keller's Analysis: That's a heck of a line-up.)

-Ian Riccaboni and Caprice Coleman joined Excalibur at the announce desk, replacing Taz and Schiavone.
-Jay Lethal came out and he was teared up. He hugged Sonjay Dutt and then made his entrance. He was barely holding it together as he raised his arms and looked at the hard cam. [c]
(6) MARK BRISCOE vs. JAY LETHAL
Briscoe's ring entrance took place. Riccaboni talked about his history and friendship with the Briscoes. He said Mark is the 38 year old brother of the late Jay Briscoe and noted he was too young to wrestle on the first-ever ROH event. ROH ring announcer Bobby Cruze did formal ring introductions. The bell rang 45 minutes into the hour. Mark addressed Lethal mid-ring. Lethal was crying. Excalibur said it's a true honor to be calling the match. They plugged a Briscoe's t-shirt and said 100 percent of the proceeds go to Jay Briscoe's family. A "Briscoe!" chant rang out. Excalibur said referee Paul Turner knew Jay well. They cut to a split-screen break a few minutes in. [c/ss]
Mark set up a Jay Driller, but Lethal blocked it. Excalibur talked about how the Briscoes defined tag team wrestling and were influential around the world. Mark landed a running blockbuster off the ring apron at ringside. Mark landed a leaping flying elbow drop off the top onto Lethal, driving him through a table at ringside. Fans loudly chanted "Holy shit!" He scored some near falls in the ring. He finished Lethal with the Jay Driller. Mark leaned on the middle rope and sent fans and his late brother his love.
WINNER: Mark Briscoe in 12:00.
-The AEW locker room of wrestlers and staff filled the stage and applauded while standing under a giant image of Jay Briscoe on the entrance stage. Lethal and Mark hugged. Mark broke down in the ring as he pointed at the fans. Excalibur said whether fans realize it or not, Jay had an influence on what they love about pro wrestling. Riccaboni said his daughters wil carry on his legacy. Mark hugged Christopher Daniels and Tny Khan first, and then multiple other ROH wrestlers including B.J. Whitmer and Samoa Joe.
(Keller's Analysis: Very classy and emotional segment. A fitting tribute, with Excalibur doing a really nice job communicating to AEW viewers who aren't ROH followers what Jay meant.)