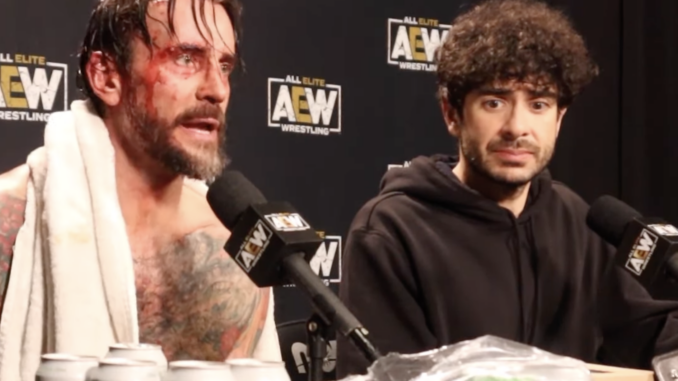 ---
SPOTLIGHTED PODCAST ALERT (YOUR ARTICLE BEGINS A FEW INCHES DOWN)...
---
Twenty-twenty-two was Tony Khan's Year of High Drama as All Elite Wrestling made as many headlines behind the scenes as it did in the ring.
It was the first year in the promotion's short existence that previously low-volume chatter about a lack of focus and attention to detail, an inability to use enough of a large roster relative to the TV time available, and a fear-of-confrontation management style grew into audible criticism.
When you put all of AEW's drama in one place (as this article attempts to do), the bigger picture and important context emerges: Khan did well to hold his wrestling company together despite one big tribulation after another.
Many of the problems were out of Khan's control. That isn't to say some of the drama wasn't self-inflicted, or to provide a blanket excuse for what in many corners is viewed as an off year for Khan (and AEW's off-year would be a pretty good year for most promotions in the history of U.S. wrestling).
Let's go month-by-month to recap how AEW's 2022 difficulties unfolded and assess at where each of the individual episodes of drama stand going into 2023.
January
Tony Khan's difficult 2022 actually started on New Year's Eve 2021. A few hours ahead of midnight, he took to Twitter to respond to Big Swole's comments about the lack of structure in AEW and what she described as a lack of diversity among decision-makers. Tony tweeted that the top two execs are brown and noted that seven Black performers all won on TV that month and said he let Swole's contract expire because her wrestling wasn't good. That led to a lot of important discussion in the wrestling world about AEW's diversity situation, with the promotion found lacking in some quarters. The talk seemed to go away as 2022 unfolded.
That same month, there was the Cody Rhodes Contract Drama. Will he stay, or won't he? Khan had a chance to exercise an option to roll over Cody's deal for a year and he chose not to as talks continued. Fans continued to boo Cody despite a herculean effort to turn around that reaction. By mid-February, Cody announced he was leaving AEW and he showed up at WrestleMania as Seth Rollins' opponent. Neither Rhodes nor Khan has publicly said what led to the breakup.
As we head into 2023… Cody looks set to return from injury, likely at the Royal Rumble, and possibly win a world title in WWE. I didn't think his departure hurt AEW much from an on-camera perspective because Cody's segments were so disconnected from the rest of the promotion, but it had an impact backstage, according to Khan. He told Grapsody last month, "When (Cody) left, that was a major challenge… in terms of the presentation and backstage." Rhodes's star power has been missed, but Khan has done a better job at the end of the year in trying to create and push new stars.
February
A rare quiet month. Even then, Khan faced some bad press at the start of the month when he attempted to bring in Brian Kendrick for a TV match for the Feb. 2 Dynamite in Chicago. Kendrick's awful past comments about the Holocaust resurfaced, and he was out before he was in.
March
Khan buys Ring of Honor and announces this development with a rare on-camera appearance that might have worked better as a pre-taped segment. This wasn't high drama in the moment, but proved to be a frustration all year as Khan tried and failed to get a TV deal with Warner Brothers Discovery. It caused some fan backlash as ROH matches were featured on AEW television as Khan tried to keep alive the brand name as he sought a TV deal. He didn't want to be the one to kill the promotion that he loved in his 20s.
As we head into 2023… Khan announced in December that a weekly ROH show would air on the Honor Club streaming service with hints that New Japan will be involved. PPVs have continued and drawn reasonably well for ROH.
April
On the surface, a lighter month for drama, but this also was the month the Warner Brothers/Discovery merger happened and the massive cuts began at the massive media company. Publicly at least, it cast uncertainty over what kind of TV renewal AEW can score from a WBD that is looking to do the opposite of spending big money on shows.
In a piece of social media drama, Khan let rip an amazing tweet that he hired someone to do an outside study and they found much of the "staunch anti-AEW online community isn't real but a staff running thousands of accounts and an army of bots to signal boost them." He implied WWE was behind this. Heading into 2023, that study has yet to be released.
As we head into 2023… AEW presumably will start negotiating a new TV deal with WBD at some point this year, although it's been reported WBD could extend the deal through 2024 at some sort of increased price. A healthy contract renewal is the single most important thing for AEW if they're going to be able to compete with WWE for talent and for the company to get some mid-term stability. Will WBD up its yearly deal from $44 million to $88 million or even $120 million? All of the corporate and content bloodletting isn't a good sign. And the executives AEW deals with keep getting let go as part of the constant shakeups.
May
A seed was planted as then-champ "Hangman" Adam Page dropped in an on-screen dig at challenger C.M. Punk, who had tweeted support for Sasha Banks and Naomi, telling wrestlers to stand with their co-workers whether you like them or not. Page questioned whether Punk lived up to "workers' rights" in his own locker room. This would prove critical in a few months when a rankled Punk could not let it go and delivered not one, but two receipts to Page.
The end of May brought a ton of drama over Double or Nothing weekend as MJF no-showed a Fan FDest as rumors swirled over whether his long-simmering match with Wardlow would take place. MJF then did a quick squash job and followed that up a few days later with an expletive-filled TV rant against Khan before disappearing for three months. This one is tricky because it's wrestling, and you don't know what's a work and what's a shoot turned into a work. They sure could have used MJF on TV last summer with all the injuries.
As we head into 2023… MJF is being pushed as the promotion's top star and he's doing whatever he can to break into mainstream consciousness. He's had to go lowest-common-denominator with a lot of cheap heat to get fans to boo him instead of treating him like a '90s anti-hero babyface. It's unclear, but certainly possible that MJF already has extended his contract. If so, his on-screen posture of a bidding war for his services in 2024 is all storyline. If it's not, and MJF leaves for WWE after a year-plus mega-push, Khan will be viewed as a dupe who risked a lot and lost a top star during a wrestling war.
June
Injuries were the story and booking plans were greatly upended as AEW had Punk injury #1 (the foot injury), Bryan Danielson's concussion from Double or Nothing, and Adam Cole's severe concussion at Forbidden Door. Speaking of that show, Khan faced a lot of drama booking Forbidden Door. Between the injuries changing up the card multiple times and some New Japan stars not being available until just before the PPV led to lots of questions about the build for the show.
As we head into 2023… We'll talk about Punk later. Danielson now is in a world title program with MJF while Cole just returned to great acclaim on the Jan. 11 Los Angeles show. Forbidden Door turned out to be a big success and it sounds like we'll see another one this year.
July
A slow month for drama (that the public knew about, anyway).
August
Khan starts the month by announcing a revamped talent relations team amid talk of a lack of support for wrestlers and a divided locker room. Paul Levesque takes over WWE creative and several former WWE wrestlers in AEW are contacted about coming back. It adds to the already high backstage tension in AEW. This bothers Khan greatly, and he lets loose at the All Out post-show media availability. "I'm not going to sit back and take this f'ing (crap)" from WWE, he says. It was a strong statement that was mostly buried by the other news coming out of the post-show.
Beyond that, Sammy Guevara and Eddie Kingston fight backstage. And amid much heat with her colleagues, Thunder Rosa says she's injured and – wouldn't ya know it – she won't be dropping the belt at All Out to Toni Storm. Punk embarrasses "Hangman" Page by calling him out for a match off-script, still enraged about Page's off-script moment in May building their PPV match
As we head into 2023… Khan is still dealing with the same dynamic. Miro's wife, the former Lana, hints that her husband will go back to WWE. Andrade wanted to go back and is injured and out. Malakai Black wanted out, but has returned. And FTR is apparently off TV for a few months with their contract apparently set to expire this spring. Vince McMahon's return to WWE could dampen enthusiasm among wrestlers for a jump back to their old company and restore Khan's previous competitive advantage in attracting talent.
September
The highest drama month for sure due to the All Out press conference mishegoss with Punk blistering the Young Bucks and "Hangman" Page while disrespecting Khan, who was sitting next to him, and then the backstage brawl between The Elite and Punk and Ace Steel. Everyone gets suspended pending an investigation and no one talks publicly for legal reasons. I was second row during the media availability and it was super uncomfortable. Punk is injured in the main event match with Jon Moxley and Khan has to rebook the world title (and other programs) yet again.
As we head into 2023… The Bucks and Kenny are back. Ace Steel is gone. Punk is thought to be gone but hasn't been released yet. He's still recovering from his torn triceps and now there's talk that hey, maybe time heals all wounds and they should do business. If it's a nine-month recovery, that would put Punk healthy potentially in time for the summer. Going back to WWE would seem a less palatable option for Punk if McMahon is there.
October
We didn't find out until December, but Khan spent much of the fall dealing with his mom having two strokes, one in maybe mid-September and one in October. The Khan family appears to be very close and his mother's health had to be weighing mightily on Tony as he juggled his various jobs and tried to book two weekly TV shows. Perhaps some of the criticism about a lack of focus and logic in AEW's booking during this time period and just after Full Gear can be chalked up to this. Khan also had to rebook the fall TV on the fly as Punk was out again with injury and suspension and The Elite were suspended as well. With so much star power sidelined, ticket sales dropped in many cities.
As Khan is dealing with family concerns, William Regal wants out. Andrade fights Guevara backstage in an attempt to get out of his deal. And there's the Ariel Helwani interview that went wrong. Khan wouldn't answer the relevant questions about Punk and The Elite, and Helwani afterward stepped in it by making it all about himself, suggesting Khan didn't like him and calling fans liars if they thought AEW had a better product than WWE.
November
Khan brings in Jeff Jarrett as an on-screen performer and business development executive. AEW's front office is short staffed, and Jarrett has decades of experience, much of it unprofitable. Jarrett gets an immediate push in a tag title program and this draws significant criticism given the many underutilized wrestlers on the roster and the stink of failure Jarrett represents to the average TV viewer.
As we head into 2023… Jarrett's time as a performer got decent reviews as he drew heel heat, even if that couldn't erase the negative perceptions about AEW putting him on-screen in the first place. Khan said recently running house shows "is something we are talking about," and Jarrett worked briefly in WWE overseeing live events. AEW's less experienced wrestlers could use more reps in the ring, but it's unclear how profitable house shows would be if top stars don't appear. There's also the chance performers could get injured, and given AEW's workrate-focused style, more injuries are something the promotion can ill afford.
December
AEW seemed to get back on track, courtesy of more focused booking, continued great matches, and a string of super-hot crowds. A three-week stretch in Texas elevated Dynamite with loud reactions for most of the two hours. That continued for the first Dynamites in January that featured rabid fans for a Seattle debut and a return to Los Angeles. Since mid-to-late November, Khan has trimmed back on the number of wrestlers featured on his main weekly show and moved other storylines to Rampage, where ratings remain low but are better than when they were cratering.
As we head into 2023? Dynamite ratings have been up and down by 100,000 or so viewers week to week, and Khan's hope is that putting on a continued quality product will cut down on the ratings fluctuations and get the promotion back over the benchmarks of 1 million total viewers and a .35 rating in the key 18-49 demographic.
---
(Eric Krol was a Pro Wrestling Torch Newsletter columnist circa 1990 and has returned to pro wrestling analysis with frequent appearances on the Wade Keller Pro Wrestling Post-shows and article contributions to PWTorch.)