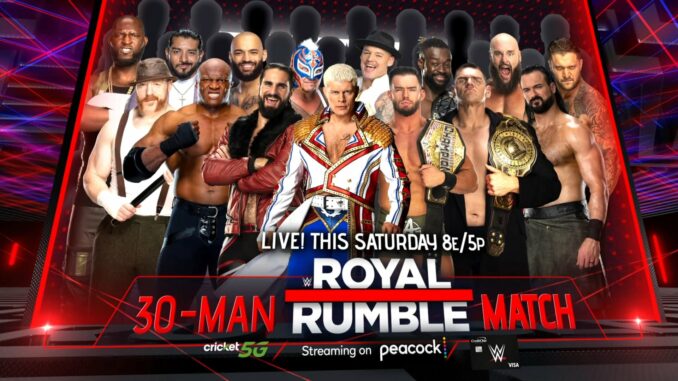 ---
SPOTLIGHTED PODCAST ALERT (YOUR ARTICLE BEGINS A FEW INCHES DOWN)...
---
We're here. The Road to WrestleMania, the most exciting time of year for a wrestling fan, the WWE Royal Rumble 2023.
There is something majestic about the Royal Rumble that makes it stand out among other WWE events throughout the year. For one thing, it's the first major event of the year usually, with brings with it intrigue and a new sense of something fresh. It's also an event that carries major weight for what is the biggest show of the year, WrestleMania.
Sure, it's kind of silly to crown a number one contender for a championship at the biggest show of the year with a battle royal, but we're here. This is what it is and throughout the years the Royal Rumble becomes a bigger and bigger, built on history and meaning.
The matches on this year's Royal Rumble show are arguably the most predictable in history, but they carry intrigue within the execution of that predictability.
Call this a preview, a calm look into the distant future, or a gaze into a wondrous crystal ball; just don't hold me to anything, ok?
Bianca Belair vs. Alexa Bliss – WWE Raw Women's Championship
Bianca Belair is ice cold and the build for this feud hasn't helped that issue much at all. At the same time, Bliss simply isn't a credible champion at this point in time. So, Belair is keeping the championship tonight. It's the only call to make. She can go on to WrestleMania and work with Rhea Ripley. Charlotte Flair as a potential opponent works too. Bliss issues aside, Belair holding the championship is keeping her relevant at this point. With WrestleMania so close, WWE can't and won't mess with that.
Bray Wyatt vs. LA Knight – Pitch Black Match
Ohhhhh dear. Are we ready for this? I'm expecting an unmitigated disaster and hoping for anything better than that. A gimmick match like this is not what Wyatt needs right now. A big issue has been his character translating into the ring and silly stipulation like this – sponsored or not – is another trick of a match instead of something legitimate.
Roman Reigns vs. Kevin Owens – WWE Undisputed Universal Championship
It's hard for Roman Reigns matches to carry drama due to the nature of his championship run. Reigns and Owens have built a story in which you can suspend belief for 12 minutes of a match and convince yourself that Owens may be able to pull it out. That's a win. Reigns is going to retain. We know this. How he retains is intriguing. Will Sami Zayn be involved? Will he not be? If he is, how? That alone is a major reason to pay attention to this one.
Women's Royal Rumble Match
A bit of a disaster and therefore a one-woman show. Rhea Ripley? Step right up. Ripley is the only way to go in this one. She's the hottest woman in either division right now, so WWE will work to feed that momentum with this match. Yes, that leaves Becky Lynch on the sidelines – not smart – but a Lynch win poses other issues. Two big ones. Becky vs. Bianca at WrestleMania or Becky vs. Charlotte at WrestleMania. Both matches have been done, done, and done again. Neither are WrestleMania worthy any longer. A good bet would be Lynch joining a title match making it a triple threat, which is ironic in so many ways.
Men's Royal Rumble Match
This thing is going to be so damn intriguing. It'll either be Cody Rhodes or Sami Zayn taking the victory here. I'll go on record officially. Neither would be a bad choice for WWE, but each direction would be significantly different from the other. Now, that said, WWE is signaling Cody taking the victory. Like, in a big way. The return packages are working to build anticipation to not only see Cody, but see him win. If he doesn't, he'll lose momentum before he gets any real chance to establish any. Not good. This is why Paul Levesque will pull the trigger on the Cody win. Sami won't lose anything if he doesn't win, but Cody will. Plus, Cody is popular enough where if Sami's Royal Rumble match involvement is done correctly, WWE shouldn't have a rebellion on their hands in San Antonio either. Cody vs. Reigns is your WrestleMania main event.
---
CATCH-UP: VIDEO: PWTORCH FIRESIDE CHAT 1/26: WWE Royal Rumble 2023 preview, Dynamite discussion, more