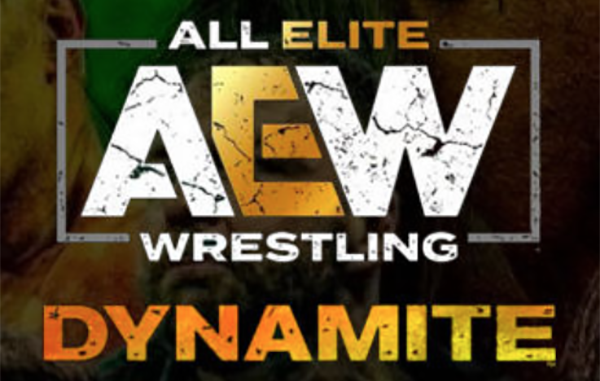 ---
SPOTLIGHTED PODCAST ALERT (YOUR ARTICLE BEGINS A FEW INCHES DOWN)...
---
AEW DYNAMITE REPORT
MAY 17, 2023
LAS VEGAS, NEV. AT MGM GRAND GARDEN ARENA
AIRED ON TBS
Commentators: Excalibur, Taz, Tony Schiavone
Ring Announcer: Justin Roberts
---
[HOUR ONE]
-After the Dynamite opening aired, they cut to the arena where Excalibur introduced the show as pyro blasted.
(1) ORANGE CASSIDY vs. KYLE FLETCHER – International Title match
The bell rang three minutes into the show. Fletcher charged at Cassidy and landed a quick kick to the face as Cassidy was adjusting his elbow wrap. He followed with a brainbuster suplex for a near fall. After a comeback by Cassidy, Fletcher was nearly counted out at 3:00. Cassidy hit a series of moves with his hands in his pockets, but Fletcher cut off his flurry with a kick for a near fall. They cut to a split-screen break at 5:00. [c/ss]
Fletcher scored a near fall after a spinning Michinoku Driver at 10:00. After several minutes of back and forth action, Cassidy rolled up Fletcher for a three count.
WINNER: Cassidy in 15:00.
-Renee Paquette interviewed Ricky Starks about him getting DQ'd last week in his match against Jay White. She asked what is going on with him. Starks said it's no secret he's the hot-head around here. Here said it's the same thing every week, getting beaten up by Jay White and Juice Robinson. He said he's going to take things into his own hands, which is winning the Blackjack Battle Royal. Juice and White attacked him and Renee fled. [c]
-A promo aired with "Jungle Boy" Jack Perry who talked about how the drive to Las Vegas is emotional for him. He said the first Double or Nothing was one of the lowest points in his life. He said every time he makes that drive, he's a little different than he was before. He said the ring has given him a purpose and let him be the man he wants to be and live the life he has chosen to live. He said he is driving away from Las Vegas next time as the AEW World Champion.
(Keller's Analysis: The selling point of this match with the challengers is largely that this is their chance to fulfill a dream after people told them they'd never make it. That's a nice story to tell. With three babyfaces against one heel in MJF at this point, there's a risk of MJF seeming outnumbered and sympathetic. However, it's MJF, so that's probably not going to be an issue.)
-FTR made their entrance. Excalibur talked about the AEW Tag Team Title match at Double or Nothing with Mark Briscoe as special referee. Cash Wheeler listed bad things he could say about Jeff Jarrett & Co. He said he's smart, though, and has outmaneuvered them every step of the way. He said they've also been lucky, but Sunday their luck runs out. Dax Harwood said he doesn't blame Jarrett for attaching his name to them, the greatest tag team in the world. He said they won't allow a couple of rejects from TNA to take those belts from them. He took a dig at Karen, calling her "a bitch of the wife." He also snuck in a dig at Dixie Carter, referring to her as the Queen of the Mountain. He then said, "Top guys, out."
Mark Briscoe made his way to the ring to his entrance theme. Schiavone said he's gotten to know Mark and said he's a level-headed guy and perfect to be a referee. Cash said last year three times they went to hell and back with him and his brother, and this year they'll go to hell and back for him. Mark said they are blood-brothers for life, but he asked Dax what the piledriver was all about. Dax said it was a mistake. He told him to shake his hand like a man. Mark swatted his hand away. Dax insisted he shake his hand again. Mark slapped him. Cash intervened and held Dax back. Cash told Mark to think before acting. Mark left the ring and shoved Karen aside and shoved Sonjay Dutt. Jeff Jarrett, oddly, stayed optimistic and raises his arm for a high-five. Mark slapped him. Mark told Jay Lethal he's his boy, but he's getting tired of his bullshit. He shoved him and walked away at Satnum Singh asked him what was going on.
(Keller's Analysis: Mission accomplished in terms of making it clear Mark isn't going to necessarily take a side in the match. Jarrett looked foolish in a comedic way by thinking Mark might high-five him. Mark's shove of Karen was a little stiffer than ideal.)
-Renee interviewed Sammy Guevara backstage. Renee said MJF told him the offer still stands to lay down for him. Guevara said it's a lot of money, but "hell no, I'm not going to lay down for you." He told MJF he might think everything is for sale, but it's not. He said old bosses offered him raises but insisted he live in the "real world and grow up." He said they can shove their offers up their asses. He said he's a successful pro wrestler and he's going to take the title from MJF.
-As House of Black made their ring entrance, Excalibur said the Dealer's Choice from the challengers was no tags needed to switch wrestlers legal in the ring. They cut to a split-screen break. [c/ss]
(2) HOUSE OF BLACK (Malakai Black & Buddy Matthews & Brody King w/Julia Hart) vs. A.R. FOX & BLAKE CHRISTIAN & GRAN METALIK  – AEW World Trios Championship
The bell rang 39 minutes into the hour. A few minutes in, Christian grabbed Brody's boot as he ran the ropes. That led to a brawl at ringside. Fox then springboard dove onto the crowd below. He let out a big roar. Eventually House of Black put all three opponents in various submission holds and won.
WINNER: House of Black in 5:00.
(Keller's Analysis: What did the challengers do to earn a title shot? They put up a little fight, but overall it cheapens the titles to give title shots just for the sake of having a title match on TV.)
-A video preview aired for the Anarchy at the Arena match with soundbites from Jim Ross and the participants.
-Backstage, the entire Blackpool Combat Club were gathered. Bryan Danielson spoke about their intent to end the Elite on Sunday. Jon Moxley said he's not trying to sell anyone anything when they talk about their intentions. He said they do the job the way it's meant to be done. He said there's nobody in the world better at it than them. He said at this level, only one thing matters. "Are you willing to step up to the plate and deliver when it counts," he said. He said they will deliver on Sunday. He said they'll stand tall in a storm of violence and show the difference between professionals and amateurs.
-Excalibur hyped that MJF was up next. [c]
-MJF made his ring entrance. He walked over to the announce desk and took Schiavone's cup, took a swig, and then threw it on Schiavone. Taz laughed uproariously. Excalibur called him a piece of human garbage. MJF entered the ring and asked for his music to stop. He said it's funny that they call that place Sin City, but as looks around, he thinks the name should be changed to Virgin Vegas. He said a lot of people want to know how he feels with the crowd stacked against him. He said he wants Guevara to keep sticking his tongue out and stick it in a light socket. He said he wants Darby Allin to have his wish granted of climbing Mt. Everest with his shoes untied. He he wants Perry to be locked in an echo chamber and forced to talk so he could bore himself to death.
He said unlike the fans, he's intelligent and fully aware of how monumental this match is. He said people like to throw around the word "home grown." He said the four of them have been there since Day One. He said none of them had the cheat code of being on national TV before. He said in four years they have given them the best matches and moments in the company. "We aren't just a part of AEW," he said. "God dammit, we are AEW!" Fans cheered. He added that he's bored and kind of sick of the place. He said he's sick of the lack of competition and competency, and most of all the fans not giving him the respect he so greatly deserves. He said Tony Khan knows that. He said his contract is coming up. He said it upsets TK when he says that. He said it's no coincidence he has to wrestle four men and he doesn't even have to get pinned to lose his title.
He said the fans desperately want him to lose his belt. He said he might take his ball and go home because it's his ball. He said he's run with it faster than anyone can keep up. He said the three challengers are extremely talented, but none of them is on the level of the devil. Darby's music played and he walked out.
MJF yelled for them to cut his music. Fan chanted "Darby!" MJF made fun of his boots, calling them "fun little stilts." Darby said he's lost a lot in his life, but he knows where he is going. He said in 2011 he graduated high school in Seattle. He said everyone told him to play it safe and not expect much. He said he was at the 99 cent store cleaning toilets. He said his life was meant to be wrestling professionally. He said he lived in his car and talked to himself. He said he told himself he didn't deserve to leave the car until he made it in pro wrestling. He talked up AEW for letting him do stunt videos and hang out with Tony Hawk. He said he is planning on climbing Mt. Everest. He said he isn't a moldable puppet. He said he wants to be the face of AEW, and to do that, he has to become World Champion. He vowed to take his title on Sunday. He said he'll beat MJF with a headlock takeover. MJF kicked him in the crotch. Schiavone said he's "the lowest form of life on Earth." Guevara ran out. MJF fled up the ramp. Guevara signaled he was taking the title. Perry then walked out to his music. MJF swung his belt at him. Perry ducked and then clotheslined him on the ramp. Perry picked up the belt and admired it.
[HOUR TWO]
-A video package aired on the Wardlow vs. Christian Cage ladder match. Wardlow said he's spent his career climbing ladders. He said he is the Face of the Revolution ladder match winner. He said Christian has a big mouth and he thinks he can fit a 16 foot ladder in it. Arn Anderson said there's a lot of dirty things, but nothing compares to what Wardlow will do to him in four days. He held up four fingers.
-They went to the announcers on camera. Taz said Christian is unbelievably skilled and experienced in ladder matches.
(3) TAYA VALKYRIE vs. LADY FROST
They showed clips of Frost winning some ROH matches. Schiavone said she has a chance to be a real big star in AEW and ROH. Excalibur said this is a warm-up match for Valkyrie, but it's not an easy opponent. The bell rang three minutes into the hour. Valkyrie scored a two count when she countered a handspring elbow attempt with a clothesline. Jade Gargill, Mark Sterling, and Leila Grey walked out to watch. They cut to a split-screen break. [c/ss]
Back from the break, Valkyrie made a comeback when she speared Frost. Both were down and slow to get up. She followed with a sitout slam for a near fall. Valkyrie paid some attention to Jade, which gave Frost chances to recover a bit, but Valkyrie managed to stay in control. She won with her finisher.
WINNER: Valkyrie in 10:00.
-They went to Tony Khan backstage who said it's fitting that they're in Las Vegas where it all started. He showed the dates he announced last week for Collision. He said the first Collision will take place from the United Center in Chicago, Ill. He said it'll be a big night of wrestling and they have a lot to look forward to.
(Keller's Analysis: So fans know what that means – that C.M. Punk is likely returning. I wouldn't be shocked if Punk showed up at Double or Nothing after MJF's title match, not only to signal he wants the title back and give a little extra newsy jolt to the event, but also show that Punk can coexist in an arena with The Elite without a big blow-up occurring.) [c]
-Alex Marvez interviewed "Hangman" Adam Page backstage about his reunion with The Elite. Hangman said he used to be best friends with the Young Bucks. He said his dynamic with Kenny Omega was different. He said they aren't friends, but they are family. He said the BCC have cost them a lot, but they'll pay on Sunday.
(Keller's Analysis: Hangman is so solid doing basic promos like that.)
-Schiavone stood mid-ring for the contract signing for the match with Adam Cole and Chris Jericho. Cole came out first to his entrance theme with Roderick Strong. Jericho came out next with Matt Menard, Angelo Parker, Daniel Garcia, and Jake Hager. Cole said he has tried to figure out why he did what he did to him and Britt Baker. He said he does what he wants because he thinks AEW should be thankful to have him. He said Jericho will figure out how invincible he is on Sunday when he beats the living hell out of him. He said AEW should be thankful that their match is unsanctioned, because the blood will be on his hands, not AEW's. He said it's taking all of his self-control not to dive over the table and attack him. He said he isn't allowed, so he'll instead explain what's going to happen to him. He said he'll break both of his legs and his jaw.
Jericho said his memory seems a little off. He rolled the clip on the big screen of the beating Baker took at the hands of Saraya. "What kind of man would allow the love of his life to get the crap kicked out of her mere inches away from him?" he said. "That was you!" He dared Cole to punch him. Strong held Cole back. Jericho called him a coward. He said he's going to knock his teeth down his throat on Sunday. Jericho signed the contract and said Cole won't end him. He said he got outsmarted because there's five of them and only two of them. Cole said that's true, which is why he made a little phone call to someone who lives in Vegas. He said it's a guy he idolized growing up and he is crazier than all five of them combined. He said, "Homicidal, suicidal, genocidal," he said. "His name is Sabu!" Sabu then came out onto the stage. Taz said, "I know that guy!" Sabu entered the ring and struck his signature pose. When Mendard leaped at him, Sabu punched him out of mid-air. J.A.S. fled the ring and yelled in protest.
-A video package aired on the AEW Women's Title match on Sunday with Jamie Hayter vs. Toni Storm.
(4) RODERICK STRONG vs. DANIEL GARCIA
The bell rang 30 minutes into the hour. They cut to a split-screen break at 2:00. [c/ss]
Strong won with his End of Heartbreack backbreaker over his knees.
WINNER: Strong in 9:00.
(Keller's Analysis: That felt like the buffer match in case the show was running long or short, as those two can have a good match with whatever window of time they are given.)
-A video package aired on Willow Nightengale beating Mercedes Monet to win the New Japan Strong Title. They showed footage and she spoke about her big win.
-Excalibur hyped the Double or Nothing line-up. [c]
(5) THE LUCHA BROS. vs. CLAUDIO CASTAGNOLI & WHEELER YUTA
Excalibur asked if the ROH Tag Team Title match is coming at an inopportune time with Anarchy in the Arena just a few days away. Danielson joined in on commentary. The bell rang 46 minutes into the hour. Claudio knocked Fenix off the top rope with a leaping uppercut. They cut to a split-screen break a few minutes into the match. [c/ss]
Danielson said you can't train for Fenix's athleticism because you can't replicate it. Penta scored a near fall on Yuta at 9:00 after a piledriver. Claudio shoved Penta off the top rope and then gave Fenix a European Uppercut leading to a near fall. The Bucks came out from under the ring and prevented Claudio from entering. (The camera caught Claudio yelling at them to grab him, though.) Meanwhile, the Lucha Bros. landed their finisher for the pin on Yuta.
WINNERS: The Lucha Bros. in 11:00 to retain the ROH Tag Titles.
-The Bucks stood at ringside and admired their work, then left over the barricade through the crowd. Moxley and Danielson ran to ringside and hunted for the Bucks. The Bucks retreated into the crowd while taunting the BCC. Mox said they should laugh and smile all they can while they still have all their teeth. He said they should spend time with their families while they are still recognizable to them. He said on Sunday, Anarchy in the Arena will be the wildest and most violent match in the history of AEW "because we will not accept anything less." He told fans to buckle their god damned seatbelt because they haven't see anything yet.  The Bucks signaled to bring it on.
(Keller's Analysis: Where was Kenny Omega for the final hype for the PPV? Why not trust the Bucks or have them trust themselves enough to cut an actual promo building the match?)