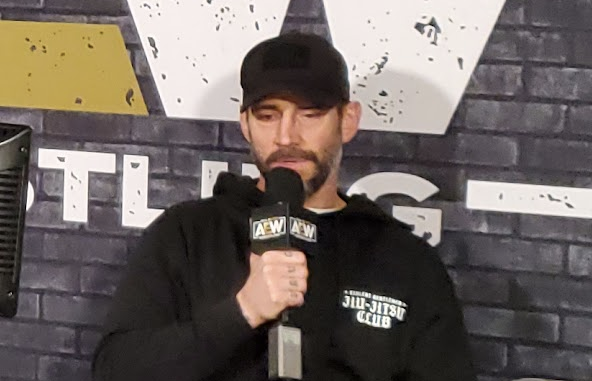 ---
SPOTLIGHTED PODCAST ALERT (YOUR ARTICLE BEGINS A FEW INCHES DOWN)...
---
The return of CM Punk is expected to be announced tonight on AEW Dynamite, or it will be implied based on Tony Khan announcing the first edition of AEW Collision will take place in Chicago, Ill. at United Center. PWTorch has independently verified that is the plan. Fightful Select reported earlier today that the trajectory appeared to be Punk and AEW had cleared up their issues.
After a week of uncertainty, it appears Punk and AEW have worked out key issues that led to his name being removed from a prepared press release last week when the new AEW Collision series was announced at Warner Bros. Discovery's (WBD) upfronts.
Reportedly Punk was upset that Ace Steel, a longtime friend of his from the indy circuit, wasn't going to be allowed back in AEW arenas stemming from Steel's role in the locker room fight last September with AEW EVPs Matt Jackson, Nick Jackson, and Kenny Omega.
Fightful Select has reported today that AEW asked Punk to sign some legal papers prohibiting Punk from speaking about certain topics and basically requiring him to show up for work. AEW sources told PWTorch there was concern that the Punk situation could damage Warner's trust in Tony Khan and AEW to be able to sufficiently deal with internal matters. Having to pull Punk's name from the press release announcing a new show, which Warner is presumably paying big rights fees for, was a setback as it shifted the buzz from excitement about the new show starring Punk to a week of conversation about whether Punk would even return to AEW rings.
WBD even issued a statement last Wednesday saying Punk wasn't affiliated with Collision.
Last week on Dynamite, Khan announced several dates for Collision TV events, but left off the first show on June 17. He teased a follow-up this week. The hold-up seemed to be that without Punk on the roster, they would change their plans to run the first Collision at United Center, so they needed to work out issues with Punk before finalizing that venue and announcing ticket sales.
There was growing consternation within AEW over the uncertainty of Punk's status and the drama sparked by Punk's public statements including at the post-All Out media Q&A and on social media, including digs at AEW's EVPs and Chris Jericho.
If Punk and AEW couldn't get on the same page, there was concern expressed to PWTorch from various wrestlers about the schedule they'd be asked to work. One wrestler outright told us he didn't sign up for working two TVs per week. AEW appears to be planning for largely separate rosters on Dynamite and Collision. The press release for Collision listed wrestlers who hadn't been on Dynamite regularly lately, including Thunder Rosa, Andrade, and Miro.
The Collision roster appeared to be assembled around wrestlers who haven't had issues with Punk in the past or would be good opponents for Punk (Powerhouse Hobbs, Samoa Joe), or wrestlers who had issues with other AEW wrestlers currently regularly appearing on Dynamite (Andrade, Thunder Rosa). Top Dynamite regulars such as "Hangman" Adam Page, Chris Jericho, Kenny Omega, Jon Moxley, and the Young Bucks were not included in the list of featured wrestlers on the Collision press release.
If AEW can run two largely distinct rosters on separate shows, it can give viewers more of a reason to watch both shows each week and also avoid locker room issues. However, it could create a challenge for event ticket sales if fans believe they're only going to see half of the AEW roster whether they attend a Dynamite or a Collision event. Perhaps AEW will run dark matches after Collision featuring Dynamite's top wrestlers in a bonus match to help with ticket sales, but that would require top wrestlers working a second night each week and put wrestlers who don't along in the same locker room again. Logistically, several wrestlers have expressed to PWTorch concern over the number of travel days each week if that is the plan. If Collision were taped on Thursday, the day after Dynamite, that'd be less of an issue, but it would then raise concerns about Collision seeming like a secondary show and results would circulate widely in the days before the show aired.
Punk will have a chance to prove himself as the centerpiece star of the new AEW Saturday series. Being a leader on and off camera, staying healthy, and producing consistently strong promos and matches will be a key to him being an anchor that an entire AEW weekly two-show can be centered around. Reports indicate he is motivated for the challenge and, at age 44 with two injury setbacks the last two years, is still looking to prove himself and earn some excellent paydays along the way.
AEW has teased on their Twitter page that "anything can happen" on the last Dynamite before AEW Double or Nothing.
https://twitter.com/AEW/status/1661416774166773789
Zack Heydorn and Tyler Sage discussed the Punk controversy in the latest PWTorch YouTube Show, "Fireside Chat."