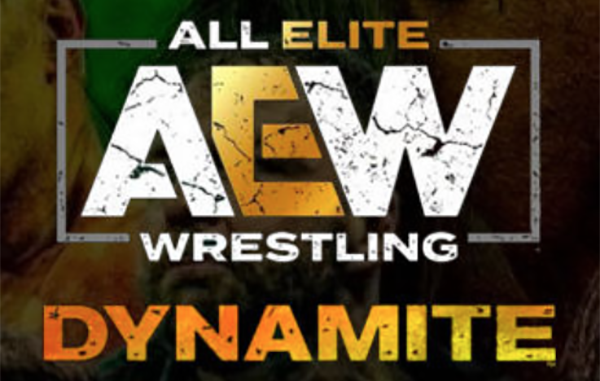 ---
SPOTLIGHTED PODCAST ALERT (YOUR ARTICLE BEGINS A FEW INCHES DOWN)...
---
AEW DYNAMITE REPORT
JUNE 7, 2023
COLORADO SPRINGS, COL. AT BROADMOOR WORLD ARENA
AIRED ON TBS
Commentators: Excalibur, Taz, Tony Schiavone
Ring Announcer: Justin Roberts
---
[HOUR ONE]
-After the opening theme, Excalibur and Tony Schiavone introduced the show as pyro blasted.
(1) ORANGE CASSIDY vs. SWERVE STRICKLAND (w/Prince Nana) – AEW International Title match
Cassidy was listed as 14-0 in 2023. Excalibur said he's had 23 successful defenses and it's taking a toll on him. Cassidy arrived in the ring and pulled the belt out of his knapsack. A fan held up a sign that said, "Swerve Loses, We Riot." The bell rang four minutes into the hour. Excalibur said Cassidy's hand, neck, spine, and knee are all injured due to his frequent title defenses. Cassidy managed an arm drag of Swerve with his hands in his pockets in the opening seconds of the match. Excalibur plugged that Tony Khan will reveal the first main event of the first Collision a week from Saturday, plus Konosuke Takeshita in action, Kris Statlander vs. Anna Jay, MJF speaks, and Ricky Starks vs. Jay White in the main event.
Cassidy wrapped up Swerve mid-ring and struck a casual pose. When Swerve broke free, he charged at Cassidy, but Cassidy ducked. Swerve struck a casual pose at ringside with his hands in his waistband. Cassidy went after Swerve at ringside, but Swerve took control and threw Cassidy into the ringside barricade. Swerve rammed Cassidy's hand into the ringpost. Back in the ring, Swerve attacked Cassidy with a hard running elbow into the corner. Fans booed as Swerve strutted around the ring.
At 5:00, Swerve and Cassidy battled on the second rope. They knocked each other off and both hit the top turnbuckle on their way to crashing onto the floor. They cut to a split-screen break. [c/ss]
Back from the break, Cassidy countered Swerve's attack with a Slum Dog Millionaire. He hit a tornado DDT a minute later for a near fall at 11:00. Schiavone said Cassidy was favoring his lower back. Cassidy climbed to the second rope and caught his breath. Swerve got up and gave him a Death Valley Driver onto the ring apron. Cassidy came back with a DDT off the ring apron to the floor. Fans chanted "Holy shit!" Back in the ring, Cassidy landed a leaping DDT off the second rope for a near fall. Cassidy shook his head in frustration.
Prince Nana stood on the ring apron. Cassidy turned to him, but when Swerve charged Cassidy from behind, Cassidy side-stepped him, so Swerve knocked Nana off the ring apron. Cassidy then gave Swerve a Beach Break for a believable near fall. Swerve rolled to the floor. Fans chanted "This is awesome!"
When Cassidy went after Swerve, Swerve gave him a brainbuster on the floor. Swerve threw Cassidy back into the ring at 14:00. Cassidy ducked a leaping sidekick and then leveraged Swerve's shoulders down for a two count. Swerve came right back with a leaping sidekick to the head and then leaped off the top rope with a double stomp. Excalibur (ruined the drama of the near fall by) yelling, "We have a new champion!" as Swerve went for the cover. Cassidy, of course, kicked out. Cassidy and Swerve countered each other with roll-ups. Cassidy yanked on Swerve's waistband to get the pin after Swerve tried to pin him with a yank of his waistband first.
WINNER: Cassidy in 16:00 to retain the AEW International Title.
-Afterward, Swerve called for his Embassy cohorts to run out and attack Cassidy. The lights went dark, though. When the lights came back on, Sting and Darby Allin were standing in the ring and the heels had retreated to ringside. Sting's music played.
(Keller's Analysis: Really good match. It did feel like Swerve might end Cassidy's reign the way the match played out. The lights out gimmick is played out these days and just silly because it makes no sense Sting and Darby could run to the ring in the dark and scare off the heels who can't see what's going on.)
-A video package aired hyping the main event between White and Starks later including soundbites from both.
-Bryan Danielson made his way to the ring. Excalibur threw to Danielson throwing out a challenge to Kazuchika Okada for a match at Forbidden Door. Danielson said he's the latest test of greatness. "You call yourself the Rainmaker? You step into the ring with me and you're getting into the f—ing desert and there ain't gonna be no rain." Danielson joined the announcers on commentary. Excalibur said the match was official for Forbidden Door. Danielson complained that Okada is called a "once in a lifetime performer" because he, not Okada, deserves that description and he'll prove it at Forbidden Door.
(2) CHUCK TAYLOR & TRENT BERETTA & ROCKY ROMERO vs. CLAUDIO CASTAGNOLI & WHEELER YUTA & JON MOXLEY
Blackpool Combat Club made their way to the ring through the crowd to "Wild Thing." Beretta, Taylor, and Romero attacked them as they climbed over the ringside barricade. The match officially began 31 minutes into the hour. Taylor landed a piledriver on Yuta right away. Danielson said they train for piledrivers. After clearing the ring of BCC, Beretta, Taylor, and Romero hugged mid-ring as Excalibur said, "You've got to give the people what they want." (They want that spot retired.) Danielson said, "Imagine wasting your time with that when you're fighting the Blackpool Combat Club?" (Yep. He's not wrong.) Yuta and Claudio took over on Taylor and landed the Hart Attack clothesline. They cut to a split-screen break at 2:00. [c/ss]
Back from the break, Beretta was in control against Moxley until Mox kicked him on a backdrop attempt. Romero fended off Claudio. Romero and Beretta double-teamed Mox. Romero scored a two count on Mox in 7:00. Yuta grabbed Romero's leg as he set up a move on the ring apron. Beretta and Taylor gave Mox a Storm Zero. Claudio broke up the cover with force. Romero applied an armbar at ringside. Claudio, meanwhile, knocked a flying Beretta out of mid-air at ringside with a European uppercut. Mox shifted Romero into a bulldog choke. Yuta beat up Taylor to prevent him from intervening. Romero then tapped out to Moxley.
WINNERS: Moxley & Yuta & Claudio in 8:00.
-They went backstage to Hangman Page and The Young Bucks. Hangman complimented BCC for their win. Hangman said Anarchy in the Arena wasn't the end of them, but rather it was just the beginning. He challenged BCC to a match next week in D.C. without Takeshita helping them.
-Danielson accepted the challenge. He said they'll end the Bucks and Hangman where Dynamite started in D.C. Excalibur referred to the Bucks & Hangman as "The Hung Bucks." (Please, no. Just stop it.) He plugged that MJF would speak next. [c]
-Excalibur threw to a vignette for Will Ospreay vs. Kenny Omega for the IWGP U.S. Title with New Japan press conference comments by each about facing the other with clips of a bloody match between them. Omega said he doesn't lose big matches, so Omega doesn't stand a chance. Excalibur plugged that great seats are still available for Forbidden Door in Toronto, Ont.
-MJF made his ring entrance with his AEW World Title belt and a scarf around his neck, of course. MJF told the fans to keep their mouths shut when he has the microphone. He said when he was told he was contractually obligated to appear in Colorado, he "almost offed myself" because there's not a more boring place in the country. (Let's stop with flippant suicide references in promos.) He said the fans were rude for booing him. He said speaking of being bored, there is no competition for him in AEW. Fans chanted, "You suck! You suck!" MJF said, "Colorado, your mother swallows." He said nobody is on the level of the devil.
Adam Cole's music played and he walked out and played to the crowd. MJF said he's excited because there's finally some worthy competition for him. He said he's a big fan of Cole. He said when C.M. Punk "up and left me when I was a kid," he thought his days as a fan was over. He said he then turned on ROH. He asked the fans if they had ever heard of it. He said he thought it sucked and was filled with a bunch of indy jaboronis who don't belong on his TV, but then out walked Cole with "icey blue eyes" and great in-ring skills and promo ability. He said he was instantly hooked. He said when he started training, he got as much of his tape as he could get his hands on. He said he even watched Cole in CZW when he won titles. He said he watched him "go to Florida and shock the system." He said he was so good, he was Shawn Michaels' hand-picked guy and became the best champion in the history of that company. He said that is undisputed.
MJF said he went to CZW and won gold, then became a top name on the independents, and then signed with AEW. He said he knew in his heart, one day he's make the jump and they'd have a rivalry of a lifetime between two generational talents. He said, "But then this guy showed up. What happened to you, man?" He said he used to be the Panama Playboy and now he's the Panama Gameboy. He said he plays Twitch and hides from the sun looking like a virgin Gollum. He said Britt Baker makes him keep his balls in her purse. He said if he once had the body and physique of a world champion. "Now, you're so frail, you make crack whores jealous." Cole listened as he leaned in the corner of the ring.
MJF said fans are saying online that the company isn't featuring Cole properly. He said they don't have a clue what they're talking about. He said AEW has done everything in its power to make Cole cool and successful with music, lights, t-shirts, big match opportunities, and a reality show. "Do you know what they do to make MJF cool?" he said. "They ring the f—ing bell." He said he had the greatest Dog Collar Match of all time, the greatest Iron Man match of all-time, the greatest Four-Way of all-time. He said he has beaten every top guy that fans thought was on his level. He asked Cole what makes him feel he's different.
MJF said before he answers, he read a nasty rumor online that he left the company because a certain individual in Titan Towers "didn't think you had top guy potential and that guy's name was Vince McMahon." Boos. "Big fan, by the way," said MJF. MJF said at first he thought Vince lost his marbles because how can you not see him as a top guy. MJF said that now that he's standing face to face with him, he thinks Vince was right. The fans oooh'd.
Cole took a mic from a guy at ringside. Fans cheered as he got ready to retort. "Really?" he said. "Was that the best that you've got?" He said he's supposed to be able to verbally destroy anyone, "but instead you're coming across like a toxic social media troll." He said he'll skip past the Britt part because he thinks she could kick his ass. He asked why he's obsessed with other people's relationships. He said MJF can't maintain a healthy relationship because he's a world class douche-bag.
He said MJF brought up his body, but he should bring up his body of work. He said he can't touch him in the ring. "But, if you really do want to go down that road, I've got an idea, Max; how about you and I go backstage and both piss in a couple of cups and we find out who's natural and who's not." MJF got angry. Cole said he knows MJF doesn't want to do that.
Cole said he appreciates that he studied his career, but they're not alike. He said his colleagues in the back respect him. He said they respect him as a human being. He said there's no a single person in the back who respects MJF. He said they think he's selfish and lazy and does the bare minimum to collect a paycheck and carry around the world title. He said he speaks for everyone when he says "no one respects you." Fans chanted "No respect! No respect!"
[HOUR TWO]
MJF said if fans don't respect him, maybe he'll cry into all his money. MJF said, "That's an awful lot of tough talk coming from Keith Lee's manager." Cole said MJF has to create a false narrative to hide from the fact that he's a coward of a champion. He said a real champion would tell him to shut his mouth and tell him to fight him. He said he's a coward. Fans chanted "Coward! Coward!"
Cole told fans it's not worth it and knows he's wasting his breath. He said he should remember that he won't fight him "because I'm better than you and they know it." MJF told Cole not to turn his back to him and he yelled that he'll wrestle him any night of the week and beat his ass. Cole said it looks like they have themselves a match. He led the crowd in chanting "Adam Cole bay-bay!" His music played and he left. MJF's eyes began twitching as he stared at Cole and soaked up what happened. Taz said he reeled in the champion. Excalibur said he outmaneuvered MJF.
(Keller's Analysis: There was a lot of good there, and as usual with MJF, a few things here and there that felt needlessly over the line for shock value. I'm not sure about raising the notion that MJF is on steroids, either. Once you mention that, and fans notice how much MJF's body has transformed in the last year, it's a thought that's always in their head. Overall, though, the backstory of MJF following Cole's career and admiring him and eventually patterning his early years on the path Cole took made this match feel bigger. Cole carried himself well and as a top level personality to challenge MJF. I like this feud and have been anticipating it for a while.)
-Matt Hardy, Jeff Hardy, and Isiah Kassidy brought Ethan Page into the frame and said he's now having to do whatever they tell him. Matt ordered him to say he's sorry to Kassidy and shake his hand. Ethan did it. Matt said he's going to turn him into a better human being. He said he is talented and has a wife and kids, so he can make him a better man. Kassidy said it's going to be a lot of fun and then moaned in his ear.
-Hook began his ring entrance first. "Jungle Boy" Jack Perry came out next and joined him on the ramp.
(3) DRALISTICO & PRESTON VANCE (w/Jose the Assistant) vs. HOOK & "JUNGLE BOY" JACK PERRY – Tornado Tag Match
Vance and Dralistico attacked Hook and Perry before the match. The bell rang six minutes into the hour. Hook and Perry took over. Hook fought Vance in the crowd. Perry tore at the mask of Dralistico in the ring meanwhile. They cut to a split screen break at 2:30. [c/ss]
Hook hit Vance with a chain back at ringside. Vance came up bleeding heavily from his forehead. He was dripping blood onto Hook's back as he took control at ringside. Perry threw Vance into the barricade. Dralistico leaped onto Perry at ringside. Vance and Dralistico double-teamed Hook and set up a double slam onto two tables at ringside. Hook fought back and overhead suplexed Dralistico onto the mat. Vance nailed Hook with a hard clothesline at ringside. Vance choked Hook with a chain as he continued to bleed heavily from his head and all over his chest. Perry bashed Vance across the skull with a chair. Hook then gave Vance a T-bone suplex off the ring apron through a table.
Back in the ring, Perry DDT'd Dralistico onto a chair. Jose attacked Perry and yanked off his shirt. Perry eyed him with a chair in hand. Hook came up behind Jose with a Red Rum. Perry then took Dralistico down and into a Snare Trap for a quick tapout win. Taz said no matter how good looking they are, they're two tough sons of a guns.
WINNERS: Hook & Perry in 9:00.
(Keller's Analysis: They packed a lot into that nine minutes including a brawl into the crowd, heavy bleeding, a stiff chairshot to the head, a big spot through two tables, an interfering manager, and more before the finish. I like Hook and Perry as a team.)
-Tony Khan announced the main event for the Collision debut on June 17: C.M. Punk & FTR vs. "Switchblade" Jay White & Juice Robinson & Samoa Joe.
-A graphic appeared on the screen as the commentators reacted to the news. Taz said that's "a big sixer." Excalibur hyped that tickets remain for Collision at United Center in Chicago.
(4) KONOSUKE TAKESHITA (w/Don Callis) vs. DAMON ACE
Takeshita walked out without music. Excalibur said Callis was booed out of the building last week. The bell rang 19 minutes into the hour. A fan held up a sign that said, "Callis Eats Hot Dogs without Chewing." Another fan held up a sign that said, "My wife thinks I'm at Bible study." Takeshita attacked Ace, whom Excalibur said wrestles out of that area. He won with a power drive knee strike.
WINNER: Takeshita in 1:30.
-After the match, Callis said he has something to say, "and unlike last week, I will be heard!" Takeshita spoke in Japanese intensely into the mic. Callis said he's there to tell the fans the truth about Kenny Omega. He said everything Omega has in life is because of him. He said it's all Kenny's fault. He said The Elite has been like a cancer in his body, so he and his family are going to cut The Elite out of AEW for good.
(Keller's Analysis: The heat Callis has makes for great TV, but his promo was just yelling and saying the same thing as last week. It was fine, but I'd like to see him show more range and nuance in terms of content and delivery style.) [c]
-Alex Marvez interviewed Christian Cage backstage. Luchasaurus was making grunting noises behind the locker room and loud noises were audible. Christian said he is the uncrowned TNT Champion. He said Arn Anderson took something from him, so it's time he takes something from Arn. They opened the door and inside was Brock Anderson clutching his ribs. Marvez said they need trainers.
(5) KRIS STATLANDER vs. ANNA JAY (w/Matt Mendard) – TBS Title
Anna came out first. The bell rang 29 minutes into the hour. They cut to a split-screen break with Jay in control. [c]
Back from the break, Statlander made a comeback. They showed Taya Valkyrie backstage watching on a monitor. Menard stood on the ring apron when Statlander climbed to the top rope. Jay slammed Statlander off the top rope and drove her face-first into the mat for a near fall. Excalibur plugged the Wembley Stadium event. Statlander landed a discus lariat at 8:00. Menard stood on the ring apron and distracted Statlander. She took a swing at him. Jay rolled her up from behind and applied a sleeper. Statlander stood with Jay on her shoulders and yanked her to the mat. She followed with the lariat backbreaker combo and then a tombstone piledriver for the win. They showed Valkyrie upset with the outcome backstage.
WINNER: Statlander in 9:00.
-Excalibur hyped Rampage: Lucha Bros. & Bandido vs. Ethan & Lee Moriarty & Big Bill, The Acclaimed vs. Spanish Announce Project, Powerhouse Hobbs in action, and Britt Baker vs. Skye Blue vs. Mercedes Martinez vs. Nyla Rose with a Women's Title match on the line.
-Backstage, Toni Storm and Ruby Soho cut a promo. Storm talked about facing the winner of the four-way. She claimed to be the greatest AEW Women's Champion who ever lived. Ruby said it gives her goosebumps when Storm says that.
-Excalibur plugged Mogus Embassy vs. Darby & Sting & Keith Lee & Cassidy, MJF vs. Cole in "an AEW World Championship Eliminator match," and Blackpool Combat Club vs. "The Hung Bucks." Excalibur went on to plug Collision and Forbidden Door also.
(Keller's Analysis: They need to actually explain what an "eliminator match" is. That's big to give that match away on one week's notice and, in a way, cheapens it a bit.) [c]
(6) RICKY STARKS vs. JAY WHITE
The bell rang 46 minutes into the hour. They brawled on the ramp before the bell and then at ringside. They brawled up onto the stage at 3:00. Taz said the ref was giving them a lot of leeway because it was a grudge match main event. Schiavone said the ref was making the right decision given the heated feud between these two. White got the better of Starks at ringside as they cut to a split screen break. [c/ss]
Back from the break at 8:00, Starks made a comeback. White blocked a spinning DDT and knocked Starks off balance on the top rope. White superplexed Starks and scored a two count. Starks stayed in control and landed a spear. He pounded his chest and set up a Roshambo. White's legs hit the ref. Austin and Colten Gunn interfered with the ref down, giving Starks their double-team move and then running out of the ring and into the crowd. White crawled over and gave Starks a Blade Runner for the three count. Schiavone called the Gunns "brats."
Juice Robinson walked out to celebrate with White. Taz wondered what the Gunns were doing helping White.
WINNER: White in 13:00.
(Keller's Analysis: Are the Gunns joining Bullet Club?)