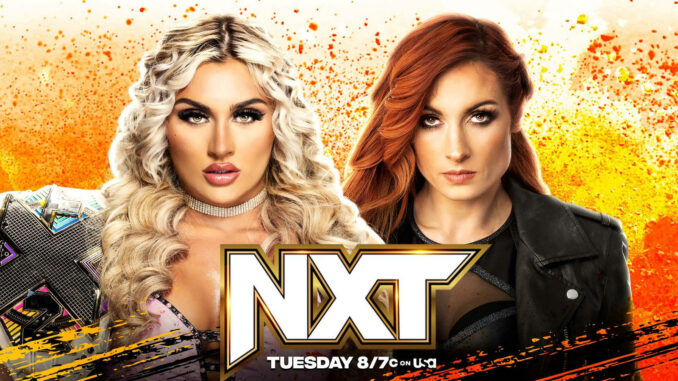 ---
SPOTLIGHTED PODCAST ALERT (YOUR ARTICLE BEGINS A FEW INCHES DOWN)...
---
ILJA DRAGUNOV vs. WES LEE – NXT NO. 1 CONTENDER
Who deserves the right to face Carmelo Hayes for the NXT Championship at No Mercy coming up at the end of the month? That was the question coming into tonight's opener. Wes Lee holds a win over Hayes for the North American title last year (and a recent loss, but bear with me). Dragunov arguably could have beat Melo for the belt at The Great American Bash if Williams never interfered. They've been two of his greatest opponents for quite awhile now and are probably the only two on the roster who feel important enough to challenge HIM (pun intended) for the NXT strap.
I'm sure without me even saying it, you probably already knew this would have been a bombastic match between these two men. Their styles speak for themselves and compliment one another perfectly. They put everything they had into this match. Perhaps a bit too much. Wes Lee was German suplexed through the announce table… well… he would have if the table actually broke. He folded in half and crumbled to the floor. It was such a brutal looking spot, and then they immediately cut to a picture in picture break. Lee should have been selling that suplex like death, but less than 45 seconds later both men are slugging it out in the center of the ring again.
Other than that nitpick, this was an absolutely fantastic match. Two wrestlers who have hearts the size of a mountain, doing everything they could to take one another down. Dragunov managed to come out on top after an extremely hard fought battle, and will face Melo in a few weeks at No Mercy.
Verdict: HIT
JOSH BRIGGS, BROOKS JENSEN & MYLES BORNE vs. CHARLIE DEMPSEY, DAMON KEMP, DREW GULAK
As most six men tag matches to take place shortly before the end of the first hour are, this was a chaotic match where it was extremely difficult to keep track of who was legal and who wasn't. They tried to get so much crammed into the match within their small time limit, if you looked away for a second or two, you'd be completely confused as to what was going on.
Myles Borne has been looking for a place to fit in, and it looked like he may have had a new home with Briggs, Jensen and Fallon Henley. But alas, he turned on them at the end of the match and joined this new faction with Gulak, Dempsey and Kemp. Frankly, if this turns out to be what Diamond Mine could have been, I'm completely on board. Four badass technical wrestlers, the veteran leader and his lackeys.
Verdict: Match was way too chaotic, but I dig the story. 50/50
DANA BROOKE vs. LYRA VALKYRIA 
Mentoring newcomer Kelani Jordan, Dana Brooke has been trying to show Jordan "How it's done" for the last month or so. Brooke keeps losing her matches, or shows poor sportsmanship, and Valkyria took exception to her behavior.
They squared off in the ring tonight, Jordan cheering on her mentor ringside. While Brooke did manage to get her fair share of offense in, she got a little too cocky and allowed Valkyria to land a top rope Splash for the win.
I hope they wind up breaking Kelani Jordan away from Brooke sooner rather than later. She seems so talented, and Brooke just isn't as believable of a talent as she could be. I'm assuming the two will wind up feuding, Jordan goes over and she moves on. Let's just get to that quickly, shall we?
Verdict: Miss
TYLER BATE vs. AXIOM – Global Heritage Invitational
For someone who hasn't really dove into NJPW (I know, I know. I should), I'm not super familiar with how an invitational like this works. I know you get points by pinning or submitting somebody, but I'm not entirely sure how the matches are decided throughout the tournament and all that. Now, if I'm not super familiar, I'm sure most fans aren't either.
They need to drill the rules of the invitational home so the average fan can follow along. Coming into this match, I knew Axiom had wrestled at least once in the invitational. But this was Bate's first match. Why? Explain that to the audience. (Or explain it to me in the comments)
That said, as you'd expect out of these two, this was a great match with excellent in-ring story telling. Tyler Bate picked up the win, with the commentary team heavily talking about his need to win the whole time. I think this is going to wind up coming down to Frazer and Bate to see who goes on to Dar. Unless of course, that can't happen because of the rules of the tournament that have not been explained.
Verdict: HIT
CREED BROTHERS vs. MALIK BLADE & EDRIS ENOFE
Cloud used EnofeBlade!
Months ago my PWT Talks NXT co-host, Bruce Hazelwood, said that EnofeBlade sounds like a move Cloud would have in Final Fantasy 7, and I can't not think about it any time I see them now…
Anyway –strange Nate anecdotes aside, the newly reinstated Creeds took on the underrated team of Edris Enofe and Malik Blade. Both teams are on the hunt for NXT Tag gold, and the winners of this match were sure to get the attention of Stacks & D'Angelo, the champs.
A fun tag team match, showcasing the talents of all four men. The Creeds wound up picking up the win, which does make sense for the story. But I would love to see Enofe and Blade get their time to shine soon.
Verdict: HIT
NATHAN FRAZER vs. AKIRA TOZAWA – Global Heritage Invitational
Akira Tozawa returned to NXT and took on Nathan Frazer in our second Invitational match of the night. It's a shame that Tozawa hasn't gotten a bit more time in the spotlight in the WWE, he's a great performer and has great charisma, even with the language barrier.
Frazer picked up a very quick win, bringing him to 4 points and one of the front runners for Group B.
Verdict: HIT
TIFFANY STRATTON vs. BECKY LYNCH – NXT Women's Championship
For the first time in years, arguably the biggest female star in the WWE returned home to NXT. Becky Lynch never managed to capture NXT gold during her time in NXT and though she's managed to win both the Raw and Smackdown Women's championships on multiple occasions, she wants to win the title that alluded her.
This was the biggest match of her short career, defending her NXT Championship against a woman who's been wrestling since Tiffany was in grade school. The WWE clearly has big things in store for Tiffany Stratton, pairing her with Becky and giving her air time on Monday Night Raw.
The crowd was on fire for this match, over the moon to see Becky return. But their cheers swiftly turned to boo's as Stratton managed to overpower Becky for the first few minutes of the matchup. Lynch, of course, fired back up as the match went on and got her stuff in. But Becky was very giving with the amount of offense she gave Stratton, clearly trying to make the young up and comer with this match.
Stratton looked like a star and like she was able to hang with one of the best in the business — which was most likely the goal. Becky Lynch may have won the title, but I think Stratton still wins. They can easily tell a rematch story, giving her even more time in the spotlight with one of the most popular talents in the business.
Also, BECKY WON, HOLY SH–!!!!! We're going to get to see Becky in NXT for quite a bit longer, and that's freaking (heh) fantastic.
Verdict: HIT!