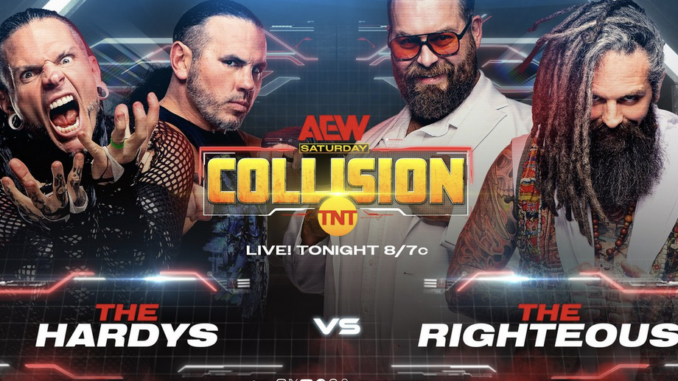 ---
SPOTLIGHTED PODCAST ALERT (YOUR ARTICLE BEGINS A FEW INCHES DOWN)...
---
AEW COLLISION – HITS & MISSES
SEPT 16, 2023
STATE COLLEGE, PA.
AIRED LIVE ON TNT
BY DAVID BRYANT, PWTORCH CONTRIBUTOR
– Hey! Welcome back! (Unless you're new, and if you are, I apologize for accidentally making this awkward, but I do it on purpose.) I hope you had a great week last week, and thank you for spending a small part of this week with me. If you're spending a large part of this week with me, I'm sorry to hear about your screen.
COLD OPEN — HIT
This week's cold open consisted of another solid round of promos hyping tonight's in-ring action.
As for the contents of each individual promo, here are some highlights:
– In the first segment, Claudio referenced Elton John, and Bryan Danielson promised to fist Ricky Starks's mouth-hole.
– In the second segment, Big Bill cut a stellar promo, which is noteworthy because he has sometimes struggled with promos, and it sounds like he is putting in the effort to improve himself.
– Also, in the second segment, Ricky Starks told Danielson there was no place on this show for glory hogs, and at first, I misheard him.
– In the third segment, Statlander used fighting words, and this time, it did not sound like the words were fighting her. This is the third week in which Statlander has improved on the microphone. I am not saying she's "there yet," but if this were a trip around the world, I would definitely say she has made it to the end of her driveway.
In all seriousness, public speaking is an intimidating thing to learn in real time. For many people, it is scary, and for some, it is literally a phobia. Having done my fair share of public speaking, I appreciate the people who are willing to go out in front of a live audience every week and publicly make the mistakes that are necessary for them to improve (as long as they try to learn from those mistakes).
– In the fourth segment, Brit Baker rocked some awesome eye-shadow, a wardrobe themed to her school's colors, and my boyfriend literally blurted out, "Her hair looks gorgeous!"
– In the fifth segment, John Silver, my favorite version of Popeye, informed Anthony Bowens, my favorite version of Stifler, that he should have spent more time reading the contract he signed for an upcoming match with Evil Uno because they had worked together to trick Bowens, and the contract he actually signed was to wrestle John Silver instead. (Is that supposed to be worse?)
– Also, in the fifth segment, I noticed a stenciled Latitude 45 logo in the background, which is a popular catering company used by Live Nation, "Cirque Du Soliel," and several music festivals. It's not as popular as Dega Catering, which I think WWE uses. (Don't quote me on that.) However, WWE has also worked with Latitude 45, and you know what? I'm just now realizing that none of you care about any of this; some of you have already skipped over this entire section, and this section has nothing to do with the show or even AEW as a whole. I don't know why I am still typing. I will stop now.
Actually, I will stop soon because I just want to mention that it's kind of neat that Latitude 45 worked with the "Lilith Fair" tour back in the day. Alright, so that puts a pin in that.
Oh, and they worked with the Special Olympics. Okay, I'm finished for real this time.
They also do corporate gatherings.
– In the sixth segment, Anthony Bowens threatened to "beat that ass," and I thought that was a cool call back to Danielson's segment.
THE BLUE COLOR OF THE EMPTY SEATS — HIT
Meanie-blue is my favorite color, and these seats showcased a lot of it.
BRYAN DANIELSON & CLAUDIO CASTAGNOLI VS. BIG BILL & RICK STARKS — HIT
This was a very good TV match. Big Bill looked strong (and like he doesn't wash his shoes), Starks came off like a flagitious villain, and Kevin Kelly sounded like what I imagine a community theater production of "Bad Cinderella" would sound like if it were campier. Also, Kevin Kelly really, really wants you to buy Grand Slam tickets.
HAVING RICKY STARKS WIN VIA A LOWBLOW — MINOR-MISS
I'm giving this a "minor miss" because I can see someone making a legitimate case for why this ending was okay, but I personally did not like it. AEW has fallen into the habit of always giving their top stars grounds for losing, but that is a shortsighted thing to do. If you always give your top stars grounds for losing, your new stars will never gain ground.
SWERVE STRICKLAND & BRIAN CAGE CUT A PROMO — MINOR-MISS
To be clear, this is not a "minor-miss" because of anything Swerve Strickland or Brian Cage did wrong. I can't really judge this promo in good faith because just as Strickland started talking, someone from either the production truck or TNT started playing loud music and/or crowd noise over the top of him, and the noise continued until the very end of his promo.
THE YOUNG BUCKS & ADAM PAGE CUT A PROMO — HIT
I liked this promo. "Hangman" Page's part of the promo was especially strong, and it was nice to hear the Young Bucks talk, even though I wish they would do it more often. I personally still enjoy the Brandon Cutler/cameraman gag at the end of The Young Buck's promos, but I understand why others might not. It is a "guilty pleasure" type of enjoyment for me, but I'm a sucker for Matt Jackson's comedic timing.
That said, I am not a huge fan of Cutler's shtick when he is actually competing in a wrestling ring because wrestling isn't taught in clown college, and characters should act in a way that is consistent with their lived history.
"HANGMAN" PAGE MODELS A WILLIE NELSON T-SHIRT — MEGA-HIT
I think this one is self-explanatory.
(Also, if you haven't, check out Willie Nelson's newest album "Bluegrass" in which he re-imagines twelve of his songs. It dropped this past Friday, and I have a feeling it is on Hangman's phone.)
POWERHOUSE HOBBS'S PROMO — HIT
I'm not entirely sure if Hobbs is trying to portray the world's scariest Mormon or the world's loudest librarian, but whatever he is trying to do, I like it.
MIRO'S PROMO — MEGA-HIT
Live from behind the grate of a milkhouse heater, manscaping denialist and brick sh–house model Miro cut a promo on his hot, flexible wife, and I can't wait to hear the exact reasons why he thinks marrying a temptation mascot who is willing to copulate with him is detrimental to anything other than sadness.
THE IRON SAVAGES YELL A PROMO AT ME — MINOR-MISS
At a volume reserved for contacting aliens, Jacked Jameson scared my cat.
FTR VS. THE IRON SAVAGES — HIT
Despite this match only lasting three minutes, FTR was still able to make the whole thing entertaining because they are two of the most talented artists in the industry.
Side note: While I sincerely appreciate FTR's support for the LGBTQ+ community, watching Cash Wheeler blow cunnilingus raspberries in the general direction of Boulder's butthole whilst pinning him makes me want to bash myself a little.
GUEST APPEARANCE BY AEW'S 2ND AC — MEGA-MISS
Right before they began broadcasting Keith Lee's promo, AEW accidentally broadcast the person I assume is their 2nd AC. (They're usually the ones in charge of the clapper in most productions.) While almost entirely onscreen, this person clapped their hands in place of a clapperboard, and the cameraman pulled the zoom and framed Kieth Lee and Lexi Nair in a loose cowboy shot.
Originally, I had shrugged my shoulders and recorded a quick quip for this column. (A good portion of my not-so-good jokes comes from simply talking into a voice recorder while watching the show in real-time.) Like most of my jokes, the joke I had planned wasn't really all that good in the first place. It was a half-hearted riff with a barely-there punchline about needing to buy a billionaire a clapperboard. Luckily for me and my thousandaire budget, I did not have to worry about Tony Khan's lack of clapperboards because, somehow, against all evens and odds, the production crew managed to "screw up a second time" and revisit the 2nd AC while they were modeling an acrylic clapperboard right before a Ricky Starks' promo.
THE INTERRUPTING OF KEITH LEE'S PROMO — MINOR-MISS
Maybe I'm just annoyed by the flub mentioned in the previous paragraph, but it is frustrating to watch even Kieth Lee, one of the best talkers in the business, get interrupted before getting so much as a word out. I wish they would at least pretend there was going to be an interview before obviously scheduled interruptions. By this point, instead of looking shocked when she is interrupted, Lexi Nair should look shocked if she gets through the word "hello."
KEITH LEE & LEE MORIARTY & SHANE TAYLOR SEGMENT — HIT
Now that we've gotten to the meat of this segment (no chant intended), everyone involved with this skit shined! There was A LOT that I enjoyed about this interaction, so let me break down just some of the things I liked:
– Thing I liked number 1: Nair is really good at looking "dignified" rather than "frightened" when a rude wrestler "shocks" her with an interruption. The line between looking dignified and looking like you're no-selling a wrestler's intimidating presence can be a tough needle to thread, but Nair threads it well.
– Thing I liked number 2: Shane Taylor's hubris during this segment was thick and heavy, and I don't mean physically. When I was evaluating Taylor's Sept 2 2023 promo, I gave it a "Hit," but I also wrote, "These were good promos, especially Joe's portion, but I cannot find a way to get into this match." (If you would like, you can read more of that column HERE. However, I was able to "get into" this promo easily. I'm not absolutely sure what the difference was, but Taylor definitely came off like one of those know-it-all jerks you encounter on the playground who always thinks he's right.
– Thing I liked number 3: This new storyline looks like it could lead to a push for Lee Moriarty, and Moriarty is a very talented wrestler who is in need of a backstory that lives up to his abilities.
– Thing I liked number 4: Keith Lee's sarcastic, well-placed use of the word "salutations." I've never thought of that as a hurtful word before, but I felt that through my TV screen.
I hope they don't drop the ball and let this segment disappear into the Skye Blue. I'm crossing both of my fingers that this whole thing doesn't vanish like a throwaway Snapchat story, and I'm not sure what it says about AEW's long-term planning that this is my first reaction to a segment I liked.
MAX CASTER RAPS ABOUT "BEATING MEAT" — HIT
Max Caster knows what he's doing, and it's mean.
ANTHONY BOWENS VS. JOHN "THE SAILOR MAN" SILVER — HIT
Billy Gunn, the first member of the human race to solve time, and Max Caster, the first member of the human race to solve pores, accompanied Anthony Bowens to the ring so that he could "beat meat" while they watched.
Silver opened this segment by pulling a two-paragraph contract of his pants and saying there were even more details hidden within its intricacy. You see, it turns out that Billy "The Ryan Phillippe of Aging" Gunn and Max "The Matt Rife of Rap" Caster are banned from ringside, which decreases Bowen's chance of winning to 100 percent.
Also, I was wrong about Anthony Bowen's chances of winning.
STARTING THE MATCH DURING A BEATDOWN OF BOWENS — MEGA-MISS
This is one of my biggest pet peeves, and I have enough pets.
THE ENDING OF ANTHONY BOWENS VS. JOHN "THE SAILOR MAN" SILVER — HIT
The ending surprised me and furthered Dark Order's storyline by having Uno help Silver cheat when he threw Bowens into the square ringposts, which is a design element that makes only marginally more sense than rebar ring ropes.
EDDIE KINGSTON CUTS AN INTENSE PROMO — MEGA-HIT (WITH A CAVEAT)
The caveat: I am not a fan of the "wouldn't do business" line in this promo.
The promo: I liked everything else. I understand this kind of promo isn't for everyone, but, in my opinion, the intensity of Kingston's recent promos are both harrowing and endearing. NGL, it's hard for me to explain why I do. However, I think a lot of what Kingston says feels so authentic and soul-bearing that its emotive nature is enough to overcome its acidity.
Castagnoli's behavior toward Kingston reminds me of the bullies who made my life hell in school and who are probably the reason I'm still lifting weights despite my orthopedist asking me not to after a fairly recent elbow injury. Kingston says the things I wish I could have said back then but never dared to because I'm not that kind of person. Eddie Kingston is that kind of person, and watching him lash out like this allows me to live vicariously through him.
Eddie Kingston vs. Claudio Castagnoli is the Grand Slam match I'm looking forward to the most, and I hope Eddie Kingston wins this one. This isn't the "big one" I personally wanted to see Kingston win because, if I were writing this story, his first big win would be for the AEW World Heavyweight Championship. However, I think this is the "big one" he needs to win. I worry that if Kingston loses again after all this time, it will tarnish his character irreparably. You can only believe in someone so many times before you start to notice that the word "lie" hides inside the word belief.
ORANGE CASSIDY AND HOOK JOIN FORCES — HIT
I understand the appeal of teaming these guys up, but after Orange Cassidy's magical moment at the end of All Out, I was hoping AEW would strive to bottle that lightning with a feud that is higher up the card than what I imagine they have planned for Hook (even though they should have huge things planned for Hook.) Now, if these two competitors were to face MJF & Adam Cole and AEW made it believable that Hook & Cassidy might win, that could be an exciting turn of events.
Also, it is interesting how, between Jack Perry, Darby Allin, Isiah Cassidy, Orange Cassidy, and Ricky Starks, the powers that be sure seem to enjoy having Hook team with other attractive people, not that I'm complaining.
AUSSIE OPEN COMPETES IN A SQUASH MATCH — MINOR-HIT
This wasn't bad. It wasn't great. It was simply what it was, and I am glad to see they are taking Aussie Open seriously. (Maybe.)
KYLE FLETCHER CUTS A PROMO — HIT
Perhaps I have just not been paying attention, but I had no idea Fletcher could talk like that. I'm not thrilled with Aussie Open suddenly getting an AEW Tag Team Title shot after losing their match at All In and losing a battle royal, but if The Workhorsemen are getting a shot…
R.J. CITY AND TONI STORM ROCK! — MEGA-HIT
I adored all of this. I loved Storms' complaints about harsh lighting and the lampshade being tawdry, and I enjoyed watching her casually brush something off R.J. City's shoulders for him. I also loved the random shoe sitting next to Storm during the closing title card. This whole segment felt like what I imagine would happen if gay Twitter came to life.
Heck, even straight Twitter taking notice. During this segment, Greg Parks (PWTorch columnist and the host of PWTorch's Podcast "Wrestling Night in America") tweeted: "I've always liked Toni Storm, but it did feel like she was missing something. I think she found it with this character."
As for R.J. City, I love his character, too. I wish they would feature him on TV more often. R.J. City is a perfect fit to interview Toni Storm, and his adorable presence could ease Storm into being a face again (because she should totally be a face with this gimmick).
Also, I would love to watch this skit as a sitcom. This should be the new "Will & Grace." They should call it "R, J, and T," but in this case, the "R" should stand for R.J. City, the "J" should stand for Jean Harlow, and the "T" would stand for everything Toni Storm spills.
SCORPIO SKY CUTS A PROMO — HIT
This was a great promo and it made the loss that followed it even sadder.
SCORPIO SKY vs. ANDRADE EL IDOLO — MISS
I like Andrade, but Sky deserved better than to lose just minutes after returning.
BULLET CLUB GOLD TROLLS ANDRADE — HIT
Jay White is my favorite British pirate who doesn't know he is a pirate.
Both Andrade and White are excellent wrestlers, and I can't wait for this match to take place because, IMHO, White should be used to help fill the void Punk left. On the other hand, I do wish they'd give this match more build-up. They could tell a great story with White and Andrade, and it would make the fantastic match that is sure to follow mean even more.
GOLDEN LOVERS VIDEO PACKAGE — MINOR-HIT
This was the bare minimum.
SHIBATA'S PHONE CUTS A PROMO — HIT
If you can't sign Shibata to a long-term deal, you should at least sign his phone.
THE RIGHTEOUS VS. MATT & JEFF HARDY — MINOR-MISS
This match was okay, but my opinion of it suffered from not knowing more about The Righteous. I kept wondering where Stu Grayson was, but I'm sure I missed something because of course I did. The homework required to keep up with everything AEW puts out is on the precipice of becoming a full-time job.
Also, there has to be a better use for The Hardys than this, right? I mean, even if they don't feel like they could ever put the titles on these two because of Jeff Hardy's recent (and distant) past, they could still surely get more out of them than an unannounced loss to a tag team whose members I cannot name in their entirety.
THE RIGHTEOUS CUTS A PROMO — DEAD IN THE MIDDLE
Vincent has a lot of charisma, but this felt like someone took a really good promo, put the words in a Scrabble bag, shook them all to hell, and dumped the bag's contents into the back of Vincent's mouth.
KEVIN KELLY PLUGS GRAND SLAM — MINOR-HIT
I'm giving this a minor hit because it was amusing. Kevin Kelly's campier version of "Bad Cinderella" sounded like it was two adverts shy of turning into a revival of Tickets, Please!
(Seriously, I really do hope people show up for this. Grand Slam looks like it will be a fantastic show on paper.)
DANIELSON AND SABER VIDEO PACKAGE — MINOR-HIT
This was a nice video package, but they need to do more for a match that is going to be one of the primary selling points of their Wrestle Dream PPV, which – and I cannot stress this enough – will cost another $50.
SCHIAVONE INTERVIEWS STARKS — HIT
Starks cut a good promo while challenging Bryan Danielson to a match that (and I'm sure I'll get flack for saying this) should be on the WrestleDream card instead of Danielson vs. Zack Sabre Jr. Danielson vs. Starks is a better long-term investment in the company's future than Danielson vs. someone who does not work for the company.
RECURRING GUEST APPEARANCE BY AEW'S 2ND AC — MEGA-MISS
If I pinched my nose harder, I'd need a nose job.
STATLANDER VS. BAKER — HIT
I am very happy with his match, and I'm even more pleased that I got to watch it on Fite TV via Discord because my boyfriend is in Australia RN. That meant I got to see all of the match and not just the few minutes that aired on TV in the United States.
I sincerely appreciate Tony Khan putting this TBS Title match on last, but a ten-minute match with a commercial break in the middle doesn't "feel" like a main event, even though the match itself was one of Britt Baker's best matches in a while.
Also, as an added bonus, because I was unsure of who would win this match, it kept me on the edge of my seat. I would like to visit the edge of my seat more often, and the map to me doing so can be found in the lines of potential stories.
SHOW GRADE: C+
This show was above the median expectations I have for an episode of one of AEW's flagship programs, but only barely. This is the second lowest grade I have given to AEW Collision, and while my opinion is not the be-all and end-all, my opinion is the opinion of an avid fan of the product. I am rooting for AEW to succeed, and for that reason, I hope future episodes of Collision are able to maintain the benchmark of quality set by previous episodes. Above all, I hope the show never turns into a long-winded version of Rampage.
Thank you all for reading. I truly appreciate it. And as always, I'm still working on my sign-off, but until next week, remember, every time you don't buy a ticket to "Grand Slam," Kevin Kelly kidnaps a kitten.
(David Bryant's obnoxious amount of self-promoting retweets can be found on his "Artist Formerly Known as Twitter" account @IamDavidBryant; a video of David Bryant spinning plates can be found on his Instagram account @IamDavidBryant, and David Bryant's Threads account is threadbare and also located @IamDavidBryant. David is a published author, circus artist, drag promoter, male pageant winner, unrenowned musician, sloppy figure skater, and the inventor of the world's first air guitar tuner. Less impressively, he studied screenwriting at the University of North Carolina School of the Arts.)
---
RECOMMENDED NEXT: AEW DYNAMITE HITS & MISSES (9/13): Jericho and Guevara, MJF's math, Kingston, Callis and The Alpha, Indifference to Women, more
OR CHECK THIS OUT AT PROWRESTLING.NET: AEW Collision results (9/16): Powell's live review of Bryan Danielson and Claudio Castagnoli vs. Ricky Starks and Big Bill, FTR vs. Iron Savages for the AEW Tag Team Titles, Kris Statlander vs. Britt Baker for the TBS Title