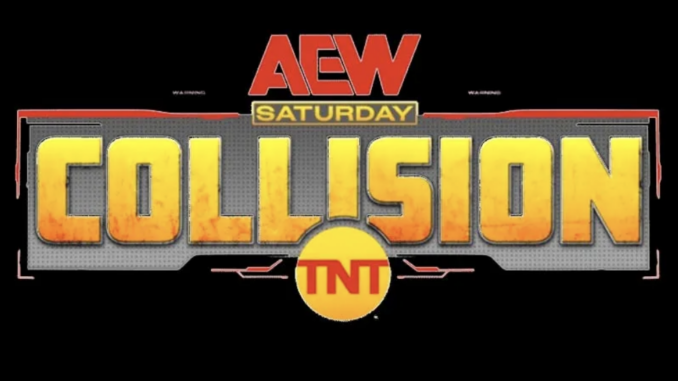 ---
SPOTLIGHTED PODCAST ALERT (YOUR ARTICLE BEGINS A FEW INCHES DOWN)...
---
KELLER'S AEW COLLISION REPORT
SEPTEMBER 30, 2023
SEATTLE, WASH. AT CLIMATE PLEDGE ARENA
AIRED LIVE ON TNT
Commentators: Kevin Kelly, Nigel McGuinness
---
Tonight after AEW Collision, join Wade Keller live with guest co-host Eric Krol to break down the show with live callers and emails.
•STREAM LIVE HERE ABOUT 5 MINUTES AFTER THE SHOW CONCLUDES
•CALL: (347) 215-8558
•EMAIL COMMENTS/QUESTIONS: wadekellerpodcast@pwtorch.com
•IF YOU DON'T LISTEN LIVE, SEARCH "WADE KELLER" ON YOUR PODCAST APP TO SUBSCRIBE ANDw THEN DOWNLOAD OR STREAM THE FULL SHOW TWO HOURS OR SO AFTER THE TV SHOW ENDS.
---
[HOUR ONE]
-Soundbites aired with the two teams battling in the eight-man tag match.
-The Collision opening theme aired.
-Kevin Kelly introduced the show as pyro blasted and the camera panned the crowd.
-A clip aired of five masked men attacking Jay White backstage at the end of Dynamite. Nigel McGuinness (absurdly) concluded because of the devil mask, it was clearly MJF. Kelly (sensibly) said that's not necessarily the right conclusion.
(1) JUICE ROBINSON (w/Colten & Austin Gunn) vs. ANDRADE EL IDOLO
The bell rang four minutes into the hour after Juice threw his jacket at Juice and the Gunns. Andrade went for a very early figure-four. Juice bailed out to ringside and said he wasn't falling for "that Ric Flair bullcrap tonight!" Kelly hyped the tag team debut of Kenny Omega & Chris Jericho. Andrade backflipped off the middle turnbuckle onto Juice and the Gunns at ringside. Andrade threw Juice back into the ring. As Juice complained about Andrade grabbing his hair, the Gunns yanked Andrade off the ring apron and into the announce desk. The Gunns gloated in Andrade's face as he recovered at ringside. The announcers talked quite a bit about WrestleDream during the match.
Andrade made a comeback and punched away at Juice in the corner. Juice, though, stepped away from the corner and dropped Andrade over the top rope turnbuckle. Juice followed up with a running cannonball. He celebrated as they cut to a split-screen break at 5:00. [c/ss]
Juice stayed on offense during the break. Andrade slapped Juice as he yelled something about Lucha Libre in his face. He folowed with two Dragon screw leg whips. He kipped up and the crowd cheered. They showed C.J. watching the match on a monitor backstage. (She seemed more concerned with giving viewers a front view of her ample cleavage than having a good angle looking at the monitor.) Kelly wondered who she was looking at. Andrade went for a moonsault, but Juice lifted his knees.
A minute later, Andrade slammed Juice face-first into the middle turnbuckle. When Andrade charged toward Juice, Juice pulled the referee in the path. Andrade stopped short. Juice then poked Andrade in the eye and landed a powerbomb for a near fall at 11:00. Juice countered an Andrade figure-four intop a small package for a two count.
Andrade went right back on the attack and set up a figure-four again. Colten distracted the ref as Austin entered from the other side with a plaque. The ref caught him and ordered them to the back. They threw the obligatory fit as Andrade smiled. Juice rolled up Andrade from behind and pulled on his trunks. Andrade stood and ducked a Juice wheel kick and then took him down with a spinning back elbow for a near fall. Andrade followed with an impact DDT for the win.
WINNER: Andrade in 13:00.
(Keller's Analysis: Really good match.)
-Tony Schiavone interviewed Omega and Jericho backstage. Jericho said this is a big deal they're teaming because AEW was built on their rivalry. He said they need to figure out if they can coexist in the ring. Omega said he'll never like Jericho and he knows he won't be invited to his birthday party. Omega said tonight and tomorrow night, he'll have his back. He asked Jericho if he'll have his. Jericho said he will. He said they'll need to work together.
(Keller's Analysis: That's so basic in terms of a backstage interview, but so effective. That honestly might've been the best Omega interview to date in AEW history. It was just so efficient and focused and on point. Where has he been all these years letting new viewers get to know him this way rather than just everyone touting him as the Best Bout Machine and having infrequent excellent matches? These are the types of basic promos that hold everything else together.) [c]
-Another "Toni Storm: Portrait of a Star" segment aired with R.J. City. Storm had her feet resting near the crotch of R.J. City on his chair seat. City said she failed to capture the AEW Women's Title from Saraya. Storm fretted over that characterization and she said she she peaks all the time. She said there were happier times when you could throw a pie in people's face and they'd love you. She said now you have to bleed and cry every week or you won't get a write-up in the trades. "Pardon me for being a star, and if the world has forgotten what that looks like, then chin up and tits up – I'll guess I'll just have to remind them." She accused him of flirting with her. City denied it (convincingly). She got angry and asked if she's not good enough for him. A graphic said, "To be continued."
(Keller's Analysis: I'm really enjoying these, and it's actually helping me understand R.J. City's persona more. He seems to be loosening up and growing into something distinct himself.)
(2) THE KINGDOM (Mike Bennett & Matt Taven) vs. BEST FRIENDS (Trent Beretta & Chuck Taylor)
Taven and Bennett pulled their luggage to the ring. Nigel said it appears they just came from the airport. The Best Friends fended off a pre-match attack and set up piledrivers, but Taven and Bennett escaped. Kelly said: "Quite the rally cry of punch 'em in the wiener and hit 'em with a piledriver." He said that's what's on Bennett's shirt and he can't believe he's saying it. The bell rang 28 minutes into the match. At 2:00 with all four down at ringside they cut to a partial split-screen break. [c/pss]
At 7:00, Bennett set up a piledriver on the ringside steps on Beretta, but Beretta escaped and slammed Bennett onto the steps. Fans chanted "Holy shit!" Beretta kicked Bennett off of Taylor's shoulders. Then they hugged. Then the Bets Friends gave Bennett and Taven piledrivers. Bennett scored a near fall; Bennett put his boot over the bottom rope. Bennett punched Beretta low. Kelly said, "He just punched him in the wiener!" (No. Just no.) Then Bennett punched Taylor low. Taven spike piledrove Taylor and then Bennett scored the pin. Kelly said the ref didn't see the low-blows that led to the finish.
WINNERS: Bennett & Taven in 10:00.
-Afterward, Bennett said "Wiener punch, piledriver." Taven said they've got red eye flights and they're going right back to Roderick Strong. Kelly said that's why they had their suitcases with them. Taven called the fans "Melvins." He said his message is for Adam Cole. He said he knows he's got doctor's appointments all week and has delayed his surgery, so he should meet them at Roddy's house. Taven said if they've ever meant anything to him, meet them at Roddy's. He told Roddy they're only six hours away, so stay neck strong until then.
-Alex Marvez excitedly talked about the Omega & Jericho match. He walked over to interview Prince Nana, who was talking with Don Callis. Callis walked away. Marvez asked Nana what he was doing talking to Callis. Nana said if you dig deep into the universe, you'll find something unique. He began to sing "We in the money!" and patted Marvez on the chest. [c]
-A vignette aired on Julia Hart and Kris Statlander. Julia walking through woods and holding up black and white masks. "The House always wins," she said. Kris called Julia a bitch (how original) and said she's no match for Kris Statlander (annoying speaking in the third person).
(3) JULIA HART (w/Brody King) vs. VERTVIXEN
Kelly talked about Julia being from Bloomington, Minn. and said so many great wrestlers have come from that area, mentioning Rick Rude, The Road Warriors, and Curt Hennig. Julia choked Vertvixen against the ropes and dominated her before winning with a moonsault.
WINNER: Julia in 3:00.
-Julia called out Kris Statlander. Statlander walked out with Bennett, Taylor, and Rocky Romero. Statlander dared Julia to hit her. Julia rolled out of the ring and walked away with Brody King. Statlander told Julia she'll be the defeater of the undefeated and then screeched that her time is up tomorrow night.
(Keller's Analysis: That wasn't a good moment for Statlander, but at least she didn't call her a bitch again. Generic and grating at once. Julia is improving in the ring and in terms of conveying her demeanor believably.)
-A vignette aired on Cesaro and Josh Barnett, which has been added to the pre-show.
-Kelly announced that match would take place. He said it's "a dream match of sorts."
(Keller's Analysis: Talk about getting the absolutely least possible out of a "dream match of sorts.")
(4) CHRIS JERICHO & KENNY OMEGA vs. GATES OF AGONY (Toa Liona & Bishop Kaun w/Prince Nana)
The bell rang 57 minutes into the hour. Liona no-sold Omega smashing his head into the top turnbuckle a few times. Omega dove at him with a crossbody a few seconds later as fans chanted "Kenny! Kenny!"
[HOUR TWO]
Jericho and Omega worked together to double-suplex Liona. They looked at each other like they were impressed with their chemistry. Nana grabbed Omega's leg as he ran the ropes. Omega turned and yuelled at Nana. Liona then checked Omega hard and sent him into Jericho, knocking him off the ring apron. (What're the odds!?)
Kaun back suplexed Omega and scored a two count. They cut to a split screen break at 7:00 as Liona and Kaun were beating up Omega. [c/ss]
Back from the break, Jericho had tagged in but he was also taking a beating. Omega rallied and landed a V-Trigger on Kaun and then a flip dove at Liona at ringside but landed short and barely grazed him. Jericho put Kaun in a Lion Tamer at ringside for the tapout win.
WINNER: Jericho & Omega in 12:00.
-Afterward, Jericho's music played. He then said they proved that they can coexist together (redundancy alert!). Omega said coexisting isn't part of a grand scheme to be the greatest tag team ever, but instead it's about Don Callis. He said when he was brainwashed, he didn't listen to everyone telling him how creep Don was. He said he was brainwashed and blinded, but now he's seen the light. He said it'll take more than assaulting Kota Ibushi to get him to turn the back on his friends. He said Ibushi takes a beating like that as an invitation to return fire. He said it's time for him and Jericho to spell the beginning of the end for Callis. Jericho talked about their tag match at WrestleDream and has especially harsh words for Sammy Guevara. He said he'll ruin his dreams and goals and his entire life. "We're coming for you, family," he closed with. Jericho patted Omega on the back as his song played.
-A vignette aired with The Righteous again. Karma's deadline is getting closer," Dutch said. Vincent said they'd tear apart the bond that unites MJF and Adam Cole, which is the ROH Tag Team Titles." [c]
-A video package aired on Christian Cage vs. Darby. Christian said he's going to cement his legacy and beat him in his hometown which he'll then have to live with the rest of his life. Darby vowed he won't lose in Seattle.
(5) THE RIGHTEOUS (Vincent & Dutch) vs. JUDAS ICARUS & TRAVIS WILLIAMS
The bell rang 22 minutes into the hour. Kelly talked about The Righteous earning the match including defeating the Hardys. Kelly noted that MJF will wrestle alone because of the injury suffered by Cole.
WINNERS: The Righteous in under 2:00.
-After the match, Vincent told Dutch to look at all the paper people strung together. He said it's the same paper people who believe that MJF truly is the devil. He said he is the devil who pulls the strings that make people dance, which are the same strings that are tied to "that liar Adam Cole." He said at WrestleDream they won't just become the ROH Tag Team Champions, but they'll make sure that the devil leaves with one hoof just like his injured partner. Dutch pulled a board out from under the ring and then put it between Icarus's feet. Then Dutch held his feet as Vincent smashed his ankle with a chair.
-A vignette aired on the Eddie Kingston vs. Shibata match. Eddie said they're going to show, as Inoki would say, that pro wrestling is strong and it'll be a fight. [c]
-Kelly and Nigel ran through the WrestleDream Zero Hour (pre-show) line-up. Nigel said it'll have something for everyone.
-Schiavone interviewed TMDK backstage in a Trios Title match. The Acclaimed & Billy Gunn interrupted the promo.
-Kelly and Nigel hyped the WrestleDream main PPV card line-up.
-Jim Ross joined the announcers on commentary. Zack Sabre Jr. then came out. The announcers talked about his match against Danielson as a battle to determine the best technical wrestler in the world. He joined them on commentary.
(6) AUSSIE OPEN (Kyle Fletcher & Mark Davis) & RICKY STARKS & BIG BILL vs. BRYAN DANIELSON & WHEELER YUTA & FTR (Dax Harwood & Cash Wheeler)
Everyone's ring entrances aired in full. The bell rang 39 minutes into the hour. Fans cheered. ZSJ said he's been waiting 15 bloody years to face Danielson. Nigel brought up Danielson saying he's in the last year of his career. ZSJ said he's had one too many hits on the head if he believes that. They cut to a partial split-screen break at 3:00. [c/pss]
Yuta took an extended beating. Starks prevented him from tagging out, then tagged in Big Bill. Davis and Fletcher double-teamed Yuta for a two count a minute later. They cut to another split-screen break. [c/ss]
After the break, with Starks and Yuta both down, fans cheered for a Danielson tag. They got it. Danielson rallied against Starks with hard chops and kicks. ZSJ said all 206 bones in Danielson's body will be made of metal come Monday. Danielson sent Starks to the floor and then dove through the ropes at him. Daniels landed a flying dropkick off the top rope next, then played to the crowd. Danielson charged at Starks three times in a row; he hit two dropkicks, but the third time Starks clotheslined him. Starks landed a tornado DDT next. Big Bill tagged in and played to the crowd by mocking Danielson. Danielson then put Bill in a crossface mid-ring. Fletcher broke it up. Dax entered and gave him a brainbuster suplex. Chaos continued with everyone entering the ring. Ross asked, "Who's legal?" Danielson and his teammates hit their opponents with Yes kicks.
After a brawl at ringside, Bill isolated Dax in the ring. He tagged in Starks who speared Dax out of Bill's arms for a three count. Cash was late breaking the up the cover.
WINNERS: Starks & Bill & Aussie Open in 19:00.
-After the match, Aussie Open went after Dax, but Dax's teammates broke it up. Bill held Yuta in the ring, but Yuta broke free and then Danielson gave him a Psycho Knee. Yuta leaped onto Starks at ringside. Danielson then called ZSJ into the ring. ZSJ took off his headset and had a staredown with Danielson mid-ring. ZSJ slapped Danielson. Danielson slapped him back as Kelly said tomorrow night they'd finally find out who the best technical wrestler in the world is.
(Keller's Analysis: Closing with that staredown sends the signal that will be the closing match at the PPV tomorrow night.)
---
Tonight after AEW Collision, join Wade Keller live with guest co-host Eric Krol to break down the show with live callers and emails.
•STREAM LIVE HERE ABOUT 5 MINUTES AFTER THE SHOW CONCLUDES
•CALL: (347) 215-8558
•EMAIL COMMENTS/QUESTIONS: wadekellerpodcast@pwtorch.com
•IF YOU DON'T LISTEN LIVE, SEARCH "WADE KELLER" ON YOUR PODCAST APP TO SUBSCRIBE ANDw THEN DOWNLOAD OR STREAM THE FULL SHOW TWO HOURS OR SO AFTER THE TV SHOW ENDS.