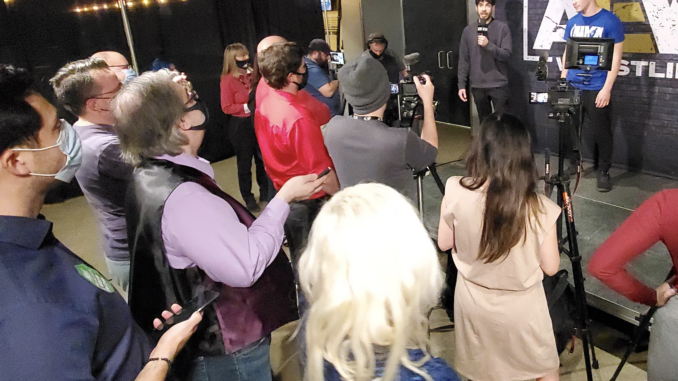 ---
SPOTLIGHTED PODCAST ALERT (YOUR ARTICLE BEGINS A FEW INCHES DOWN)...
---
Tony Khan posted on Twitter/X today that he has an "important announcement" to make on AEW Dynamite tomorrow night. I hope that Tony Khan has ten important announcements tomorrow. In no particular order…
(1) He's restructuring and redefining the AEW titles. There will be one Men's World Title, one Women's World Title, one Men's Tag Team Title, one Women's TV Title, and one Men's TV Title. The TV title matches will be defined as available to anyone who has never wrestled for the World Singles title, and it must be defended twice per month on TV or the wrestler will be stripped of the title.
(2) ROH is shutting down completely and all titles will be retired. The library will be honored with inclusion on a future video streaming service or inclusion of relevant highlights pertaining to current AEW wrestlers.
(3) When a wrestler attacks another wrestler before the bell, the referees will no long ridiculously reward the pre-match attack by immediately calling for the bell to start the match, giving the wrestler who attacked his or her opponent an unfair advantage.
(4) AEW will commit to running 6 major PPVs per year, not expanding to 12. When and if a streaming deal is secured, there will be six additional premium live events available on Max or another streaming service in alternate months.
(5) AEW Collision will come to an end at the end of 2023. The focus will be on making Dynamite a must-see show with an attention to detail and polish not seen before. This will aim to alleviate the burning out of the ticket-buying public by cutting AEW's live show schedule down from roughly 104 live TV events per year to 52 per year. The larger crowds at Dynamite, because AEW can run their top cities with the most demand for tickets, will help AEW feel major league and frame their top wrestlers as big stars in a successful company. They will revisit expanding the TV schedule when they start selling more Dynamite tickets per show and when ratings are going up, not down. As a result, Tony Khan and his team will be spread less thin and there will be less of a sense of filler and less hot-shotting now and then, with the focus on providing great weekly Dynamites and great bi-monthly PPVs, with the goal being to leave fans wanting more and raving about the consistent density of quality of everything AEW puts out.
(6) A new person has been hired to be in charge of the lights, and they will be in a locked cockpit-like secure room at every arena with security protecting the door. There will be a camera stationed outside of that locked door, and anyone who gets within ten feet of it will be fired and prosecuted. No more lights going out and then coming back on. It's stale and overdone and stupid.
(7) Tag team matches will require one legal wrestler in the ring at a time. There will be a five second transition period. A violation of that will lead to a warning and a second violation will lead to a DQ. Tag partners must stand near enough to their corner to hold a tag rope before being legally tagged in. (This is the Jim Ross Stress-Relieving Rule. And he's not wrong. The Young Bucks will be just fine, too. And there can still be Tornado-style stipulations where it feels special that the usual restrictions are not in place.)
(8) AEW is hiring an on-air commissioner who will remove the need for references to Tony Khan on TV. The new commissioner will also be the head of a championship committee also consisting of four other named members, who will explain the justification for anyone receiving a title shot. This committee has an aversion of battle royals deciding who deserves a one-on-one match for a title since, obviously, outlasting a bunch of wrestlers in a match where the goal is to throw someone over the top rope means nearly as little to being worthy of a title match as being really good at playing the piano or making really good soup.
(9) The AEW roster will be trimmed to around 40-50 male wrestlers and around 25 women wrestlers. The reduction in salary will lead to a reduction in ticket and PPV prices for fans or an increase in the sound producer budget so backstage promos don't sound like they're filmed in a high school bathroom.
(10) AEW will go back to aiming to feel like a sports league and a true alternative to WWE instead of a mish-mash mix of excellent wrestling matches, mediocre wrestling matches, and bad wrestling matches interspersed with wrestlers doing skits and promos with the primary goal seeming to be gaining followers on social media, trending, getting repeated crowd chants, or creating an "Internet buzz" rather than building toward a goal that has something to do with succeeding in the ring with actual wins and championship aspirations (which, unlike ephemeral trending on Twitter or becoming a GIF – that means you, once-rising-star Daniel Garcia – can help AEW sell tickets and grow).
What would be on your "want list" for Tony Khan announcements? Let me know. Send emails, for possible publication in a follow-up article, to: kellerwade@gmail.com.
---
PWTorch editor Wade Keller has covered pro wrestling since 1987. He has been a guest on the Steve Austin Show as an analyst of current events and pro wrestling history 40 times, making more appearances than any other guest. He currently hosts the "Wade Keller Pro Wrestling Podcast" and "Wade Keller Pro Wrestling Post-show" along with several PWTorch VIP-exclusive podcasts every week. He was inducted into the National Wrestling Hall of Fame for "Excellence in Writing on Professional Wrestling" in 2015. He hosted "The Ultimate Insiders" DVD series in the 2000s including long-from studio interviews in Los Angeles, Calif. with Matt & Jeff Hardy and Vince Russo & Ed Ferrara. He has interviewed more big name wrestlers and promoters in long-form insider interviews over the last 35 years for the Pro Wrestling Torch Newsletter, usually in the "Torch Talk" transcribed Q&A format, than any pro wrestling reporter. The list of those he has interviewed include Steve Austin, The Rock, Vince McMahon, Kevin Nash, Scott Hall, Hulk Hogan, Goldberg, Eric Bischoff, Verne Gagne, Lou Thesz, Jesse Ventura, Drew McIntyre, Brian Gewirtz, Paul Heyman, Mick Foley, Jim Ross, Tony Schiavone, Jon Moxley, and dozens of other top stars and influential promoters and bookers/creative team members.
---
RECOMMENDED NEXT: Tony Khan says he has "an important announcement" for fans on Dynamite tomorrow night
OR CHECK THIS OUT AT PROWRESTLING.NET: McGuire's Mondays: Does Kenny Omega serve as a cautionary tale for his fellow NJPW alumni?