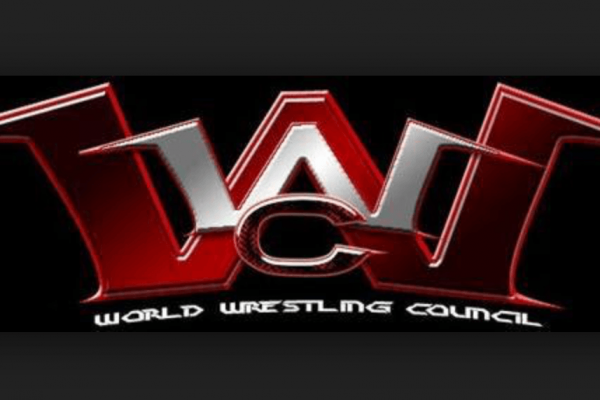 ---
SPOTLIGHTED PODCAST ALERT (YOUR ARTICLE BEGINS A FEW INCHES DOWN)...
---
WORLD WRESTLING COUNCIL TV REPORT
"SUPER ESTRELLAS DE LA LUCHA LIBRE" REPORT
OCTOBER 10, 2015
AIRED ON WAPA AMERICA
REPORT BY JOSE MARRERO (@JMarrRumbling)
-WWC Open.
-Willie Urbina and Wizard Analyza are on the call. They start the broadcast by plugging the matches that will take place at their next live event, which will be main-evented by Chicano challenging "Mr. 450" Hammett for the WWC Universal Championship.
1 – RIKOCHET & TOMMY DIABLO VS. PETER "THE BAD" ROMANCE & "MR. REVOLUTION" MORGAN (Anniversario Tour – September 28, 2015)
This was a tag team match to basically highlight all the Jr. Hvts. in the company, as Diablo is the current champion and Rikochet and Romance have held the title previously. Romance and Morgan looked good early – some of their exchanges with Rikochet were a little exaggerated, but they kept the heat on him, cut him off the ring, and gave him many hope spots to keep the crowd into it.
Rikochet finally tagged in Diablo, who came in like a man possessed. All four men wound up going at it and the crowd went nuts for the faces. They did a modified version of the Dudleys's "What's up" headbutt, which involved Rikochet holding Morgan and Diablo catapulting Romance to hit the headbutt. Diablo then clotheslined Romance to the outside and Rikochet hit a front flip piledriver on Morgan for the win.
WINNERS: Tommy Diablo & Rikochet. This was a nice match although considering that tonight's live show has Diablo vs. Romance I think more should've been done with those two. However Rikochet looked really good and I can see all four of these men perhaps battling in four-way matches for the title in the near future.
-Highlights of the match between Romance and Diablo from Anniversario are quickly shown. Willie Urbina informs viewers that the re-match is taking place at tonight's live event and throws it to comments from Peter "The Bad" Romance.
-Romance mentions how he will win the re-match and regain the title to become a three-time WWC Jr. Heavyweight Champion and there is nothing Diablo can do about it.
-Wizard Analyza chimes back in. He says that later in the show there will be a four-way non-title match that took place on September 28 between Carlito, Chicano, Apolo, and WWC Universal Champion "Mr. 450" Hammett.
[Commercial Break]
2 – SAMSON WALKER VS. LA REVOLUCION #1 (Anniversario Tour – September 28, 2015)
I honestly can't remember the last time I saw Samson Walker wrestle in WWC, as it may have been more than a year ago. I do remember that the last time he was a heel, as are most of the Americans. So, I found it odd to see him in this match as a face. For those who have never seen him, Samson Walker is a more athletic version of Mark Henry – his look and most of his moveset is totally lifted from the "World's Strongest Man."
Walker dominated the Revolucion member with his power moves and maintained his advantage even when brawling outside the ring. However, once back in the ring, Revolucion #1 landed low blows behind the back of the official. Walker eventually managed to come back strong, hitting several slams and spinebusters. He looked to get the win with a superkick until La Revolucion #2 came to ringside and distracted the referee. Walker dealt with the interloping Revolucion member, then came back in the ring, but was hit with a foreign object by Revolucion #1. After taking forever, the referee finally came back to count the three on Walker.
WINNER: La Revolucion #1. I don't think Walker is ever going to be a regular competitor in WWC so this really was the right call as the members of La Revolucion not only are the WWC Tag Team Champions, but they also have figured heavily into the mid-card scene. Other than the referee taking forever the match was fine for what it was.
-Juan Manuel Ortega is backstage. He says how his guy Mighty Ursus is more than prepared for the challenge of Miguel Perez, Jr., who he will be facing at that night's live event. He says Ursus is bigger, stronger, and meaner, and Perez doesn't stand a chance.
-Willie Urbina reminds viewers that later on in the show the main event will be the fatal four-way match.
[Commercial Break]
3 – CHICKY STARR VS. ANGEL FASHION (Anniversario Tour – September 28, 2015)
This match begins in progress. I've complained on this before but it bears repeating here, why is Chicky Starr, who really does his best work as a manager, all of a sudden a regular competitor now? Angel Fashion is by WWC standards a strong, up-and-coming heel who has reigned in the past as WWC Jr. Champion and challenged for the WWC Puerto Rico Championship. He shouldn't be bouncing and selling for a manager.
Fashion basically was battered all over the place to start this match until finally low blowing Starr behind the referee's back. He pounded Starr on the apron and couldn't even maintain that for very long, as Starr hit him with one of the worst clotheslines I've ever seen. It wasn't long after that Fashion was able to sneak in a roll-up with his feet on the ropes for leverage to get the pin.
WINNER: Angel Fashion. The only thing I could say is at least he didn't lose the match here. It also would've been nice if the commentators would have informed the viewers of why Fashion was without his valet Vanilla Vargas. One of the things I always liked about watching old WWF house shows in the '80s was how the mangers wouldn't always do the circuit, but there was always a storyline reason or mention of why the manager wasn't there. Announcers here should've mentioned something.
-Highlights aired of the Lumberjack match between Fashion and Mike Mendoza at Anniversario. Willie Urbina mentioned that the re-match will be at the live event tonight. He then threw to some comments backstage from Fashion.
-Fashion brings up the Lumberjack match and says how he will defeat Mendoza again. I think Mendoza may be from the town they are having the re-match tonight, as Fashion mentioned beating Mendoza in front of his whole family tonight and humiliating him.
-Mike Mendoza was shown outside doing some Cross-fit with a tire. Mendoza says all how Fashion does is talk, but at tonight's event they fight. He promises to be victorious because he believes he is the better wrestler.
-Wizard Analyza plugs the main event next.
[Commercial Break]
4 – APOLO w/ Havana VS. CARLITO CARRIBEAN COOL VS. CHICANO VS. WWC Universal champion "MR. 450" HAMMETT – non-title match (Anniversario Tour – September 28, 2015)
This match begins in progress with Apolo battling it out with Hammett. Hammett looks to be in control until Havana gets involved and Apolo begins assaulting Hammett all over ringside. Apolo batters Hammett at one point even hitting him with a fan's cane. They shifted views to Chicano and Carlito battling in the audience on the other side of the building. The camera cut back to Apolo, who may have had a bad interaction with a fan, as he was being held back by security from going into the stands. He resumes battling Hammett and all four men are re-united in battling outside of the ring.
They trade off sparring partners. This match is just an all-out mess at this point, as no one can seem to get it back inside the ring. Apolo eventually gets Chicano back inside the ring, while Carlito and Hammett go at it outside. Carlito tries to throw Hammett into the ringside stairs, only for Hammett to run up the stairs and cross-body Carlito. Back in the ring, Hammett looked to go for the 450 splash on one of his opponents until getting knocked off the apron by Carlito and suddenly Carlito stood tall as all his opponents were down.
Carlito went up top to attempted to hit a 450 splash on Chicano, and mock Hammett. However, Hammett recovered to crotch Carlito on the turnbuckles, leading Chicano and Apolo to get involved. Eventually, all of the men were down again after a Tower of Doom. Carlito rolled to the outside and Hammett got Apolo to the outside as well, leaving him open for Chicano, who hit the Superman Punch on him for the clean victory.
WINNER: Chicano. Chicano and Hammett have been battling all summer ever since Hammett won the WWC Universal Championship from him. This is the first time I've seen Hammett pinned in any match since winning the title and was a great match to show on TV hyping the battle between the two at the live event tonight. Chicano has been screwed out of regaining the title countless times and I would not be surprised to see him regain the title, and possibly turn heel.
-Wizard says "What's Happening in WWC" will bring the show back from commercial break.
[Commercial Break]
-"Whats Happening in WWC" with Willie Urbina segment runs here. He says that one of the matches taking place at the live event is a match between Joe Bravo and WWC Puerto Rico champion Ray Gonazalez, Jr.
-The viewers are shown Mike Mendoza, Pelayito Perez (who is a referee but sometimes wrestles, and is a former tag team partner of Gonzalez, Jr.), and Ray Gonzalez, Jr. They are all congratulating Gonzalez, Jr. for winning the WWC Puerto Rico Championship when in walks Joe Bravo. Bravo begins to put everyone down. He calls Mendoza a loser and mentions how Perez shouldn't even be back here because he is supposed to be a referee. He tells Gonzalez, Jr. that he is putting him on notice because he plans to take the title off him.
-Joe Bravo is shown talking in front of a trophy and a Dominican Flag. He calls Gonzalez, Jr.an undeserving champion and mentions how he should've been the one to receive the title opportunity.He says that he doesn't care about Ray, his father, or his fans, as he will take the championship. Gonzalez, Jr. responds that he worked so hard for this title as it was his dream to one day win the Puerto Rico Championship and now he has it. He tells Bravo that when they meet tonight, he will see that the boy who grew up wanting to be champion is now a man and will do anything to keep it.
-Comments are shown from "Mr. 450" Hammett and Chicano hyping their WWC Universal Championship match. Chicano says that he feels Hammett is a tremendous wrestler, but he knows he is the better man, while Hammett basically says the same thing. Willie Urbina asks what is going to happen tonight at the live event and signs of "We are WWC, We are wrestling."
Contact reporter Jose Marrero at wrestlingrumblings@hotmail.com, and be sure to check out his blog on other things going on in wrestling at WrestlingRumblings.WordPress.com.