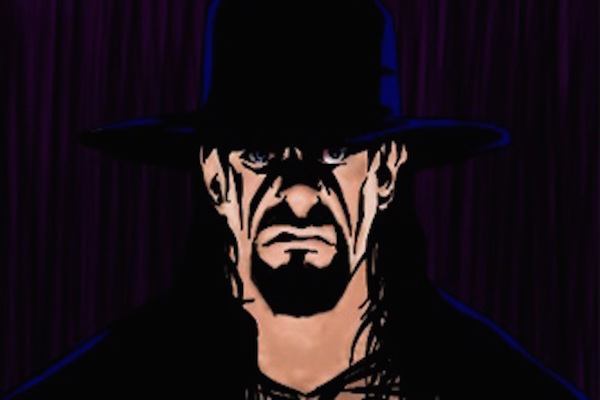 ---
SPOTLIGHTED PODCAST ALERT (YOUR ARTICLE BEGINS A FEW INCHES DOWN)...
---
Plenty of monsters have invaded pro wrestling rings through the years: vampires, zombies, giants, genetic mutations, mummies, and homicidal maniacs, just to name a few. Different wrestlers have taken on the personas of horror film characters like Leatherface, Freddy Krueger, the Wolfman, and Jason Voorhees. And who could ever forget that epic feud between Rick Steiner and Chucky?
A trip to your local toy store will probably turn up plenty of figures of the Undertaker and Kane. Do a quick eBay search and you'll be able to take your pick of toys of Kamala and King Kong Bundy. Here's a look at ten memorable toys of some of wrestling's scariest monsters.
(10) Father James Mitchell. Mitchell's wrestling persona originated as an impersonation of Jack Nicholson's devilish character in "The Witches of Eastwick"; he even went so far as to copying that character's name, Daryl Van Horne. Whether he was Van Horne, James Vandenberg, the Sinister Minister or Father James Mitchell, he always played the same character and evolved into one of wrestling's best talkers. His stable of monsters over the years included Mortis, Wrath, Tajiri, Mikey Whipwreck, Judas Mesias, Black Reign, and Rellik. Oh, and who could ever forget Prince Kharis, the 4,000-year-old mummy he managed in Smoky Mountain Wrestling?
Freaky figure: Toy Biz TNA Action Figures. Mitchell's only toy has him dressed head to toe in his trademark red coat and cane, with his face twisted into a sinister laugh. These figures typically sell for $10-15 loose or packaged.
(9) Papa Shango. Charles Wright is one confused dude. He's been a voodoo man, an MMA fighter and a pimp, just to be a few. Wright gained some exposure through the USWA and GWF as the Soultaker, but experienced his first real taste of stardom as the WWF's Papa Shango in 1992. Shango had a cool look, but his cartoonish character was the Undertaker turned up to 11 in all the wrong directions. He made the Ultimate Warrior vomit, set jobbers on fire and made announcers ooze a black liquid.
Freaky figure: Hasbro WWF Series 6. This figure was released in 1993, during Shango's final days with the promotion. It's easy to find one loose for less than $10, with packaged figures usually available for $30-40. Mattel and Jakks have also made cool figures of Papa Shango.
(8) Vampiro. Ian Hodgkinson has been a star in the wrestling business ever since breaking out in Mexico's CMLL promotion in the early 1990s. Most U.S. wrestling fans know him best for his stint in WCW's last years, where he teamed up with other dark characters like Insane Clown Posse and the Great Muta. Earlier this year he had a standout match against Pentagon, Jr. on Lucha Underground's first season finale.
Freaky figure: Toy Biz WCW TNT. In this case, "TNT" stands for T-shirts 'n' tattoos. The figures in this set came with one or two removable cloth T-shirts and a few temporary tattoos. These were made by Toy Biz as WCW was going out of business and were liquidated through outlet shops and toy stores in the summer of 2001. Today this figure of Vampiro sells for about $10-20 loose, $25-35 in the package.
(7) Adam Bomb. Bryan Clark began his career as the axe-wielding Nightstalker with Ox Baker as his manager, making appearances in the AWA and WCW in 1990. He received a tryout with the WWF in early 1993, and worked house shows as the Nightstalker with a new vampire twist to his gimmick. By the time he made it to TV, he was repackaged as Adam Bomb, a survivor of the Three-Mile Island nuclear disaster. He originally used cheesy 1950s monster movie music and wore neon green contact lenses.
Freaky figure: Hasbro WWF Series 11. These were the last of Hasbro's WWF figures, released in 1994. Because wrestling was in such a down period, these figures had very limited distribution and were tough to find. Today the "Hasbro green cards," as they are commonly called, are among the most sought after wrestling toys ever made. The figure of Adam Bomb is one of the most popular in the series, selling for $50-70 loose and $100-150 mint on card.
(6) Giant Gonzalez. In WCW, Jorge Gonzalez was given a futuristic silver suit and billed as El Gigante, an affable babyface who backed up Sting in his battle against the Four Horsemen. When he debuted on WWF television in 1993, he sported an airbrushed bodysuit with strategically placed patches of hair. Dubbed Giant Gonzalez, he was billed as "nearly eight feet tall" and paired with the diminutive Harvey Wippleman to make him look even bigger.
Freaky figure: Jakks Pacific Classic WWE Superstars Series 16. Jakks was often criticized for producing toys that were completely out of scale. For instance, most Rey Mysterio figures were the same size as most Triple H figures. But Gonzalez's figure actually towers all others. The figure was released in the 16th series of Classic WWE Superstars, and then in a two-pack with Wippleman. The figure tends to sell for $15-20 loose, $25-35 packaged. The two-pack with Wippleman commands slightly more, usually selling for $30-40 packaged. While most of the figures just have the fur painted on, there's also a limited edition variation (500 pieces) with tufts of fur.
(5) Abdullah the Butcher. A lot of wrestling fans in the 1980s never even saw Abdullah the Butcher wrestle. But anyone who picked up a magazine at that time knew all about the "Madman from the Sudan." Gory photos of his matches with Bruiser Brody, Carlos Colon and others were splashed all over the pages of the Napolitano and Apter mags. He had a somewhat tamer run with Cactus Jack in WCW in the early 1990s.
Freaky figure: Remco AWA Greatest Grudges. Abby's first figure was included in an AWA two-pack with Colon. Abdullah has red cloth pants and removable pointy red boots. Complete loose figures can be found for $20-30, with mint-on-card two-packs selling for $50-$75. Jakks also produced a cool Abdullah figure in its Classic WWE Superstars line. Sadly, collectors are still waiting on a Chamber of Horrors playset so they can electrify Abdullah.
(4) Kamala. Most places he went, Kamala was the Ugandan Giant from the deep, dark jungles of Africa. When he returned to the WWF for a brief run in 1986, he was billed as Kamala the Ugandan Headhunter. He wrestled virtually everywhere over the years and is still one of the most recognizable figures of his era.
Freaky figure: LJN WWF Wrestling Superstars Series 4. Kamala's unique look is perfect for an action figure, and he's appeared in every WWF/WWE toy line to date. This was his first figure, a big solid hunk of rubber with stars painted on his chest and a moon on his belly. Loose figures can sell for $10-40, depending on paint wear. Packaged figures are very tough to find, so sale prices are erratic. Some have sold for as low as $50, others over $100.
(3) Kane. Glenn Jacobs has gone through numerous costume changes over the years: partially masked Kane, unmasked Kane, corporate Kane … and don't forget about Unabomb, the Christmas Creature, Isaac Yankem, and Fake Diesel. But many fans are still fond of Kane's original Big Red Machine gear that he wore when he debuted in 1997 and for his first few years in the company.
Freaky figure: Mattel WWE Elite Series 12. This flashback figure captures Kane's original look perfectly (complete with voice box) and is one of the most popular WWE toys from Mattel to date. It was tough to find when it was released in 2011 and secondary market prices immediately skyrocketed. Today this figure can sell for $50-80 loose, or $100-150 in the package.
(2) Doink the Clown. Really, is there anything scarier than a clown? In 1992 Matt Borne became Doink, a mashup between the Simpsons' Krusty and Pennywise from Stephen King's "It." Borne was perfect as the evil, sadistic clown, a character that was in many ways ahead of its time. Twisty the Clown was a favorite among viewers of "American Horror Story" last year, and the movie "Stitches" has grown a cult following since its 2012 release. Sadly, once Borne was gone, Doink lost his edge and became just another clown in the WWF circus.
Freaky figure: Jakks Pacific Classic WWE Superstars Series 6. Jakks produced multiple figures of Doink, but this figure perfectly captured Borne's sadistic version of the clown. It's easy to find today for $10-15 loose, $20-30 packaged.
(1) The Undertaker. He's been called "the greatest" in several categories: WWE superstar, gimmick and special attraction, just to name a few. In many ways, the Undertaker is all of those. He's kept his gimmick fresh by constantly changing it up. The Undertaker is part mortician, part zombie, part cult leader, part MMA fighter, part biker – and all legend.
Freaky figure: Mattel WWE Elite Series 23. Undertaker was at his most ghoulish in 1995. After suffering a severe injury to his face courtesy of King Mabel, the Undertaker donned a Phantom of the Opera-type mask to go with his black and purple gear. Mattel made a great Flashback figure of this version of the Undertaker in its 23rd Elite series. Since its release in 2013, the figure has quickly risen in value, selling for $30-35 loose, $45-60 packaged.
PWTorch Collectibles Specialist Michael Moore can be reached at michaelmoorewriter@gmail.com. Follow him on Twitter @MMooreWriter.