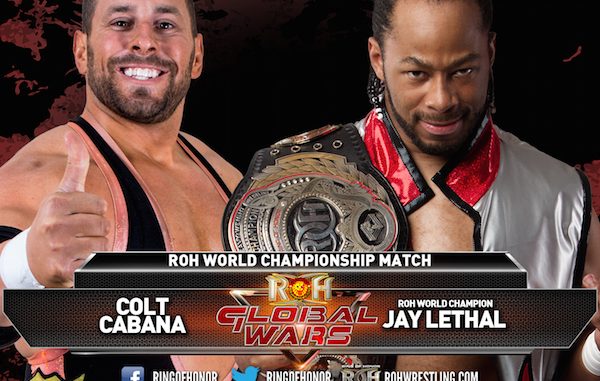 ---
SPOTLIGHTED PODCAST ALERT (YOUR ARTICLE BEGINS A FEW INCHES DOWN)...
---
Wake the pets & call the neighbors, it's time for our exclusive ROH pay-per-view projections.
DISCLAIMER: Projections are made by myself and for myself with absolutely no assistance from Gary Juster, Greg the GM, Nigel McGuinness, or The Man With The Lizard Face. Projections are not predictions, because this is the column where everything's made up and the points don't matter. This preview has been sealed in a mayonnaise jar on Funk & Wagnall's porch since noon today. Closed captioning is provided by America Online. Some of our departing contestants will receive a supply of Right Guard by Gillette. Right Guard, because men perspire more. Remember, this is only an exhibition. This is not a competition. Please, no wagering. This lineup is based on the best available information as of this writing. These predictions are based on what the columnist would do if he had creative control over ROH, unless a better one-liner comes along.
As we go into one of Ring of Honor's biggest weeks ever, there's been a metric ton of speculation on social media about the future of the beloved ROH promotion. WWE has been poaching anyone they can poach for the upcoming Cruiserweight Classic, and for NXT. The Young Bucks received a high-end deal from ROH that has other veteran wrestlers wanting similar high-end deals of their own. Michael Elgin is doing well in New Japan, another potential avenue for career advancement.
For all the scuttlebutt about low locker room morale, the only person we know is on the way out is (spoiler) Stokely Hathaway. There is a logjam of upper midcard talent, there are wrestlers who don't think they're booked well, and there are people unhappy over money. That's not good news, but WWE isn't about to grab a bunch of ROH wrestlers and have them "invade" WWE.
After all, WWE has to get the New Japan invasion and the TNA invasion stories out of the way first.
Before we get to our projections, let's do today's Wrestling History Lesson. Twenty years ago, on May 2, 1996, World Championship Wrestling taped WCW Worldwide Wrestling at Disney/MGM Studios in Orlando, Florida. This taping featured a match for the WCW Cruiserweight Title, as champion Shinjiro Otani defended against Dean Malenko. (No, I didn't misspell his name. WCW did that.) Tony Schiavone & Dusty Rhodes had the call.

Looking for something a little more recent? We have that too. Back in February, in Las Vegas, we had a web exclusive four-way match for Ring of Honor's 14th Anniversary weekend. It was Cheeseburger vs. Gedo vs. Silas Young vs. Will Ferrara. Kevin Kelly, Mr. Wrestling III, and Veda Scott had the call.

And, as your free gift for viewing this column, let's take you back to May 12, 2006, and the ROH "How We Roll" event from Long Island, New York. On this show, we saw former ROH Champion Samoa Joe in action against future NXT Tag Team Champion Rick "Apocalypse" Viktor. Commentary is provided by the ringside fans in Long Island.

Enough of that. Now on with the projections!
Jushin Liger & Cheeseburger vs. The Addiction: Sure, NXT had Jushin Liger wrestle on its Takeover show in Brooklyn last summer. But was he teaming with Cheeseburger at the time? No? Ring of Honor wins. Projection? Cheeseburger gets hit with the Celebrity rehab after some chicanery from the ex-champs. How can I not pick The Addiction? Daniels has spent more time on my Livecast show in 2016 than Lodi has.
A.C.H. vs. Adam Page vs. Dalton Castle vs. Roderick Strong: Roderick Strong's contract is up soon, and there's speculation as to whether Mr. ROH will get a shiny new top-level contract or head elsewhere. I'm a big a supporter of sabermetrics as you'll find on this site, but Ring of Honor is Strong's best fit, and I think Sinclair should bust open the piggy bank. Projection? ACH catches Page with the Big Bang Attack while Roddy and Castle are fighting on the outside. This is a number one contenders match and Lethal vs. ACH on a future show works for me.
The Young Bucks, Tama Tonga & Tanga Roa vs. Motor City Machine Guns, Yujiro Kushida & Matt Sydal: One of the problem with a loaded show like this one is that a match like this will probably last about twelve minutes. Projection? Kushida submits Tanga Roa with the Hoverboard Lock, setting up Kushida & Sydal for a future IWGP Title shot. That would work.
Tetsuya Naito vs. Kyle O'Reilly: When the IWGP Heavyweight Champion fights the best wrestler in Ring of Honor, we call that "the mid-card." Projection? A longish, competitive match that ends with Naito hitting the Salida Del…I mean, the Destino for the win.
Kazuchika Okada & Moose vs. Hiroshi Tanahashi & Michael Elgin: I don't know if New japan is going to sign Mr. Moose to a deal. If Moose gets the fall in this bout, that would be a pretty big clue. Projection? Moose pins Elgin to set up tomorrow night's match with Tomohiro Ishii in Dearborn.
Tomohiro Ishii vs. Bobby Fish (ROH Television Title): Ring of Honor managed to give Ishii a two month title reign, and New Japan managed to spin Mr. Ishii's American victories into a pay-per-view main event last weekend. Good deal. Projection? It is time for our one big ROH victory over Nw Japan. Bobby Fish, the former ROH enhancement guy, hits Ishii with the Flying Fish Hook to finally win the TV Title. And there was much rejoicing.
War Machine vs. Jay & Mark Briscoe (ROH World Tag Team Titles): Now it's time for something Will Ferrell would refer to as "exquisite violence". Jay and Mark have given us some good promos to get to this point. But Ring of Honor tends to go with hot acts on top, rather than going back to the same set of guys in championship matches. Projection? I don't know exactly how, but Hanson blocks the Jay Driller, and there's a double chokeslam, and yes, the champions retain.
Jay Lethal vs. Colt Cabana (ROH World Title): I thought that when Colt Cabana lost to Austin Aries in 2009, that was supposed to be Colt's last ROH title shot in Chicago, ever. At least Ring of Honor waited six years to break that stipulation, instead of the industry standard, which is six weeks. Projection? Come on, son. Dijak and Nana try to interfere, but Dijak accidentally hits Colt, and Lethal wins with the Lethal Injection.
Aftermath: "Best In The World" is coming up in June, right? That's where we do Lethal vs. Dijak, and War Machine vs. The Addiction, and maybe Bobby Fish vs. A.C.H.
***
Pat McNeill of Richmond, Va. has been a Torch columnist since February 2001. He'd take San Antonio to beat Oklahoma City in tonight's NBA Playoff game. You know, if gambling were legal.