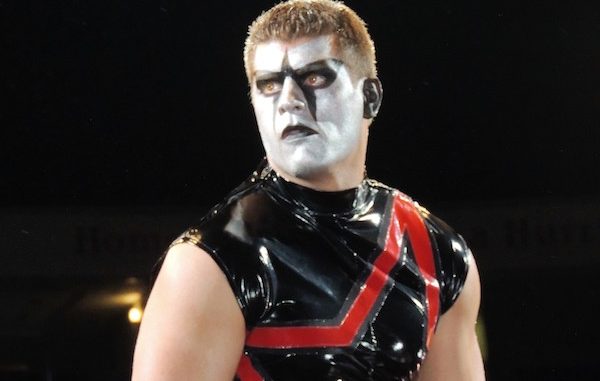 ---
SPOTLIGHTED PODCAST ALERT (YOUR ARTICLE BEGINS A FEW INCHES DOWN)...
---
Coinciding with WWE officially announcing Cody Rhodes's release from the company, Rhodes issued a lengthy statement on Twitter detailing why he decided to walk away from WWE.
Rhodes pointed to a broken Creative system, echoed Ryback's feelings of being frustrated with his position in the company, and said he wants to be able to wrestle "because I'm a wrestler."
Rhodes said he had a sense of clarity standing in the Greensboro Coliseum last Monday during Raw. Being the son of Dusty Rhodes, he flashed back to the Ric Flair vs. Rhodes rivalry in the heart of Flair Country and said to himself there is more to being benched on the WWE roster.
"Monday was whimsical…because I felt that fearlessness in my blood, even if it was just for a fleeting moment," Rhodes said. "I realized that I don't need to sell myself to these two (head Raw and Smackdown) writers captaining a broken unrecognizable system, matter a fact with the time I had put in and the body of work I presented, it should have been the other way around. I realized that blood is thicker than paint, that I know who I am and what I'm capable of… I'm not Dusty Rhodes, I'm Cody Rhodes. I'm a pro wrestler."
Rhodes said it's not about money for him. "This was always about the moments, and I'll be damned if my father's legacy is 'Stardust' or a series of sizzle-reels for NXT."
Rhodes said he pitched various ideas to be re-packaged after the Stardust character ran its course, but he felt like his ideas were ignored or shot down.
The broken Creative system starts at the top with Vince McMahon, with the head writers put in the unenviable position of trying to steer a broken ship, but Rhodes expressed gratitude toward McMahon and Triple H.
Rhodes did take exception to Hunter's general idea that WWE is like a play where everyone has a role. Rhodes said he wanted to be WWE champion or the Varsity QB, not a bench player.
"For a decade I tried to convince both Vince and Hunter that I could be their star-player, but it seems we have reached the point where neither saw that in me," Rhodes said. "I sincerely appreciate Hunter's unflinching respect for my father, and how he has acted as a custodian of history in honoring him since his passing… One of the last discussions we had included him telling me that 'WWE is a play, and everybody has their role and needs to act it their best.' All I can think of to say is that is, 'The best actors don't want the lesser roles.'"
Rhodes sent a message to the rest of the locker room to "keep having a better match than you're supposed to, I do believe the cream rises and hard work prevails." However, Rhodes said, "my work needs to be elsewhere."
Where is elsewhere? Rhodes closed: "Almost one year ago, the biggest light in my sky was ripped away from me when I lost my father. It's time for me to try to and seek that illumination…that glow that's still out there. This is not good-bye. There's a whole world of film and television and the stage that I might find I have a knack for (maybe I even already got an offer). As for as the future is concerned, though, I'm a wrestler. So that's what I'll do…wrestle."
My one&only statement on the matter. No podcasts or tell-all nonsense.

Thank you friends. pic.twitter.com/c5MNKw6spH

— Hyrule Husky (@PrinceCGR) May 22, 2016
Takes conviction to walk away from an annual, guaranteed, 6 figure income in a volatile biz.

This just in @Cody Rhodes will be just fine.

— Jim Ross (@JRsBBQ) May 22, 2016